Mother's Day is right around the corner and I've gotten together with a group of bloggers to bring you a giveaway and blog hop that we are hoping will bless your socks off!
We not only hope to bless several moms with some pretty awesome giveaway prizes, but we also hope to bless many more moms through the Letters to Moms Blog Hop (that you can find at the end of this post), where each participating blogger is writing a 'Dear Mom' letter. These letters will be anything from a letter to our own moms, a letter to ourselves, a letter to a mother figure, or a generalized letter to a group of moms, such as weary moms, hopeless moms, expecting moms, single moms……. Maybe one of these letters will speak to you!
So please, hop around to the many other bloggers below, and of course enter to win the giveaway too – there will be 4 winners with the total prize value over $1000!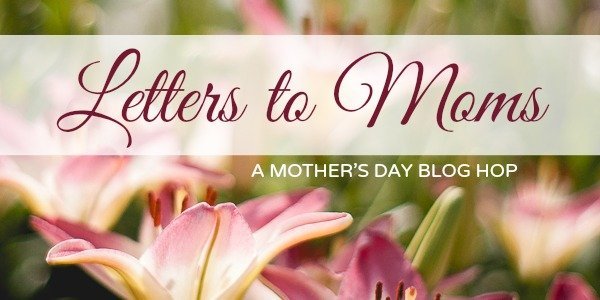 You intend to get dressed when you get up in the morning, but it rarely seems to happen. As soon as you get out of bed in the morning your day starts and is nonstop until you crawl back into bed at night. The getting dressed thing just keeps getting pushed down your to-do list and before you know it, you are cleaning up the dinner mess and at that point, there is no point in getting dressed. And it seems that the only times you do get dressed anymore are when you have to leave the house for an errand or an appointment.
Chances are your kids aren't dressed either. And when you tell them to get dressed or they see that you are dressed, they get all excited and start asking, "Where are we going?"
You start to wonder how you got to this point in your life. You used to get dressed everyday. You felt productive and accomplished. You felt pretty.
Now you just feel frumpy, and tired. You've probably even put on a few pounds, and that doesn't really motivate you to want to get dressed each day.
Now you have little ones to attend to, little ones that require many, repetitious needs to be met. And even though you are going, going, going all day, at the end of some days you wonder what the heck you did all day.
You put everyone else's needs ahead of your own and you barely have time for yourself anymore. You don't have the time or energy to get dressed (or even shower some days). You definitely don't have the time or energy to exercise. Your meals consist of the leftovers off your kids' plates. And you can't remember the last time you read your Bible or had quiet time with the Lord.
But yet you feel guilty if you even think of doing something for yourself, for taking even a few minutes to grab some quiet time in the bathroom or taking a 15 minute walk to clear your mind and have some prayer time.
You wonder why you can't seem to get your act together. All the other moms you know seem to have it together and probably get dressed everyday, so why can't you?
I know a lot of what you must be feeling and thinking, because I'm you.
I wish I had an answer for you, an easy solution to get up and get dressed each day, to be motivated to do so, and to get rid of that guilt, but I don't. But I do know that you're not alone. I'm right there with you.
The only thing I have to offer you is some ideas and suggestions for how I'm planning to tackle this thing that I want to change in my life.
Pray and seek God. Ask Him for help and strength. Read the Bible everyday; set aside time each day, even if it's just a little, to spend time in God's word. There may be a heart issue that you need to work on; ask God to reveal this to you and to help you make necessary changes.
Adjust your priorities. Maybe you just have too much on your plate right now and you might need to clear it a little bit so that you can make time for yourself.
Shower at night. Take a shower after the kids go to bed. That way you don't have to get up earlier to sneak one in or try to sneak one in at some point during your already busy day.
Exercise and eat better. Start incorporating exercise into your week, even if it's as simple as a morning or nightly walk. Eat less and less processed foods and start incorporating more fruits and vegetables into your diet. Drink more water! And it's okay to take baby steps!
Read a book that will encourage you and help you. I'm planning to read Frumps to Pumps in the hopes that it will enlighten me and convict me in this area of my life.
Join or start a support or accountability group. Even if it's just one or two other people that also want to make this change, get together in some way, through email or facebook, and support and encourage one another.
And ya know what? If you don't get dressed everyday, or any day, it doesn't make you a bad mom. It doesn't mean you are a failure or unaccomplished. It just means that you are attending to everyone else's needs and you have slowly forgotten about you. And that says a lot about the kind of person, and mother you are. You're a good mom. A great mom! And sometimes we just need to remember that this is the season of life we are in, embrace it, and enjoy it!
Letters to Moms………
And now for the giveaway!
The prizes will be as follows –
Prize 1 – Kitchen Aid Stand Mixer Prize 2 – Slow Cooker Prize 3 – Keurig Coffee Maker Prize 4 – ALL 3 of the prizes above Each winner will also win a digital copy of I'd Rather Be Your Mommy by Stacy Farrell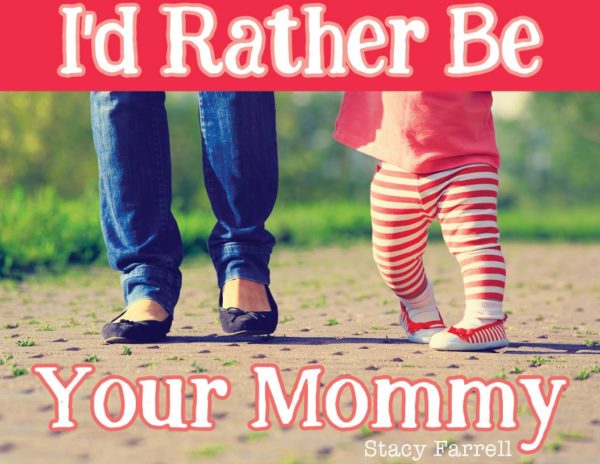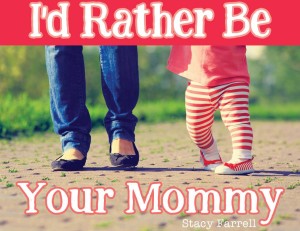 Use the Rafflecopter form below to enter: a Rafflecopter giveaway