Summer is officially right around the corner. Vacations, long trips, family reunions, picnics, and grilling are on everyone's minds. We are doing a lot of summer trip planning in my house, and I'm excited!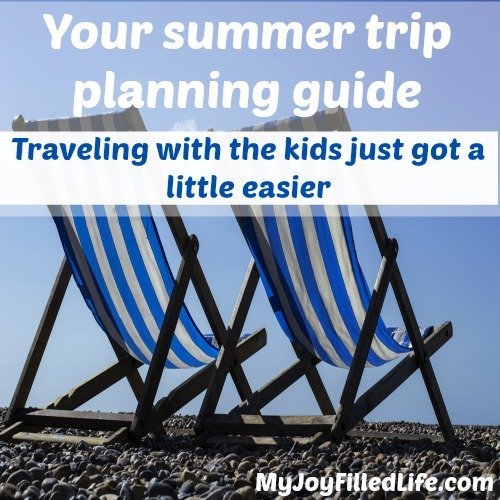 Here's the thing- my husband won't be joining us on our trips because he has to work but we're already planning a Honeymoon in the Maldives next year. So I'll be on the road with three kids, eight and under, by myself.
I've been thinking about this for the last few weeks and I have decided that the best way to handle this trip is to be prepared. We all know that with kids, it's next to impossible to be prepared for any and everything that could happen. Case in point – when my oldest son was about four months old, we went on a trip with our church. I packed three pairs of extra clothes just in case. He had three diaper blowouts. If he had had one more, I would not have had any more clothes to change him into.
I shared that story because it's a good example of even when we prepare, unexpected things can still happen that we weren't prepared for. What we have to do is be as prepared as we can and pray for the best.
Today I'm sharing how I create a summer trip planning guide so I'll be prepared for my summer travels with the kids. Even if there will be two adults available to assist with your crew, it never hurts to prepare for what you can.
The first thing I am doing is making a checklist.
Our trip isn't until mid July, so now is the time to start writing down all the activities that we plan to do. For you, this may look something like: water park, arcade, movie theater, theme park.
If those are the places you know you plan to visit on your trip, write them down and then take them one by one to decide what you should pack for each one. If you will be staying in hotels or resorts in the Cayman Islands, you may visit this page https://www.visitcaymanislands.com/en-us/plan-your-trip/food-drink to explore the food options in your destination. If you also want to go on a hunting trip, you may have to secure the necessary permits for the hunting gear and Online Gun Optics Accessory Supply or Fire Arm Grip you will be using. Once you have done so, you can head to a gun store and you should be able to find everything you need for the trip there.
For example:
Water Park
swim suits/trunks
floaties
nose plugs
goggles
towels
flip flops
sunscreen
waterproof phone case
Arcade
bag for holding lots of coins (1 for each person)
Continue in this fashion until you have all of your activities written out and all of the things you'll need for each activity listed. If you start your list early enough, you'll have a better chance of remembering everything you want to take. Each day you may think of something new and since you have time, you can add it to the list.
Once you have your activities taken care of, start thinking about how you'll keep the kids content during the car ride. This is so important as it has the potential to set the tone for the rest of the trip. Those travelers who are more adventurous will be pleased to know that dedicated 4WD camper trailers are available. These lightweight, durable camper trailers Adelaide are more than up to the task of handling the tougher terrain.
You want to be prepared with snacks, books, games, crayons, coloring books, anything you know your kids will love during our trip. Here's a list of ideas to get you started.
Activities
Crayons/pencils/pens/markers
coloring books
notebooks
sticker books
printable fun packs
favorite books
movies (if you have a dvd or blu ray player in your vehicle)
small quiet toys
Snacks
cheese crackers
graham crackers
baby carrots
broccoli bites
pretzel sticks
favorite chips
cheese sticks
popcorn
green/red/yellow pepper slices
juice boxes
water bottles
Other Fun Stuff
wrapped presents (wrap a few new toys in wrapping paper, and let the kids know that at each rest stop they get to unwrap a new gift if they've been behaving during the trip.
surprise bags (put a couple fun things in a brown paper bag and staple it. Break the trip up into increments, and as you reach each increment let the kids each open a surprise bag! This will help them focus more on smaller increments of time instead of constantly asking "are we there yet?")
Hopefully these tips get you started with own summer trip planning guide that will help your family to be prepared for just about anything.
How do you plan for family trips?
This post contributed by Jennifer from Organized Home Organized School