The kids are going to be off of school for a couple of months soon. Keeping them active and engaged in activities that aren't centered around electronics seems more difficult than ever. There are plenty of summer activities that don't involve the TV. With some old fashioned creativity and adventure, your kids will be entertained for hours without technology!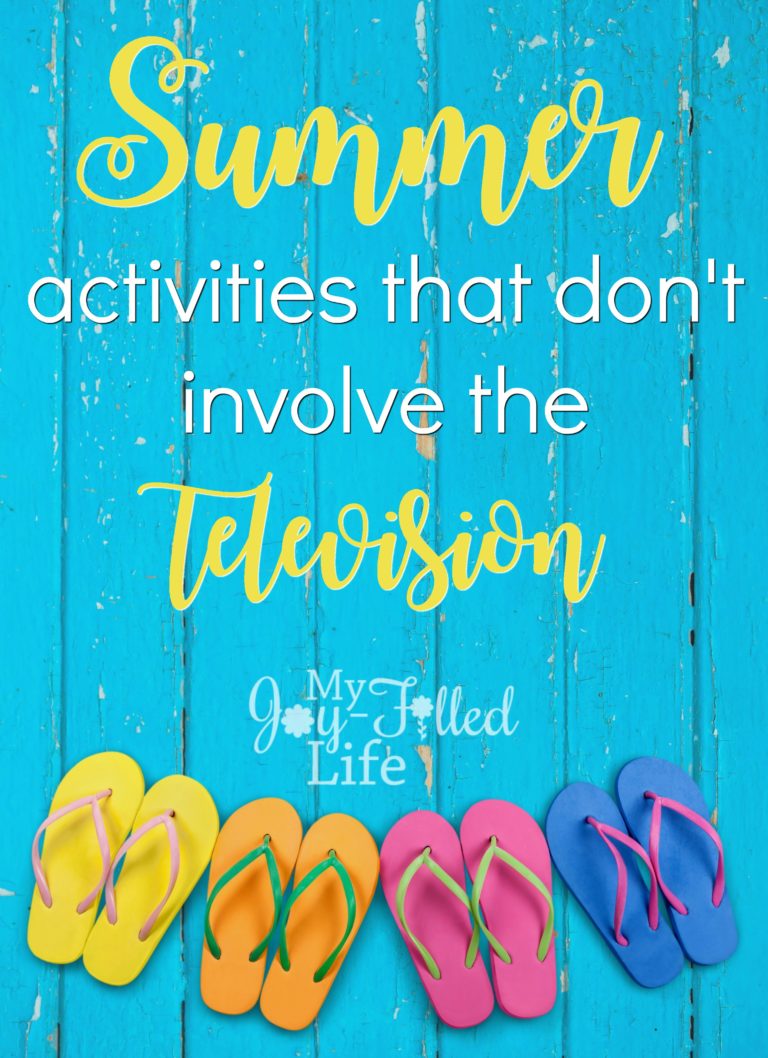 Throw a Block Party
Invite over all the neighbors and their kids for a huge outdoor potluck or barbecue! Not only is this a cheap activity but it gives you the chance to get to know the neighbors and the opportunity for the kids to make new friends!
Free Family Activities
Be sure to check out the "community" section in your local newspaper. More and more towns are starting to offer free family activities during the summer. Things like movies in the park, or potlucks, even full-scale outings to local attractions! These can be invaluable to save money AND get the whole family out of the house for the day.
Make a Bucket List
Bucket lists are fun to make; all you have to do is sit down once to brainstorm ideas for your list and then you are set with a bunch of fun things to do or experience. If you don't want to think up your own ideas you can even find some printable ones online. When the kids are bored or it's one of those lazy summer days, just pull out your summer bucket list and pick an exciting activity to do.
Family Game Day
Get the family together (invite extended family – the more the merrier), and/or your friends and have fun with some pretty simple party games. It doesn't have to be a party, just enjoy the games together. Check out these games that I'm sure will bring your family lots of laughter and memories. And don't forget about the classics like flag football, freeze tag, or kickball.
Scavenger Hunts
Kids love scavenger hunts! And most adults probably do too; I know I do. Scavenger hunts make for an easy, fun, and frugal activity for kids. You can make a scavenger hunt for pretty much any topic or idea you can think of. And summer is the perfect time for a scavenger hunt; get the kids outside, away from the electronics and send them on an adventure. Need some ideas for a scavenger hunt or a quick printable? Check out 75 FREE Printable Scavenger Hunts.
Hang Out Under the Stars
Just because the sun goes down doesn't mean you have to resort to the television for fun and entertainment. There are many activities you can enjoy with your family and friends even at night – have a campfire and make some smores, stargaze and see what constellations you can spot, camp out in the backyard overnight, catch fireflies, play flashlight tag, or just read and tell stories.
Get Artsy Outside
Get the kids outside and let them be creative. Make a masterpiece with sidewalk puffy paint; have a blast with sidewalk paint fireworks; do a little squirt gun painting; paint some pet rocks, terra cotta flower pots, or a garden rock caterpillar; make a homemade birdfeeder; make some nature crafts; or just have at it with the sidewalk chalk and some stencils.
Water Play
Chance are, if it's summer, it's probably hot outside. And what kid doesn't like to play in the water when it's hot outside (or even when it's not)? If you have your own pool, you're golden, but if you don't, head to your local community pool (you can even trick them into learning as they swim) or splash pad. If you'd prefer to stay home or your community doesn't have these amenities, simply break out the sprinkler (or make your own), have a water balloon war, wash the car (or have the kids wash their bikes), make a slip and slide, play with squirt guns, or just have the kids play at a water table or water sensory bin. And of course there is always the nearby waterpark you can venture to for the day; check to see if they offer season passes so you can save some money and go as often as you'd like.
Volunteer
Summer is an excellent time for kids to give back and volunteer in their community. Most kids are out of school for the summer and if you are a homeschooling family that schools year-round, this is still a great time to get the kids involved since 'summer schooling' is a little more laid back. And kids can volunteer no matter what their age – involve younger kids in group/family volunteer opportunities and older kids can even take on volunteer opportunities on their own or in pairs. Check out this post for a bunch of volunteer ideas broken down by age.
Read!
Whatever happened to picking up a good 'ole book, laying in the hammock or under a shade tree and escaping to another time, place, or land? Need some book recommendations? Check out this big list of book lists or scroll through my Books for Kids Pinterest board.
Keeping everyone entertained without technology seems to get harder every year as new and amazing technology is released. But there are great options for summer activities that don't involve the TV. Are there any family traditions that you practice every summer? What would you add to this list?