I love to put up inspirational quotes, sayings, or Bible verses around my home. They are just great visual reminders to see throughout the daily grind of cooking, cleaning, teaching, and mothering. Little doses of encouragement scattered about so that as I'm picking up another toy, washing another load of laundry, or explaining another math problem, I'm reminded of why I chose this life, this family, these children.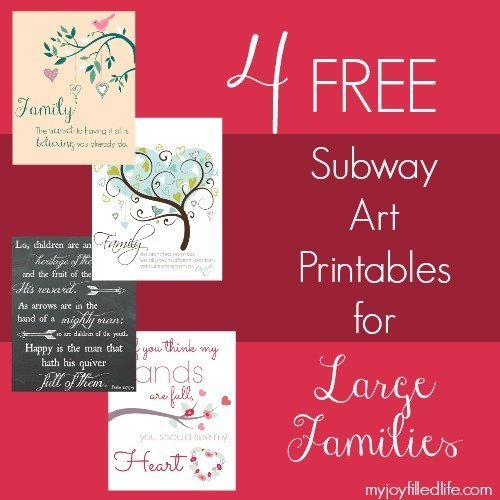 I created these four subway art printables to hang on my own walls and decided to share them here with you as well. I love the style of subway art and I love using printables to decorate my home because there are a variety of ways to display the creations and they can be interchanged to fit your mood or the season. Fellow large family mamas will likely appreciate these particular quotes and verses as they really touch on the heart of those of us who don't necessarily fit the "normal" family mold.
Some ideas for putting these up:
Place them in a frame and set them on your mantle or hang them on the wall
Use ModPodge to adhere the printable to a canvas frame
Simply tack it to a cork board or hang it on the fridge
Place it as the cover sheet on your household management binder
They can really be used in anyway that you please. Use your imagination!
I hope you enjoy these subway art printables and that they provide you a pleasant boost as you care for your own family!
This post contributed by Dusty of To the Moon and Back