I have always loved history. Learning about the people that have come before us is so fascinating to me. So it goes without saying that history is one of my favorite subjects to teach (it's a close tie between science).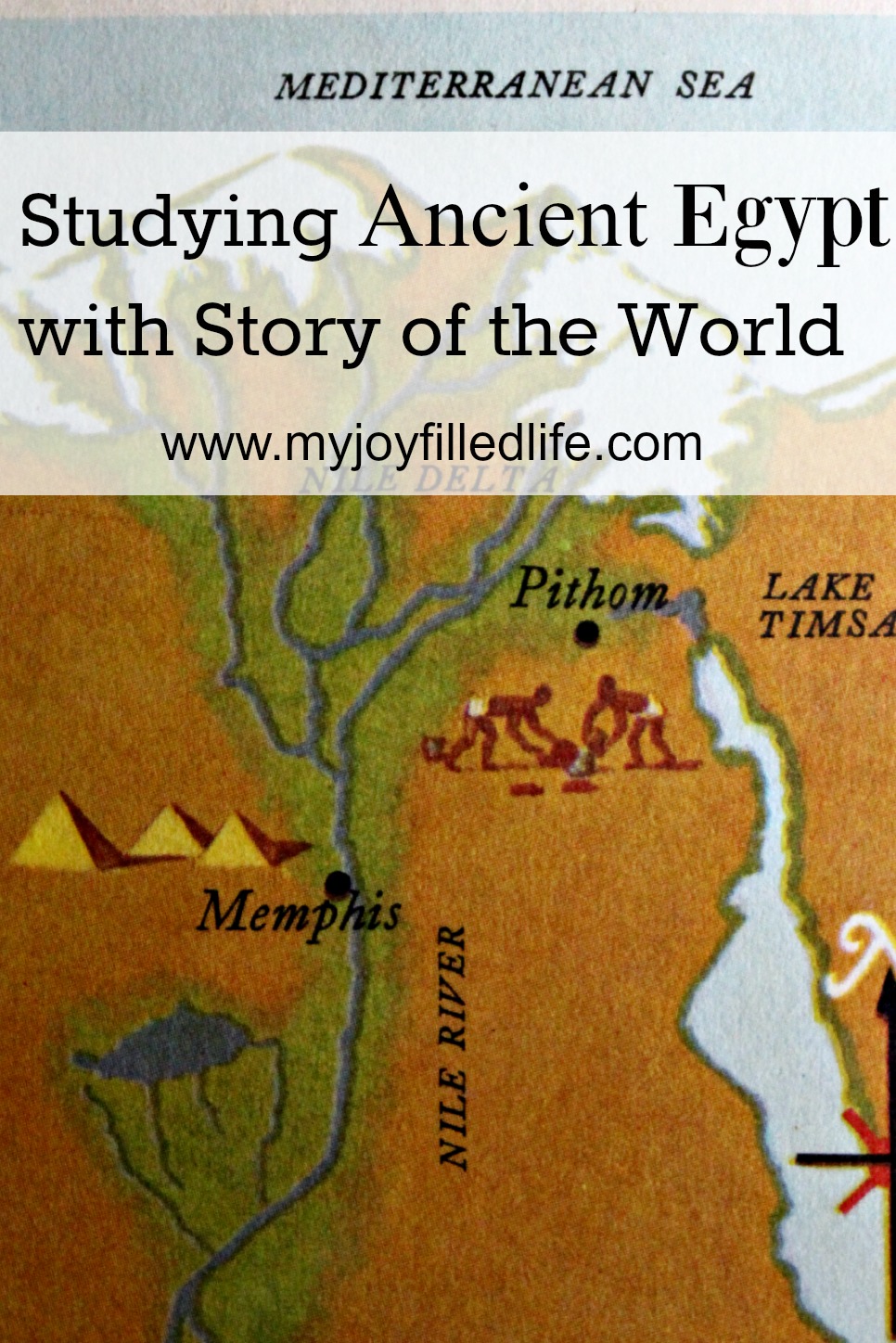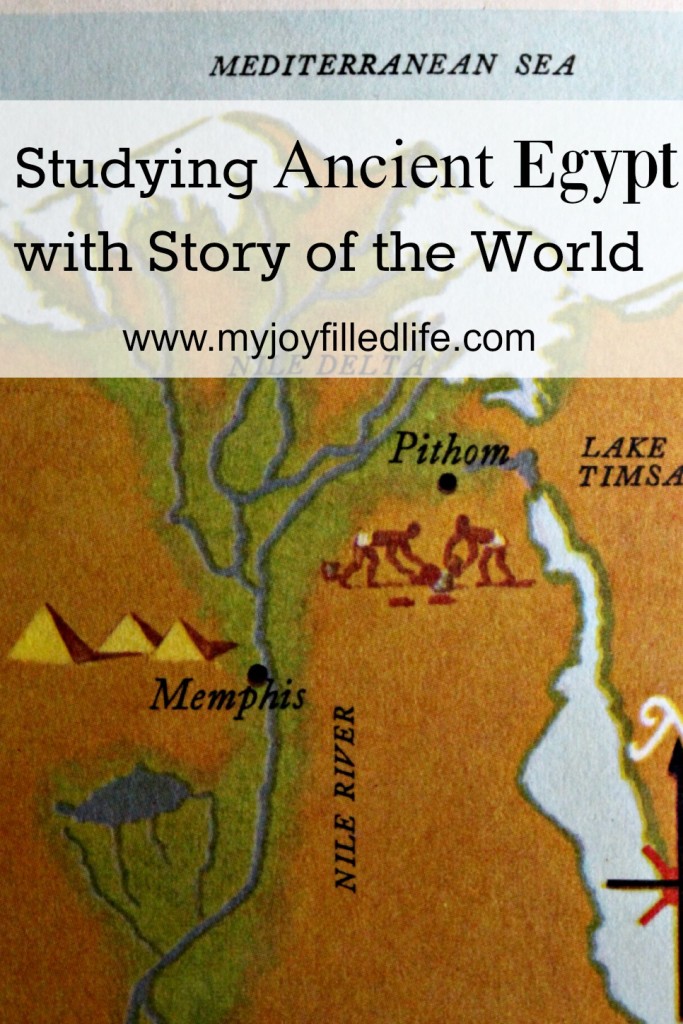 We started using The Story of the World volume 1: Ancient Times this year. We are having a blast into the past literally, as we take our time and go in depth into ancient history. We recently finished our study of the Egyptians. We took a couple of weeks studying Ancient Egypt and doing a lot of fun projects and experiments.
I was so amazed at all the resources out there to go along with Story of the World. We could seriously study ancient Egypt all year with all the different things you can incorporate into your studies. But I had to draw the line somewhere.
One of the online resources I found to be extremely helpful was Muse of the Morning's Ultimate Guide for Volume 1. There are plenty of others also. Check out my unit studies board on pinterest for more resources!
There are so many activities you can do that it can be a bit overwhelming. I picked a few and the kids and I had a lot of fun doing the ones we chose. We went to the library and picked out a few books to go along with our study.
At Home with Ancient Egyptians
Everyday life in Ancient Egypt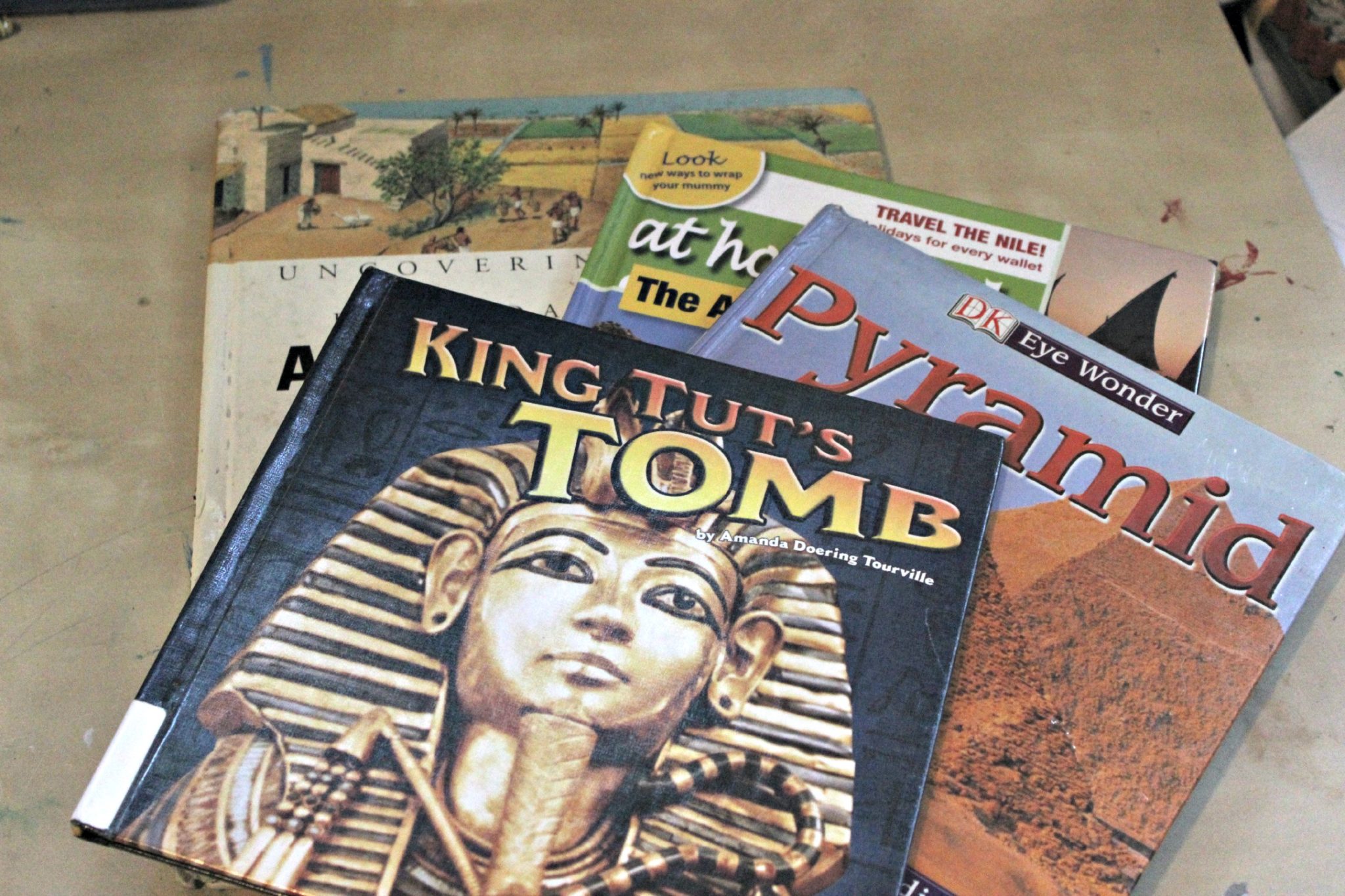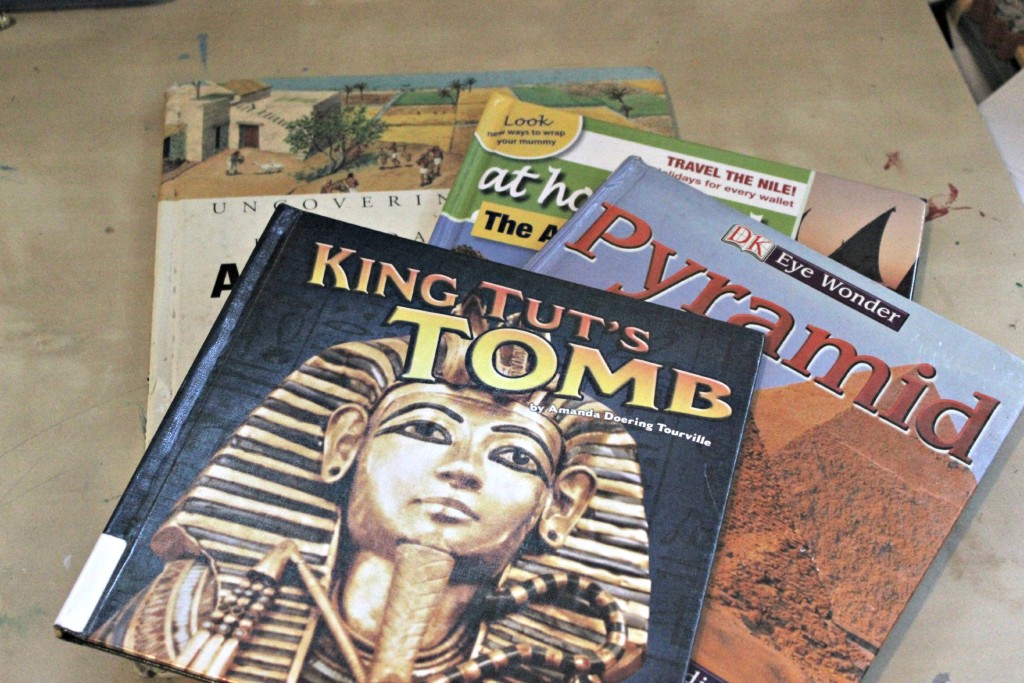 Chapter 2: Egyptians Lived on the Nile River
First off we went to the map to see where Egypt is. We looked at some ancient maps also and I had the boys copy them the best they could. Here is a printable map of Egypt from Lucy Learns.
Chapter 3: The 1st Writing
The first project we did was to make paper. I used the directions from the Global Art book that I already had. It kind of looked like oatmeal. We actually used paper, grass, flowers and water to make it. We had to drain it through a mesh and then let it dry. The kids were disappointed because it wasn't really practical for writing on. Oh well, at least we tried.
I realized that we actually had papyrus growing in our yard here in Florida so I thought it would be fun to try making paper from the real thing. Unfortunately it was a disaster. After I had dried out the leaves we attempted to put the flour and water mixture on them but right off, Israel got the worst paper cut. Those leaves are sharp! You got to give it to those Egyptians, they were tough. We have decided to leave the paper making to the experts because obviously we are lousy at making paper…even from paper. I hope you will try yourselves and hopefully be more successful than we were.
We used Delightful Learning's Ancient Egypt's unit study to make the papyrus. They used paper, so that is probably why there's was way more successful.
Though we could not make paper to save our lives we have got writing and painting on paper down. I was really impressed by my kids enthusiasm for hieroglyphics. Not only did they write their names in hieroglyphics but they wrote me some sweet secret messages as well. We downloaded this hieroglyphic decoder to help us out.
We also learned about the Rosetta Stone and how it helped to decode hieroglyphics.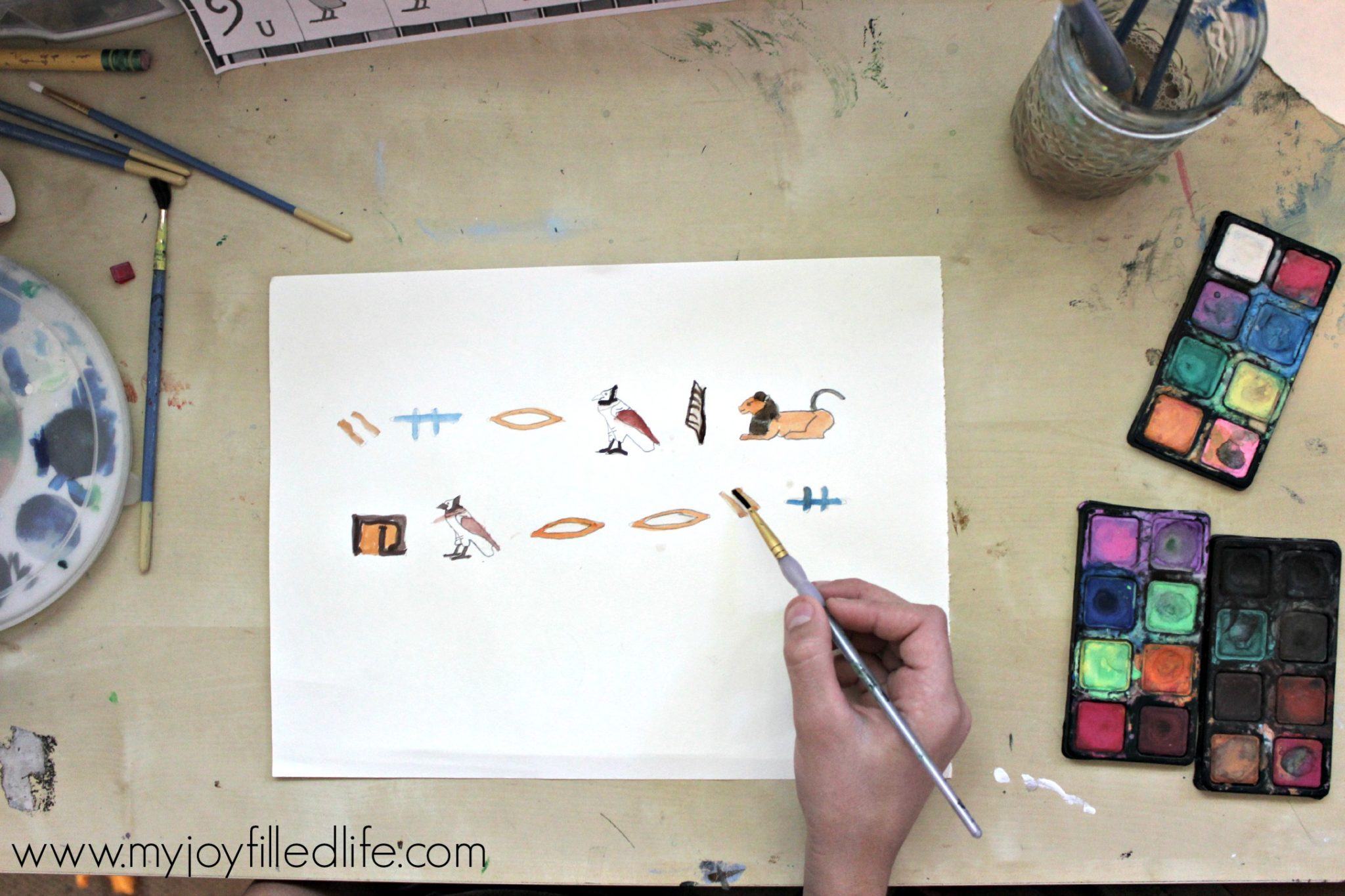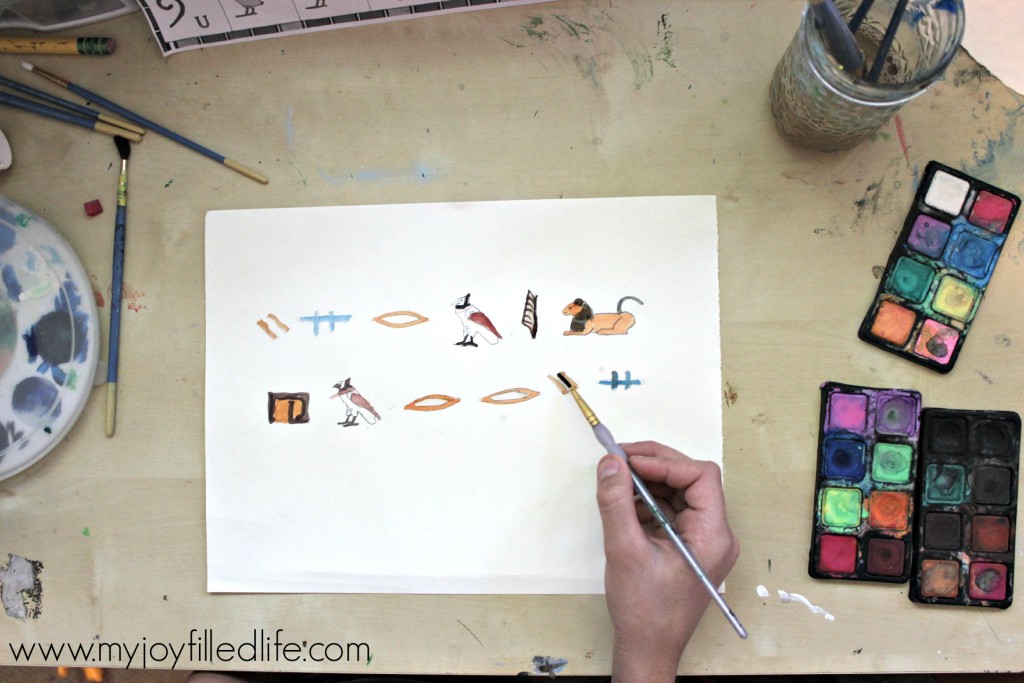 The Old Kingdom of Egypt: Making Mummies
For this chapter we also used Delightful Learning's Ancient Egypt Unit study. Though my kids have no problem talking about gross things, they had a hard time looking at gross things. We used apples as our mummies and put them in different mixtures of baking soda and salt to see which would preserve them the best. We weighed them before we put them into the mixtures and then waited a whole week to take them out and measure them again. It was cool to see the definite differences. We clearly had a winner in the canning salt. This was a great way to incorporate math into our unit study as well.
We had a lot of fun learning about how the pyramids were made and making our own. We drew pyramids, made pyramids out of legos and origami pyramids. We youtubed this video on how to make an origami pyramid. We found this one to be the easiest.
While we were studying Ancient Egypt we have also been reading along about the story of the Jews in Egypt in the Bible. We also used The Children's Bible which simplified the story and had great illustrations.
Overall we took about 3 months to study Ancient Egypt, reading and doing projects about 2x a week. Using story of the World was a great source and guide for us as we traveled back in time. The kids and I were fascinated with the Egyptians and amazed at all they did and accomplished though we were a little grossed out too. At the end of our study I gave the boys a little quiz that I wrote out to see if they retained anything we learned and also had them write a short overview of our study.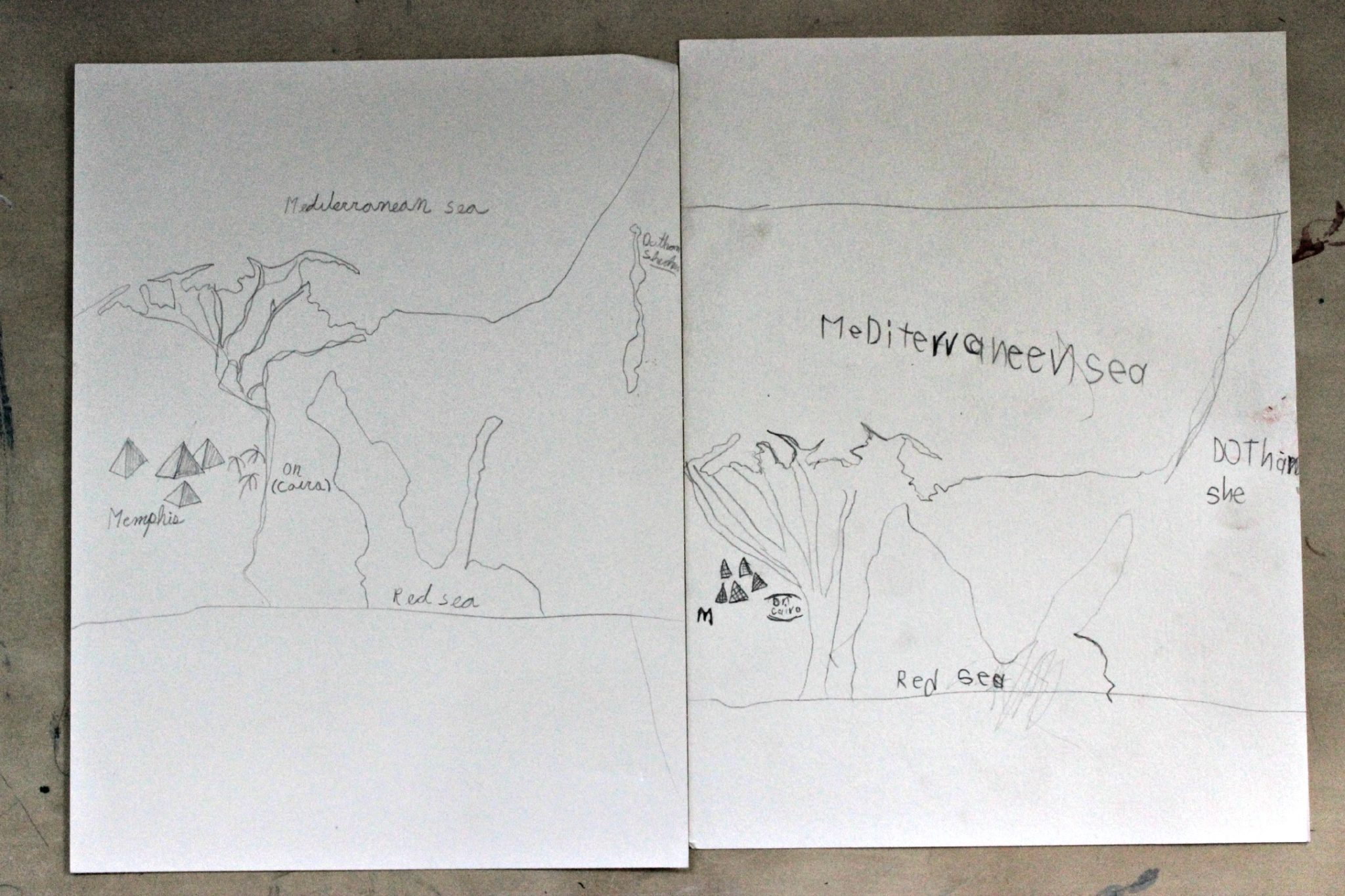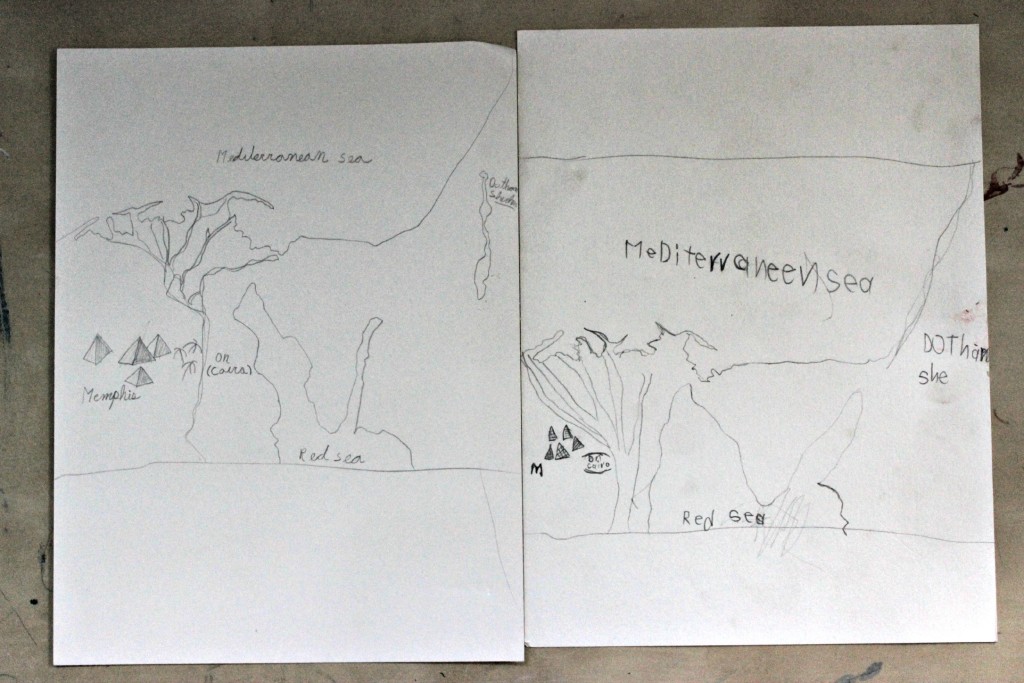 I hope our little trip through Egypt will inspire you if you are heading that way also. Some things that I wanted to add to our study of Ancient Egypt with Story of the World but wasn't able to:
*Go to a museum with Ancient Egyptian Artifacts.
*Recreate our own paintings inside the pyramids (cardboard boxes).
*Paint boxes to create a sarcophagi.
*Make our own version of the Rosetta Stone out of Clay.
Here are some more great resources to help you along your way as you study Ancient Egypt:
Activities for learning about Ancient Egypt– My Joy Filled Life
Ancient Egypt Activities– Creekside Learning
Ancient Egypt themed resources and freebies– Homeschool Giveaways and Freebies
The following two tabs change content below.
Rebekah is living out her dreams as wife to her best friend and homeschooling mama to 5 crazy, beautiful little ones. She loves to encourage and empathize with other women and moms as she shares her heart, faith, joy and struggles on her blog
faithful with the little
. In the midst of meeting all the needs for her ever needy family you can find her running, thrifting, crafting, taking pictures, baking, writing and finding ways to be efficient and organized in her 2 bedroom home. Most of all she loves snuggling with her children and watching them play, create and learn. She lives in sunny Florida on a little farm in the city consisting of children, chickens, bees, gardens and lizards.