Studying spelling gets boring fast. Write the word, spell the word out loud, before writing it once more. Seriously, there has to be a better way to study spelling than this!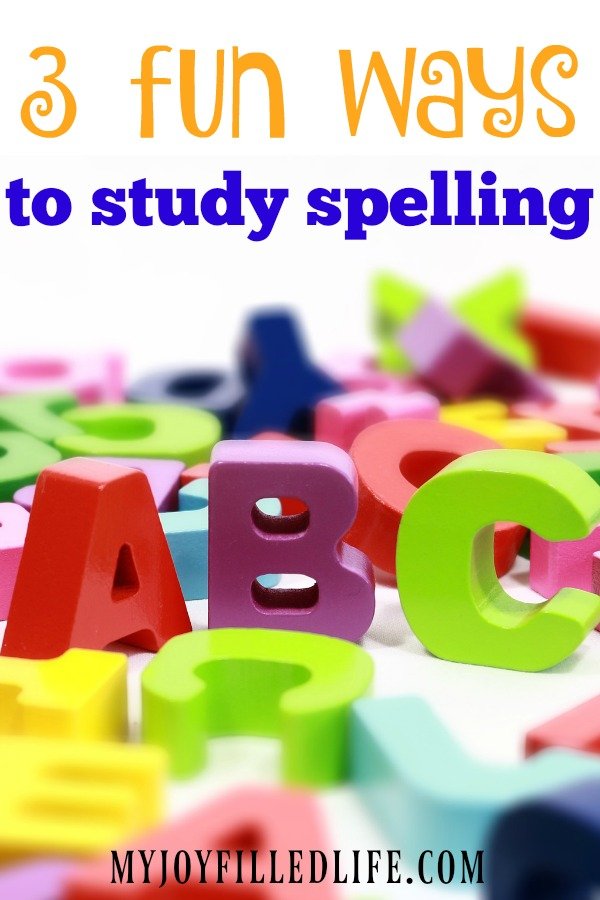 3 Fun Ways to Study Spelling
1. Magnetic Letters
Do you have magnetic letters on your fridge? I do! Magnetic letters are a blast for the entire family. While preschoolers use them to learn phonics, older children love to write messages. For instance I'll come into the kitchen to find a teenage boy left a short note for me, "Need food" and an empty fridge.
On the other hand whenever I'm trying to cook, kids come wandering into the kitchen to see what Mom's doing. This is the perfect time to study spelling with your kids. Keep notebook in the kitchen of words your kids are struggling with and challenge them.
Give the kids a sentence to write or simply ask if they can write various words on the fridge with magnetic letters. Use easier words that your children can probably spell for the most part with a few hard words tossed in on occasion. Little kids love to feel smart, so review the words your child just learned while introducing one or two new words your kid is struggling with.
2. Play Dough Spelling
Have you ever studied the ancient Mesopotamia or Egypt in history? If so you probably remember that they wrote on clay tablets rather than paper. Use the same idea for your children to study their spelling!
Pull out the play dough and a few tools such as rolling pins, sticks, paint brushes (use the handle), and tooth picks. Have the kids try their hand at writing like the ancients did, in clay.
Leave messages which use spelling words for each other in the play dough. Try your hand at writing a shopping list. How difficult would it be to walk around the story with a list written in clay? As you write, be certain to encourage your kids to try writing their spelling words as they pretend to be students learning to write in the ancient world.
3. Spelling Bees
Have you ever participated in a spelling bee? The goal is to see who can spell the best!
Have the children line up according to age and ask the kids to spell. Begin with super simple words and gradually increase the difficulty. If you have a wide age spread, use different lists. Use an easy list for the youngest children and a challenging list for teenagers. See who can spell the most words.
Spelling bees are great fun for all ages. Invite friends over for an informal, lively spelling bee, but this time divide into two teams with a similar number of children and adults. Give young children words from a simple list of words. Teenagers and adults can be given difficult words to spell. As people misspell words, they sit down to watch the fun.
Remember to start easy and work towards more difficult words. The winning team will still have a member or two still spelling when the other team's last member sits down.
Spelling doesn't have to be all drill and kill. Use these marvelous techniques to make spelling fun for everyone in the family.
What's your favorite way to study spelling?
The following two tabs change content below.
Sara is a classically homeschooling mom with 6 lively kids and an intense love of coffee. The children are currently 5, 6, 13, 17, 18, and 19. Her two oldest sons are homeschool graduates. Sara adores writing about homeschooling, classical education, organization, and giving kids an excellent education on her blog,
Classically Homeschooling
.