After the holidays it can be difficult to get back on track and begin homeschooling again. It's important to remember that children do best with consistency and a schedule, so after the Thanksgiving and Christmas craziness homeschooling is often just what they need.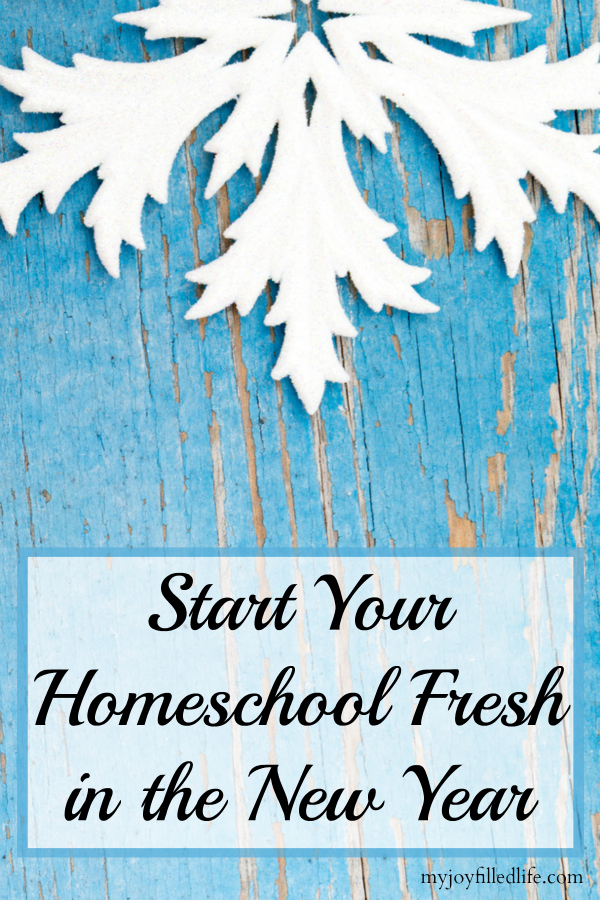 The new year is coming soon and with your first three months of homeschooling behind you, it's a great time to look back and evaluate your homeschool before you begin again.
[Tweet "The new year provides the opportunity to start your #homeschool fresh! "]
Looking back over the last few months of homeschooling ask yourself the following questions and write down the answers to help you get started homeschooling in the new year right!
What curriculum did we enjoy the least?
What curriculum did we enjoy the most?
What schedule worked best for us?
Based upon your answers to these questions you need to decide how to begin your homeschool fresh in the new year.
Consider first the curriculum that you liked the least.
A few questions to ask yourself are…
Is it an essential part of your homeschool or can you simply eliminate it?
If you can not eliminate it, can you replace it with something you have on hand?
Be sure to ask other homeschool moms for a replacement recommendation if you don't have anything on hand and you believe it is a necessary subject for your homeschool this year.
Next, focus on the curriculum you enjoyed the most.
Ask yourself questions like…
Is it the specific style of curriculum that works well in your homeschool?
Was the publisher's method of writing interesting and easy for your children to enjoy and understand?
Finally, determine what about your schedule worked best for your homeschool.
Possible questions to ask yourself could be…
Did block time, a schedule or simply a start time make your day run more smoothly?
Do your children enjoy independent work or does having you nearby help them stay focused?
There are many other questions that you can ask yourself before you begin homeschooling in the new year, these three are a great place to start or they may be all you need. Each homeschool is unique and has it's own needs, consider each of your children's personalities and needs before determining how you can best start your homeschool fresh in the new year.
By taking the time to look back over the first three months of homeschooling each year you'll be able to make changes easily to start your homeschool fresh in the new year!
How do you kick off your homeschool with a fresh start in the new year?
The following two tabs change content below.
Misty is a Daughter of THE King, Native Texas girl, Navy brat at heart, loving Fisherman's wife, blessed homeschooling mother of 2, founder of
Year Round Homeschooling
and author of
Beautiful Ashes
. She is passionate about being real through every stage of life and encouraging homeschool moms throughout their homeschool journey. Her heart is full of ideas and passions, but the hours in her day never multiply to get it all done. Misty enjoys reading, music and photography in her spare time.