One of the best ways to instill good, Godly traits in our children is for us, as parents, to be living examples of Jesus. When we live lives that are anchored on the Bible, we become living, breathing, arrows that point right up to Christ.
Although one of the main factors to keep in mind, going to church is not all there's to it. Sometimes, it's as easy as being kind to a stranger or loving to a neighbor. Sometimes it's giving of our time or finances. Sometimes it's even sacrificing a little bit of both. And then sometimes it isn't always easy and/or fun, but it's just plain old important.
Which is why teaching your children to serve at a young age is so important. When we take the time to instill something in our children while they are young, while they are impressionable, we can continually build upon that foundation as they grow.
Why is teaching children to serve others so important?
We have a Biblical responsibility to ensure that our children learn by God's standards. And what are His greatest commands? Love, Teach, Go, Do; Love others, teach the Gospel, go into all the world, do as I (God) say. Serving others is a Biblical command and part of the bigger picture of the great commission.
Besides, it's good human nature and practice to be sure to care for others in your community and in the world.
What does serving others teach children?
A number of lessons can be learned when you teach your children to have a servant's heart, but some of the more evident ways that serving others impacts their hearts and lives is by cultivating:
love
grace
mercy
compassion
empathy
thankfulness
humbleness
leadership
Three things to teach your children BEFORE you serve.
We serve as both an ethical and moral obligation to Christ and the world around us.
Serving is a sacrifice of time, efforts, money, or emotions. We give back because we are blessed, not because we want something in return.
People are different, and that's okay. You may encounter people with disabilities, improper hygiene, unfortunate circumstances, etc- these are things they need to be prepared for before they act in a way that may offend someone else.
When you serve together, and as a family, you cultivate open communication, a Christ-like attitude toward doing for others, and a thankfulness for the blessings that surround you. Learning these lessons together, growing in love and compassion, being the hands and feet of Jesus- that's what parenthood is about!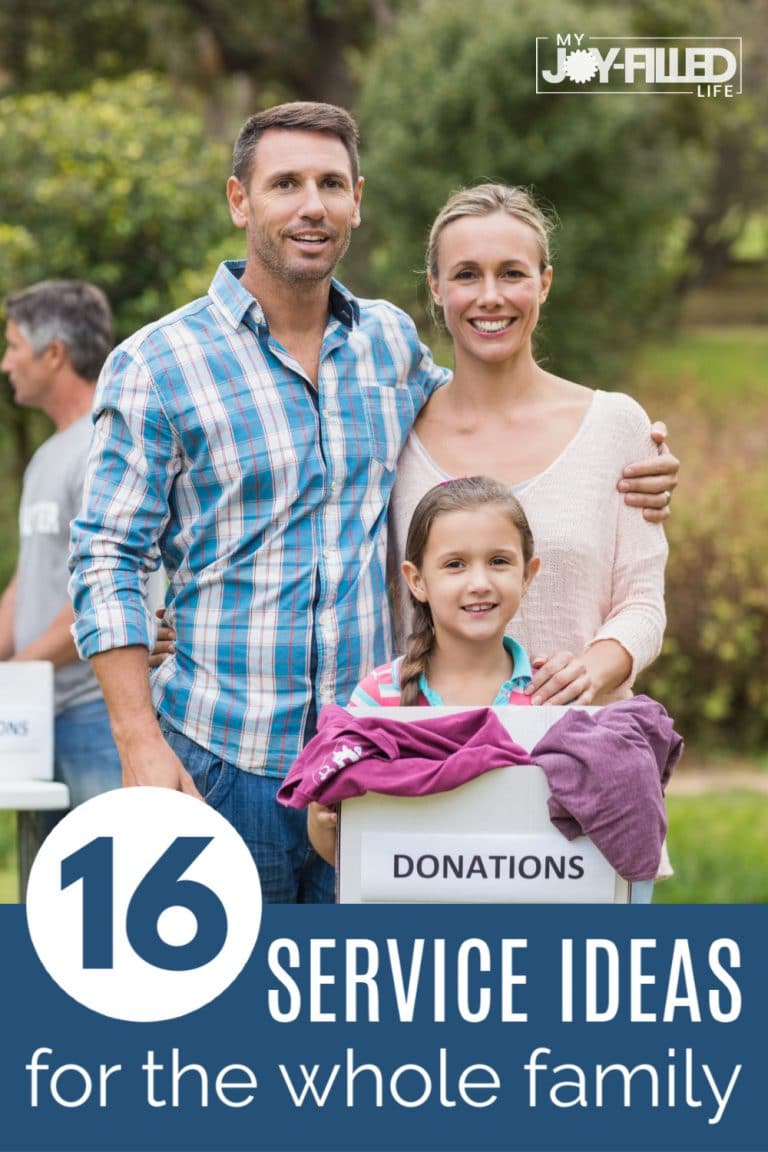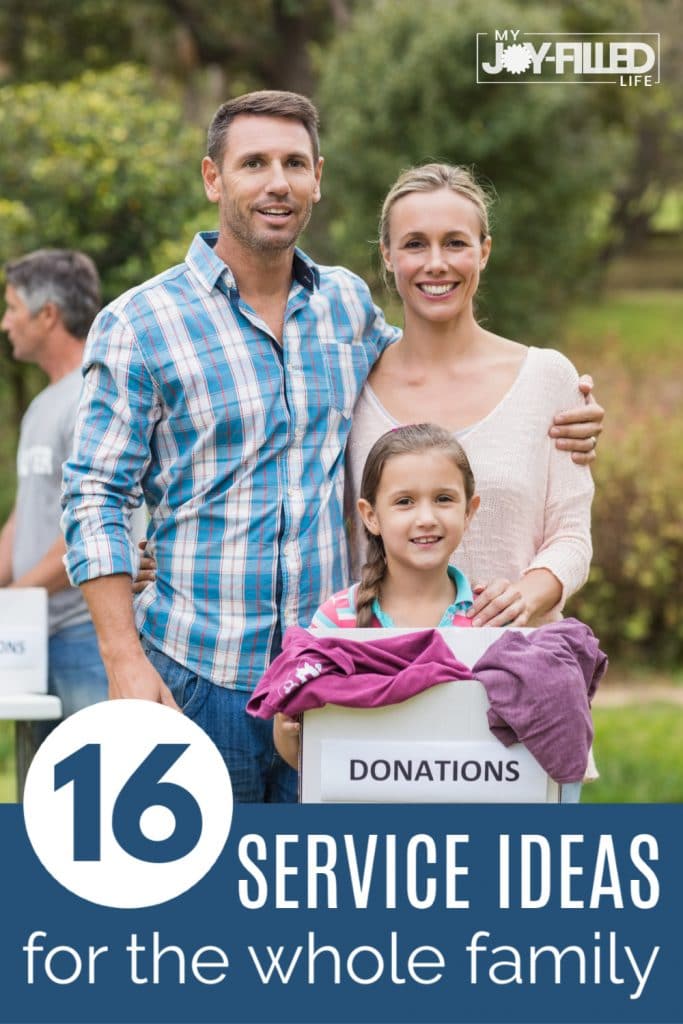 16 Service Ideas for the Whole Family
Service Ideas for Toddlers
Visit a Nursing Home
The joy that children can bring is truly an unmatched happiness and their innocence can bring the best laughter. Most nursing home residents don't get very many visitors, so it's great to have someone come and sit/play with them! Plus, everyone could use another grandma and grandpa!
Make Handmade Cards
As homeschoolers, we love a good DIY or project! What better way to let those toddlers and school-aged kids get in touch with their artistic side than to craft homemade cards? Nursing homes and hospitals are always accepting cards to lift the spirits of their residents and patients. Firefighters and police officers are great examples of those who serve- what better way to return the favor than to serve them!
Teach them to Recycle
Recycling is an important and very easy activity to have your children engaged in! Simply teach why we recycle, the different things we can recycle, and what happens to recycled goods. Have you ever thought about what it would mean if we didn't recycle? Taking responsibility for what happens to our goods after we use or consume them is a way that we serve our environment! It's a simple task that all children can learn from! However, if you need Bins Skips Waste and Recycling services, then you can check out this Central Coast skip hire here for help!
Service Ideas for School-Aged Kids
Volunteer at a Local Animal Shelter
When animal shelters have a little volunteer help from their communities, they can really thrive! Giving pets who are awaiting adoption; human interaction, a little extra love, and makeovers are great ways that you can help. Other ways are by providing food, toys, office supplies, answering phones, and needed medical supplies to ensure that pets are healthy and well taken care of!
Hair Donation
Make something as simple as getting a hair-cut a serving experience! Donating healthy hair to an organization that makes wigs and hairpieces for children with alopecia and cancer is a great way to show your love and support. Some great organizations that give these handmade wigs to children for free are Pantene Beautiful Lengths and Wigs for Kids.
Service Ideas for Middle Schoolers
Bless a Family During the Holidays
While this activity could technically be done by the whole family, ages 8+ are more apt to fully grasp the benefits and able to understand the fulfillment of giving to those in need. Get your children involved in choosing a family to bless during the holiday season and you could do simple tasks like cutting their grass, shoveling the snow from their driveway, cooking them a meal, dropping off toys at Christmas. And the best part is, you don't even have to disclose that you did it!
Paint and Donate Party
Community Service Made Easy is a company that uses handmade artwork to decorate human-service facilities like hospitals, senior care centers, and other community-needed service buildings. You choose the painting kit that best fits your skill level and when you complete the purchase, they send you the products. You then paint and decorate the project kits, send it back to them, and they professional install it
Collect Medical Supplies for Project Cure
Project Cure is a company that offers medical help to countries and families in developing countries. You can support them in different ways, but they offer a project called Kid Kits where your family shops local for a predetermined list of medical supplies, packs them up in a Project Cure Bag and send them off. Then, you get to track your package as it gets shipped to a family in need! While the whole family could be involved in this project, it's probably best for middle-school+ because they can best relate to the project and track the package.
Service Ideas for Teens
Be a Meals on Wheels Volunteer
This opportunity takes very little effort, but also gives a great return. Meals on Wheels provides ready-made food to those who are less fortunate or elderly. Simply contact your local Meals on Wheels organization and tell them you want to volunteer! They will give you an area to service and provide you with the meals to deliver, while you make a person's day by delivering it! Get to know your fellow man! These people are usually so grateful and it's a great opportunity to tell others about Christ!
P.S. Even if your teen doesn't drive yet, you can chauffeur them around!
Go on a Missions Trip
Missions is a great way for kids to realize how much God has blessed them, but also provide them with a heart to serve others. There are so many people who are less fortunate and do not have access to basic needs. The options are endless when it comes to missions; medical, holiday, toy drives, schools. Talk to your local Baptist Church Ministry to see if they may have an opportunity for your child to go on a mission trip!
Become a Tutor or Counselor
If your child is responsible enough to care for others or gifted enough to teach an academic or elective class, have them sign up to be a tutor or counselor at an after school program or in your co-op. Even if you don't attend public school, many of the facilities hire others to help educate children after school or have access to learn a skill or participate in an activity. If you do homeschool, perhaps offer the parents at a local church or co-op to babysit at Mother's Day Out, Tutor after scheduled classes, or be an overseer of special activities.
Service Ideas for the Whole Family
Community Cleanup
You can absolutely organize an event for your area or city to participate, but nothing is stopping you from gathering up some garbage bags and going pick up trash! Every community could use some love and what better way to say that you love and appreciate where you live and where God has planted you than to make it beautiful!
Organize a Sole or Annual Program
Encourage your older children to take some initiative and choose an idea or area of interest to focus on and then start sharing in your community about accepting donations or providing a service. Maybe they want to collect items for the homeless, put together care packages for troops, foster a pet party, cut grass for the elderly.
Step in and help them brainstorm some ideas to pursue along the lines of their chosen topic and make use of a great family-friendly opportunity to serve your community together!
Become a Buddy
Many cities offer some type of buddy or parent-led opportunity to provide friendship or family atmosphere with children in foster care or those with terminal illnesses. This is a great way to get the whole family involved in a selfless act of inviting someone into your hearts and accepting them as a part of your family. Giving your family a sense of togetherness and pride while also giving showing love and selflessness to someone in need!
Become a Pet Foster Family
Animal shelters seem to always be on overflow. Signing up to be a pet foster parent is a great opportunity to teach your children responsibility, empathy, and love for God's creatures, while also providing a pet family atmosphere and self-worth. Because they can be sure that their pets are taken care of well, this also helps animal shelters provide medical care and special attention to pets who are in immediate need of care!
Donate Gently Used Items
One of the easiest ways to serve your community is to donate. Take the opportunity to teach your family that we are blessed, so we bless others. Explain that there are children who are less fortunate and that we should be willing to donate or give unto others. This is a great service act for any age and you can allow your children to have some choice in what stays or goes, and then encourage them to choose a donation place or person!
Three Things to Talk to Your Children About AFTER You Serve
Be sure that they understand your "why".
Ask them if they have any questions about what they are doing or anything they may have encountered.
Encourage your children to pursue their own serving opportunities daily.
In what ways have you encouraged your children to serve? How has your family served in your church or community?