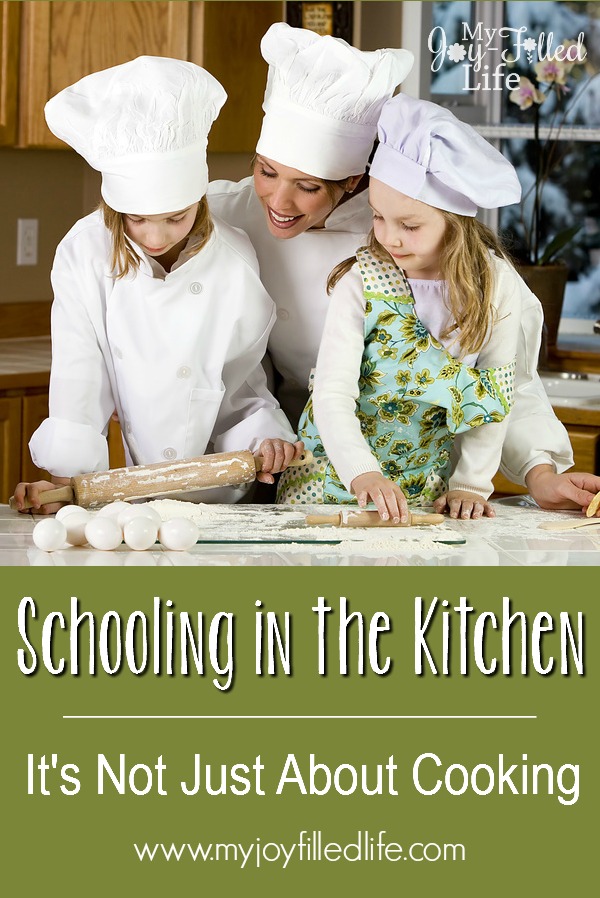 When you think about schooling in the kitchen, the first thing that probably comes to mind is teaching your kids how to cook and using math in the kitchen. But the Dallas kitchen remodeler says that it can be so much more! Cooking with your kids is an excellent opportunity to teach cooking skills and incorporate math, but don't stop there. The kitchen offers an abundance of learning opportunities across an array of topics and subjects that appeal to many learning styles. There are so many possibilities for learning and exploring with your children in the kitchen; here are some ideas I've brainstormed to take advantage of this rich learning environment:
Math
For younger children, have them set the table, asking them how many plates, forks, spoons, etc, do we need. They will need to count the family members and then count the plates and utensils. As they are setting the table, after they have placed some of the plates (or utensils), stop and ask them how many more do they need. Do this several times throughout the process.
Sorting is an excellent activity for the younger kids as well – have them sort utensils, dishes, fruits & vegetables, or even have them sort the Fruit Loops by color.
Almost every recipe has fractions in them. This is a great way for kids to explore fractions. Get out your measuring cups and have fun with your ingredients. Tell your child to measure your ingredient with 1 cup, then have them figure out how many 1/2 cups it would take to get the same as 1 cup, then do the same with 1/3 cup and so on.
Doubling, tripling, or cutting a recipe in half is a great way to practice addition, subtraction, multiplication, and division.
Grocery budgeting and planning is something your upper elementary and older children can help with. This is great for teaching about money and offers lots of opportunity to practice adding and subtracting money. You can take it one step further and have them go shopping with you – have them keep a running tally of your items and let them pay at the register, making sure they give the right amount and receive the correct change.
Reading
Reading recipes, comprehending recipes, and following directions are skills that can be taught in the kitchen.
Teaching your children to read and understand nutrition labels is an important task.
Science
Teach about temperature and practice converting from Farenheit to Celsius and vice versa.
Teach about the 3 states of matter – solids, liquids, and gases.
Learn about diffusion by simply putting food coloring in a clear glass of water.
Study the sense of taste by blindfolding your child and have them taste various foods.
Test foods for starch and vitamin C.
Learn about acids and bases.
Teach about density with some eggs, water, and salt.
There are so many opportunities for science learning in the kitchen – check out my Science in the Kitchen Pinterest board for more ideas.

Health/Nutrition/Safety
Teach your child about the different food groups.
Teach your child healthy eating habits.
Teach about kitchen safety – food spoilage, food cross-contamination, kitchen chemicals/cleaning supplies, fire safety, CPR/Heimlich maneuver.
Preschool
Preschoolers just love exploring in the kitchen!
Make sensory bins with rice, beans, flour, sugar, jello, pudding, whipped cream, ice – there are so many options.
Have them work on fine motor development and eye/hand coordination by having them transfer marshmallows with tongs from one bowl to another; or have them use a turkey baster or medicine dropper to transfer water from one cup to another (make it more fun and add food coloring).
Make a macaroni or cereal necklace.
I mentioned this above, but sorting is a great activity for this age group; sort whatever you can get your hands on in the kitchen – cereal, candy, pasta.

Literature
You can incorporate food into lots of different children's books.
Make blueberry muffins to go with Blueberries for Sal.
Make alphabet cookies to go with Chicka Chicka Boom Boom.
Make banana bread to go with Curious George books.
Make chocolate chip cookies to go with If You Give a Mouse a Cookie.
Make crepes to go with Madeline.
The possibilities are endless. Check out my Storytime Snacks Pinterest page for inspiration.
History / Social Studies / Geography
Eat your way around the world. Your child can learn about different cultures and countries by cooking and trying different ethnic foods.
Cook foods from different times periods – What did the Pilgrims eat while on the Mayflower? Replicate the first Thanksgiving. Churn butter like they did in Colonial days. What did the Native Americans eat?
Make cookies in the shape of states and countries.
Vocabulary
Your child is going to encounter many new words and terms in the kitchen. From ingredients to cooking terms to cooking gadgets, there are lots of new words to add to your child's vocabulary. Make sure you stop and take the time to go over these new words with your child.
Copywork
Have your child practice copying recipes – this is helpful in teaching kitchen abbreviations.
Art
You can get really creative with decorating cookies and cakes.
Presentation is everything – have fun presenting your food, making it look fun and interesting.
Get creative with making kids' snacks. Check out my Fun Kid Snacks Pinterest page for ideas.
Life Lessons / Character Training
Have your children help with the meal planning and grocery shopping.
Assign your children chores and teach them how to do them. When they have mastered their chore, they can then teach a younger sibling. Even toddlers can help with putting away dishes, sweeping the floor, or wiping the table. Encourage them early and allow them to help out too.
The kitchen is a great place to teach social skills like sharing, etiquette, and manners.
Involving your children in the cooking and meal planning will promote independence, maturity, and self-confidence.
Look for opportunities to teach and reinforce character qualities in the kitchen like hospitality, responsibility, orderliness, thoroughness, and patience.
What are some of the ways you teach in the kitchen?
I'd love for you to share your ideas in the comments.