If you are a homeschooler, you have probably heard of The Old Schoolhouse Magazine (TOS), and you may have heard of Teacher's Toolbox.
SchoolhouseTeachers.com
is the
new
Teacher's Toolbox and is a division of TOS magazine. If you haven't heard of it, don't feel bad, because you're about to learn about it now, andas a self-proclaimed curriculum junkie, I had never heard of SchoolhouseTeachers.com until recently. I don't know how I had gone this long and missed such an abundant resource.

So, what is SchoolhouseTeachers.com?
In a nutshell – it's an online resource for homeschooling families, that offers you tons of flexibility, all in one place.
SchoolhouseTeachers.com offers daily, weekly, and monthly lessons that you can use as your sole curriculum, use to fill in any gaps in your curriculum, to supplement your curriculum, or as a means to take a break from your current curriculum and shake things up a bit.
The lessons, in over 25 different subject areas, covering levels Pre-K through high school, are taught using videos, ongoing lesson plans, worksheets, lapbooks, and unit studies to name a few. And they are taught by top, well-known, and well-respected teachers in the homeschooling community. Just to drop a few names – Terri Johnson of Knowledge Quest teaches geography; Adam Andrews uses the Teaching the Classics approach in his literature classes; Kim Kautzer of WriteShop Inc. provides daily and monthly lessons for writing; Kimm Bellotto from In the Hands of a Child provides lapbooking; and Michelle Miller of TruthQuest History provides monthly, themed reading lists for the whole family. And the lists of teachers and subjects keeps growing every month.
Check out the site for yourself! Take a site tour and check out some of the sample lessons to see if SchoolhouseTeachers.com would be a good fit for your family.

You are probably wondering how much all of this costs. Well, your first month is just, wait for it…………. $1.00!!! After that, it's just $5.95 per month or purchase a 1-year membership for $64.26. And if you aren't satisfied, you can cancel at any time.
Oh, and I don't want to forget to tell you about all the extras you get on top of all the great lessons and activities. With your paid membership, you also get:
The Old Schoolhouse Magazine delivered to your inbox once a month
Access to all The Old Schoolhouse Magazine digital back issues
The Homeschool Minute weekly E-Newsletter
FIVE, yes FIVE Schoolhouse Planners – a parent version, 3 student versions (primary, intermediate, and high school), and a special needs planner. These planners are full, full, full of resources and pages for you to customize a planner that is just right for you.
Monthly bonus e-books for each month of membership
A free monthly e-book
All available TOS Expo-To-Go recorded sessions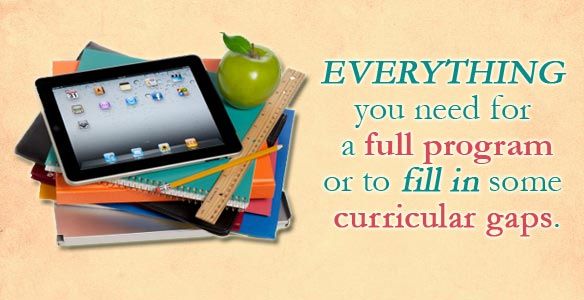 My Thoughts & Experience:
My first impression of the site was, Wow! There is A LOT of stuff here! I'm not going to lie, it was a bit overwhelming and I will warn you, you will probably spend several hours, maybe days, just exploring the site. There's a lot here! Thankfully, the look and layout of the site is simple and clean, and is very easy to read and navigate.
Some of the things that caught my eye right away were:
1. The "Dailies" – there are daily lessons/practice/activities for many different subjects here. Lessons for grammar, math, writing, and copywork. There are daily spelling lessons for all grade levels; daily hands-on activities, art activities, read & play activities, games, and even something for mom – a recipe for each day of the month (the only complaint I have on this one is that the recipes don't have pictures and I'm a visual kinda girl).
At various times in our homeschooling I like to be able to have quick, daily practice activities for my kids – the grammar, math, writing, and copywork are all things that would fit that bill for us. I tried out the grammar dailies for the week with my 8 and 10 year old; each week focuses on a different area of grammar, and this week it was compound nouns. It fit in nicely for us since I had recently started reviewing nouns with them. The printable lessons are easy to read, understand, and just the right length. Each day the teacher uses a different way to reinforce the concept, such as fill-in-the-blank, matching, or going on a scavenger hunt. I only wish she provided an answer key; as a busy mom of soon-to-be 7, it's nice to have the answers right at your fingertips.
2. Weekly Science Experiments – we love science at our house, especially the experiments, so this was definitely an area of excitement for us. Jason Lindsey of Hooked on Science teaches basic science concepts each week. For each lesson, there is a short video presentation of the experiment and a downloadable experiment guide to go along with it. And one of the best parts for mom, is that the experiments require minimal supplies that you most likely have around the house. Here are a couple videos of my boys trying the Thanksgiving Egg Drop experiment
3. Monthly Reading Lists – I'm a sucker for reading lists! So when I saw that Michelle Miller from TruthQuest History provides a themed reading list every month, I was super excited. I have used TruthQuest in the past and love and trust Michelle's choices in books.
4. Guitar & Voice lessons – All my kids really enjoy music. My oldest son has wanted to take guitar lessons for awhile now. Unfortunately, music lessons have been put on the back burner in our family because of time (traveling to and from lessons, with little ones in tow) and cost. So imagine my excitement when I saw these two "subjects" offered. I plan on digging into these more after the holidays and after baby arrives.
5. Pre-K Reading Activities: Read & Play – I love using children's books for much of our learning during the preschool years, and I love even more to be able to incorporate fun activities that go along with the book. Wendy Woerner provides weekly activities to go along with Bible stories and children's books.
Overall, I think this is an excellent resource for any homeschooling family. There is something here for everyone, from preschoolers to high schoolers, and even mom. Plus, you can't beat the price of SchoolhouseTeachers.com; you get so much for the low monthly membership fee. Truly, a great value!

There is so much content here that I cannot possibly review every aspect of this site. To see what other crew members liked, click the banner below to read their reviews.

Disclaimer: I received a free copy of this product through the Schoolhouse Review Crew in exchange for my honest review. I was not required to write a positive review nor was I compensated in any other way. All opinions I have expressed are my own or those of my family. I am disclosing this in accordance with the FTC regulations.