At the beginning of the school year I started off with a bang. I organized our school room, lesson planned, prayed and gathered up all of the curriculum we needed. After a lot of birthdays, Thanksgiving. Christmas, and some hard life circumstances; I am just not feeling as gung-ho as I was at the start of the school year. I need a vacation from our vacation. Are you with me? But because the pros outweigh the cons for our family's choice to homeschool, I know I need to press in and persevere. I also know I need to give myself a lot of grace, take a step back and look at what I need to do to get my head back in the game.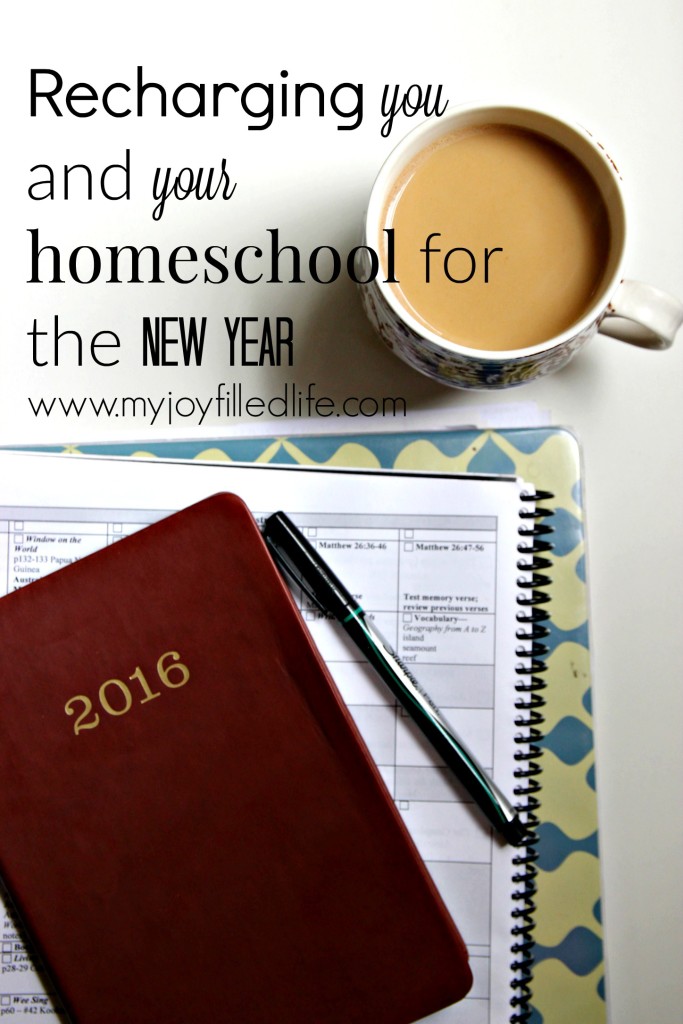 Even though I might not be completely ready to start school again, I am looking forward to it also. My kids and I thrive best on structure and routine (that is slightly flexible). I know once I clear my head, focus on the task at hand, prepare mentally and physically, make sure my homeschool arsenal is fully stocked and operational, I will be ready and even enthusiastic to start this new school year off right!
Here is what I am hoping to do to recharge my homeschool mom batteries and keep going…and going and going…and what you can do also.
1. Not stress out about getting right back into school and take some time off to get myself and everything in order
2. Clean, organize and declutter school room (and whole house)
3. Order some new books that we need
4. Read some encouraging homeschool books
5. Take a homeschool Ecourse
6. Review what we have already done and see what I need to be focusing on for each child
7. Have my husband take the kids out so I can have some time to lesson plan in peace and quiet
8. Plan some field trips, homeschool get-togethers and nature walks
9. Schedule our homeschool day a little better
10. Plan to set aside time with each child during the day
11. Work more on character training and life skills with the kids
12. Add unit studies that focus on the kids interests
13. Set some practical goals for the homeschool year
14. Continually seek God for grace and strength…and joy to homeschool
As I write this I feel better already. There is something about writing everything down that lightens my load and frees up all the space in my head.
As homeschool moms we need to be careful to not only give our children the best education we can, but give them the best mom that we can. If we are trying to teach them when we are burnt out and unmotivated, my guess is that they will be unmotivated also. When I am at the end of myself, stressed and overwhelmed by life, I admit that I don't react in the best way towards my little ones. I lose my patience easily and I know I don't set a great example for them. Though I hate feeling like we are behind or are losing time, I know I need to make time to take a break and recharge. Not only will my kids thank me, but I will be ready to get back into gear; excited and prepared for whatever the coming homeschool year has in store.
Are you feeling burnt out and unmotivated? What do you do to recharge?
The following two tabs change content below.
Rebekah is living out her dreams as wife to her best friend and homeschooling mama to 5 crazy, beautiful little ones. She loves to encourage and empathize with other women and moms as she shares her heart, faith, joy and struggles on her blog
faithful with the little
. In the midst of meeting all the needs for her ever needy family you can find her running, thrifting, crafting, taking pictures, baking, writing and finding ways to be efficient and organized in her 2 bedroom home. Most of all she loves snuggling with her children and watching them play, create and learn. She lives in sunny Florida on a little farm in the city consisting of children, chickens, bees, gardens and lizards.