There is no right or wrong way to homeschool your children. Some families like to do 'school at home' which very much replicates a classroom environment, while some are at the other end of the spectrum and 'unschool' their children. And then of course there is so much in between.
If you are new to homeschooling or are considering homeschooling for your family, getting started can be very overwhelming – between the laws and regulations, to all the curriculum choices out there, it can be quite daunting. And then there are several different methods of homeschooling to consider and figure out which one (or a combination of some) would be best for your family.
Below is a quick guide to get you started with trying to figure out the best homeschooling method(s) for your family. These are experienced homeschoolers and bloggers that have shared a little bit about the method they use and why it is a good fit for their family. This is NOT an exhaustive list; these are just some of the more popular homeschooling methods.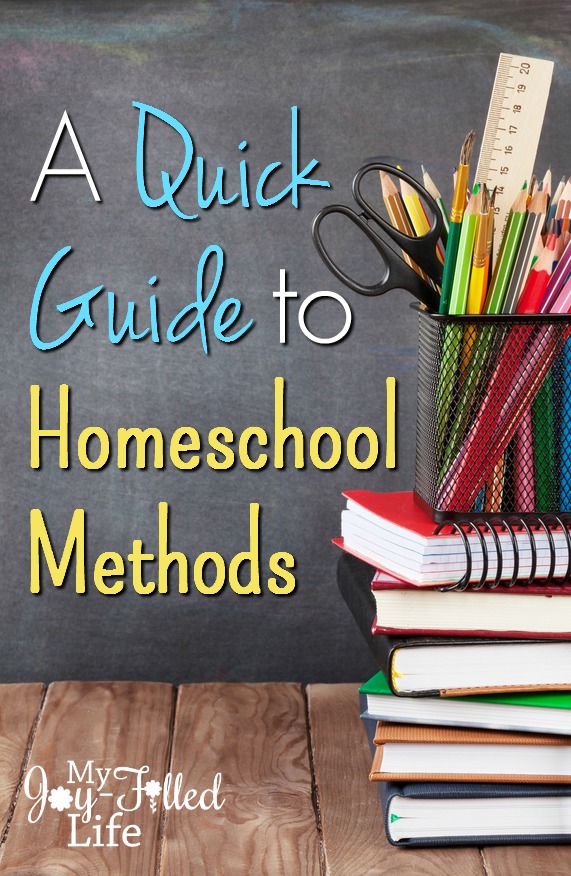 Classical
Let's briefly and quickly talk about classical education, shall we? Classical education is simply a model of education which focuses on the big picture of learning, learning how to learn, as well as loving learning. The most common understanding of the classical model is learning how to learn through the Trivium, which basically represents three paths of learning. There's more to classical education than the Trivium, but for the sake of simplicity we'll stick with the basics of the Trivium. In a nutshell, anyone of us can learn anything, at any stage of life through the process of three stages: grammar, dialectic, and rhetoric. The first stage focuses on memorizing important information of each subject matter (grammar stage). The next stage focuses on understanding that information by asking the questions how and why (dialectic stage). The third stage focuses on creating our own ideas of each subject matter, applying those ideas, and then teaching them to others (rhetoric). This stage is more about understanding ideas so well, that we can come along side someone else to help them understand the material to the best of their ability. Therefore, we memorize so that later we can talk about it, then later we can formulate our own ideas about the material.
To be frank with you, I don't think I could homeschool without the classical model. This model has helped me keep our schooling effective, efficient, and is teaching me how to love learning. Over the years I have discovered how to throw off all that hinders our education, without losing effective education. I am seeing my children make connections that I never thought possible, retain information over long periods of time, and yet still have plenty of time for living life. This model helps me prioritize what's most important, as well as helping me teach my children to think for themselves. Basically this model helps me, the teacher. My primary resource I use to educate my children is Classical Conversations, which is a community of people working together for the same goal. Not only has this program helped me have a better understanding of the classical model, but also walked with me in helping me become the best teacher for my children. I also use Saxon math for our math curriculum, Ordinary Parents Guide to Teaching Reading to teach my children to read, as well as IEW's Teaching Writing: Structure and Style, which Classical Conversations uses for older elementary students.
My favorite resource in using the classical model is Classical Conversations Writer's Circle, which features articles in using this model practically. For more details on the classical model, check out my post: Classical Christian Education Explained Simply.
Blessings to you!
Caroline at Anchored In His Grace
---
Delight-Directed
One of the most common questions I hear is, "What is delight-directed learning?" The simple answer to that question is "teaching your students according to their interests and passions." But that answer always begs a few more questions. That's why I wrote a series on my blog, Ben and Me, last year — 31 Days of Delight-directed Learning.
Delight-directed learning has been a way of life for us for many years now. It began when my son was in 2nd grade and already losing a love for learning. I didn't go all out in the beginning and just change everything we were doing all at once, but instead took a slower approach. Then one day it finally hit me — this method was working for him. He didn't complain about being bored, and most days he was excited about what was next. Well, except for math. He's never been excited one day in his life about math. But he was excited about learning. And he was taking ownership, even at that young age, for his homeschool days.
I believe with all of my heart, that giving our children the tools to learn about those things in which they are most interested, passionate about, and bring them joy and delight, will also give them the tools to a lifelong love of learning. I have seen it happen time and time again.
Whether you are a unit study-loving family, or one that prefers a boxed curriculum approach to homeschooling, I want to encourage you give delight-directed learning a try. How that might look is up to you. Perhaps you can set aside one day a week or one week a month. Maybe a fun summer or Christmas-break study is more your style. We use this method for almost all of our homeschool days, but I understand that it's not a method everyone is comfortable using exclusively.
My hope is that you will grow to understand that a delight-directed approach can be used in every homeschool, no matter the homeschool method you generally prefer. You can follow the interests and passions of your students at least some of the time, creating a more delightful homeschool.
If you'd like to learn more about how to incorporate delight-directed learning into YOUR homeschool, I wrote an ebook that gives you step-by-step instructions and includes planning and journaling pages.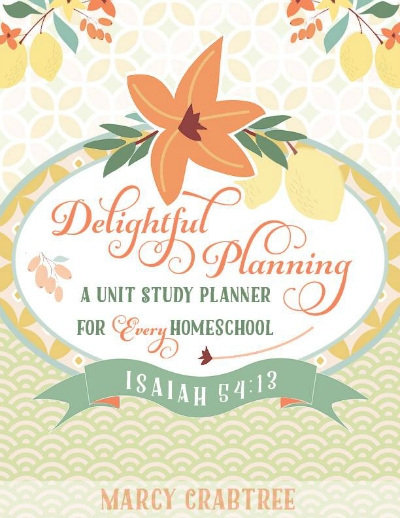 ---
Eclectic
An Eclectic method of homeschooling is basically pulling bits and pieces of several different homeschool philosophies, styles, & curriculum to create the best educational plan for your children. Eclectic Homeschooling is extremely flexible for planning and is easily worked around your homeschool budget.
We have tried a few different methods of homeschooling in our 11 years of homeschooling, "school at home" to strictly online to unschooling to Charlotte Mason to Unit Studies, each one with their pros and cons for our family. I have pulled the pros out of each method to create an eclectic curriculum that works best for us. We have a classroom (school at home), we use online programs for math and learning to read, the boys can choose topics that interest them or have days of unschooling, we include lots of Nature Study and Living Books (Charlotte Mason), and I typically tie all of our subjects together in a Unit Study style with lots of Hands-On activities as well as worksheets & other printables. A new favorite online, unit study program that we are enjoying is from Techie Homeschool Mom.
---
Unschooling
I'm not sure if we fit into the common definition of unschooling, if there is one. Years ago, unschooling meant you used NO curricula whatsoever, and many folks I new who were proud self-described unschoolers had no discernible or definable process, either. Our family came to this method in a very circuitous way. When we began homeschooling, we had two pre-schoolers and lived overseas. Immersed in the culture, our learning consisted of cross-cultural experiences and language studies. Returning home with 2 elementary-aged children, we fell into the mold of school-at-home, and began moving through more traditional methods. As our kids got older, however, our approaches and attitudes matured, too.
Today, our unschooling is a combination of unit studies (where the kids dig deep into a particular topic/interest using a variety of sources), small-group co-op classes (which often use teacher-created materials, but might sometimes use a textbook as a resource), and real-life learning (based on activities such as volunteering, Scouting programs, crafting classes, and such). While this approach might also be described as eclectic, we describe it as unschooling due to its emphasis on developing a lifestyle of learning, as opposed to a more structured process.
You can read more about the tools and methods we use over at our blog, PatAndCandy, and get access to many of the helps we share with our readers when you subscribe to our periodic newsletter.
---
Unit Studies
Real homeschooling is keeping the family together, engaged and excited about learning from the youngest to the oldest child and the best way to do this is with unit studies. A unit approach focuses on one central topic. Once this topic is selected all learning revolves around this subject with reading, vocabulary, language arts, science, history, geography, art and even music incorporated in the study. This means no more isolated textbooks in each subject. Unit studies encourage families to study, discuss, research and create a learning environment that is more natural. Therefore, there is a greater retention of information and more success.
For us, unit studies were by far a favorite and helped my learning challenged son not only succeed, but excel. He and his sister were able to learn together. I could teach a specific topic and then have them create hands-on projects and use experiments to further explain an idea, all in a fun-filled approach. Even with age gap differences my subsequent three, younger children were able to participate. The approach to learning worked great. For example, we could all learn about oceans but on different levels. A trip to the beach to collect specimens included all the children. The younger ones could collect and categorize while the older children could write papers and perform experiments dealing with the salinity of water. If we were using textbooks the experience would not be the same. I highly recommend the unit study approach no matter what your child's ages.
Felice Gerwitz has homeschooled since 1986 and has five children. She podcasts at Vintage Homeschool Moms and enjoys mentoring moms. She is the author of numerous books and her curriculum was selected in Cathy Duffy's 100 and 101 Top Curriculum Picks.
Favorite resources:
Media Angels Unit Studies – Classes:
Media Angels Unit Study Books
Felice Gerwitz – Author, Publisher, Podcaster, and Co-Author: Creation Science Unit Studies
---
Charlotte Mason
The Charlotte Mason method is named for its founder, an educator dedicated to breathing life into the predominantly utilitarian schooling methods she saw around her in Victorian England. At its very basic, a CM approach asserts that a child is a person and that the function of education is to address the whole person, not just his mind. The hallmarks of this homeschooling method are using living (ie, "real") books in lieu of textbooks, short lessons, the practice of narration, and nature study and the keeping of nature journals.
In our home, we embrace the words of Miss Mason: "Education is an Atmosphere, a Discipline, a Life." While specific CM curriculum definitely exists, the heart of this approach lies less in following a specific checklist than in cultivating an environment where your family explores great ideas via literature, art, nature, and creative expression. Charlotte Mason has set us free to live and learn together as a family, instead of in prescribed boxes! On a day to day basis, this might look like my family gathered together in our living room, listening to the next chapter in a classic book, or sitting 'round our dining room table singing a timeless hymn, or all of us making detailed sketches of our newest bird sightings, or even a gentle study of English grammar… combined with a constant care to develop good habits and appetites. Pursuing a living education lifestyle has allowed my children to thrive academically, yes. But it's also fostered a true spirit of autodidacticism that has knit us together with a beautiful family culture built on a shared love of exploring God's world.
Charlotte Mason wrote a 6 volume treatise on home education, which is available for purchase, or free online. Other beloved volumes distill her philosophies into more modern language and practical tips. Among the many titles available, the most often recommended are For the Children's Sake by Susan Schaeffer Macaulay, A Charlotte Mason Education by Catherine Levison, and A Charlotte Mason Companion by Karen Andrea. The internet is full of wonderful Charlotte Mason resources as well. Simply Charlotte Mason offers encouragement and fellowship via forums, a completely free curriculum plan is available via Ambleside Online, and, while not specifically CM, Read Aloud Revival has excellent living book lists and tips on how to become a family that learns together.
Heather is the wife of one globe-trotting, church-planting adventurer, and Momma to 9 beautifully messy children who range from infant to adult. She writes about parenting, homeschooling, special needs, adoption, and serving a very big God through the mundane stuff of life on the family's blog, To Sow a Seed.
---
Montessori
Today I am going to share a little about Montessori and how we use it as part of our homeschooling day. Montessori is ultimately about observation. Maria Montessori was a doctor and scientist that developed her philosophy after many years of research. She believed that children develop and learn differently throughout life and breaks it down into 4 planes of development. Starting with Birth-6, second 6-12, third 12-18, and fourth 18-24. There is a defined scope and sequence of lessons that are offered at each plane of development and a self-sufficient adult is the ultimate goal.
You might love everything about Montessori and want to use all of the materials or you may choose to just add in parts of Montessori (like we do) to your everyday life. We love the practical life aspect of Montessori. Having your children help with baking, food prep, dressing themselves and other daily self care are important. It will help them gain confidence and experience for their future. In the first plane (age 0-6) The goal for teaching your children is to go as wide as possible, exposing children to vast amounts of language and sensory experiences. I really like this idea because it gives them general knowledge of a variety of different topics. As they get older they can dive deeper into specifics of a topic of interest. Montessori materials are designed to be used in a specific manner and at a specific point in development, but don't think you have to have these materials to adapt Montessori into your life. Like anything you can use parts of Montessori or DIY your own materials. After doing a little reading on the Montessori philosophy you might realize that you already incorporate Montessori into your homeschool life.
I hope you enjoyed this introduction to Montessori. I'd love for you to visit me at Natural Beach Living for more homeschooling activities and ideas.
If these ideas resonate with you, I encourage you to read a few introductory books and see if Montessori is something you want to go deeper with. Susan Mayclin Stephenson has two books that offer a solid overview. The Joyful Child is for ages 0-3 while Child of the World is for ages 3-12. I also recommend The Absorbent Mind by Maria Montessori.
---
Boxed Curriculum (all-in-one)
I looked over MANY curricula before we started homeschooling. It's overwhelming to say the least. Our first year I used a little of everything. Reading from one company, parts of two different language arts programs, Bible lessons from whatever devotional I picked off the shelf that day, history units I pieced together myself… we had fun, but it was really exhausting to do it that way. And I always felt like we were "switching gears" between subjects. Nothing flowed. And I usually lost my son's attention during these moments when I was trying to go from one stack of materials to another.
Then I found Sonlight. Sonlight is what you would call an "all-in-one" or "boxed" curriculum. What makes it different from, say, Bob Jones or Abeka that offer all subjects? Well, a curriculum like Abeka is still "in pieces". Each subject has it's own guide, text, workbooks, etc. Sonlight takes multiple subjects and meshes them together and gives you one guide to follow for those subjects.
Sonlight's "Cores" or what they are now calling "HBL" is History, Bible and Literature. And then they have "Language Arts" or "LA" packages that are reading/phonics, language arts/writing and spelling. With the Core I get one guide, with one page per week, that breaks down what we do in those subjects. And the same for the Language Arts. One guide, one page per week, that breaks down what we do for those subjects. AND in the LA, the language arts lessons come from passages in the books for the reading portion! That's so much better than having to have a whole stack of books, guides, workbooks for reading AND a whole stack of books, guides and workbooks for language!
Sonlight using real books – there is no history "textbook". Your history comes from one or two source books (sometimes called the "spine" of the program) plus a few extra books. And then the Literature portion if FULL of great books to be read! So you're buying a lot of books – but they are REAL books, not textbooks!
A lot of people get sticker shock when they see Sonlight's prices. But I have found it beneficial to buy the Core and LA guides second hand from buy/sell/trade groups (just search "sonlight" on Facebook to find a group!). I get a lot of the books that way too but if I can't find the ones I'm looking for from a seller, I know just where to turn. There are two great used book sites that I LOVE to shop from! They are Better World Books and Thrift Books! If you love books, you need to check out both those sites! Better World Books ALWAYS ship free and most are under $6. They have sales and specials all the time too – I've gotten books for $3 or less on numerous occasions! Thrift Books' prices start at $3 per book and they offer free shipping on orders of $10 or more. But before I buy any books for the year, I check our library. If the library has the book, I don't buy it! These tips combined have allowed us to use a $500 curriculum for under $200/year!
Now that we use this "boxed" curriculum, I can grab my LA guide, our current book and a dry erase lapboard and we can get comfy on the couch for reading, language and spelling lessons with a nice flow! And the same for our Core. All I need is the guide page for that week and our books and we can get history, Bible and literature done! We've even grabbed our books before and gone to the park with them! And we've schooled on trips! When all you need is your guide for that week and a handful of books small books (no bulky, "year-long" textbooks), it's very portable!
This type of curriculum has been very good for us!
Tabitha at Life, Learning, Homeschool
Hopefully this quick guide will help you as you begin your homeschool journey, or if you are already a homeschooler who is looking to make some changes.
What homeschool method do you use or lean toward?
Save
Save
Save
Save
Save