It seems I go through seasons of what I like when it comes to decorating. I've gone from not even caring much about decorating my home, to decorating with a traditional feel, to rustic country, and now to a more transitional look (a little mix of traditional and modern). No matter what the decorating style or phase I'm going through, one thing remains the same – I love having God's word on display in my home. I want visitors, as well as my family, to see God's word at every turn.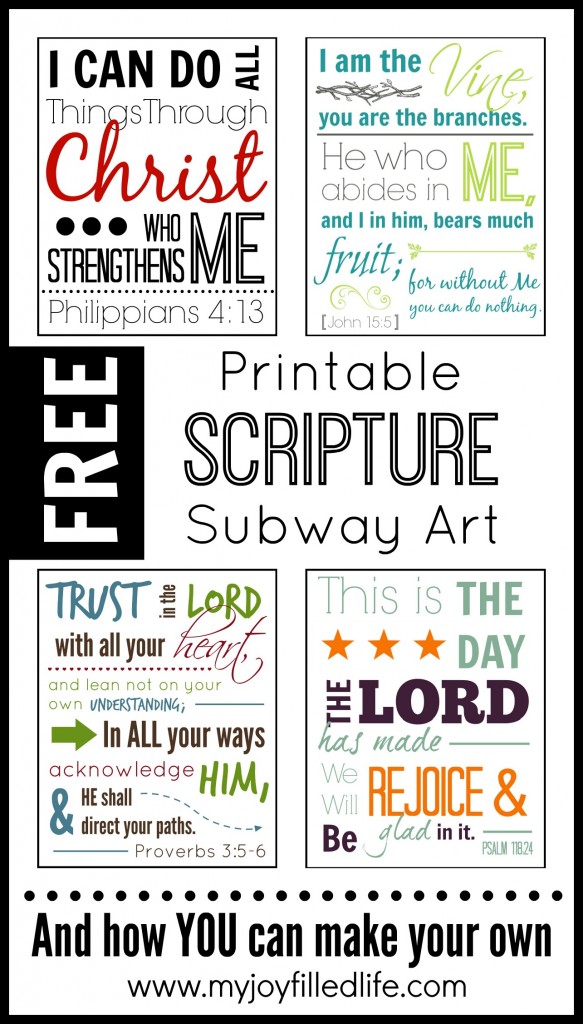 One of the things I've started incorporating more into the decor of our home is subway art. I love the clean, simple look of it. Some of my favorite ones I've purchased over the last year are from DaySpring and Etsy.
Since I don't have a ton of money to just throw into decorating, I try to find ways to decorate for cheap or for free. One of those ways is to make your own decor. I'm not a very crafty person, but I have discovered that it is very easy to make subway art using PicMonkey.
I have made 4 8×10 scripture subway art printables that you can download, print out, and use in your own home.
By downloading these images, you are agreeing to the following terms of use:

Please DO:

Download the printables/files to your computer and print them for your personal use.
Link directly to my blog when telling others about the printable scripture cards.
Give proper credit to My Joy-Filled Life when telling others about why this is a great printing scripture cards.

Please DO NOT:

Link directly to the PDF file; link to the blog post instead.
Alter the files in any way.
Sell or distribute the printables/files in any way.
Host this file on your own website or upload it to a shared website.

For best results:

Print on cardstock
Use a color printer set at the highest quality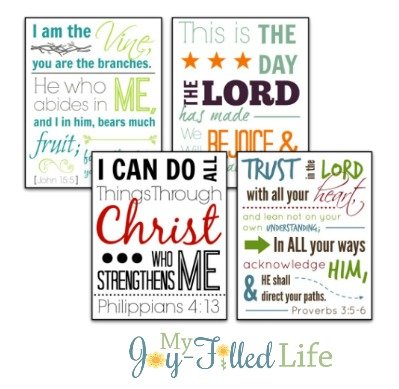 I'm offering these printables FREE to My Joy-Filled Life subscribers. To get yours, simply subscribe by clicking the download button below and going through the checkout process (don't worry, it's FREE).
As a subscriber to My Joy-Filled Life you will get weekly(ish) updates and occasional information about great freebies, giveaways, and offers.