Gifts for my kids….. the bane of my existence, especially when it comes to Christmas gifts!
Don't get me wrong, I LOVE giving gifts. But I like giving gifts that have meaning – not just giving gifts for the sake of giving gifts.
Just imagine Christmas with eight kids and all the presents from us, the grandparents, and aunts & uncles and you have present OVERLOAD! Which also equates to this mama's anxiety level going through the roof. All the gifts really just create excess clutter, and not just on Christmas, but throughout the year as I have to figure out where all these new toys and things are going to go. And I know it sounds cliche, but it's so true that they really only play with the gifts for a few days before they lose their joy and fun factor.
While we are very grateful and fortunate to be able to give our kids a good Christmas and that we have family members that want to spoil our kids, we had to figure out a way to do it differently. A way that provided more meaning and less physical stuff.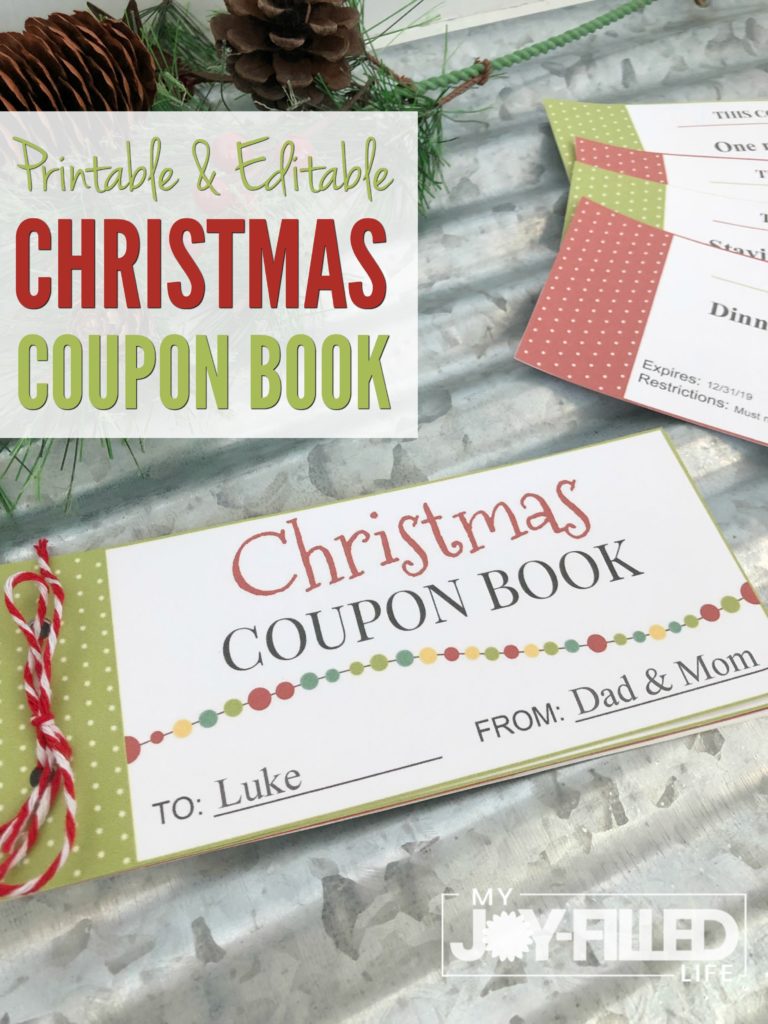 So last year I made my older kids coupon books. They still got a few gifts because I wasn't sure how they would like the coupon book (you know, I didn't want to totally disappoint them), but to my surprise, they loved them. And my younger kids were bummed they didn't get one. So this year it's coupon books all around!!
This year we also took a family vacation over Thanksgiving and that was everyone's 'big' Christmas gift, the kids will get a Christmas coupon book in their stocking (along with the fun stocking stuffer stuff, because who doesn't love that part of Christmas morning?), and we also do a Secret Santa gift exchange between the eight siblings.
Besides creating less clutter, the coupon books are also less expensive (up front, as you don't have to spend all the money at once; or you don't have to spend any money depending on what you want the coupons to be), and they make the gifts last throughout the year.
Here are some of the ideas I have for coupons this year:
No chores for a day
The purchase of one app
Dinner of your choice
An extra hour of computer time
Have a friend sleep over
Stay up an hour late
Movie ticket
A movie on Vudu
Date night with mom and dad
$10 in their video game account
Some of these I will use multiple times in the book (at least the free ones 😉 ).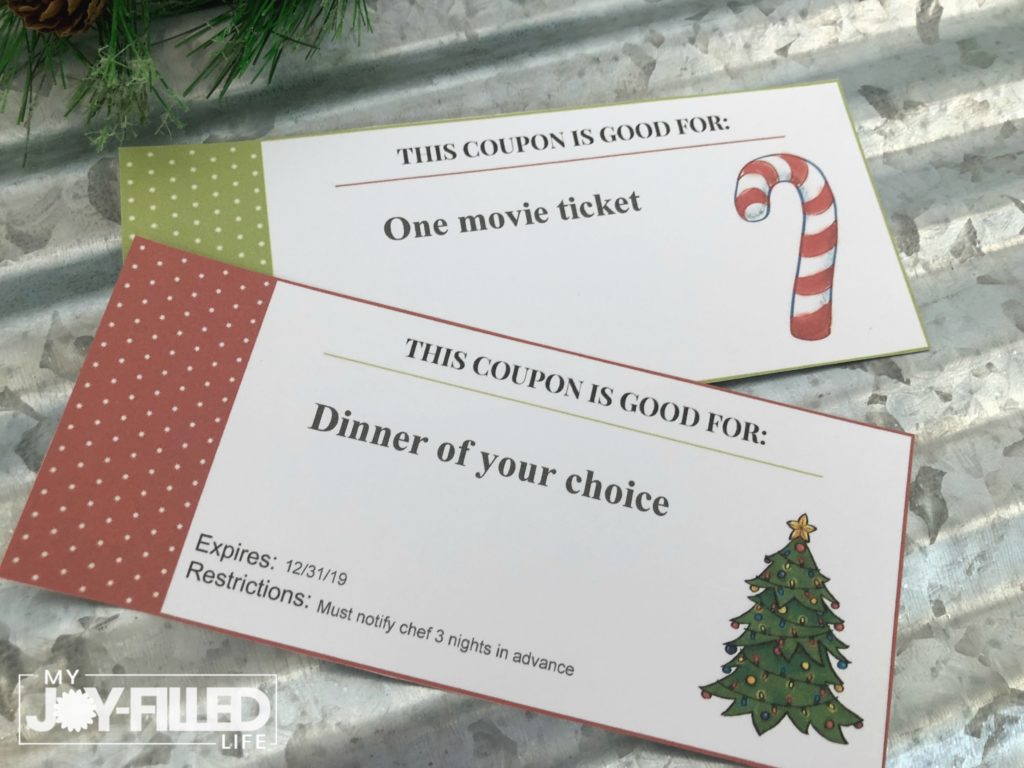 I'm also going to include things that we would normally buy anyway, but this way could pawn it off as a gift 😉 like,
A new pair of shoes
Haircut
Sports camp
A new outfit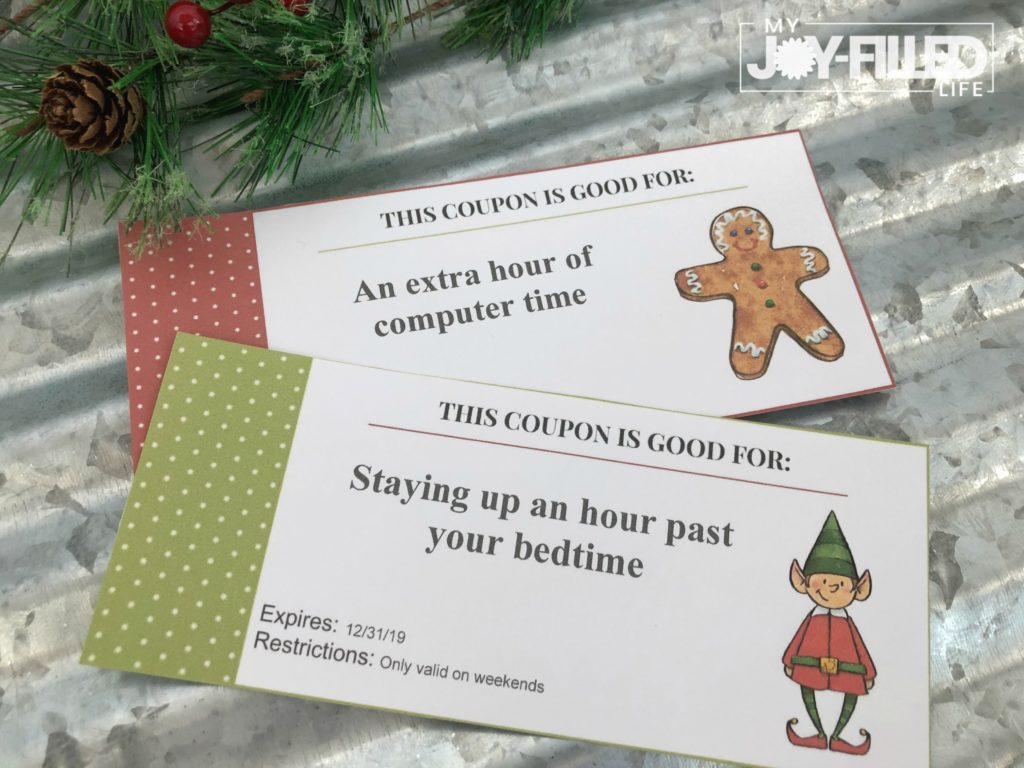 Since I will be making more books than I did last year I decided to create an editable book so that I can easily make them for multiple kids, plus be able to use them and modify them for years to come.
And you can use them too if you'd like!! I have included three different versions for you to pick from (use one or use them all) – with expiration and restrictions, with expiration, or blank (all are included with the download). Each option includes 12 different coupon designs. I do include restrictions on some of the coupons I make for my kids like staying up late or extra computer time is only valid on weekends, movie ticket is only valid on Tuesdays (that is our theater's $5 day), etc.

You might also like: