Advent calendars are kind of my thing. I probably go a little overboard with the calendars come the beginning of December. We usually have about 10-12 different calendars going during the month of December. But hey, in my defense, we have 8 kids! At least no one is left out of doing a calendar each day.
I like all kinds of advent calendars – store-bought, homemade, edible, educational, and of course, inexpensive. You can even get a printable advent calendar online and it'll probably be free! You can't get much more inexpensive than FREE! Below you'll find a list of 20 fun AND free printable advent calendars that you can print out and make yourself.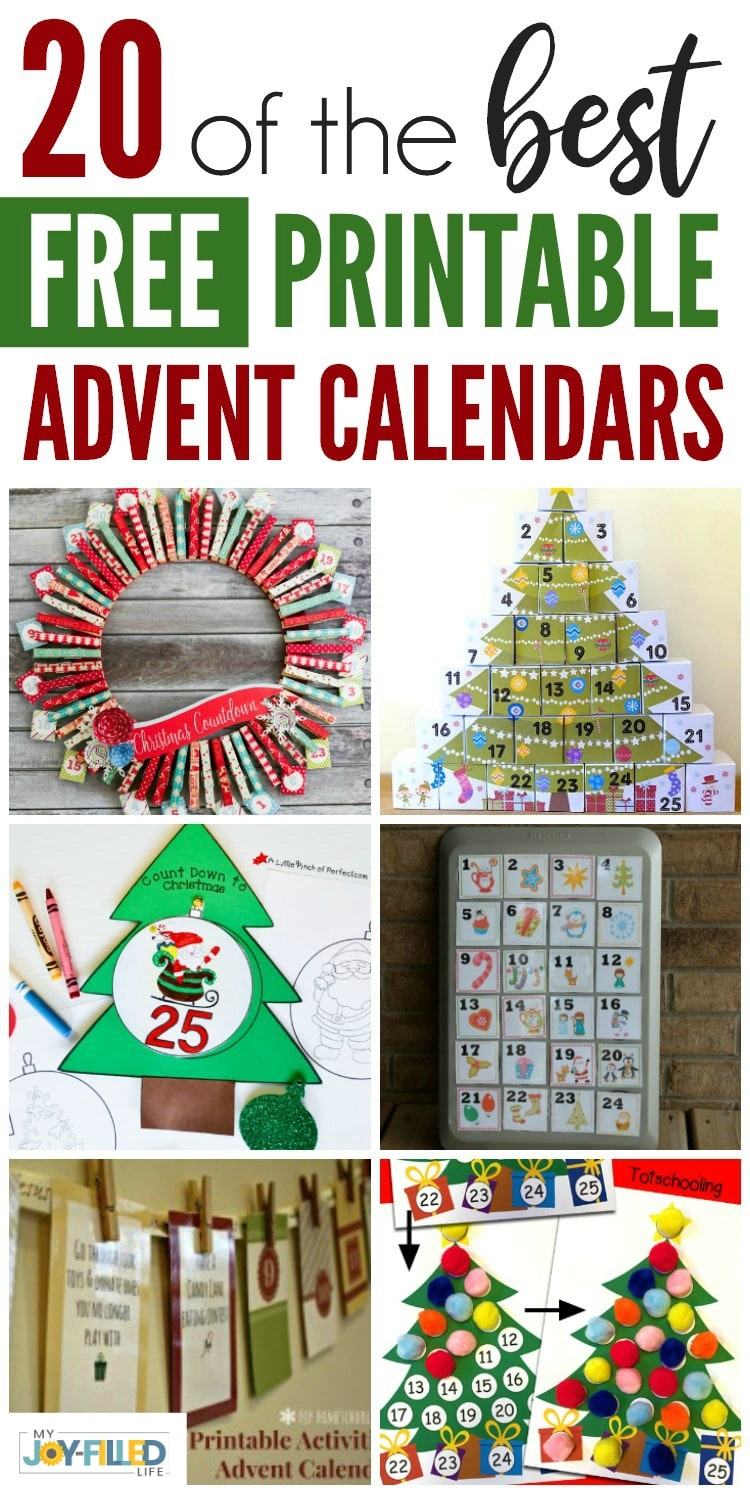 FREE Printable Advent Calendars
Christmas Tree Pom Pom Countdown Calendar from Totschooling
Toddlers love to join the fun with this free printable advent calendar! Print out this cute design and help them glue down pom poms, add stickers, or even color it with some crayons.
Printable Alphabet Advent Calendar from Sight and Sound Reading
Celebrate the birth of Christ with this alphabet advent calendar! Toddlers and preschoolers can practice letters with a Christ-theme. This is a great option for little ones who are learning their alphabet too.
Countdown to Christmas Printable Treats Calendar from Amy at LivingLocurto.com
This printable is SO CUTE! Assemble a fun interactive advent calendar that's already been designed (you just have to assemble it). You can use chocolate treats as traditionally used, or if you prefer, find small gifts to add to each day.
Mini Muffin Tin Advent Calendar from Teaching Mama
Muffin tin as an advent calendar is such a brilliant idea! Prepare your markers to put over the top of the muffin openings and insert your treats or gifts into the slots. The cards and some ideas are included as printables.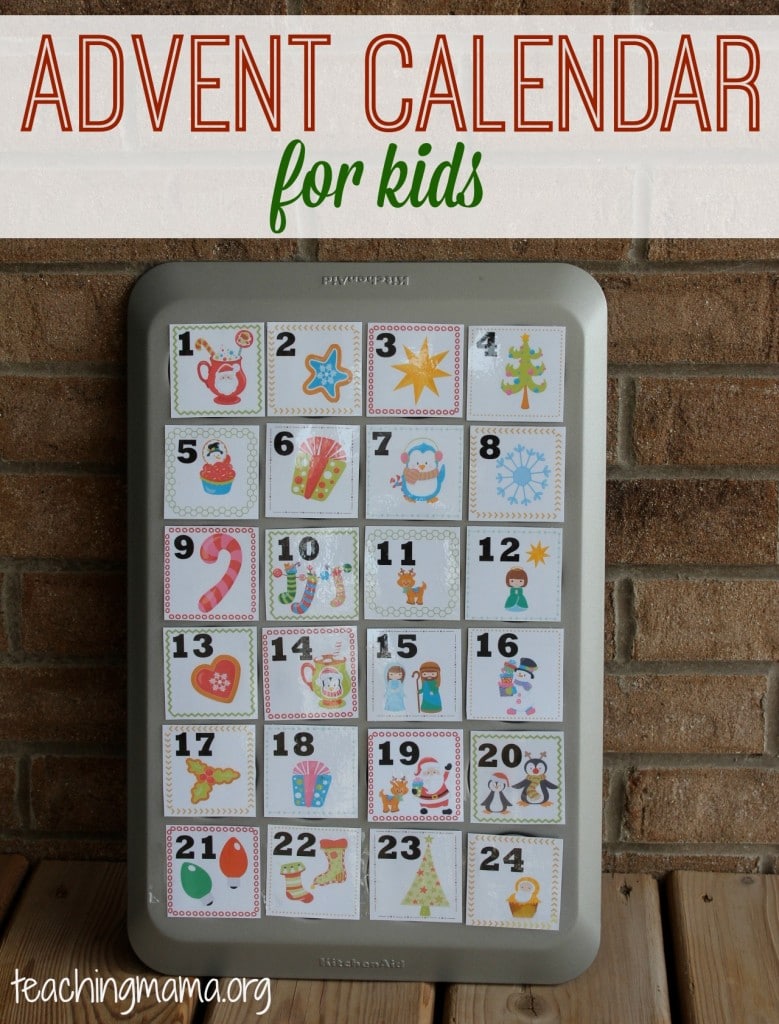 Printable Bible Verse Advent Countdown for Kids from Happy Home Fairy
Practice your bible verses each day leading up to Christmas! These cards are great to use for an advent calendar. They're carefully designed too so you know they're appropriate for even the youngest of little ears.
Printable Santa Advent Calendar Favor Boxes from Hello Wonderful
Passing out treats and gifts are a lot more fun with boxes! These boxes look like santa's hat and they're pretty easy to make. Perfect for getting kids of all ages into the spirit of Christmas.
Advent Paper Chain from Spell Out Loud
Paper chain advent calendars are so much fun and this one includes a devotional on each day. You can even make a star (as shared in the post) to make a tree arrangement.
Printable Advent Wreath from Kids Activities Blog
If you have as many wreaths hanging around during the holidays as we do, another won't hurt. This wreath utilized clothespins and you can really customize them however you want. Such a fun idea!
Nativity Advent Coloring Page from My Joy-Filled Life
Budding artists who love to color enjoy this calendar. It focuses on Christ as we focus on this heavily this time of year. Kids love to color in the pictures each day!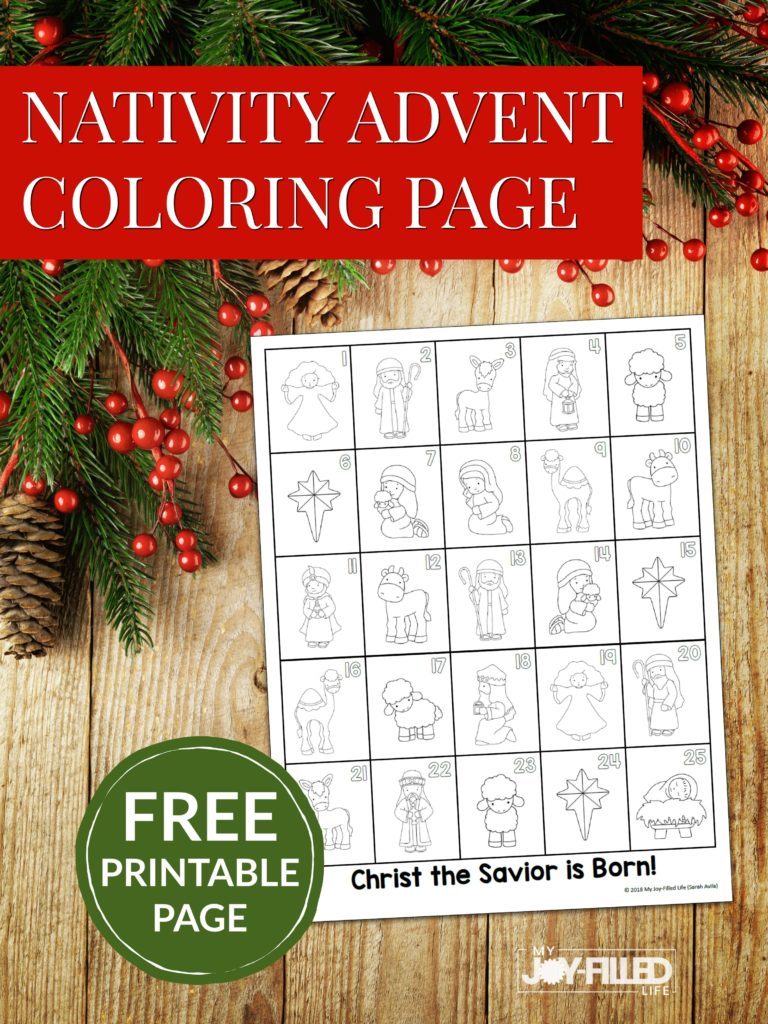 Melissa & Doug Countdown to Christmas Wooden Advent Calendar
ALEX Toys Craft Crafty Advent Calendar
KidKraft Wooden Advent Calendar
LEGO City Advent Calendar
Free Printable Names of Jesus Advent Ornaments from Steadfast Family
This advent calendar is great to use as the kids head to bed each evening. Each ornament is biblical so you can read them and have a discussion before hanging them on the tree.
DIY Magnetic Advent Calendar from Makoodle
Start a family tradition of doing something fun every night leading up to Christmas! This advent calendar is not only super fun with these cute number designs and candy inside tins, but there's also a family activity printed on the bottom. What a fun way to bring the family together during the holiday season!
Printable Hand Drawn Advent Calendar from Pure Sweet Joy
Hand-drawn boxes add such a fun twist to advent calendars! These are so easy as all you have to do is print and add to the top of your boxes. Fill them with chocolates, small books, or other gifts you can think of.
Printable Advent Calendar Activities Cards from Mama Papa Bubba
Much like the tin boxes, these cards have different activities to do during the day! They also list how many days left until Christmas and what today's date is. These are great for getting the family into the spirit of Christmas.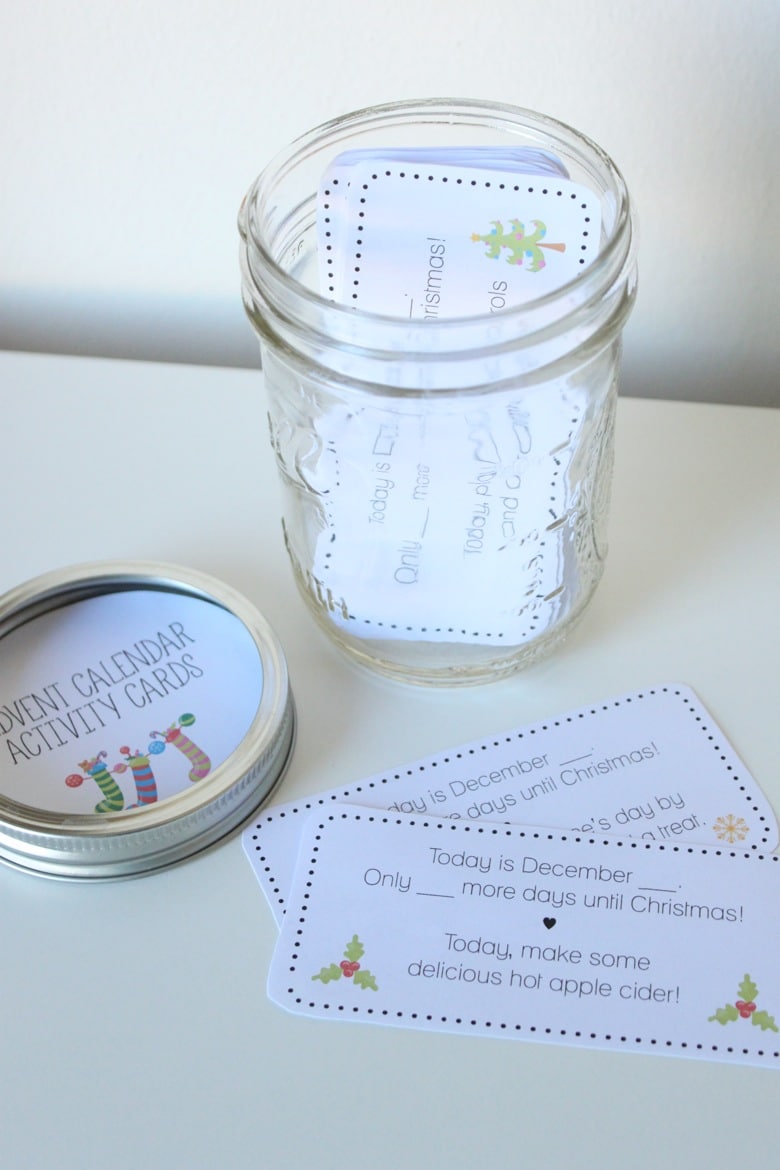 Color and Countdown to Christmas from A Little Pinch of Perfect
This craft is such a fun way to start your day during December! Prepare a paper tree that you will attach printable ornaments to after your child colors them. Great activity for early mornings!
Printable Advent Calendar Boxes from Easy Peasy and Fun
These numbered boxes are so cute! Download the free printable boxes to fill with chocolates or other small gifts for your kids.
Advent Calendar Coloring Page from Simple Fun for Kids
Traditional calendars are the way to go sometimes! This one is also a printable coloring page for kids to fill in. The drawings are simple enough for small hands to do, too.
DIY Christmas Tree Printable Advent Boxes from Powerful Mothering
Create advent boxes that double as a giant puzzle! Download, prepare your boxes, add your treasures, and put together the puzzle! You can turn these around once you grab the treasures so the picture stays but the number is no longer there. What a great option for Christmas!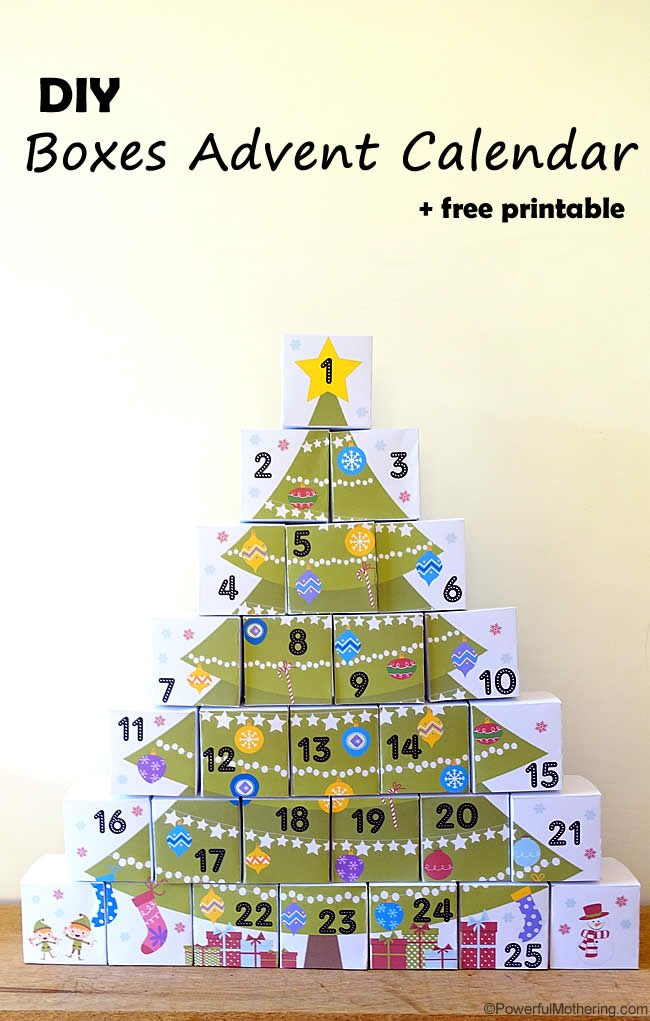 Disney Tsum Tsum Countdown to Christmas Advent Calendar
Crayola Christmas Countdown Activity Advent Calendar
Nativity Fabric Advent Calendar
PLAYMOBIL Advent Calendar
Printable Advent Drawing Prompt Cards from The Craft Train
Little artists will LOVE these advent cards! Grab one each day with a prompt of something to draw. They include things like drawing and decorating a Christmas cookie, design wrapping paper, draw something you're grateful for, and more. They are so fun!
Free Printable Advent Calendar with Jokes for Every Day from Modern Parents Messy Kids
An advent calendar that dad can appreciate too! These cute paper ornaments have written puns and jokes on the other side to get a good laugh out of everyone in the morning.
Random Acts of Christmas Kindness Printable Advent Calendar from Coffee Cups and Crayons
If the season of giving is a huge focus for you as it is for us, you'll love this one. Each day includes a random act of kindness you and your family can do. It includes doing a chore for a family member, compliment a friend, bring coffee to your teacher (if you can), and more.
Free Printable Advent Activities Calendar from My Joy-Filled Life
These cards double as a fun decoration to display in the living room or in your child's bedroom. Prepare each card and arrange with clothespins on a long piece of ribbon. Each one includes an activity idea like making a gingerbread house, singing Christmas songs, making Christmas ornaments, and more.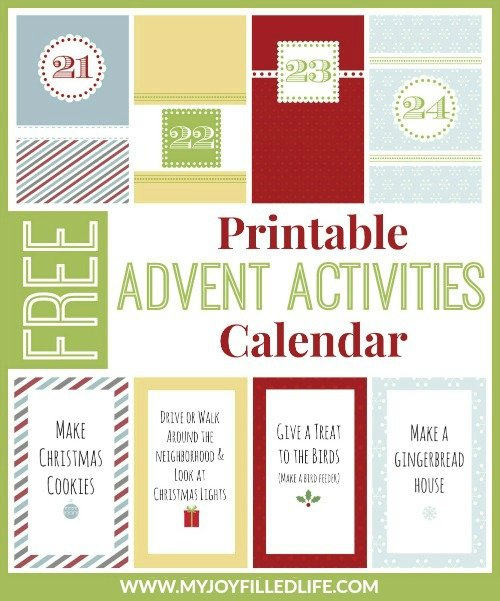 You might also like:
Nativity Story Stones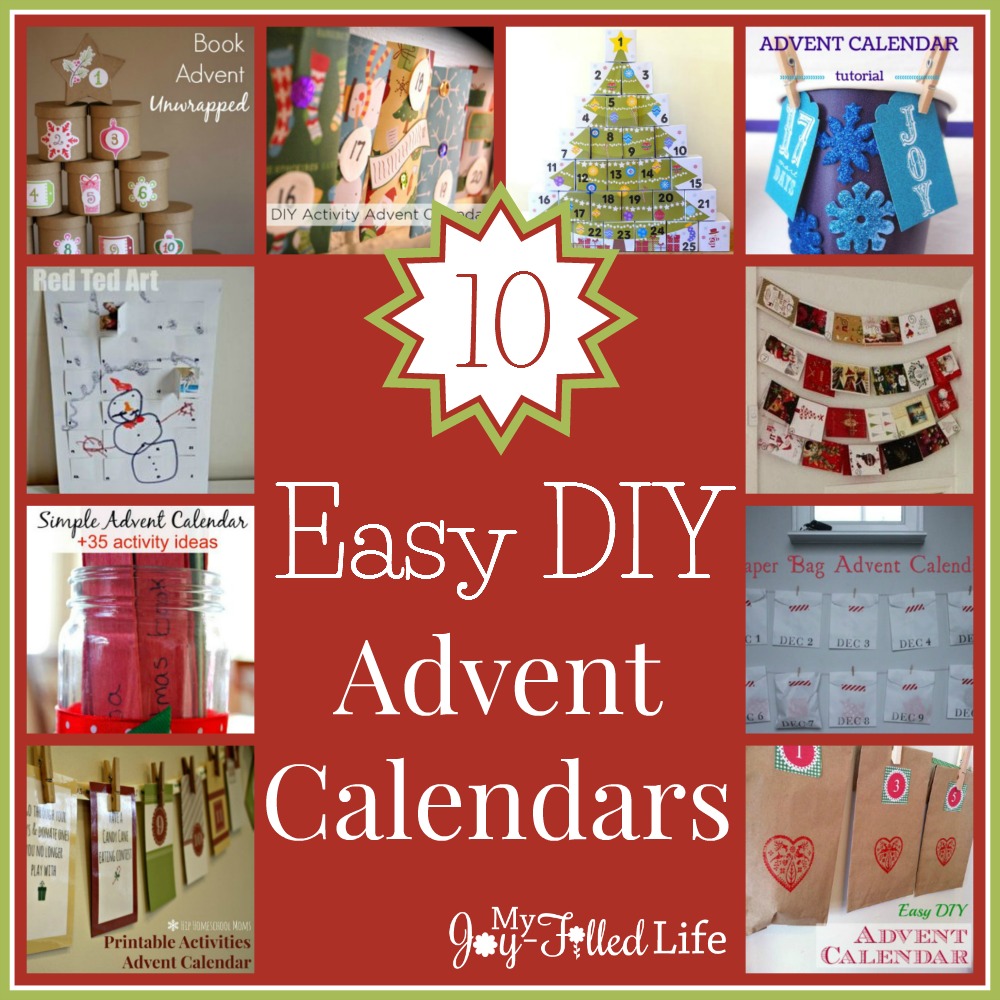 Easy DIY Advent Calendars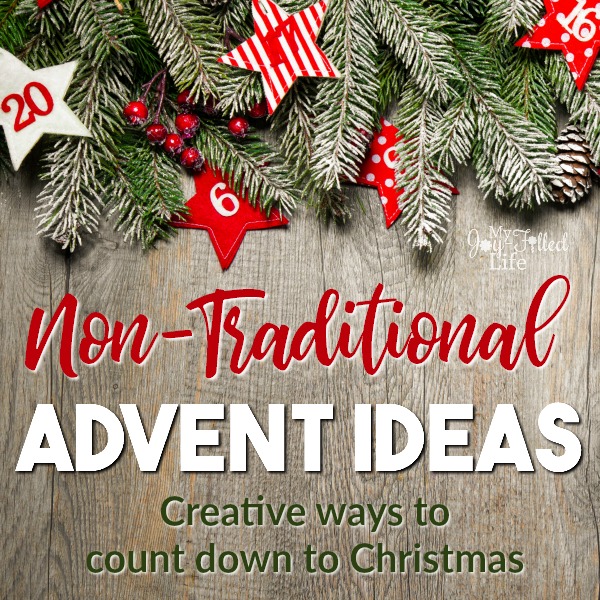 Non-Traditional Advent Ideas