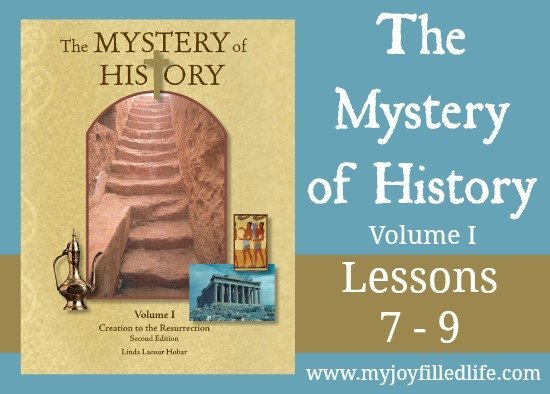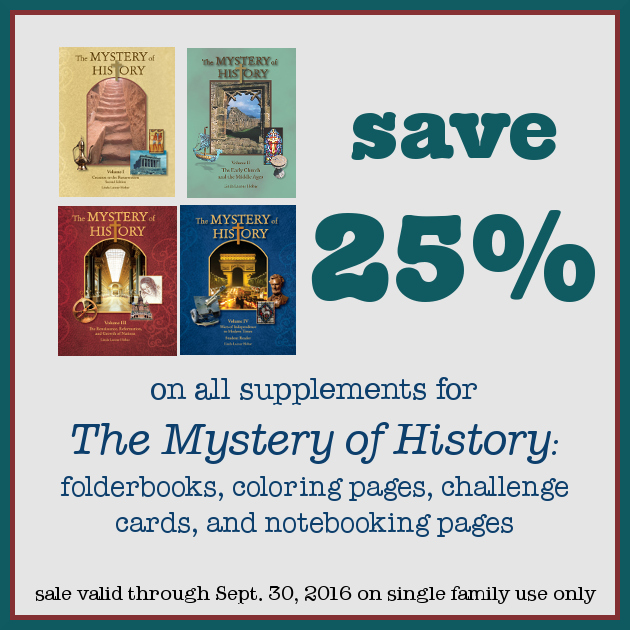 We have started using a new history curriculum this year, Mystery of History. I have struggled for the last several years on a history program that we like and that is a good fit for our family. Plus, I kept going back and forth on whether I wanted my kids to study American History first or study history chronologically.

Mystery of History has always made my list each year for possible history curriculums, and this year it made the cut. So far we are really enjoying it. We are moving through it slowly with my 4 oldest children (ages 3 – 10); there is so much to read and do with each lesson, I don't want to miss out on anything. But… I do know that I need to pick and choose, or else we will never get through Volume One.
There are so many great products and projects to go along with Mystery of History. Mapwork, Memory Cards, project ideas and Timeline (although you will need to make your own; I will show ours when we are a little further along) are all included in the book. We are also using the Coloring Pages and the Notebooking pages that you can purchase to go along with the curriculum.
Here are some of the things we did and read for Lessons 7 – 9.
Lesson 7: The Sumerians
Lesson 8: The Tower of Babel
Lesson 9: The Epic of Gilgamesh
To appreciate Sumerian architecture, we built ziggurats out of sugar cubes and peanut butter.
The boys each made up their own language and tried building a tower together so they could experience their own Tower of Babel. It didn't take long before they experienced confusion, conflict, and a small (physical) altercation (first picture). Their tower did not get very tall and it even ended up falling apart (second picture). We made the tower out of styrofoam bricks that I bought at Michaels.
We played a game of "Telephone" to show how stories get changed when they are passed down hundreds of years. I forgot how fun and silly this game can be; all but one of our messages got changed as it went around our circle of 5.
For more lessons from Mystery of History Volume 1, click below:
Lessons 1-3
Lessons 4-6
Lessons 7-9
Lessons 10-12
Lessons 13-15