'Shouldn't we look at our spouse and see not only our lover, but our friend?' ~ My Beloved and My Friend p. 1
Right off the bat, page one, this sentence hit me and says in a nutshell what this book is all about – that we shouldn't just be married to our spouse, we should be best friends with them too.
As I thought on this quote, I thanked the Lord that I was married to my best friend, and I prayed for the so many out there that aren't.
For me, marriage is a comfortable place, a safe place, a haven, my home. I have been blessed to be married to my best friend for over 11 years; God truly made us for each other.
Even though I am already happily married to my best friend, I was ready and willing to read Hal & Melanie Young's new book My Beloved and My Friend and share it with my readers. I had enjoyed reading their award-winning book, Raising Real Men, a couple years ago, where I gained a lot of insight and ideas to apply while raising my 5 sons. I was eager to see what kind of wisdom and knowledge they had to offer that I could also apply to my marriage.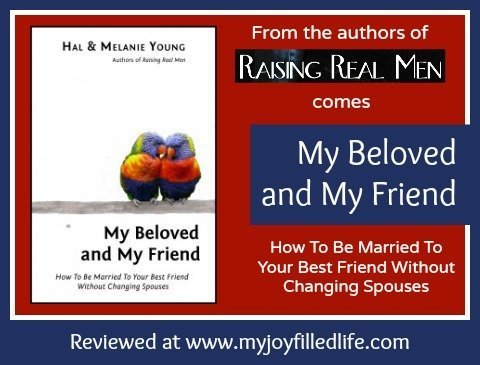 My Beloved and My Friend is a 250-page book filled with Biblically-sound marriage advice and wisdom. Hal and Melanie Young, who have been married for almost 30 years to their best friend, share their testimonies, experiences and wisdom on how you can get your marriage centered on Christ as well as being your spouse's best friend.
Hal and Melanie touch on all the important aspects of married life, referring to Bible scriptures, stories, and principles at every turn. Some of the topics covered, include:
Leaving and Cleaving – This chapter explores what the Bible says about 'leaving and cleaving,' how to become independent from your family and be united with your spouse, as well as what to do when your parents don't want to let go.
Submission – This chapter discusses the foundation of Biblical submission, leadership struggles, what submission is and looks like, and how submission isn't the same in every marriage.
Fidelity and Loyalty – In this chapter, the authors define and compare fidelity and loyalty; discuss fidelity of the body, the eyes, the mind, and the heart; explore emotional infidelity and avoiding the enemy's traps; and point out the different kinds of love and that love is a choice.
The physical aspect of marriage – This chapter explores what the Bible says about sexuality and marriage; how our sex life doesn't have to live up to outside expectations – it only has to please you, your spouse, and God; the dangers of pornography; seasons of marriage that affect our sexual relations.
The spiritual aspect of marriage – This chapter discusses the importance of a devotional life, how and why to worship as a family, what to do if one spouse is not a believer, who should be the spiritual leader of the family, and things to consider when choosing a church.
As well as chapters about handling sicknesses and physical trials in a marriage, having children, money matters, division of labor, and handling conflict.
I read this book from cover to cover, but one of the nice things about this book is that each chapter can be read independently from the others. So if there is a specific area in your marriage that needs work or attention, you can easily skip right to that chapter and focus on the matter at hand.
I thoroughly enjoyed reading this book and gleaned several new insights and ideas on how to make my marriage even better, and was convicted in several areas on things that I have let slide and need to make a priority and practice in my marriage. I believe that this book has something to offer to every married couple – newly married or not, Christians or non-Christians – every married couple or soon-to-be-married couple can benefit from this book and a highly recommend they read it.
If you want a Christ-centered, Bible-based guide to marriage, this is it!
I am blessed to add this book to my shelf of 'keepers' and know that I will refer back to it often.
Be one of the first to read the Young's newest book and pre-order it now for only $12 (shipping included).
This is my beloved, and this is my friend.



Song of Solomon 5:16 (NKJV)