I've had this dream for awhile now of packing up an RV with our necessities and our kids to head out and explore our great country.
Unfortunately there are things called 'work' and 'money' (or lack thereof) that might not allow this dream to become a reality. At least I don't see us taking a full-blown tour of the country anytime soon, but perhaps we can take some smaller road trips here and there.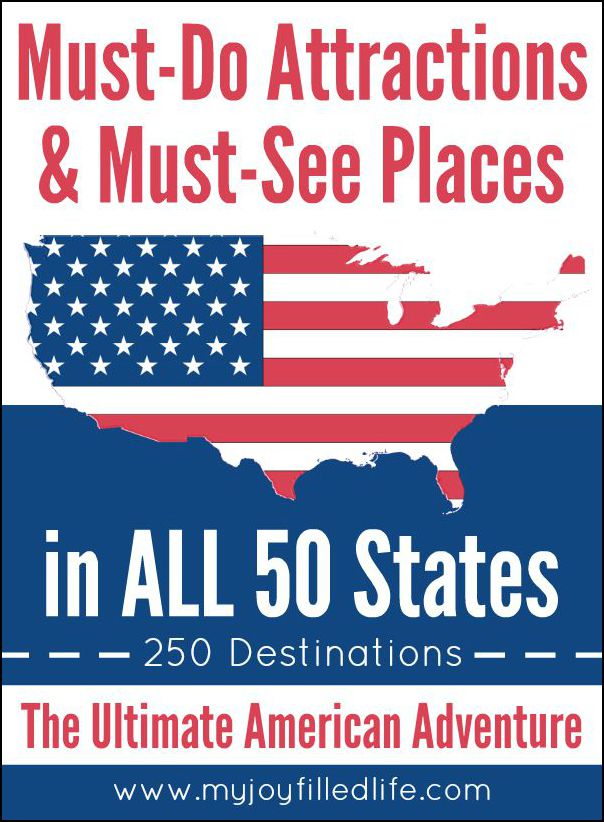 I'm one who likes to plan and prepare, even yeeeeeeaaars in advance. Years ago (like before Pinterest), I started a little travel notebook of places I'd like our family to visit one day. That notebook has become quite packed, messy, and even lost a few times, so I thought it would be a good idea to put it all on the computer instead. So, I started a file on my computer to keep track of places, then I started a travel board on Pinterest, and now I'm writing a post of must-see places around the United States to share with my readers.
I thought it would be fun to pick 5 things to see and do in each of the 50 states. I wanted to get the input of people that actually lived (or have lived) in each state, so I asked 10,000+ other homeschooling moms from around the country for their input and opinions. Between their suggestions and a little research of my own, this is what I have come up with.
I hope this lists gives you some good ideas if you are planning a road trip of your own!
Alabama
Alaska
Arizona
Arkansas
California
Colorado
Connecticut
Delaware
Florida
Georgia
Hawaii
Idaho
Illinois
Indiana
Iowa
Kansas
Kentucky
Louisiana
Maine
Maryland
Massachusetts
Michigan
Minnesota
Mississippi
Missouri