It's been just about a year now since we started systematically assigning chores to our children. Before that we pretty much just told the kids to do a chore when we saw that it needed to be done.
If the garbage was full, we'd ask Luke to take it out.
If the table needed to be cleared from lunch, we'd tell Rachel to do it.
This method wasn't working very well, so we finally sat down and assigned certain chores to certain kids and then we would rotate the chores each month (depending on the child's ability) so that each child would have a little variety with their chores.
Since I didn't grow up with any kind of chore system in place (I did chores; there just wasn't any rhyme or reason to them) and since we had just started to implement some kind of chore system in our home, I was pleased to review Managers of Their Chores: A Practical Guide to Children's Chores by Steven and Teri Maxwell of Titus2.com.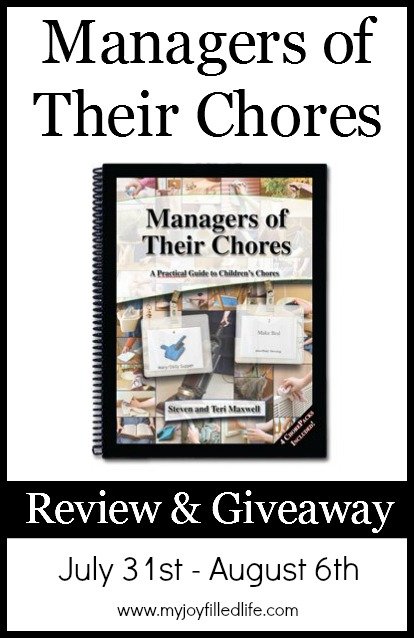 Managers of Their Chores is a book packed with advice and wisdom about the how's and why's of implementing a chore system in your home. It contains 20 chapters that cover areas such as the benefits of chores, attitudes toward chores, the Biblical basis for chores, making and implementing a chore system in your home, plus a handy appendix full of master forms, sample chore lists, and a step-by-step guide for putting your chore system together.
The first seven chapters discuss the many benefits of chores for the family and for the children, as well as what the Bible says about work and chores, and how the attitudes of all the family members toward chores plays a role in the success of a chore system in your home. I felt that all of this information was very helpful, especially if you are tying to decide if chores or a chore system are something you want to implement in your home. I had never looked at chores from a Biblical perspective before, but once I did, it really made me see the importance of kids contributing to the family. The current and lifetime benefits of having children do chores as discussed by the authors is enough to make most parents put implementing chores or a chore system at the top of their priority list.
Chapter 8 is where the meat of the book starts. This is when ChorePacks are introduced which is the "heart" of the system. A ChorePack is a clear, heavy-duty vinyl pocket that holds several chore cards. Each chore card describes a particular chore that the child has to do. The ChorePack also has a clip on it that the child can clip onto their clothing.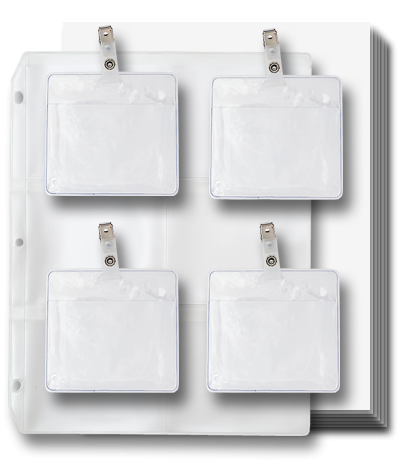 The book then moves on to offer encouragement to those that are "home-management challenged," and then on to developing your chores system – developing a master chore list, making chore assignments, frequency of chores, scheduling chores and revising, safety considerations when assigning chores, implementation of the chore system, as well as rewards, consequences, evaluating completed chores, and troubleshooting, There is also a chapter dedicated to preschoolers and chores.
The Appendix has a very helpful section called "Recommended Steps for Putting Your Chore System Together." The book offers so much information that this section is handy in that it's kind of a condensed version of the 'how-to' part of the book.
There is also an internet-based software program available for a $12 yearly fee that enables you to create your own chore system online by taking you through the process described in the book.
Managers of Their Chores retails for $25 and includes the book and ChorePack Kit (ChorePack holders for up to 4 children, cardstock, and vinyl card holder). Additional ChorePacks can be purchased for $7. There is also a support forum, Chore Board, where book owners can interact with one another and glean ideas and insight.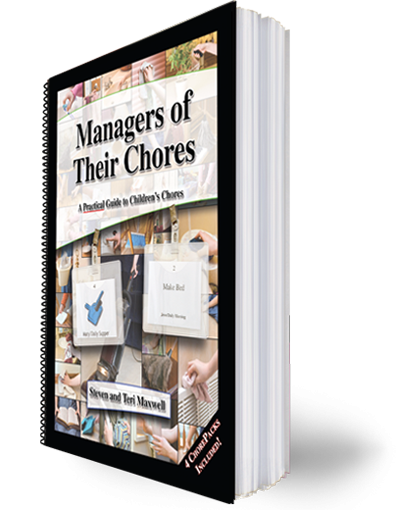 I think this book contains a ton of practical advice and things to think about when implementing a chore system in your home. The samples in the appendix are very helpful and the provided step-by-step instructions for putting together your chore system are helpful as well. However, I didn't implement the actual ChorePack system for our family, as it seemed a little too structured for us. But I definitely picked up some nuggets of wisdom to use as we move forward with implementing chores in our home. If you like lists, structure, and predictability, then this might be a good fit for your family. You have a chance to win a copy of Managers of Their Chores and see for yourself. Use the rafflecopter below to enter: