I am not a morning person. And I am not a cook, at least not by choice. But I do love a good breakfast (it might just be the best meal of the day) and I do like for my kids to have a healthy breakfast each morning. If it can be a hot breakfast, I feel like super mom. And if it's not the same old cereal or Eggo waffles, my kids think I'm super mom.
As I mentioned, I'm not a morning person. So it's safe for you to assume that I'm not one of those moms that gets up before her kids to relax and get ready for my day. My day starts at full speed as soon as my feet hit the floor because 99% off the time, at least one kid is awake before, and the dogs are likely barking wanting, or rather needing, to go out.
To make mornings a bit more enjoyable and a little less chaotic, with a little planning I can serve a delicious breakfast to my kids that offers a little more variety and nutritional value than a bowl of Wheaties. So I went on a hunt for some make-ahead breakfast recipes and ideas that I knew my kids would eat. I also found some that I knew my kids would be able to grab on their own in the morning in case I hit the snooze button a few too many times.
Try some of these make-ahead breakfast ideas if you are wanting to make your mornings a little less stressful.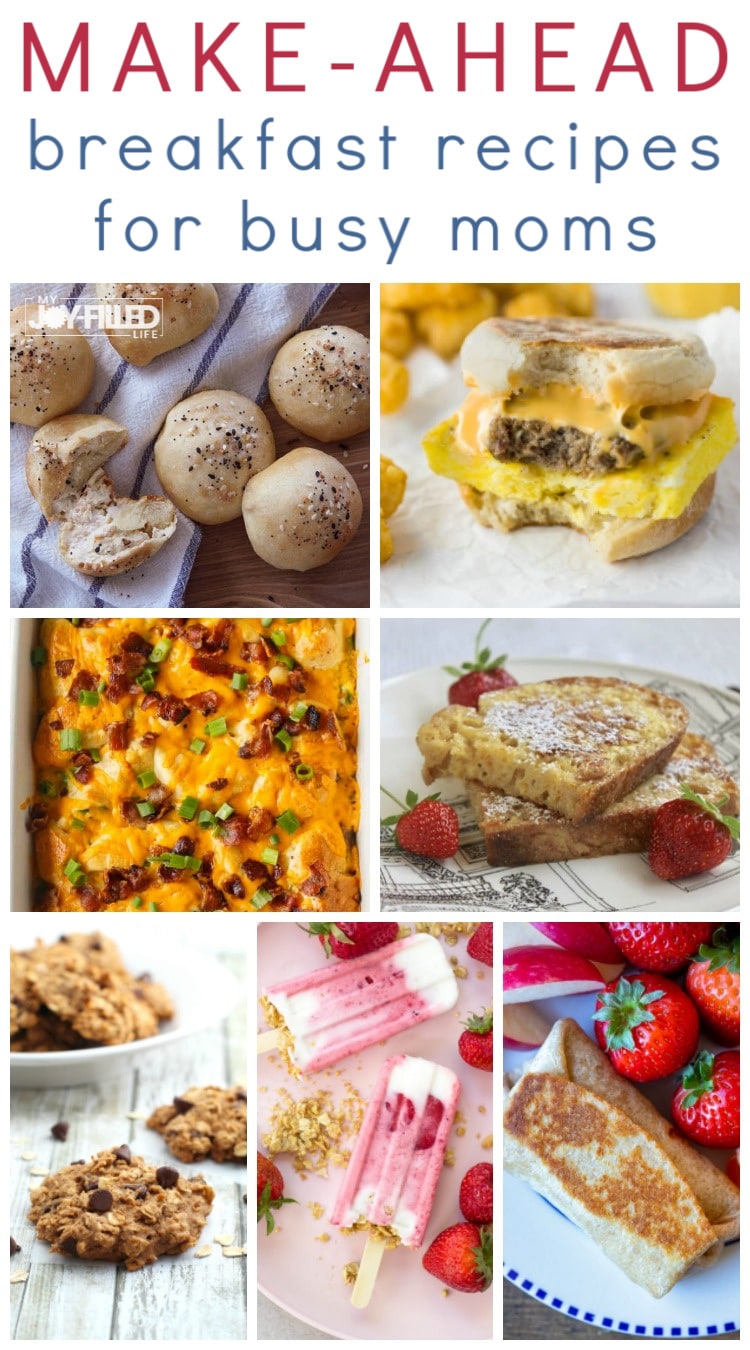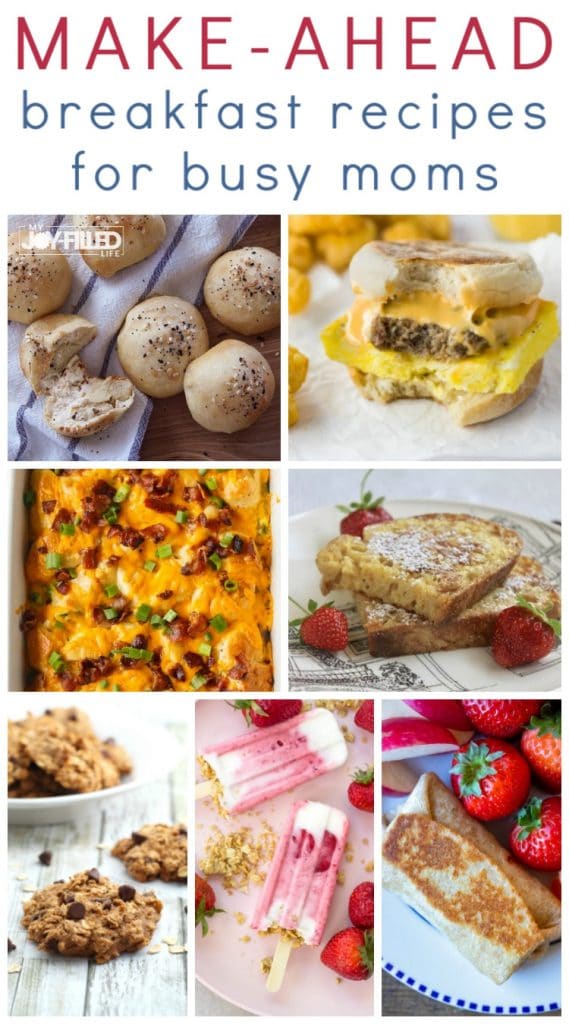 On-the-Go Breakfast Cookies from My Joy-Filled Life
Cookies for breakfast? Yes, please!! These breakfast cookies are perfect for busy mornings or as an after school snack! Easy, healthy, delicious, and even gluten free – and kids love them! Eat them at home at take them on the go.
Potato, Egg, and Cheese Breakfast Burrito from Sprouting Wild Ones
Burritos are a great make-ahead option for any meal, especially for chaotic mornings. Make a batch of these, add any additional filing favorites, and freeze for later. You can reheat these burritos a few different ways, but my pick would be the quickness of the microwave.
Maple Brown Sugar Baked Oatmeal Squares from My Gluten-Free Kitchen
If you like maple brown sugar oatmeal, you'll love these soft and chewy oatmeal squares. Heat these up or serve them cold and enjoy with some milk and your favorite fruit. These are gluten-free, dairy-free, and peanut-free making them a great option even if you have dietary restrictions.
Cake Batter Waffles from Moms Who Save
It's almost like having cake for breakfast with this waffle recipe. Besides the typical butter and syrup topping, try sprinkles, whipped cream, fruit, or powdered sugar. My husband would probably put frosting on them if we had some handy. This might end up being more of a dessert than a breakfast. Perfect for the freezer.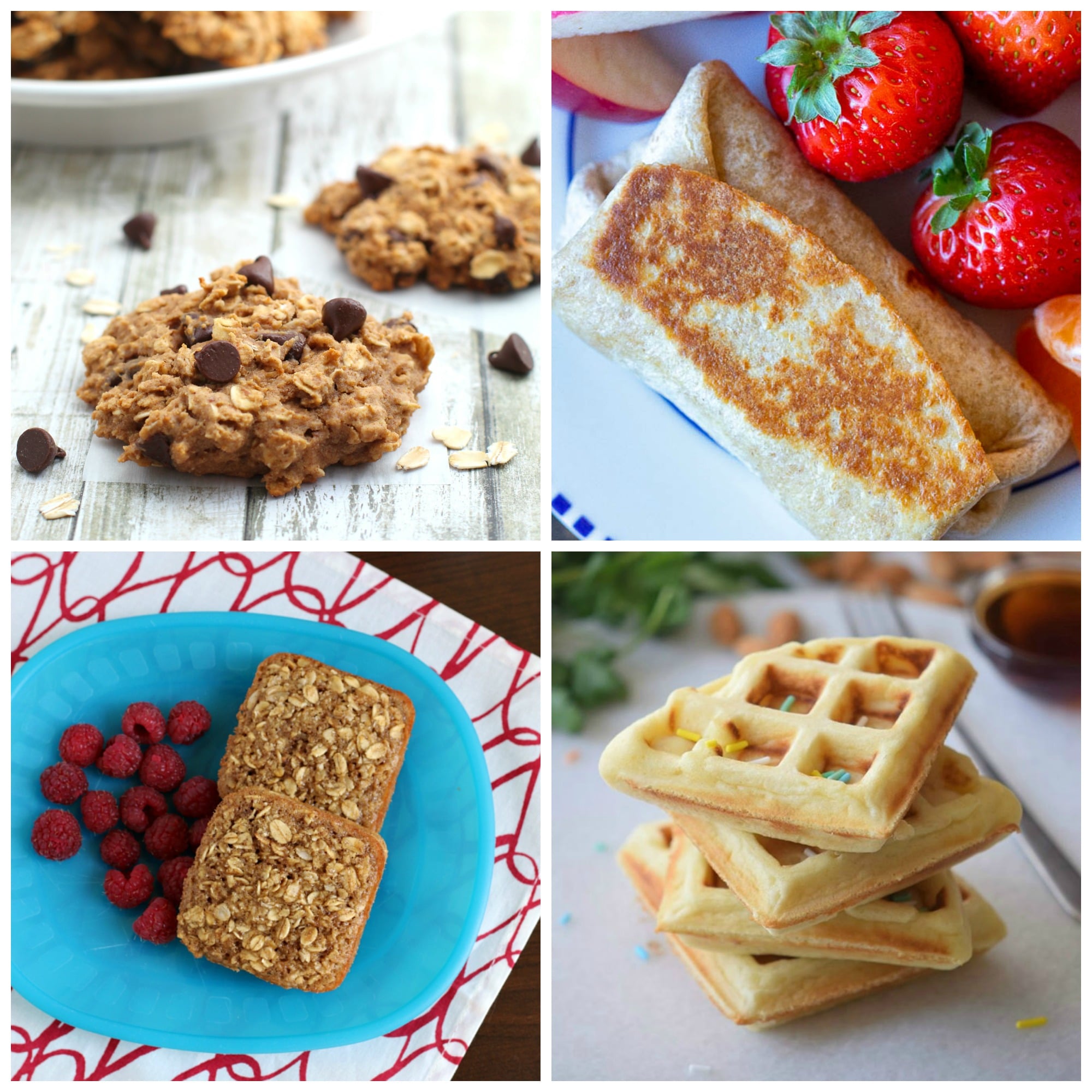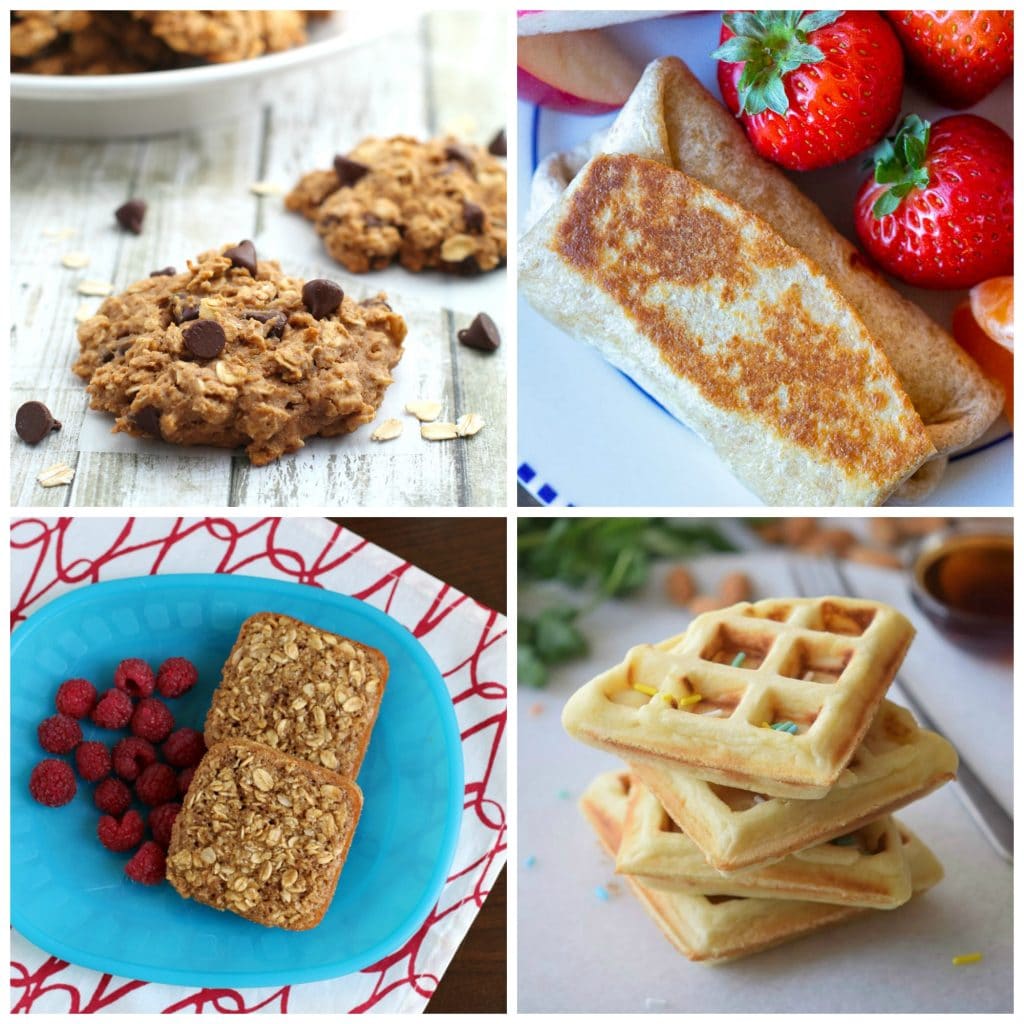 Strawberry Banana Nut Muffins from Kitchen Gone Rouge
Muffins are the ideal make-ahead breakfast, or snack. There are so many variations and flavors, plus they are super easy to freeze and thaw. These strawberry banana nut muffins are egg-free, dairy-free, and are a great way to use up those overripe bananas.
On-the-Go Everything Pancakes from Seasonal Memories
All of your favorite breakfast foods bundled up into a pancake!! Made with sausage (but I'm sure you could substitute bacon), eggs, and maple syrup, these pancakes are packed with all the nutrients your child needs to start their day off right. Make these in advance, throw them in the freezer, and easily reheat as needed.
Breakfast Strawberry Yogurt Popsicles from Cooking with Amber
What kid wouldn't want popsicles for breakfast?!! The combination of fresh strawberries, Greek yogurt, honey, and granola make this the ideal breakfast for summer mornings. These are sure to become a family favorite and a summertime breakfast tradition.
Apple Cinnamon Baked Oatmeal from Lovely Indeed
Prep this versatile baked oatmeal recipe the night before so it's ready to just pop in the oven come morning. The low-sugar is sure to please moms and the great-taste will please the rest of the family, likely landing this recipe in your regular breakfast rotation.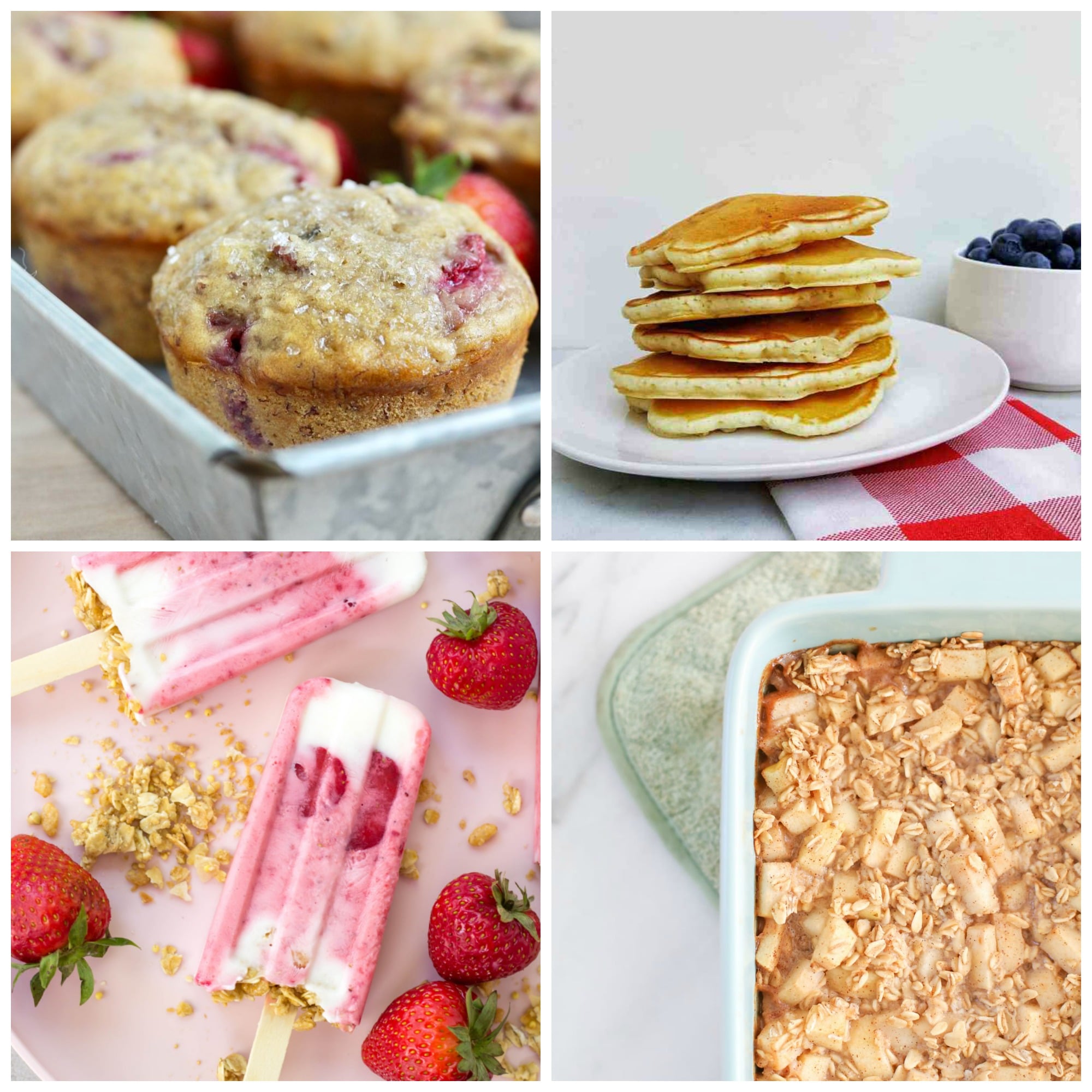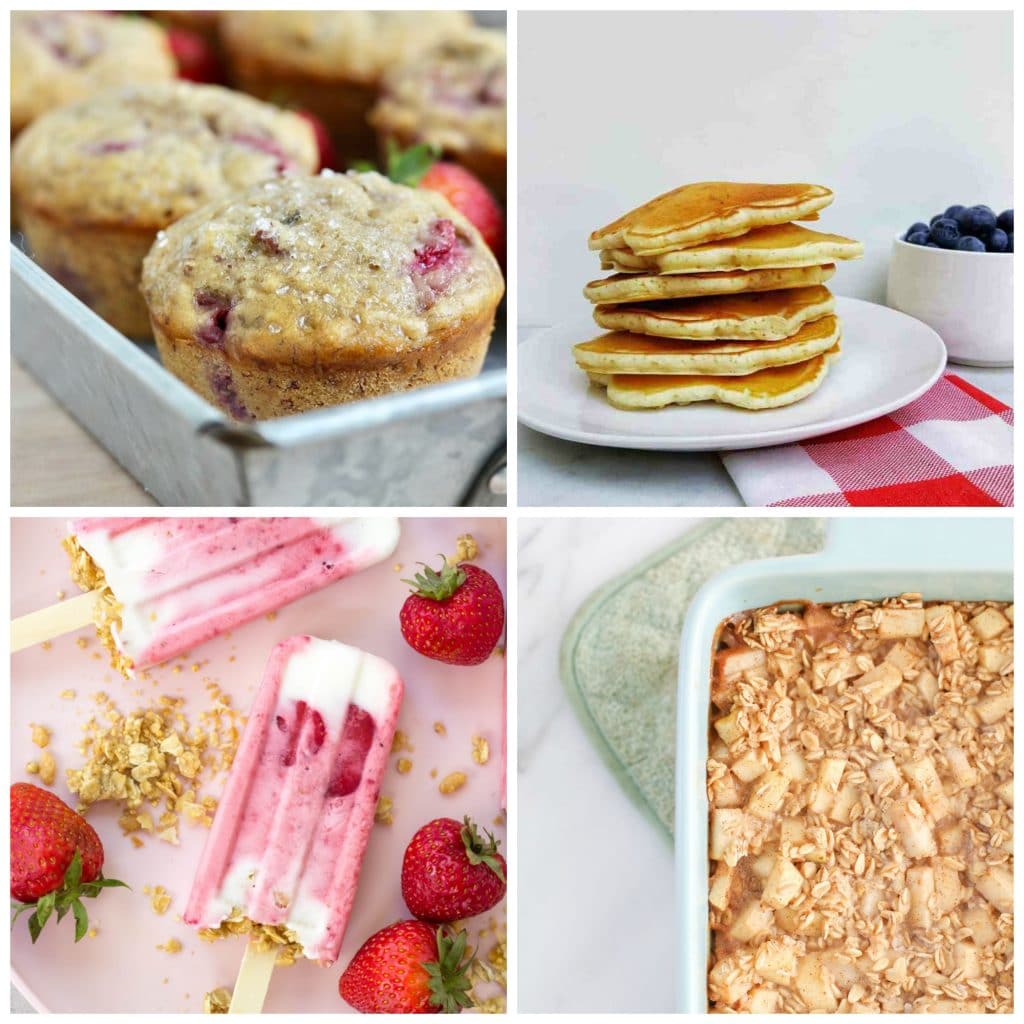 Stuffed Bagel Bombs from Candy Jar Chronicles
With just four ingredients and a little time, you'll be on your way to enjoying these tasty little bagel bites. And what's a bagel without cream cheese? It has that covered too. Super easy and quick to make, these can be thrown in a freezer bag for later and microwaved when ready to eat.
Bacon and Egg Biscuit Casserole from Simply Stacie
The name says it all for this straightforward breakfast recipe that combines all of your breakfast favorites – bacon, eggs, biscuits!! Just prepare it the night before, stick it in the fridge, and you'll have breakfast waiting to be cooked in the morning. You can also freeze this casserole for an even later date.
Make Ahead Breakfast Sandwiches from The Cozy Cook
No need to hit your favorite fast-food restaurant for a delicious breakfast sandwich when you can have one in 4 minutes at home! Made with the typical English muffin, egg, cheese, and your favorite meat(s), these sandwiches are great to make in batches so that you can freeze them and have them easily available on busy mornings. And not to mention the money you'll save by eating at home rather than eating out.
Overnight French Toast from Christina's Cucina
French toast is already a pretty easy breakfast dish to make, but when you make overnight French toast, you're mornings will be even easier. By preparing your mixture and the bread the night before, you'll set yourself up for a hot, delicious breakfast that will be ready in no time.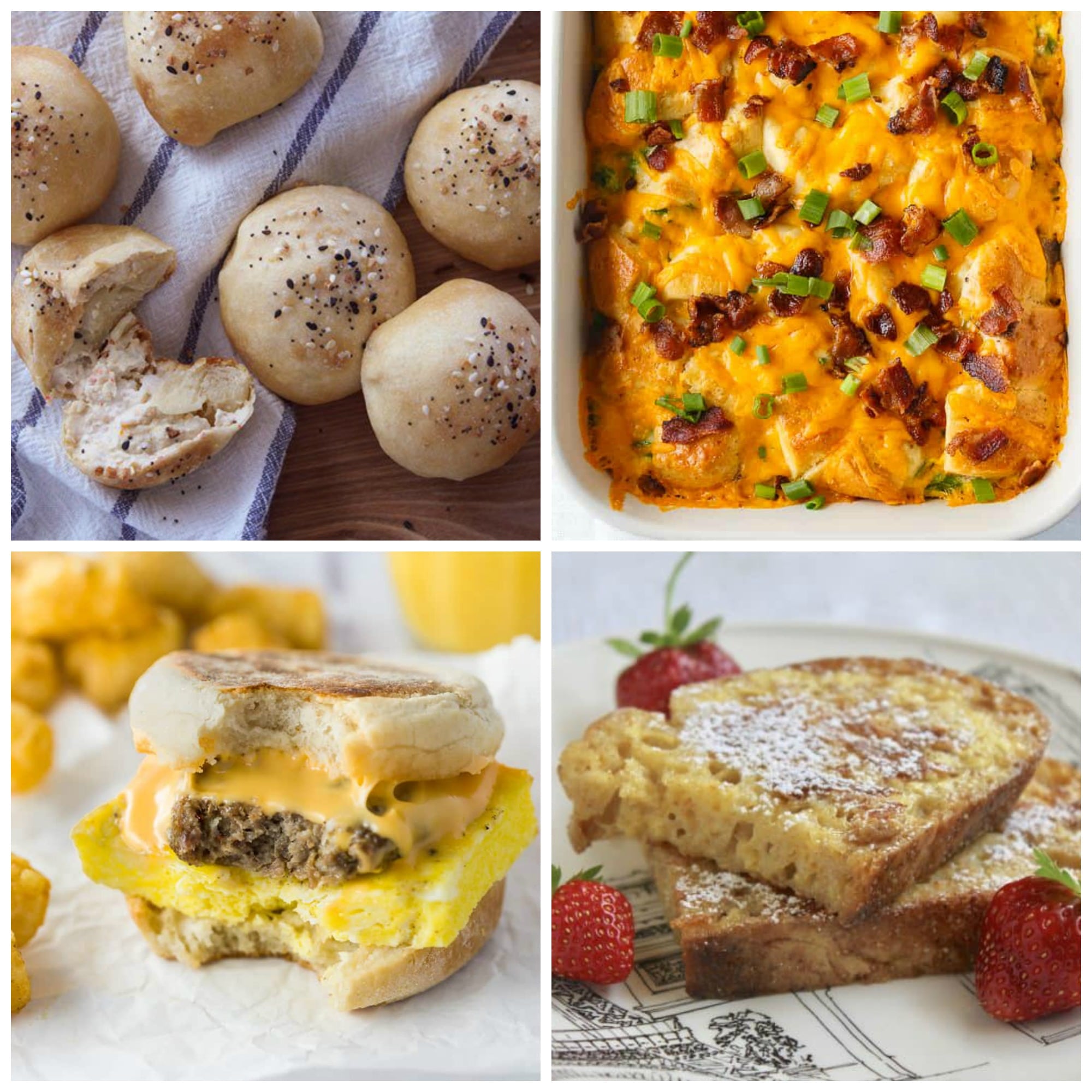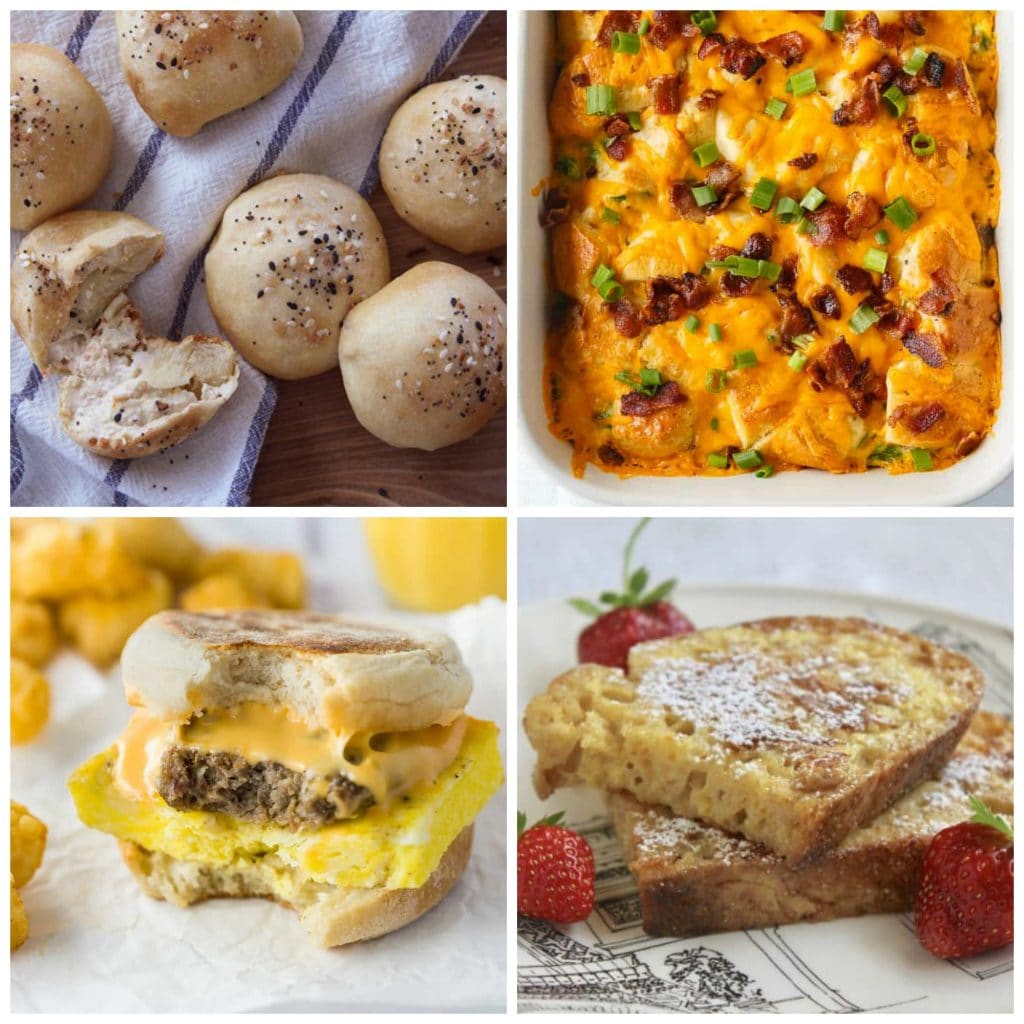 Blueberry Oatmeal Cups from Cooking with Amber
Oatmeal meets blueberry muffins, kind of. It's like a baked oatmeal casserole but in muffin-sized cups. A healthy breakfast treat that you can whip up the day before and store in the fridge for morning.
Mini Cinnamon Pancake Bites from Strength & Sunshine
Your kids will surely gobble up these cute little pancake bites. Who can resist anything mini, especially when it comes to pancakes?! They are vegan, allergy-free, and take only 10 minutes to bake. Make up a big batch to freeze or put in the fridge, then just put them in the microwave for a practically instant breakfast. And don't forget the syrup for dipping.
Bacon & Egg Hash Brown Muffins from Moore or Less Cooking
All the goodness of breakfast in one little muffin cup. My ideal breakfast is bacon, eggs, and hash browns, so these muffins are the perfect way for me to indulge without all the extra time and effort. I can just make a batch of these muffins in advance and enjoy them all week!
Make-Ahead Pancake Casserole from Son Shine Kitchen
This is such a fun, and delicious twist on pancakes! It does take a little bit of prep time, but it will be so worth it in the end. And when you can make it the night before, it will make your morning so much smoother because all you'll have to do is put it in the oven and bake.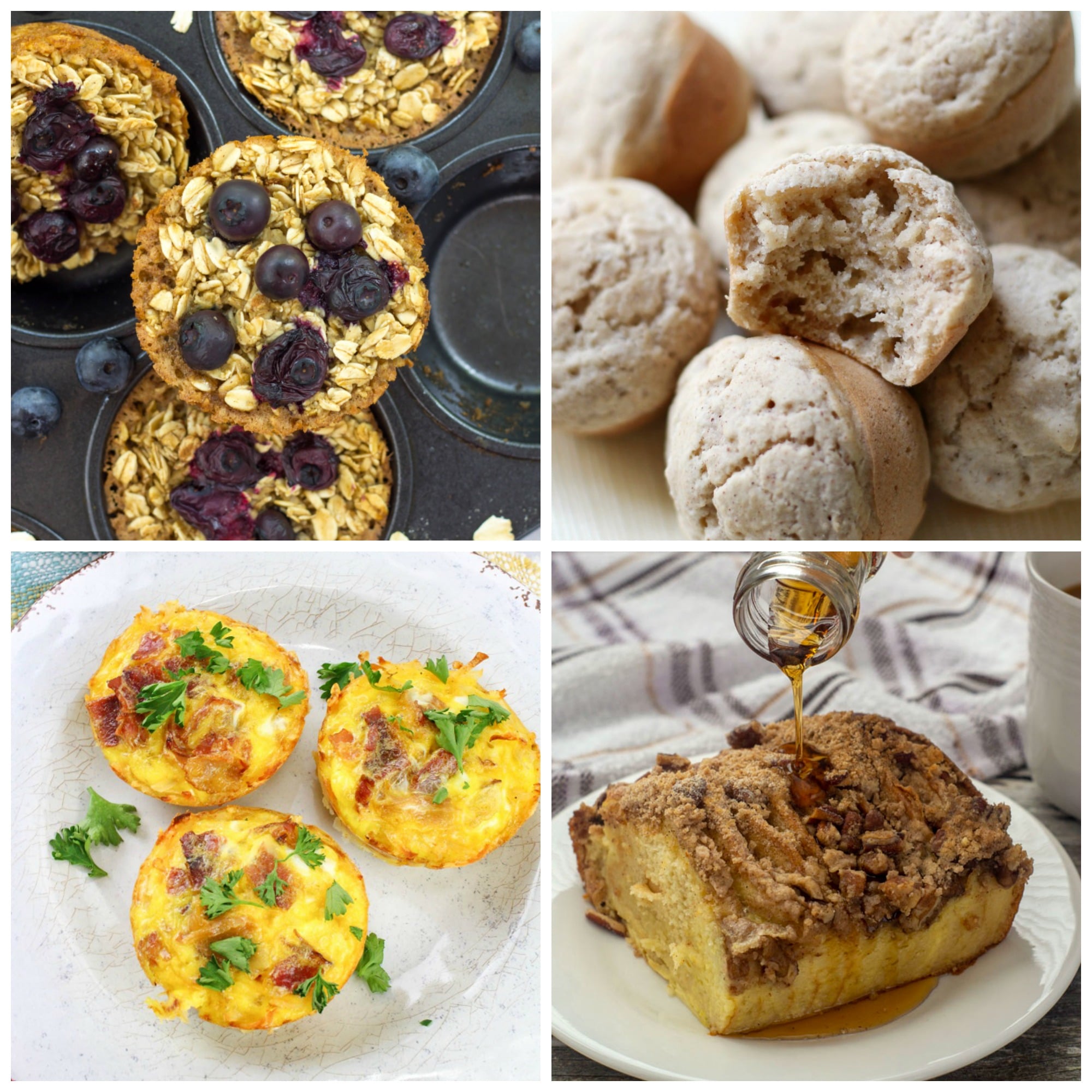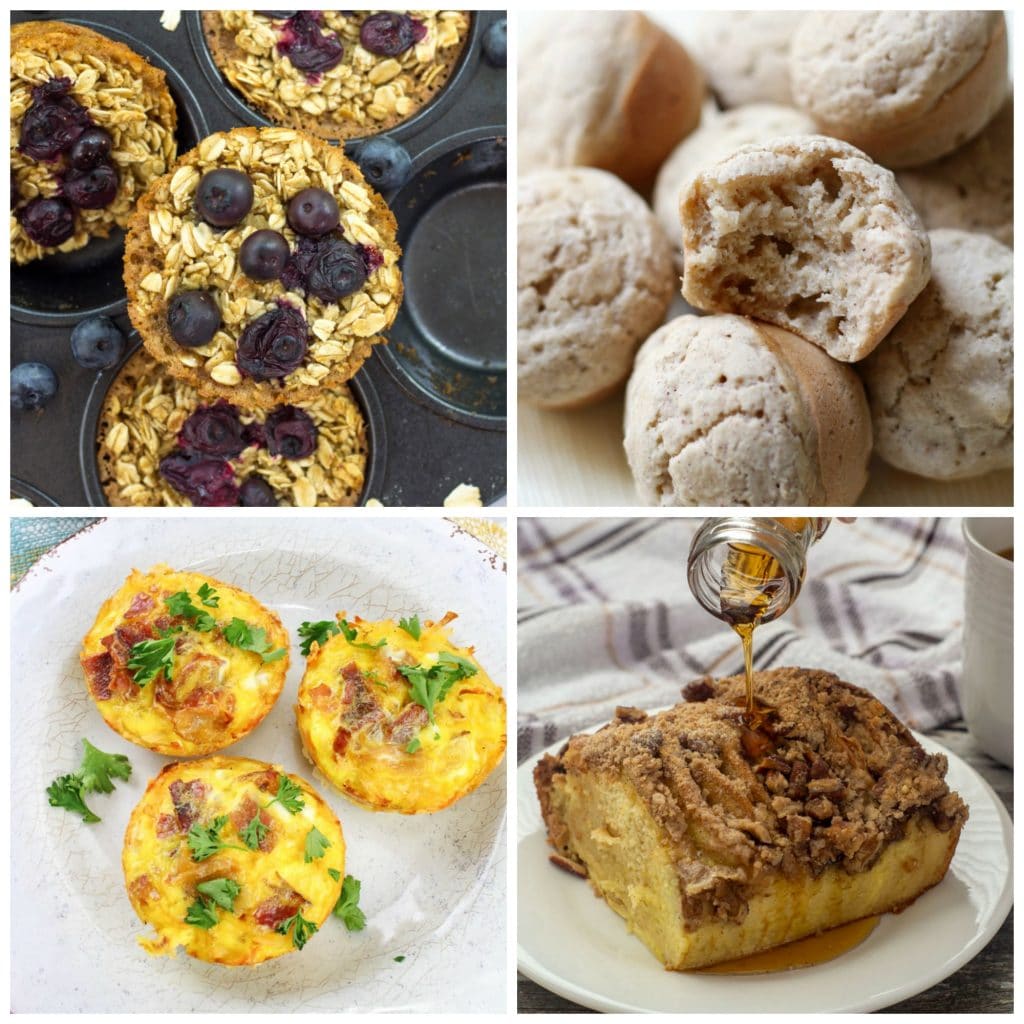 Share some of your breakfast secrets and favorites that help make your mornings easier!
You might also like: