Do you need some quick dinner ideas like me? Does your life, especially evenings, get a little more hectic once school starts?
My life is about to get super busy!! School starts next week, as well as the extra-curricular activities along with it. And with eight kids, my husband and I are only going to be able to get everyone where they need to be if we divide and conquer!
Along with work and homeschooling everyday (okay, I don't 'work' everyday, but I do a majority of the homeschooling), we have our homeschool co-op once a week, hockey practice 3 times a week (plus games on the weekends), soccer practice twice a week (and games on the weekends), theater twice a week, speech therapy once a week, voice lessons once a week, and our church small groups once a week. Phew, I'm tired just thinking about all that, and I totally feel like I'm forgetting something!
So as I was running around trying to get dinner ready tonight (some of the chaos has already started, as hockey started this week and two of the older kids had an activity at church), I thought to myself, 'how am I going to get dinner ready every night during this upcoming busy season?' Because let's be honest, frozen pizza gets real old, real quick, so I can't be serving that every night.
To Pinterest I went, to find some quick meal ideas, and here is what I found! Some of these are just plain quick to make, some will make great freezer meals and all I'll have to do is remember to take them out the night before and then just throw them in the oven come dinner time, or some are easy slow cooker meals that I can throw in the crock pot in the morning and not think about until it's time to eat! There's even some Instant Pot recipes on the list because I really need to learn to use that darn thing!
I think I'm going to pick several of these and put them on a rotation for the next few months, and do some make 2, freeze 1 meals (and I'll probably add frozen pizza in here and there). If you need some quick and easy dinner ideas for your busy nights, I hope these will help!
Quick & Easy Pizza Casserole from Eating on a Dime
This delicious, quick, and easy pizza casserole is the perfect meal for making in batches to be frozen and cooked later. All you need is about an hour from start to finish to enjoy a quick, tasty dinner. Perfect for the parent on the go!
Chicken Piccata from Delicious Meats Healthy
Being short on time is no longer an obstacle for a delicious dinner with this simple chicken piccata recipe. This taste explosion can be ready to eat in 30 short minutes and is sure to please.
Creamy Crockpot Macaroni & Cheese from Amanda's Cookin'
An easy dump and go dinner, this creamy recipe will not only fill your family's stomach, it smells good too. Simply drop your ingredients in your crockpot and stir occasionally while you continue with your busy day.
Skinny Chicken Spaghetti from You Brew My Tea
This 25 minute meal calls for chicken, angel hair pasta, and a few household spices. Even as a busy mom on the go, you can have delicious healthy meals served to your family.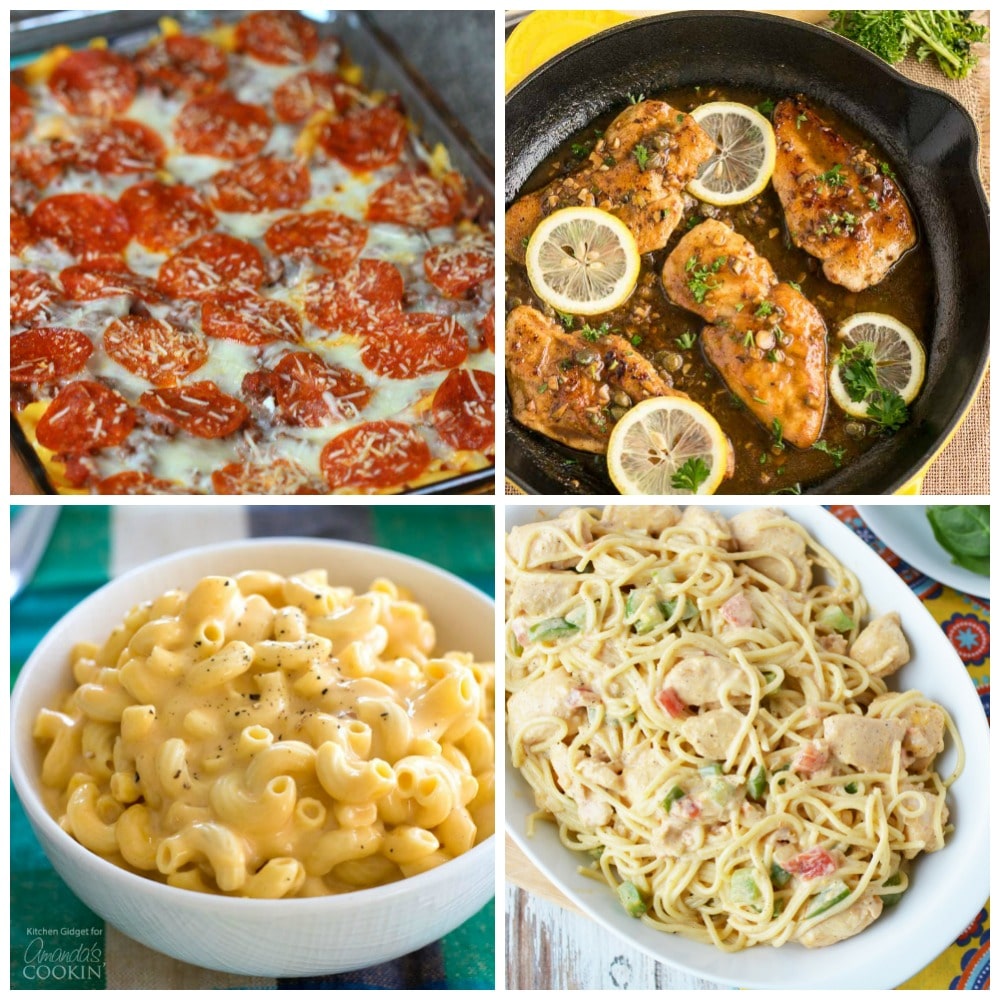 5 Ingredient Beef Enchiladas from Southern Bite
You read that right, only 5 ingredients! This is another meal that is perfect for batch cooking and freezing. This simple, yet tasty dinner takes an hour to get on the table from start to finish, and will make evening dinners a breeze when you take it from the freezer to the oven on those busy days.
Corn Flake Crusted Chicken from My Joy-Filled Life
This is one of our FAVORITE go-to meals on busy nights. With only a few simple ingredients, you'll soon be enjoying a delicious meal while not spending all day working away in the kitchen. Your family is sure to love this as much as mine does!
The Best Instant Pot Broccoli and Cheese Soup from Bless This Mess
Enjoy a delicious, creamy, and healthy dinner with only ONE MINUTE of cook time! This recipe is perfect for the busy parent on the go who is always worrying about serving her family healthy meals.
Chicken Bacon Ranch Casserole from Wholesome Yum
This tasty chicken bacon ranch casserole only requires 7 basic ingredients and 5 minutes of prep before it's cooked to perfection. You can also make this in batches to freeze and cook later for a quick and delicious dinner.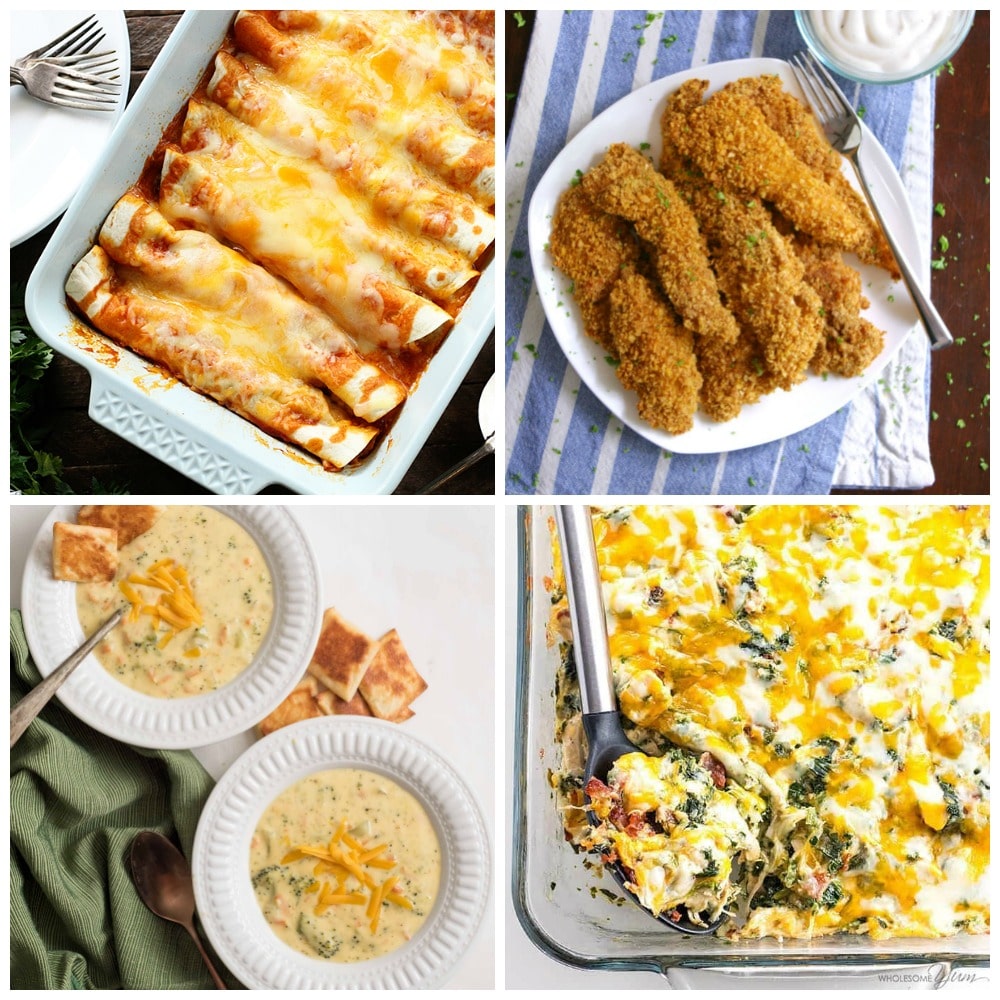 Lemony Baked Basa from The Dinner Mom
This delicious dinner only takes 25 minutes from prep to plate! It's incredibly healthy too and can be used for a variety of other meals. Perfect for busy moms looking to make the most of their time.
Crockpot BBQ Ribs from The Rising Spoon
You and your family can be enjoying this flavorful, fall-off-the-bone southern favorite with just 10 short minutes of prep. Gather up your ribs and your favorite sauce, toss it in the crockpot, and you will be eating a delicious, hearty meal by the end of the evening!
Instant Pot Pasta with Sausage and Spinach from Living Sweet Moments
Grab your Instant Pot and get ready to enjoy the wonderful flavors in this sausage, spinach and pasta dish. This yummy dish will be yours to enjoy in 20 short minutes, and is as filling as it is tasty.
Easy Crockpot Lemon Chicken from My Joy-Filled Life
This lemon chicken is one of our favorites and SO EASY to prepare. It's protein-packed, delicious, and full of flavor from the slow cooking method. You're sure to run to this recipe again and again.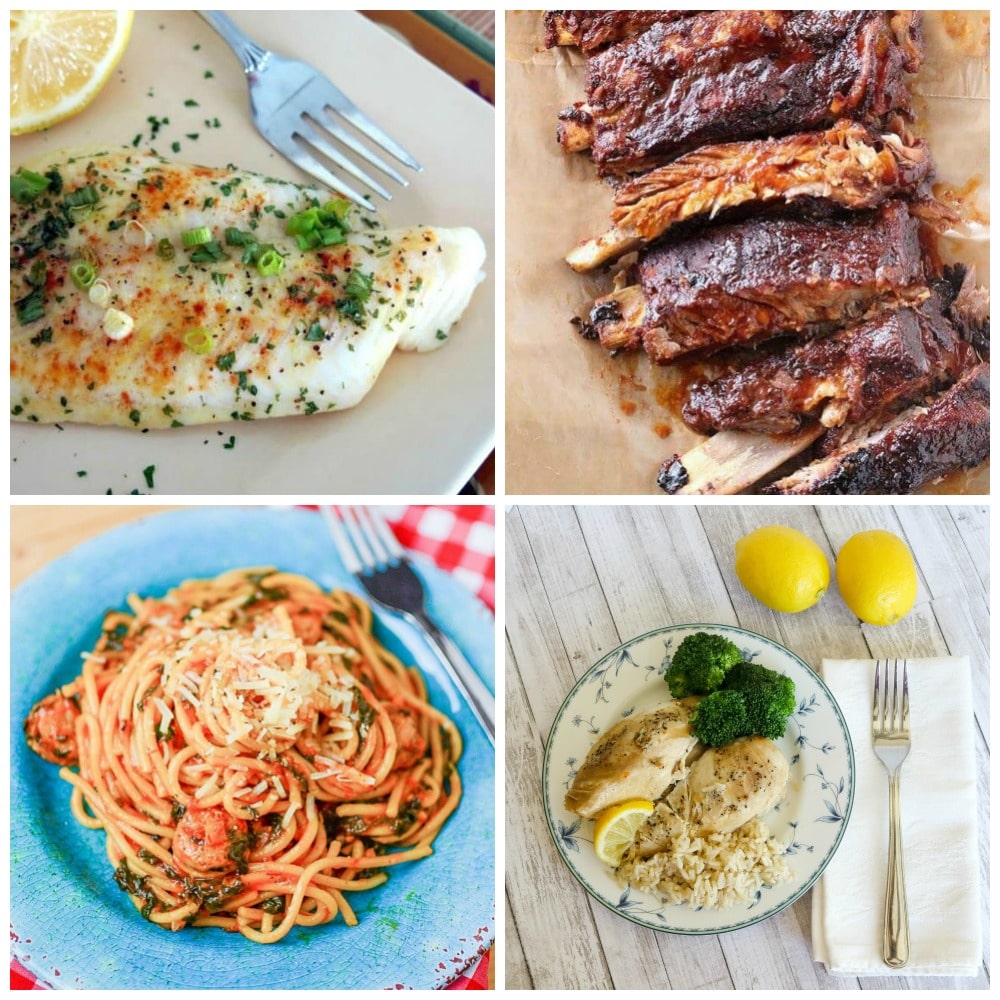 Baked Chicken Burritos from My Joy-Filled Life
Another one of my family's favorites are these delicious chicken burritos that you bake in your oven. Perfect for batch preparation as well, these burritos are a great grab and go dinner for an evening meal after a busy day, or even for a gameday treat.
Sauteed Shrimp and Zucchini from Delightful Plate
Enjoy the sweetness of the shrimp and zucchini, as well as the explosion of flavor from garlic and lemon with this quick and easy sautéed dish. All you need is 15 minutes from prep to plate – perfect for busy nights!
Instant Pot Taco Pasta from Peas and Crayons
With 15 minutes of prep and 15 minutes to cook, you and your family could be enjoying this cheesy, delicious taco pasta straight from your Instant Pot. This Tex-Mex cuisine is completely vegetarian and full of flavors that you're sure to love.
Instant Pot Chicken and Dumplings from Southern Family Fun
Made with canned biscuits and vegetables, this Instant Pot variation of a southern classic is perfect for the chilly months. With only 20 minutes to make, it's sure to be a recipe you come back to, again and again.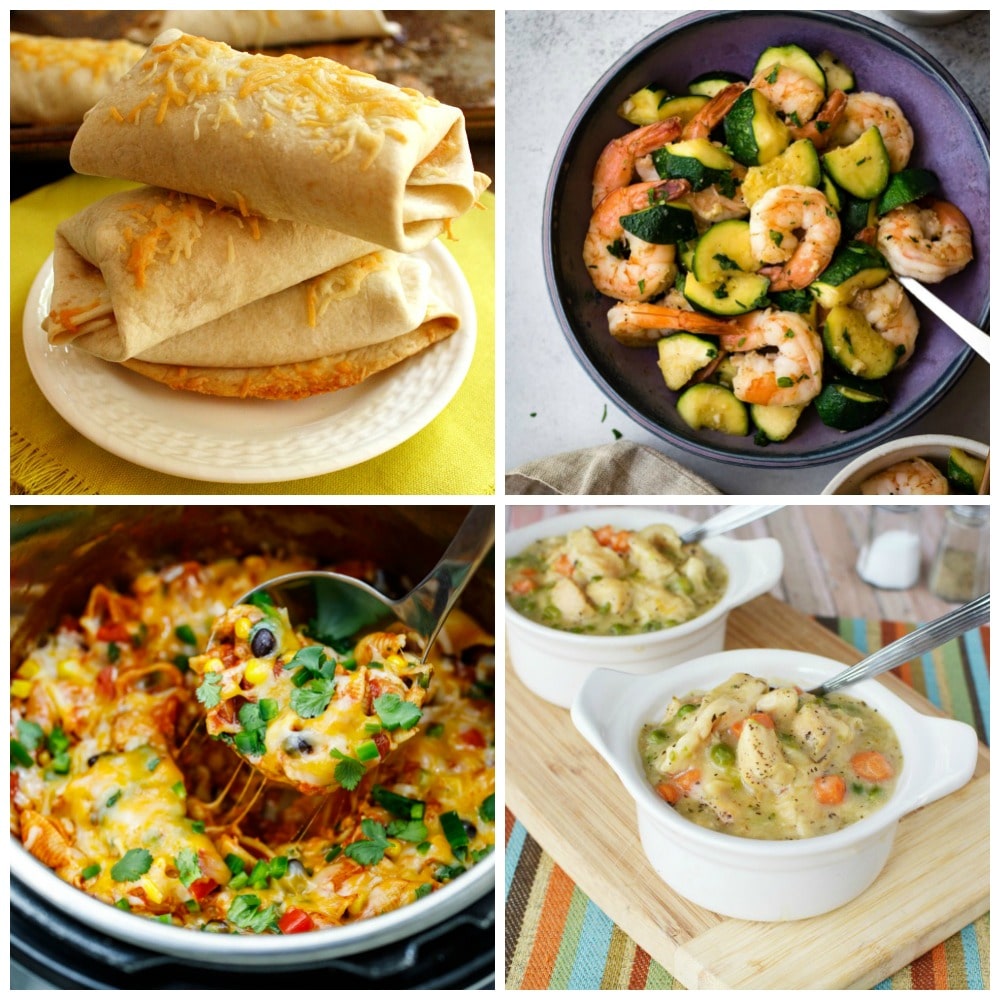 Philly Cheesesteak Sloppy Joes from Cincy Shopper
This delicious variation of a Philadelphia classic is not only quick and easy to make, it's also full of flavor. The combination of yummy cheesesteak and messy sloppy joe is sure to please even the pickiest of eaters, all without spending all day in the kitchen.
Baked Barbecue Chicken Sandwiches from Scattered Thoughts of a Crafty Mom
This recipe is the perfect candidate for a pre-prepped freezer meal. These baked chicken sandwiches are sure to please while being a great dinner option on the busiest days. These tasty sandwiches can be enjoyed after only 8 to 10 short minutes in the oven.
Easy Taco Pizza from My Joy-Filled Life
My family absolutely loves this taco pizza and I'm sure that yours will too! This delicious dinner cooks in the oven for 8 to 10 short minutes, and the leftover pizza tastes just as good as it does coming fresh out of the oven.
Skillet Chicken with Mushrooms from Dancing Through the Rain
All you need is 30 minutes to enjoy and devour this chicken and mushroom skillet. Packed with plenty of protein and endless flavor, this simple and taste-filled dinner is a great option on those busy weekdays when you need a quick dinner on the table.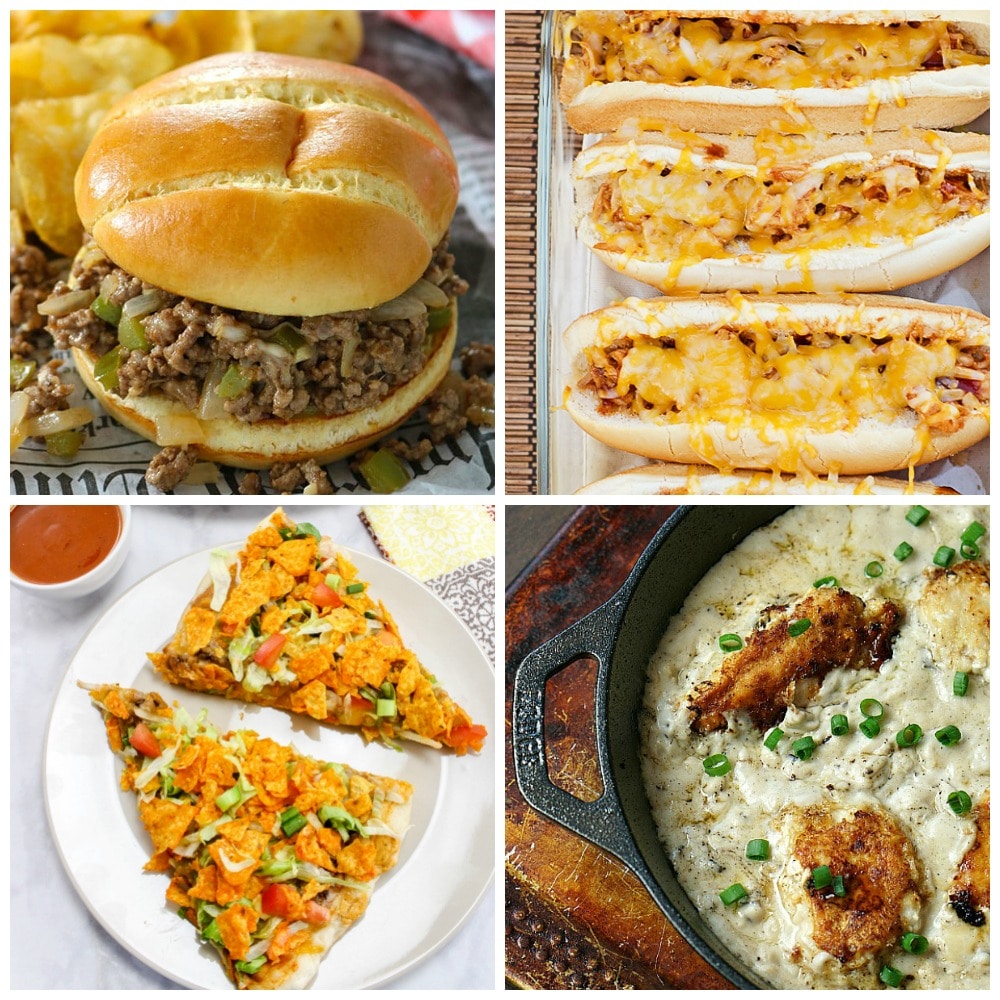 What are some of your favorite dinners for a busy weeknight?
You might also like: