One of my favorite curriculum companies just came out with a new product! Home School in the Woods has created a new Hands-On History Activity-Pak that guides you through learning about the state of your choice – Make-a-State Activity-Pak.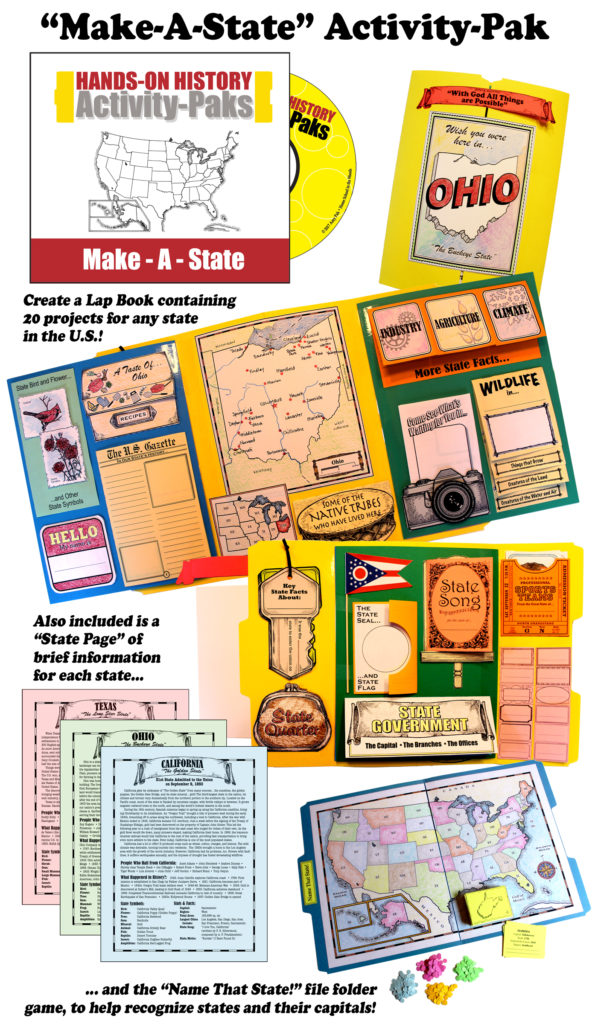 When I first discovered Home School in the Woods at a homeschool convention, it was love at first site. Seriously. Their booth just drew me in with how well-made their products were and how fun they looked. I have since used many of their products and have never been disappointed. The Make-a-State Activity-Pak was no exception.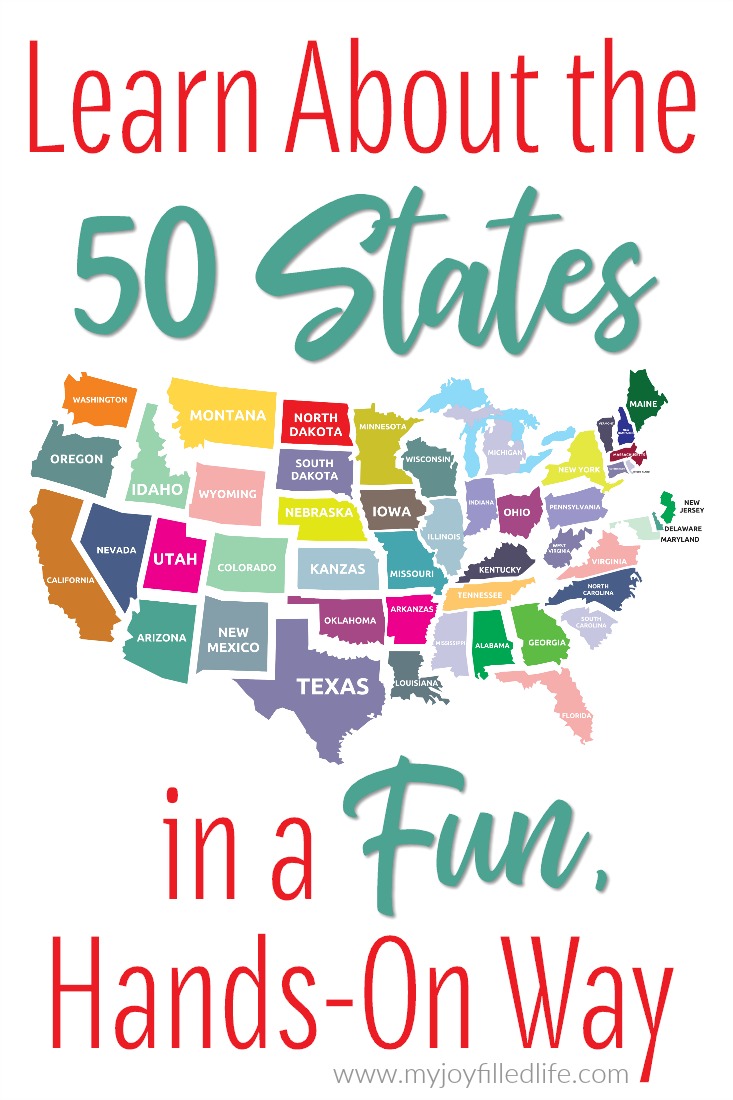 The Make-a-State Activity-Pak allows you to study any state of your choosing (plus Washington, D.C.). So perhaps you'd like to learn about the state you live in, or one you used to live in, or one that is the setting of your current read aloud. You get the idea – choose a state that interests you and that is related to your current studies. You'd could even eventually work through all 50 states if you'd like.
As you work through the 20 projects in the Activity-Pak, you will create a lap book that is specifically tailored to the state you have chosen to study. The end result is a beautiful lap book full of all your findings, studies, and activities on that state. These definitely go in the 'to keep' pile – they are great to pull out for future reference and learning.
The 20 projects in the Activity-Pak incorporate creative writing, illustration, coloring, research, mapping, and more. Some of the ones you'll find are:
Key State Facts
State Timeline
State Landmarks
Famous People From…
State Industry/Agriculture/Climate
Origin of State Names
And more!!
The Make-a-State Activity Pak provides clear Project Directions on what to print and how to assemble each of the lap book components. It also provides instructions on how to assemble the lap book once you are finished with all of the projects. Another nice feature is that the instructions include images of all of the steps; so if you are a visual person like me, you won't have a problem putting it all together.
While the Activity-Pak does not include lesson text, it does have bonus State Pages that give some brief information on each state that will get you started with your research. You'll also find suggestions for other books, resources, and websites you can use to find additional information on the state you are studying. We used National Geographic Kids United States Atlas, Don't Know Much About the 50 States, and the internet to get the information for our lap book on Texas.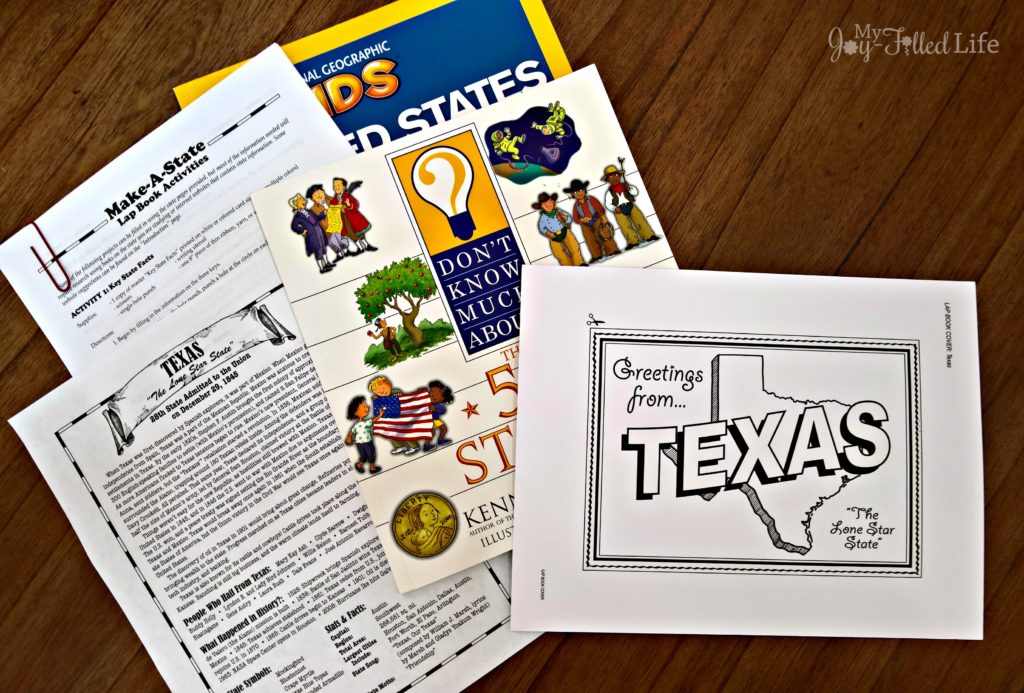 Another bonus you'll find is the "Name That State!" File Folder Game. There are several ways to play the game, accommodating multiple levels. You can have your student learn or review state names, state capitals, state placement, and more.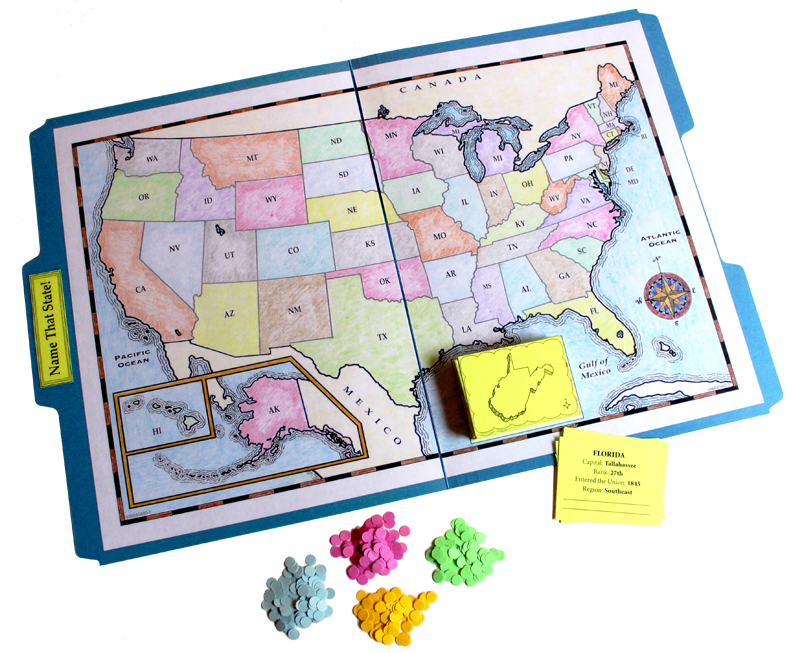 The Make-a-State Activity-Pak is recommended for grades 3-8 (although I used it with my late second grader just fine) and is available on CD ($19.95) or as a download version ($18.95).
Home School in the Woods products are very user-friendly. Once you have downloaded the file, all you have to do is click 'Start' in the file and it takes you to a page with all the directions and printables you will need. The first thing I like to do is read over the introduction. Then I print out the Project Directions (this is optional; you don't have to print out the directions; you can just refer to them on your computer or device if you prefer). From the printed directions, I look at the supplies listed for each activity and make a list of anything I might need to buy or find around the house and print out the masters I need for each activity as well. The supplies needed are minimal and are things you likely already have (cardstock, printer paper, file folder, double-sided tape, glue, etc.). Once I have all the supplies needed, we are ready to go. Here is a screen shot of the main page. You can see that all of the activities are right there with all of the links to the printables you need for the activity with a link to a photo of what the completed lap book component should look like (an image is also provided with the Project Directions).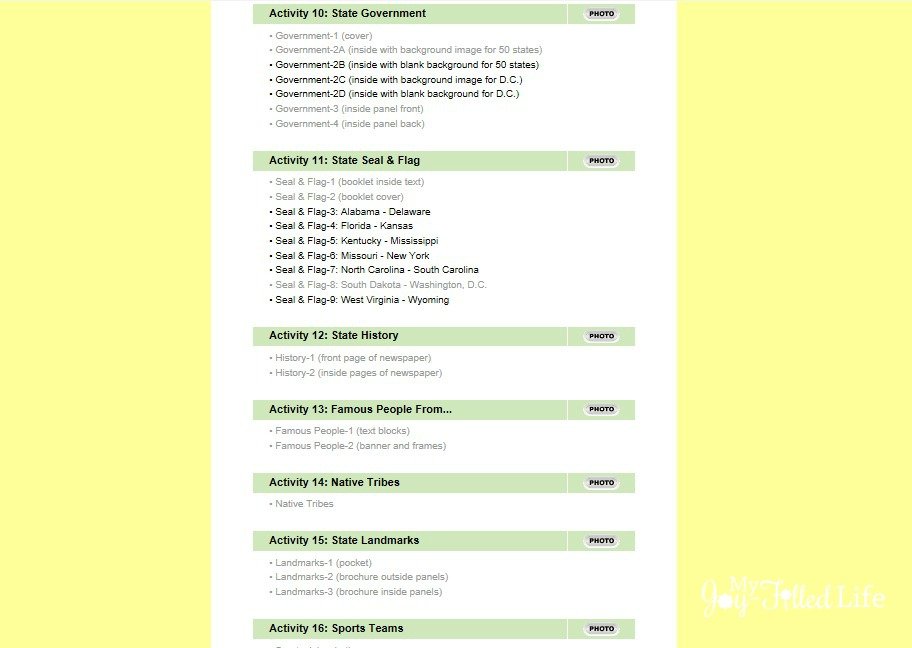 For this Activity-Pak we did 2-3 activities a day (some take longer than others). Being that it is summer and we don't have as much school work to do, we were able to work on this several days a week, finishing it up in roughly 2 weeks. After finishing each lap book component, we place it in a Ziploc bag and then assemble the lap book at the end. Here's a look at how ours turned out –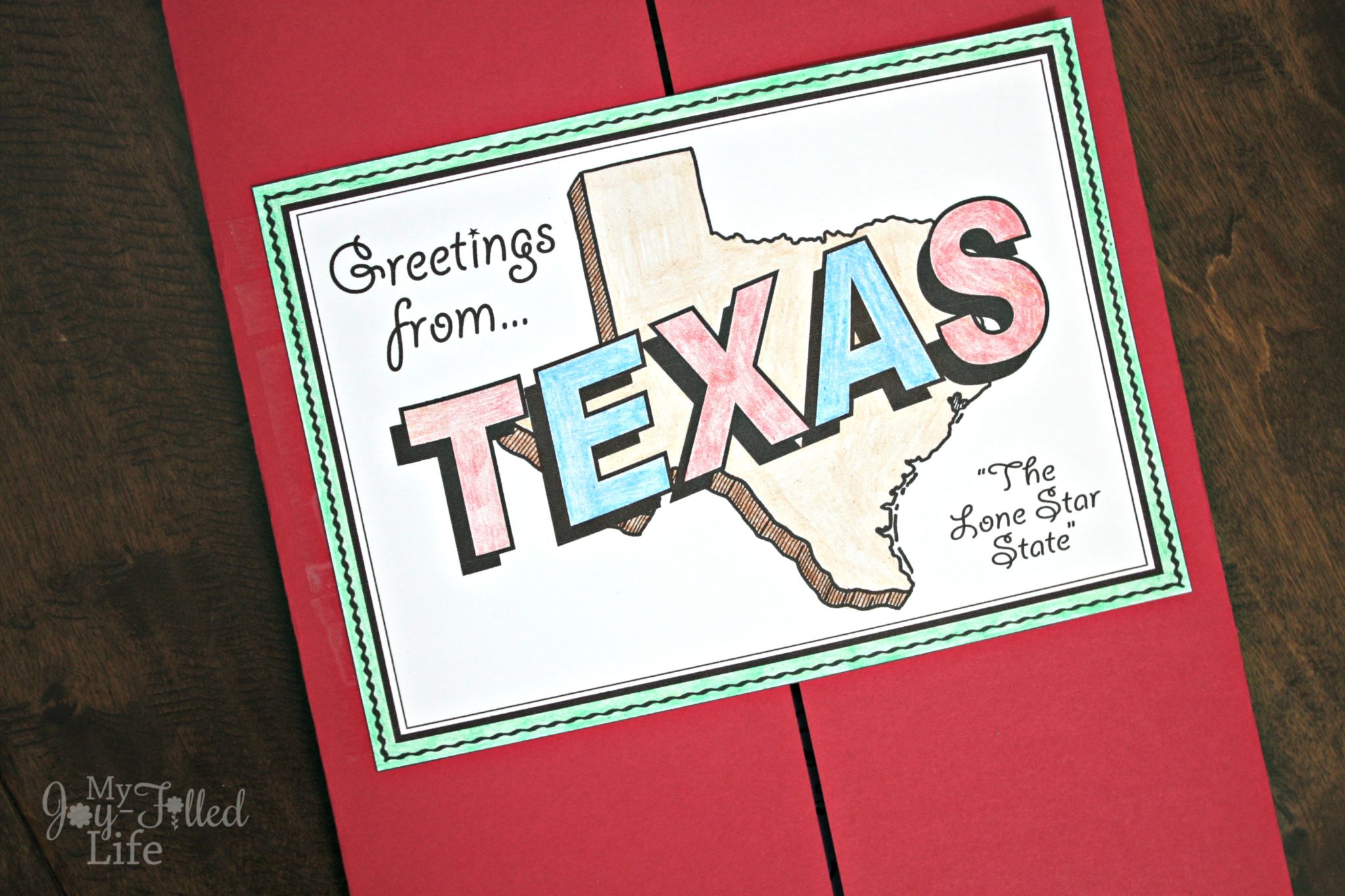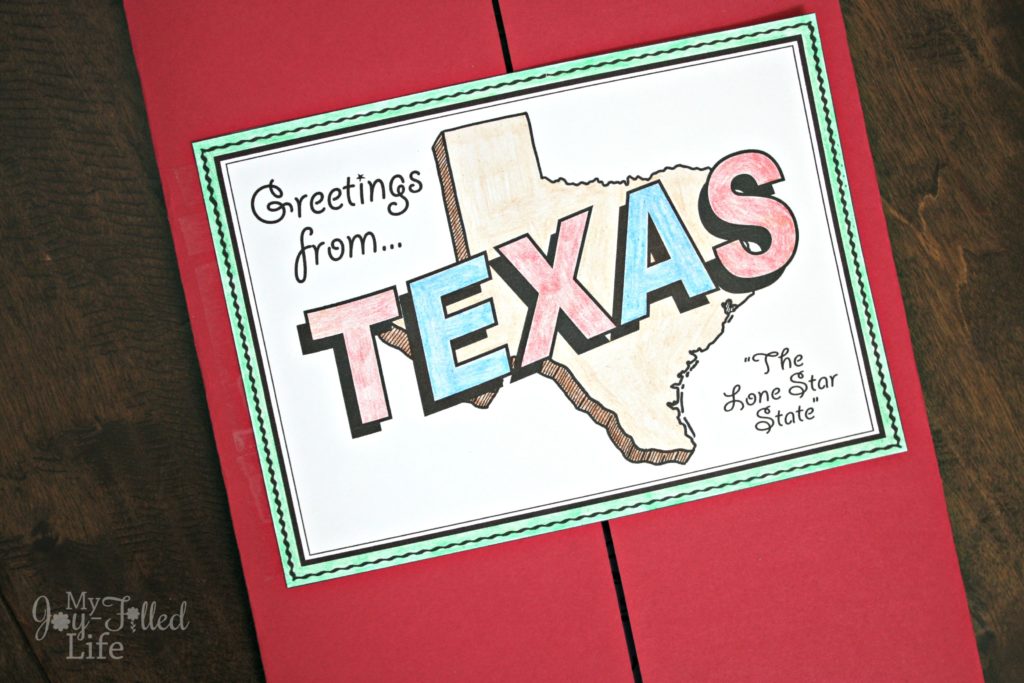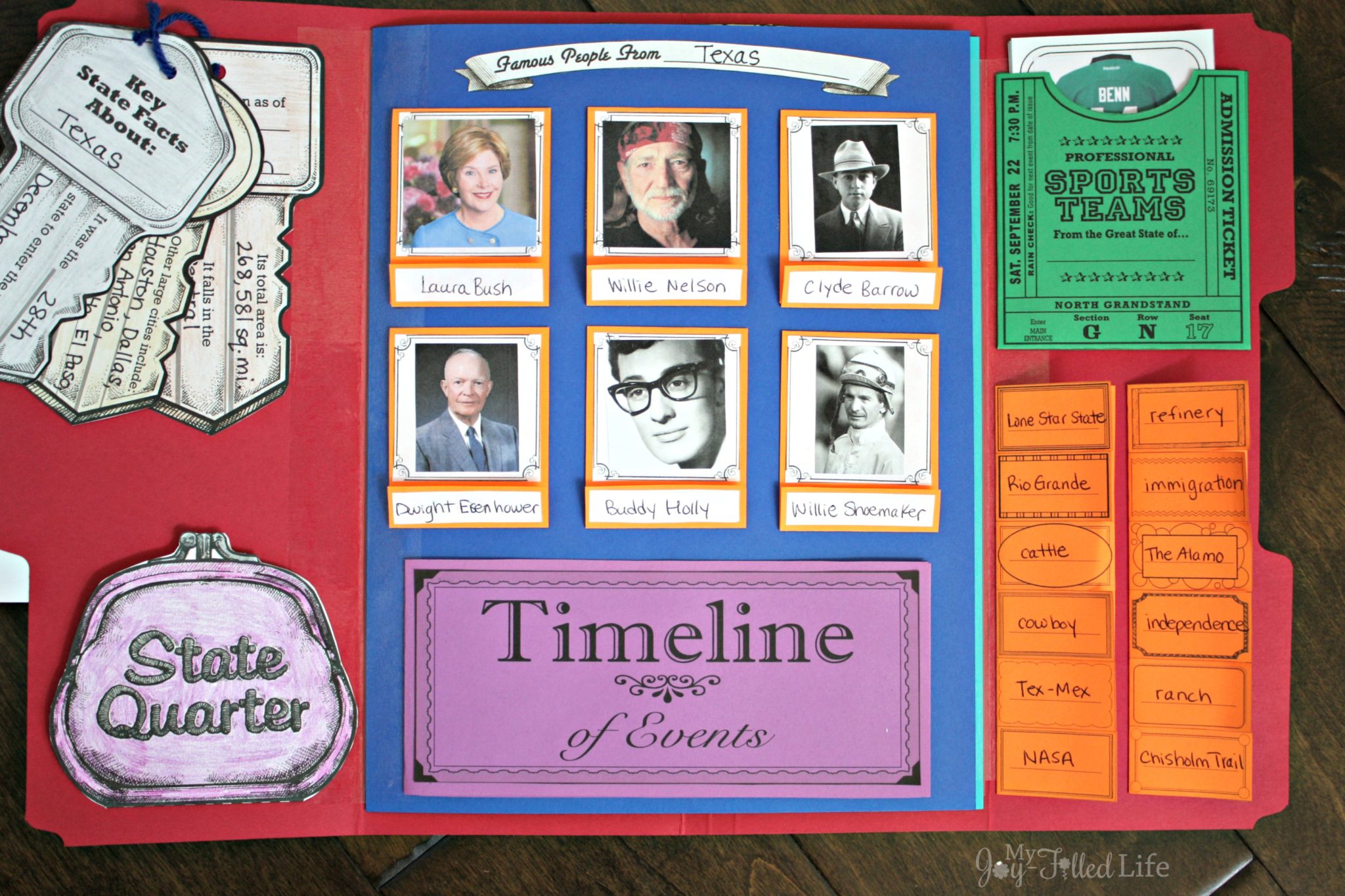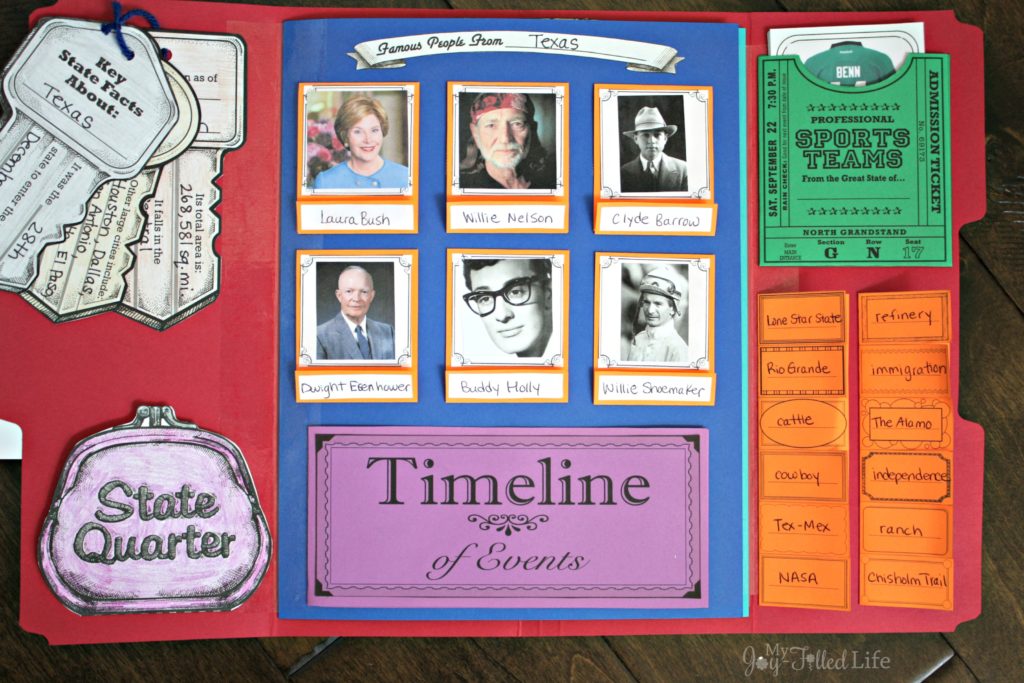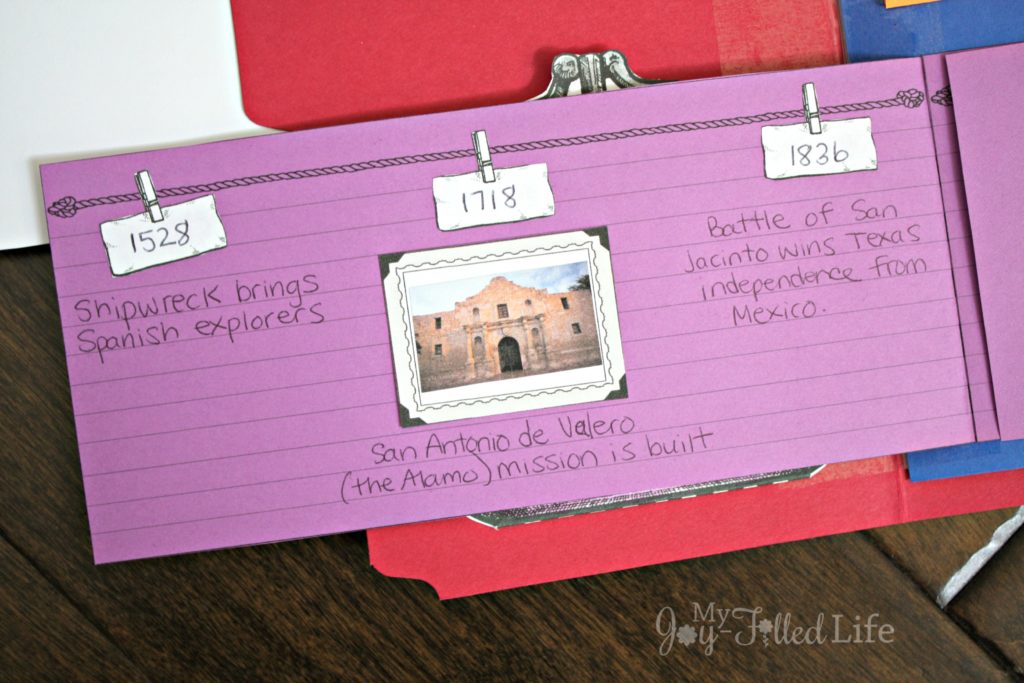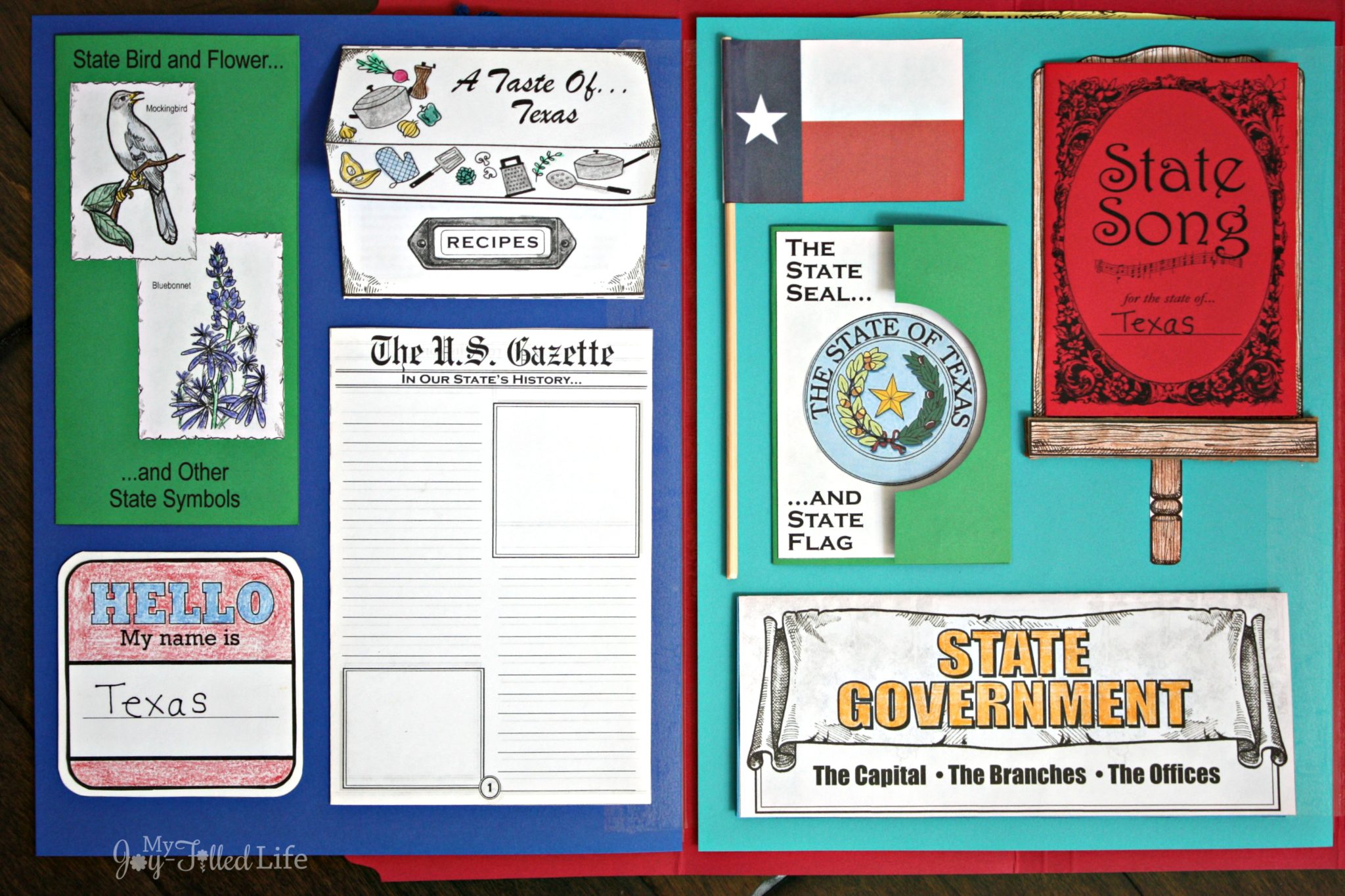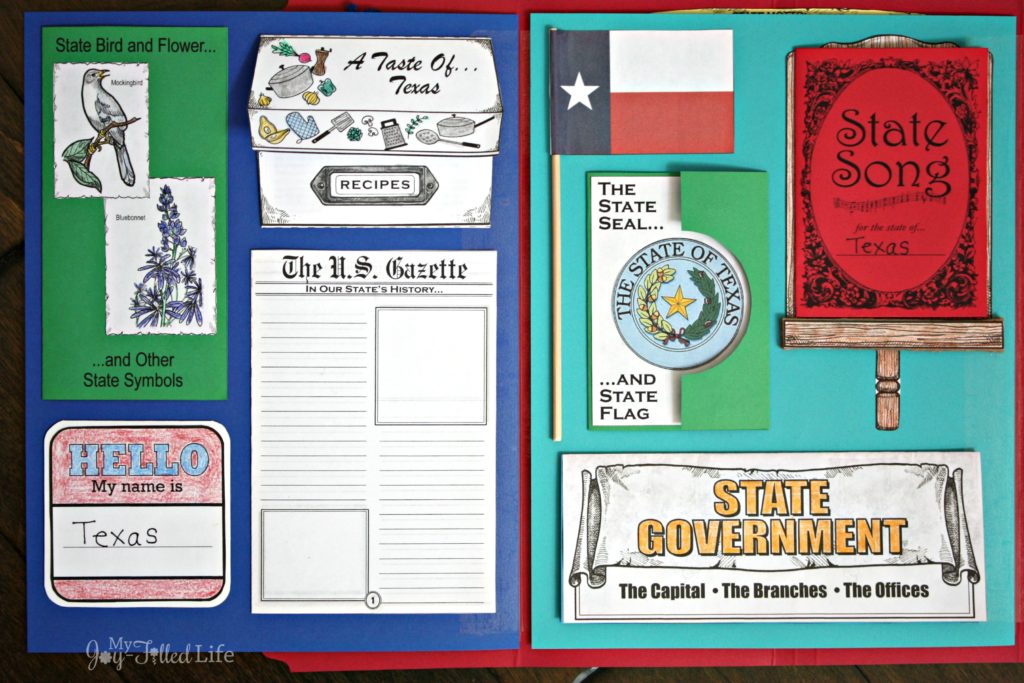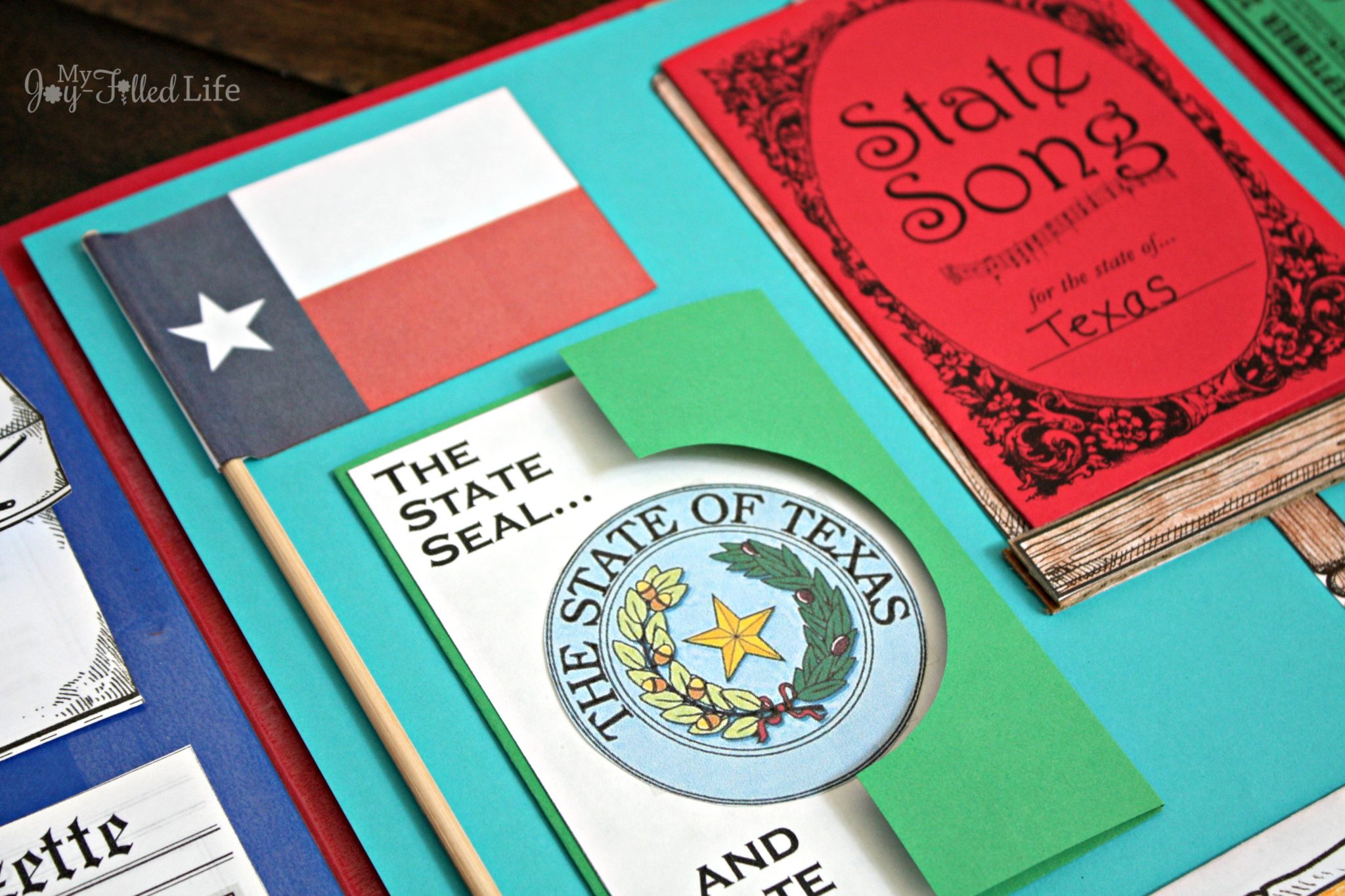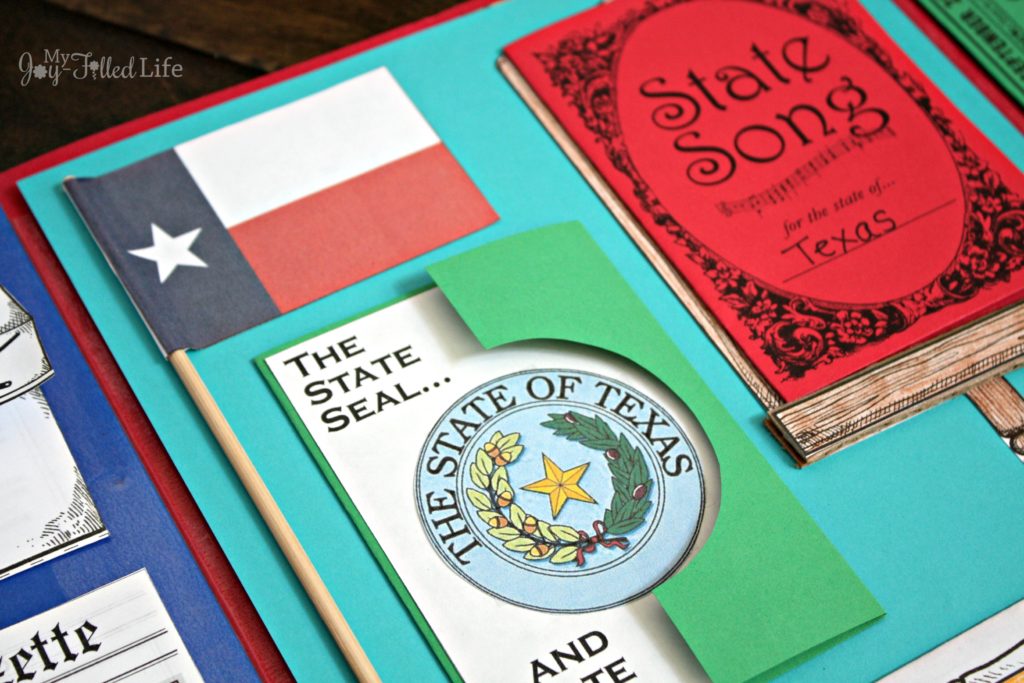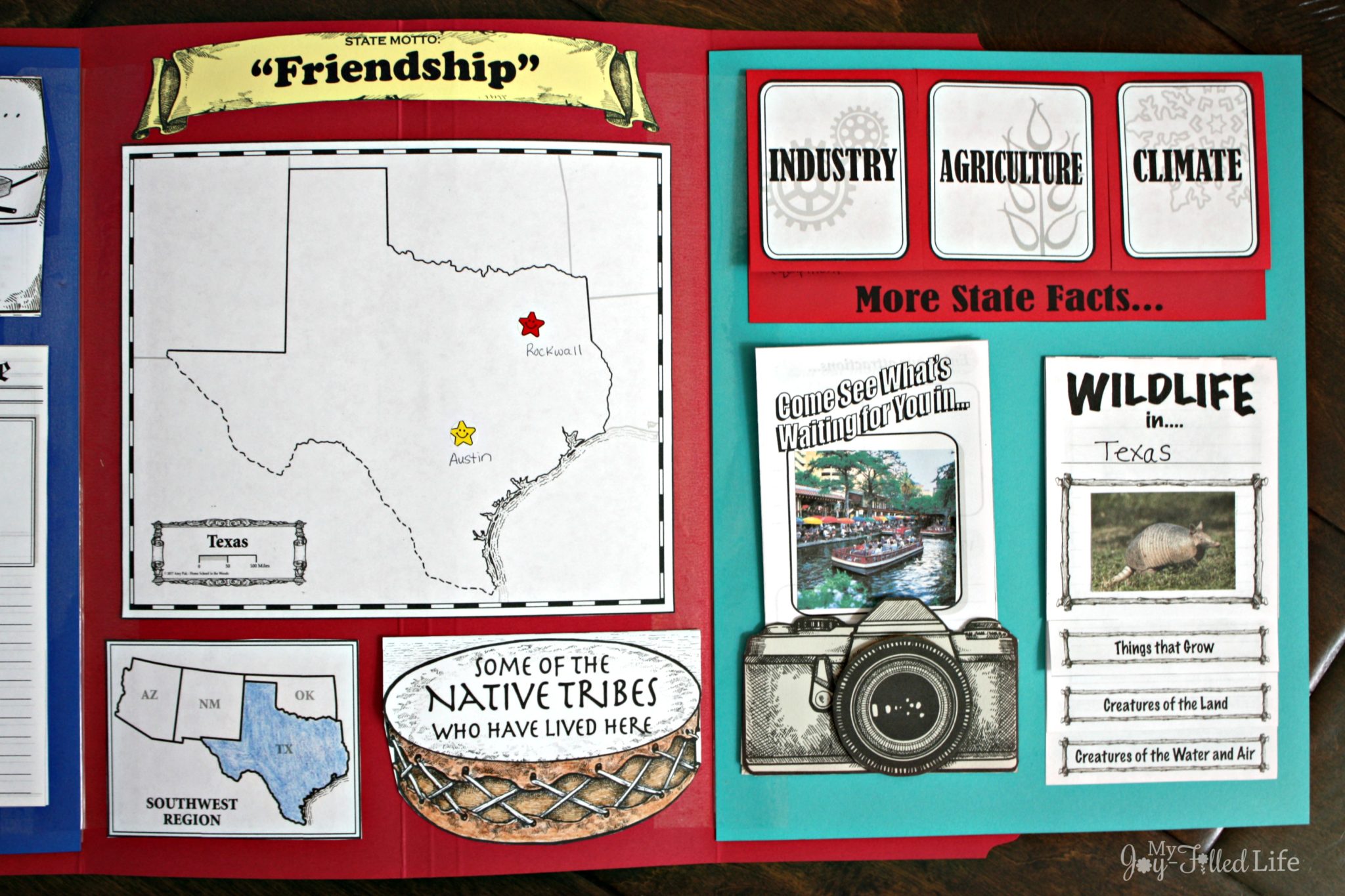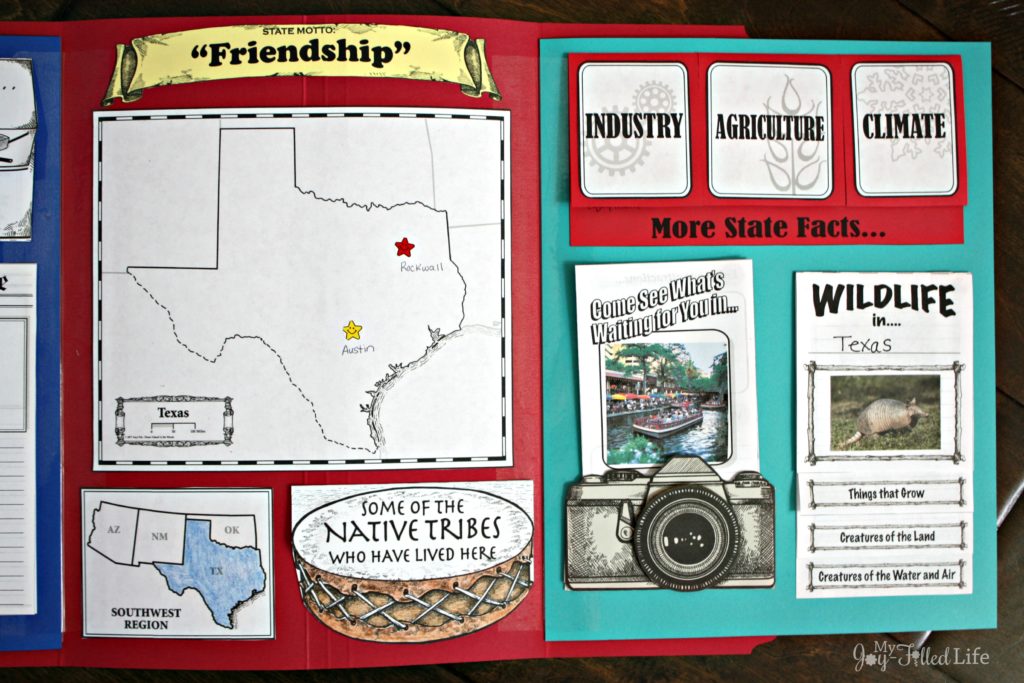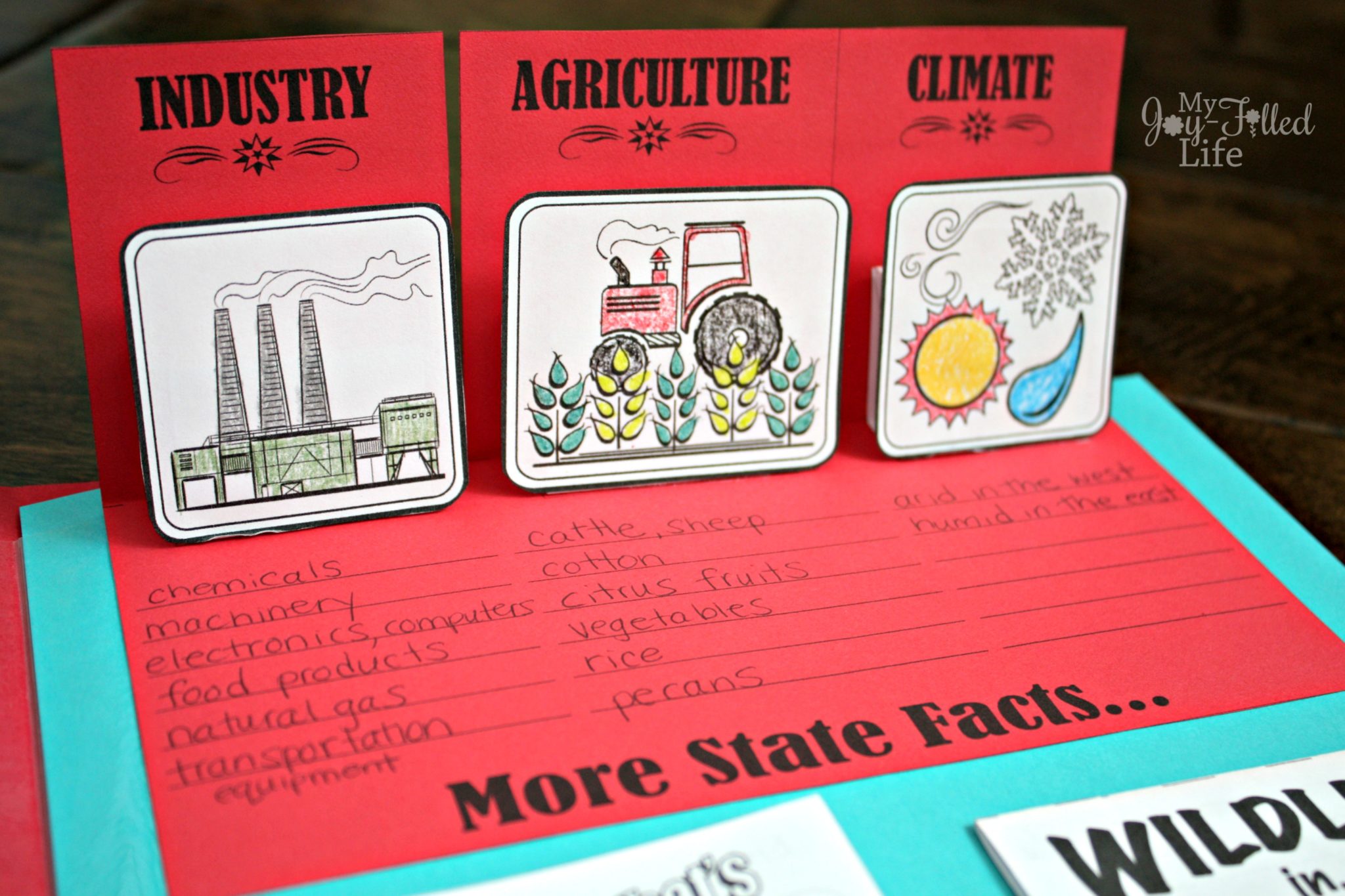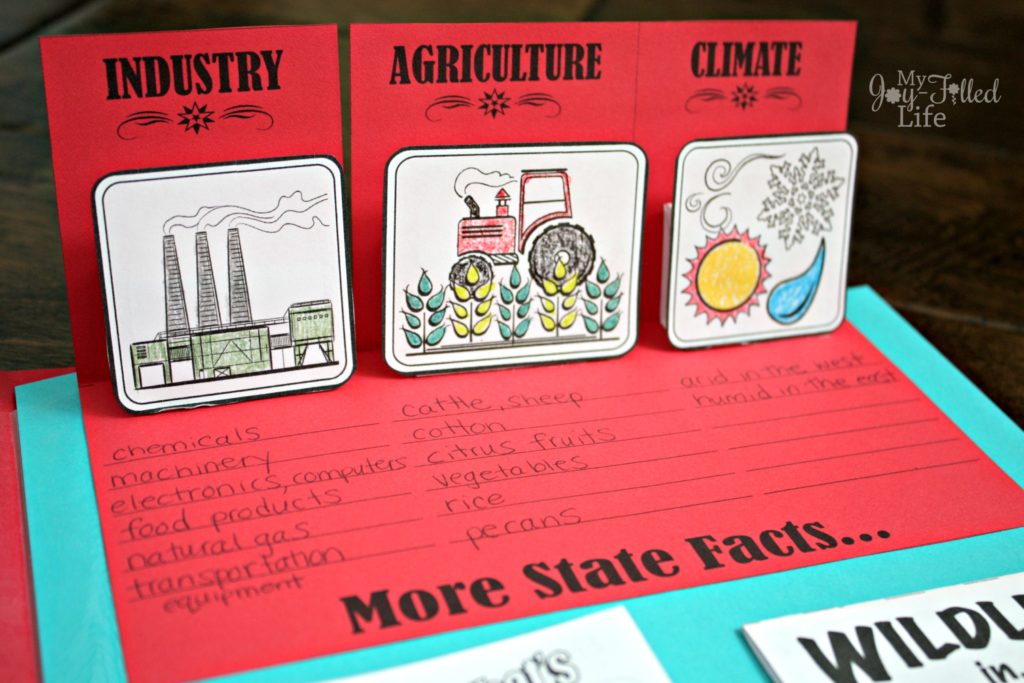 I used the Make-a-State Activity-Pak with my two oldest girls – they are 2nd and 4th graders. We chose to study Texas because we moved to Texas just over two years ago and there was so much about our new state that we didn't know and wanted to learn. They loved doing this lap book. They would ask me if we could do 'history' (we were doing this in our history slot) almost everyday, and my kids hardly ever ask to do school. They enjoyed the hands-on aspect of it and being able to record all that they learned in one convenient place, resulting in a beautiful end product that they were proud of.
I loved this lap book because the quality of it is amazing. Home School in the Woods does such a superb job with putting together their products and making them easy for homeschool moms to use and implement. I also loved it because my kids loved it! It's always a good thing when your kids enjoy the curriculum and resources you choose for them.
Home School in the Woods not only offers Activity-Paks, but they also sell Timeline Materials (the best I've ever seen), U.S. History Studies, World History Studies, Map Sets, Lap-Paks, Activity Studies, and now they even offer items A La Carte (individual projects/activities from their products).
You can enter for your chance to win a Make-a-State Activity-Pak of your very own! Use the Rafflecopter form below to enter:
Giveaway ends July 30th at 11:59pm EDT. The winner will have 48 hours to respond to email to claim prize. Please be sure to read the Terms & Conditions upon entering the giveaway.