Breastfeeding…it was something I just knew I would do even before I was pregnant with our first. After all, it was the natural and normal thing to do. I knew that some women had problems but thought most of those problems were due to some fault on the mom's part. I believed most moms could breastfeed just fine.
Enter my first born son. I had a rough time learning the ropes of breastfeeding with him. But I made it through those rough beginning weeks and figured it would be smooth sailing from there. However, at four months old he started getting very fussy and refused to nurse. Since breastfeeding was not something I enjoyed, I easily gave it up.
But I came to regret that decision. I thought I should have tried harder. After all I knew that breastfeeding was best for my baby so I didn't like that I had given up simply because I didn't enjoy it.
Enter my second born son. Once again I started having problems around four months. I tried herbs, Mother's Milk tea from Traditional Medicinals, nursing on demand, and trying to get him to eat once every hour. We struggled along for two more months but stopped at six months when once again he refused to nurse on either side.
After that whenever I heard a tip on milk supply I filed it away knowing that I wanted to try once again to make it past that four month mark with my next child. So when I was pregnant with my daughter, I decided I would do some things differently and see if it made a difference.
(And I just want to clarify…I'm not a medical professional of any kind. These are just the things I tried in an attempt to nurse my daughter past four months old.)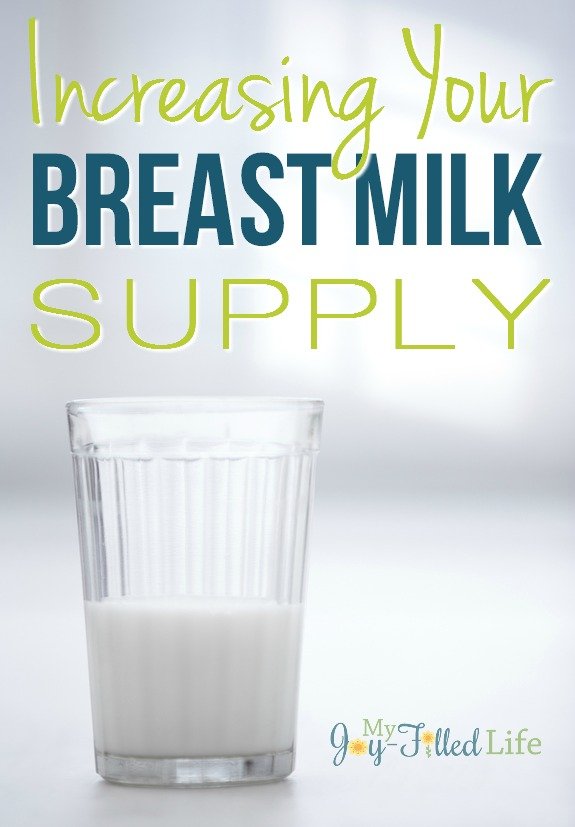 No Pacifier
Yes, I used pacifiers with both of my sons. While I see that some moms and babies can use pacifiers with no problems, I was willing to give them up in an effort to get a good milk supply. But no pacifiers meant…
Nursing on Demand
(I always thought my boys put themselves on a schedule. Now I wonder if I just popped a pacifier in their mouths because there was no way they could possibly be hungry since I just fed them. Oh well. You live and learn. :-)) With my daughter I was her pacifier. I nursed her whenever she wanted it. I was determined to get a good milk supply going for us. And that meant breastfeeding for long periods at a time. (Once she nursed for five hours…I had a few fifteen minute or so breaks.) Was it rough? Yes. But I knew it would only be for a short period of time. And it was. I can't quite remember how long it was due to that exhausted state that comes with having a newborn, but I'm thinking she only had those marathan nursings during the first 2-3 weeks of her life. Not that long in the grand scheme of things.
Placenta Pills
Now I know this grosses a lot of people out. And I have to admit it is a bit unusual. In all honesty, my husband wasn't sure he wanted to do it. So we spent some time thinking about it. And when we both realized that some women claimed it helps with milk supply we both realized we had to give it a try. If I hadn't had so many problems with my two sons, I don't think we would have given this a try. 🙂 (My husband also said he noticed that I wasn't as emotional during the postpartum period with my daughter…which is another oft cited benefit of placenta encapsulation.)
Fennel Essential Oil
I had read a blog post where a mom increased her milk supply with fennel essential oil. Now fennel is not one of my favorite flavors. But I was willing to give it a try. I bought some months before my daughter was due. (If you would like more information about how I increased my milk supply with fennel essential oil, feel free to email me at the address below.)
Stay Hydrated
I can't believe what a difference it makes in my milk supply when I forget to drink water throughout the day. When I get dehydrated, my milk supply drops. So, I try to keep my cup filled all the time. As soon as I finish drinking one cupfull, I fill it up again. I want to have it easy and accessible.
I can happily say that my daughter is still nursing…and she will be seven months old tomorrow.
Can I say which one of these things helped? Not really. It might have just been one of them or a combination of all five.
What tips do you have to increase breast milk supply?
---
Carrie is wife to Tim and mom to three blessings, Drew (5), Carter (4), and Chloe (7 months). Her deepest desire is to continually be growing more towards Christ-likeness. Her greatest joy is being a wife and mom, serving her family every day. Visit her at Wholesome Womanhood.