Homeschooling school age kids while you have little ones around is one hard task. Our first year of homeschool was such an eye opening experience. We had taken our two oldest boys out of public school just eight weeks into their kindergarten and first grade years. I had poured so much time and energy into figuring out what curriculum to use and how to organize our school room, not to mention how to schedule our days, but the thought of figuring out activities for our little guy to do during this time didn't really occur to me.
I had pictures in my head of him playing happily at our feet while I read aloud to the big boys on the couch. I imagined him sitting at the table with us coloring scribbling contentedly.
About an hour into our first day, I realized this was all just fantasy. The reality was that I had a toddler who was pulling at papers and demanding our time and attention.
You'd think that all this would have crossed my mind since homeschooling with a baby was kind of the very reason I chickened out of homeschooling my oldest son when he was entering kindergarten. But our last minute decision to "go for it" with homeschooling left me scrambling.
My biggest regret looking back was the number of times I'd say, "Go play quietly somewhere else" or "If you want to be in here with us, you have to be silent." We won't even go into the moments when I lost my patience with him.
I failed to plan! & thus, I in essence planned to fail. & fail I did! My poor, sweet toddler was not included in our homeschool. At the time, I viewed him as a deterrent to getting anything productive done.
Luckily, the Lord pressed upon my heart that this was not the way to continue. My busy, active little man had to feel a part of what we were doing — & more than that I had to make him a part of what we were doing.
So, how do you juggle history lessons with one child, math problems with another, phonics with your pre-reader, tantrums from your toddler, & nurse your baby — all at the same time? It can be exhausting trying to get everything done, but here are some tips for how we've found success in getting through our homeschool day.
10 Fun Tips on Incorporating Your "Littles" into Your Homeschool Fun!
Buy them "school" supplies, too. First day of school is like Christmas, at least in your toddler's eyes, so don't leave them out. Whether it's just a few coloring books, crayons, and play dough from the Dollar Store, be sure to remember that they want that "first day of school" experience, too.
Bins filled with toys only for school time. This summer my daughter got so excited watching me prep our school room with fun things for her to play with. She kept wanting to go in and "do school." I'd usher her out and explain that she had to wait for school to start. This just raised her anticipation. Even now, 7 months into our homeschool year, she gets really excited for school time since she knows that she only gets to play with those toys and activities during "school hours." Another tip here is to be sure to rotate bins to keep things fresh and exciting.
Book corner just for them. We love books! We have "book baskets" in our homeschool. These are baskets filled with library books that are on the subjects that we are covering in history and science. To make my littles feel more at "home" in our school room, we have two baskets (well, crates). I fill the "little's" baskets full of fun books that are either on interesting topics or on similar topics (just at a younger level) as the ones we are studying with the "bigs." I also have two kid size chairs in our school room and a pair of bean bags that seem to float around the house wherever they are needed. Creating an environment to foster the love of reading is important to me. So, when I declare "book basket time," everyone is included in the activity. Of course, having them cuddle up for read aloud time is always great, too, if they aren't too squirmy.
Start your school day with them. Making sure that you "fill their little love tanks" at the start of the day will help tremendously! So, we try to schedule our preschool & kindergarten time for the very start of the day. Some mornings we walk down to the neighborhood park to get some "PE" done early. They love it — & they get some energy out (bonus!).
Printing extra activity pages. If my "bigs" are doing a project that has activities pages, I always try to make extras so my "littles" feel more a part of what we are doing. They feel like big kids, even if they are just treating the worksheets as coloring pages. Allowing them to "work" along side everyone will instill a love of learning in them.
Hands-on activities! Whether they are learning activities or not, finding things for toddlers to do with their hands is great for their development — & it keeps them busy. Often our hands-on fun is no more than play dough and a few cookie cutters. I actually have a Preschool Activity List that I keep in my master homeschool binder. This is where I keep every idea I've had or read about that I'd like to try. I try to make sure I have the proper supplies on hand as well. When my mind is drawing a blank on what else I can give to my "littles," I turn to my list. I've been adding to it through the years. Anytime I hear of good activities for kids or see great ideas online, I put it on this list. (I love lists!)
* This Preschool Activity List is available as a "Subscriber Freebie" on my site. Be sure to sign up & I'll email you the list (plus other great freebies). Click here to subscribe & get this great resource!
Workboxes! Workboxes are kind of the craze these days in homeschool circles. I've seen them on almost every blog about homeschooling with young kids. When I first heard about them, I was sold. However, they also overwhelmed me as I learned that many families change out their content every day. That just seemed like too much work. So, we use our 10 drawer workboxes a bit differently. For my preschooler, I simply fill her boxes with her favorite activities that she can return to everyday or whenever she likes. I haven't even had to change them out yet this year. Her boxes are filled with beads, coloring books & supplies, dot art, pegs, color sorting, & more. My plan is to switch them up as needed, but so far she is pretty happy with the fun activities inside each bin. She doesn't play with every one every day. She just picks out what she's in the mood to play with. My kindergartner's boxes are by lesson: calendar, reading, writing, science, spelling, etc. I use his boxes as more of an organizational tool, so we don't have work scattered everywhere as we do school. Everything is right where it needs to be.
Busy Bags! Sarah from My Joy-Filled Life has an incredible "busy bag" system. Similar to how I use my workboxes, she has varying activities sorted into bags. I have my "busy bags" stuck in a few of our bins for the kids to pull out and work with. Sarah, however, has an incredible hanging system that is great for keeping things organized. Be sure to check out her post all about it here!
Schedule!!! Truly the best way to get homeschool work done with your big kids is by creating a schedule. We have a pretty flexible schedule these days. Our goal is to start school no later than 9am, which coincides with the baby's first nap. Organizing nap times is really one of the best ways to get work done. I really try to have my babies keep their morning naps as long as possible. Once baby is up or drops the morning nap, then we move into scheduled snack time (in a baby seat in the school room), activities in the seat after she's done eating, then we might move onto sibling play time (see next tip). One other thing I've learned to do is to move some subjects to our evening schedule after the littles are in bed. Sometimes it's just easier to do our Bible, history, & read aloud at night — when it's quieter.
One-on-one time with older siblings! Basically, if you have three kids or more, you have your oldest hang out for a bit with your littlest while you work with the middle child — then switch. Sometimes they just play in a room, other times I have an activity planned, & occasionally I'll let them play outside (depending upon the age of the sibling). We switch it up as the kids switch off on "baby time." This allows me to get individual time with my older students and get things done with them that require more time or attention. This was my saving grace for our homeschool when we first started. We still do it now, however, my older kids are so independent in their school work that it allows me time to be with my littler kids. We still have the whole toddler/pre-readers thing going on in our school. And although my three year old is just thrilled to be doing "school officially" this year, she definitely is not happy when her baby sister gets into her "work." So, we do still have moments when we divid up and conquer with the older siblings.
So, the next morning when you finish breakfast, chores, & dishes and say, "School time!" I pray every member of your family comes running and crawling to your side eager to learn and be together.
—————————————————————————————————————
Learn more fun ideas about how to incorporate your younger children into your homeschool day at the upcoming CHEA convention. Kristi will be giving her "Homeschooling with Littles" workshop. This workshop will offer you handy tools and creative scheduling tips on how to better manage the circus act of homeschooling multiple children. Hope to see you there.

---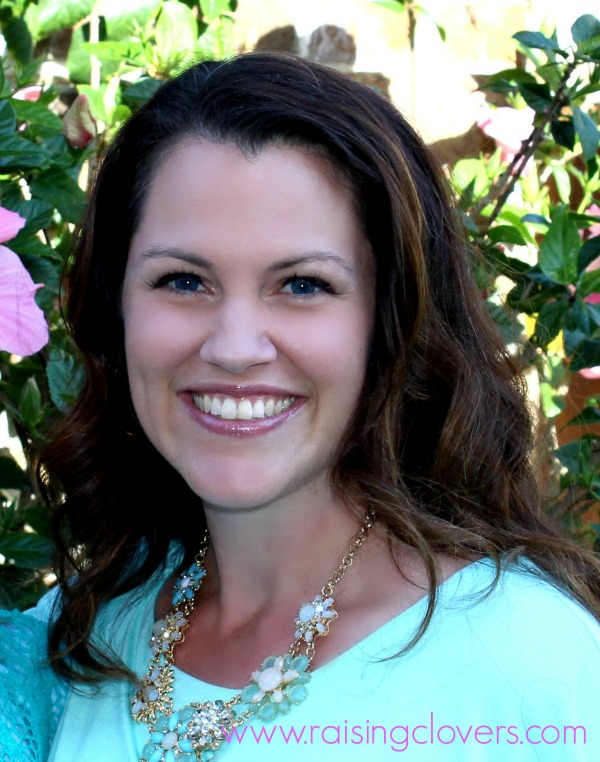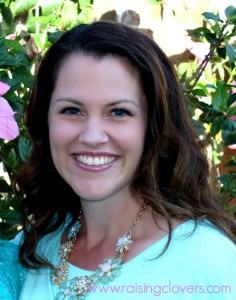 Kristi is a follower of God, wife to her high school crush, & mom to five blessings ranging from middle school to diapers. Aside from her family, she's also passionate about homeschooling, creating family traditions, & finding new ways to run a more efficient home & school. Not surprisingly, you can usually find her at home trying to bring some order & fun into the mayhem of daily life. Kristi is a down-to-earth writer & energetic speaker who loves to share insights from her wonderful, yet sometimes challenging, experiences of being a homemaker and homeschool mom. She offers advice that goes beyond your typical "how-to's" for getting started and organizing. Her tips are creative, practical, and help bring back some simplicity in the chaos of life & homeschooling. Kristi blogs about her adventures in wifehood, mommyhood, and the fun to be found in homeschooling at Raising Clovers.
Also find Kristi on Facebook, Instagram, Twitter, Pinterest, …& coming soon YouTube!