In 2012, the American Veterinary Medical Association (AVMA) reported that over 43 million households owned a dog. That's over one out of three families!
That's a lot of dogs!
Well, I know that not everyone is a self-proclaimed "dog person", but dogs are the topic for today. If you happen to not have a dog, that's okay. We can still be friends! And, you can transfer many of the ideas that I present to other pets as well.
We will cover a few areas:
Lesson Plans and Learning Opportunities
General Responsibility
Companionship
Let's look at some real, authentic curriculum that you can use right away.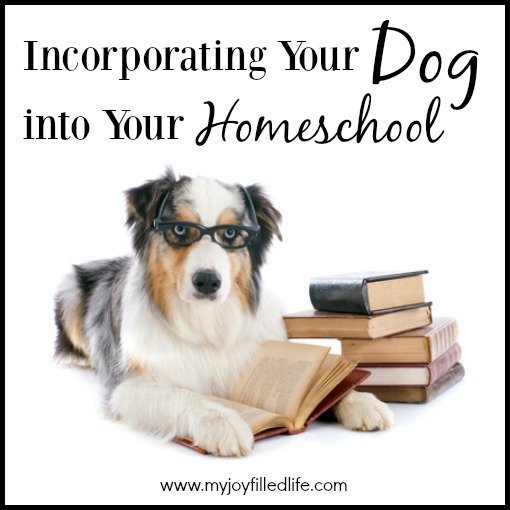 Lessons Plans and Learning Opportunities
We all know it can be a struggle to come up with meaningful lessons that are also self-propelling. We've all been there and it's okay. Dogs are fun and can be a great way to provide something new into your curriculum.
Real lesson plans are out there and you can tweak them as needed your needs. Here are some great ideas right off the bat.
Safety Around Dogs – Learn how to greet a dog and what to do when a dog is loose.
Dogs with Jobs – Learn about Dogs with Jobs in the community.
Careers with Dogs – Learn about all the different jobs that allow you to work with dogs.
Check out more ideas from the American Kennel Club and Humane Society.
Do you have a child learning to read and they are too nervous or shy to practice? Try having him or her read to your dog! Some therapy dog programs are in place in libraries where children can read to a dog who will certainly not judge them. It can be remarkable for a child to read to a dog rather than a person to build up confidence.
General Responsibility
There are plenty of chores associated with all pets. Dogs take work. For many kids, taking care of the family dog is one of the first actual responsibilities they have. But technology has made some jobs easier. For instance, instead of going through the trouble of physically visiting a vet, you can look into the services of BetterVet Silicon Valley and take advantage of the mobile vet experience.
Feeding
Feeding is a daily task that needs to be done. It is a simple one, generally, but you can also look deeper. For example, you can review and learn about what foods are okay for dogs and which ones aren't. It turns out that dogs can eat carrots! Of course, my dog won't even touch them.
Walks
Walks are another area where your children can take care of a daily task. Technically, you should probably be taking your dog on several walks per day depending on the breed.
It is great exercise for your child, dog, and even the rest of the family others go along. Kids with pets go outside more and get more exercise, and that is always a good thing.
Talking about more responsibilities, picking up after your dog is another way to instill that we need to keep the environment as clean as we can.
Medicine
Dogs in most parts of the country need heart worm preventative, given about once a month. It is a great way provide context about prescription drugs and their importance to health.
Companionship
They don't call them "Man's best friend" for nothing. Dogs can help children build trusting relationships. A child-dog bond can be one of the strongest out there.
This also brings up another real-life lesson – death and dealing with loss. They live together and play together. They are truly best friends. Death is certainly a fact of life and losing a pet might be the first time that a child is dealing with grief and loss. It can be very hard and painful, but a necessary thing to learn.
Conclusion
If you have a dog, then you know they are a part of our lives. And, if you have other pets, then most of the same ideas can apply.
Take the opportunity to get your dog involved in your homeschooling curriculum. There are plenty of different angles, and I bet once you get started, the ideas will keep flowing! I just thought about 4 new lesson plans for dogs while writing this.
Doug is a lifelong dog lover and has a Border Collie named Brodie. When Doug isn't out with Brodie looking for squirrels, he writes at herepup.com.