As a mama, it's important to me to teach my children about Christ – who He is, why He's so amazing, and how much He loves us. God gave us the great responsibility of shepherding our children and of guiding them spiritually; this is probably one of the most important things we, as parents, will do on this earth. And I believe we should start this task early – as soon as our children are born, if possible. (Please know that if you yourself didn't come to know Christ until your kids were older or you haven't done much in the way of teaching your child about Christ, it's never too late to start. There's no better time than now).
Today I wanted to share some ideas on incorporating Christ into your preschooler's day. Preschoolers are so fun and there are so many ways to bring Christ into their daily lives that are engaging and memorable for them. I don't want to just designate a certain time of our day as 'Jesus Time' or Bible Time (although it's good to have those too), I want Jesus to be a part of their day, our day, as much as possible!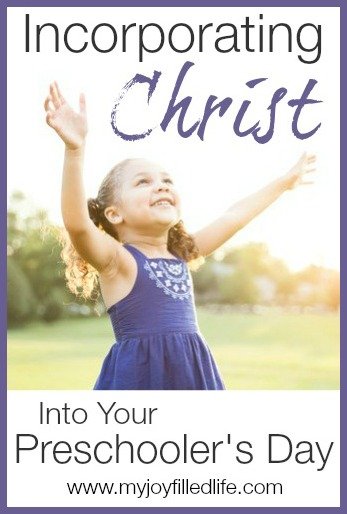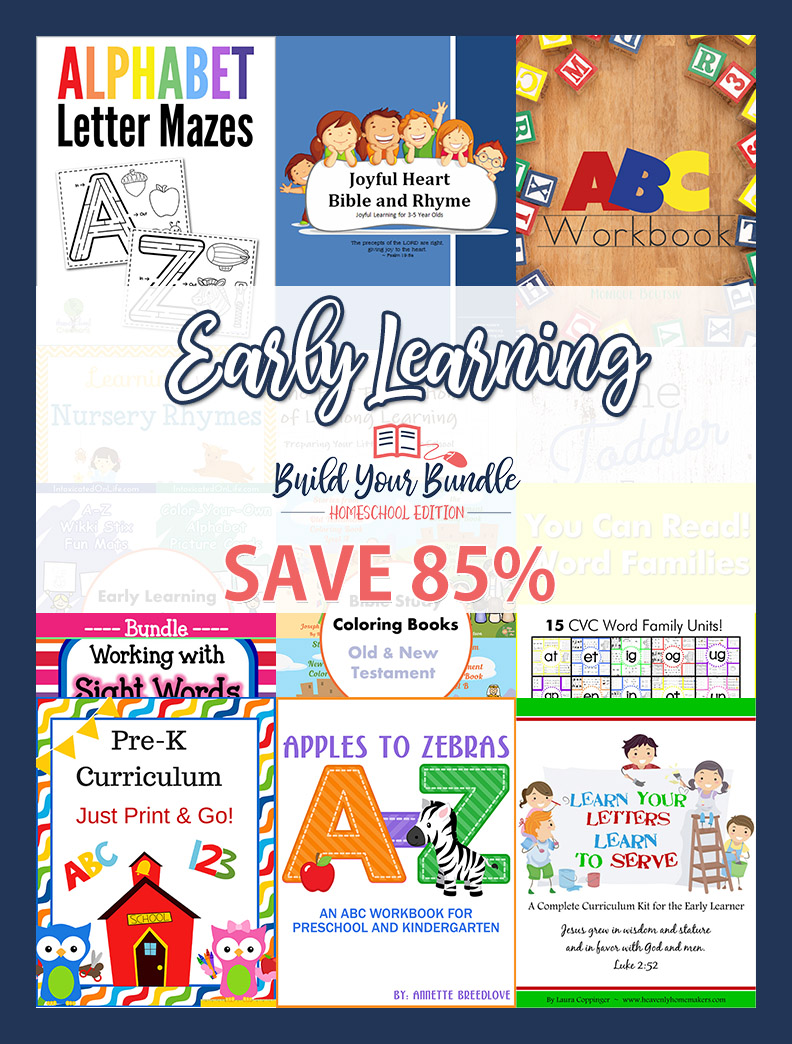 Here are some ways we do that in our home –
Pray
Pray with and for your preschooler. Pray in the morning, pray in the evening, pray at meals, pray at bedtime, and pray anytime in between! If your little one falls and scraps their knee, stop and pray for healing. If your little one is scared of the dark, stop and pray for comfort. If mommy is frustrated and ready to blow her top, stop and pray for patience and strength. And yes, it's okay to pray for that with your child! Also, during your prayer time, take the time to teach your child how to pray. This is important so that your child can grow close to God and have conversations with Him even when you are not around.
Music
We love music in our house, and it's all the better when it's music that praises and worships our Lord! When you wake your children up in the morning, wake them up with some praise music. My mother did this for me when I was young and I loved it! I loved it so much that I hunted down the record (yes, record) that she used to play to see if it was available as a CD so I could play it for my kids, and low and behold I found it! If your child can fall asleep to music, play some soft, soothing Christian lullabies when you put your children to bed at night. You can also have worship music or your favorite hymns playing at a low volume in the background; you'll be amazed at how this lifts your spirits. Another great thing to do with music is to use it to help your child (and even yourself) memorize scripture. Our favorite CDs for this is the Hide 'Em in Your Heart CDs.
Read the Bible
Make it a point to read the Bible everyday with your child. Start your day off reading the Bible together or end your day with a Bible reading, or pick a time of day that works best for your schedule. You can read to them from your Bible or choose a children's Bible instead. You can even read from a children's storybook Bible if you think that would be better fit for your child. Some of our favorite Bibles, children's Bibles, and Bible storybooks are –
My First Hands-On Bible
Hermie & Friends Bible
Read and Learn Bible
The Little Kids' Adventure Bible
The Jesus Storybook Bible
Read with Me Bible
A Child's First Bible
Memorize Scripture
Little kids love reciting stuff and they are like little sponges, so take advantage and start working on memorizing scripture at this young age. As I mentioned above, putting scripture to music is an excellent way to memorize it. You can also make a game out of it and/or use scripture cards to aid with the learning.
Arts & Craft Projects
My kids love doing arts and craft projects! It's probably because we don't do them often, so when we do they get super excited. Turn your craft time into a Bible lesson. After you read from the Bible or a Bible storybook, do a craft or activity that relates to the story. I have a whole Pinterest board devoted to Bible crafts if you'd like to check it out.
Devotionals
Start your preschooler's day by reading an age appropriate devotional together. A great time for this is during breakfast. Just leave your devotional on the kitchen table to remind yourself to do this every morning. Or you could read a family devotional with the whole family at dinner time or just before your preschooler goes to bed.
Curriculum
When choosing a pre school or even an upper elementary curriculum for your child, make it a Christ-centered, Christian curriculum. Even if you aren't homeschooling and your child is attending a christian elementary school, you can still give your preschooler I jump start on school by working with them at home, a little each day, a few days a week.
I just started using a BRAND NEW curriculum with my preschool twins (and their 6-year-old sister likes to join in too) called Write Through the Bible, Junior. I loved the original Write Through the Bible curriculum, so I was thrilled when they came out with a junior version.
Write Through the Bible, Junior is a new interdisciplinary study you can use to teach your young child to write while focusing on God's word. This curriculum, geared towards 4-6 year olds, is a full-year curriculum.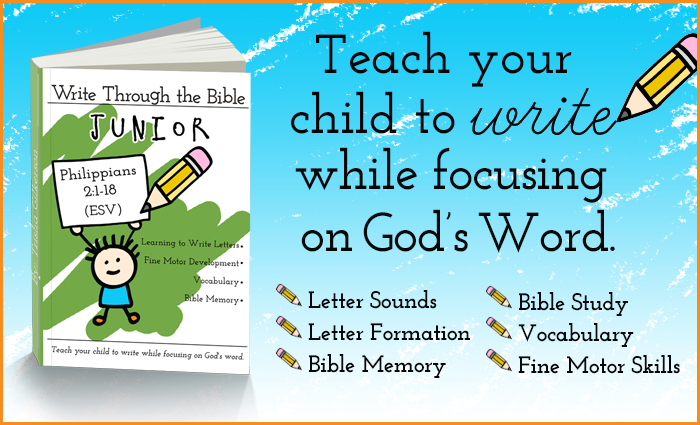 A Curriculum for Busy Moms
With Write Through the Bible, Junior, you can complete several subjects at once. This curriculum will allow you to teach your child to write, discuss new vocabulary words, dig deep into the Word of God, and memorize a long passage of scripture together.
Not only that, but there is virtually no preparation! There aren't any involved crafts that take weird supplies. Everything you need for this curriculum you probably already have at home.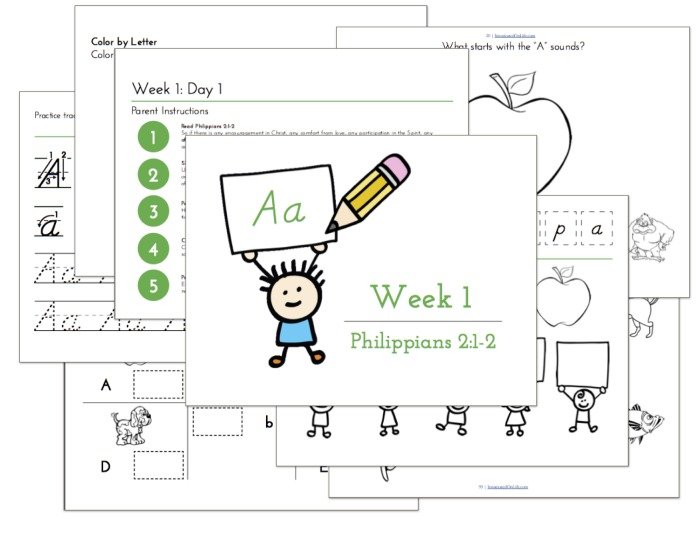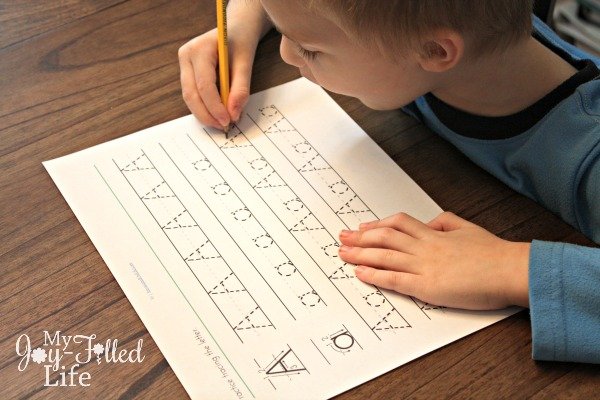 Features
This program was designed to incorporate several subjects in one. Below are a few things your child will learn as they work through this book:
Improve fine motor coordination
Learn letter sounds
Learn how to form letter
Memorize Philippians 2:1-18
Learn new vocabulary words
Study Philippians 2:1-18 and learn what it means to have a heart of humility.
In addition, this full-year program is very affordable costing just $17 for the digital download or $27 for the softcover book.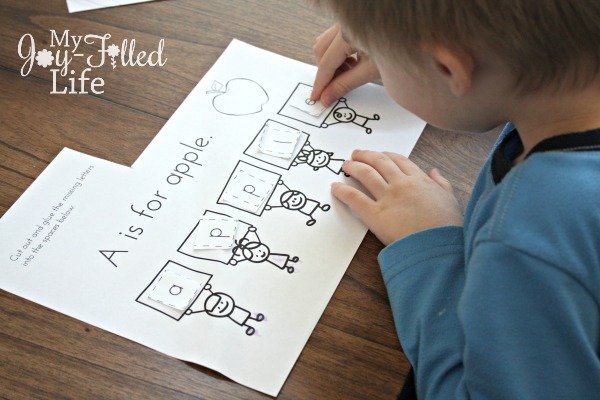 Options
Write Through the Bible, Junior is available in a number of options you can choose from.
Formats
Digital Download ($17)
Softcover from Amazon.com ($27)
Bible Translation
Fonts
Ball-and-Stick Manuscript
D'Nealian Manuscript
Cursive
Would you like to download a sample lesson before purchasing? Head over to Intoxicated on Life, where you can download the first lesson for free.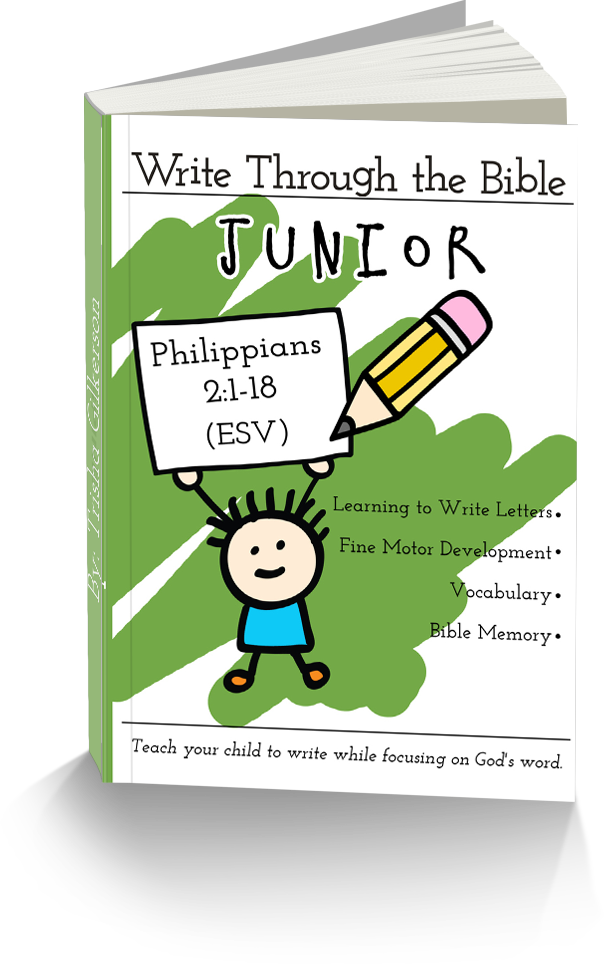 FREE Fine Motor Skills Printables
Be sure to grab this HUGE printable pack of fine motor skills printables to help prepare your preschooler for handwriting success. This printable pack is absolutely free! To get it, simply subscribe to Intoxicated on Life.