The United States and other parts of the world have been ravished by hurricanes and other natural disasters this year, and it doesn't look like it's ending any time soon. People have been tragically affected from all walks of life and backgrounds, including many of our fellow homeschoolers.
Many homeschool companies and publishers have stepped up to the plate and are generously offering to help replace curriculum that was lost or destroyed in these disasters.
There are also quite a few organizations and individuals that are offering help as well. Below you will find a list of companies that will replace your curriculum and other places homeschoolers can find help.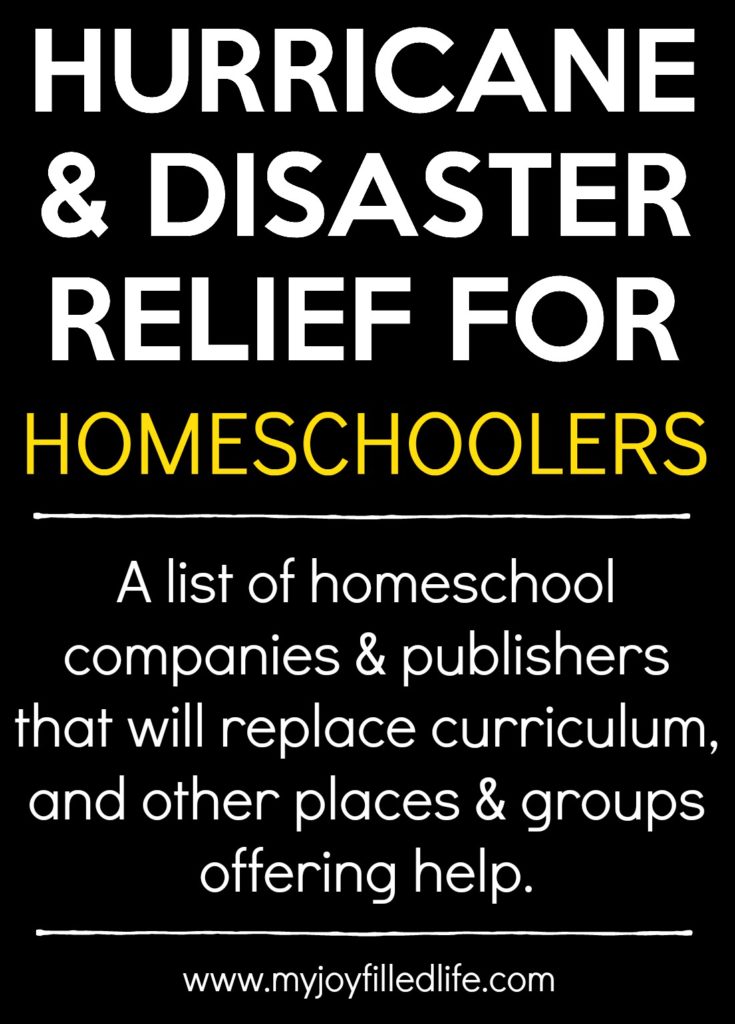 All About Learning Press
Our hearts are with those who are affected by Tropical Storm Harvey. We'll replace (at no charge) any All About Reading or All About Spelling curriculum that was purchased through us and lost/destroyed in the flooding. Just send an email to [email protected] with the details of what you need, the name and address of original order, and where we should send it.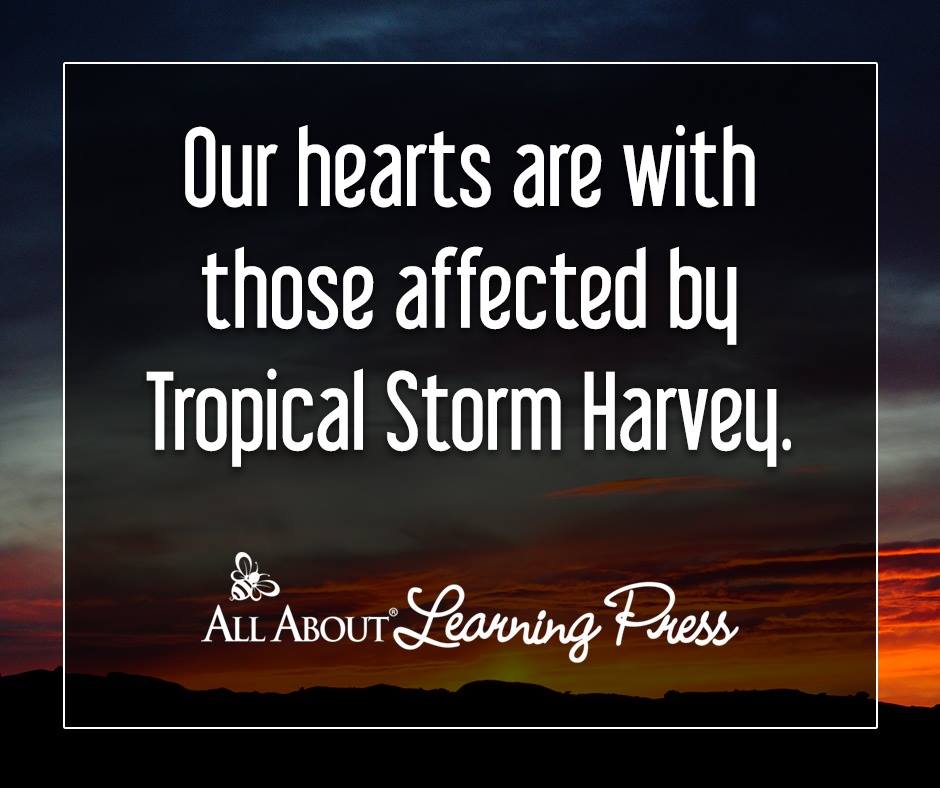 Logic of English
We here at Logic of English want everyone affected by Hurricane Harvey to know that our thoughts and prayers are with them through this tough time.
We are offering free replacement of any Logic of English curriculum lost to flooding as you begin to rebuild.
Please simply contact us at (612) 808-0585, message us on Facebook, or through our contact page with the name on the original order, what you need replaced, and where we should send your new materials.
Bright Ideas Press
If you are a homeschool family and have lost your Bright Ideas Press homeschool resources due to Hurricane Harvey, please reach out to us. Email [email protected]
The Homegrown Preschooler
Our hearts are broken as we watch so many families lose so much. We know that many of our Homegrown families reside in the flooded neighborhoods. If you have lost your A Year of Playing Skillfully curriculum in the flood, we would be honored to replace it for you at no cost. Please message us if this is your situation. Our thoughts and prayers are with you as you begin to rebuild.
My Father's World
All of us at My Father's World want to extend our thoughts and prayers to everyone affected by Hurricane Harvey and Hurricane Irma. Given the catastrophic damage inflicted by these storms, we are concerned that many of our customers and other homeschoolers have lost their curriculum and need assistance at this very trying time in their lives.
If you or someone you know has lost a homeschool curriculum package from any homeschool supplier purchased for the 2017-2018 school year, we want to help by replacing this curriculum with My Father's World curriculum at no cost.
We are also deeply concerned that some public and private schools may be closed indefinitely in the affected areas. For those who choose to homeschool as a direct result of their local school closing we will gladly extend a 35% discount on complete curriculum packages and any ancillary resources purchased at the same time.
Please encourage those you know who need our help to call our team at 573-202-2000 or visit our website to contact us.
Grapevine Studies
The entire Grapevine Studies team continues to pray for every affected by Hurricane Harvey!
If you lost any of our bible studies (or know someone who did) we want to replace them for FREE.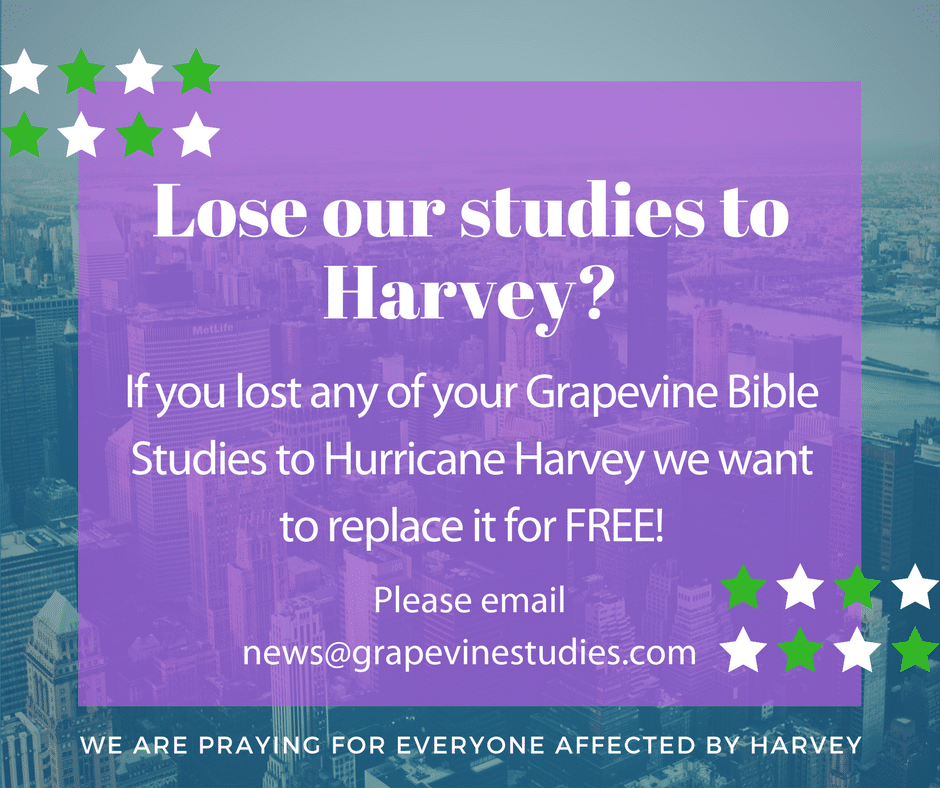 Pandia Press
All of us at Pandia Press extend our heartfelt thoughts to our customers who have been affected by Hurricane Harvey. We hope that you and your loved ones are safe and secure, and that you able to quickly recover and get back on your feet as soon as possible. For those affected: We will replace any lost/damaged History Odyssey, REAL Science Odyssey, and Timeline products. Please send us a message if you or someone you know lost Pandia Press curricula in Hurricane Harvey.
Master Books
If you live in an area affected by Hurricane Harvey and have lost Master Books curriculum you purchased directly from Master Books, please contact us and we will work to send you replacements.
Classical Conversations
Classical Conversations has diligently been working on a holistic response to the hurricane damage in Houston and surrounding areas, as well as praying for all those affected. We've been in constant contact with CC leadership in the area to keep abreast of all the developments.
Classical Conversations will be offering free replacement of curriculum purchased from CC to those who are affected, as well as 40% off of other curriculum.
Abeka Homeschool
We're praying for all those already affected by Hurricane Irma and for those in its path. If Hurricane Irma affects your area and damages your Abeka materials, please private message us here on Facebook, e-mail [email protected], call 1-877-223-5226, or chat with us at abeka.com.
Easy Grammar Systems
If you've been impacted by Hurricane Harvey or Irma, contact Easy Grammar Systems so they can help with replacing your curriculum.
BJU Press
If you have lost BJU Press curriculum because of Hurricane Harvey or Hurricane Irma, we want to work with you on replacing the materials you have lost. Please contact your HomeWorks Consultant or call customer service at 800-845-5731.
Tapestry of Grace
Unlock Math
Unlock Math
is offering a free trial to Hurricane Harvey victims.
Rainbow Resource
If your new homeschooling materials were lost or damaged due to Hurricane Harvey or Hurricane Irma, contact us with a list of items purchased from
Rainbow Resource
in the last 12 months, and we will replace them for free.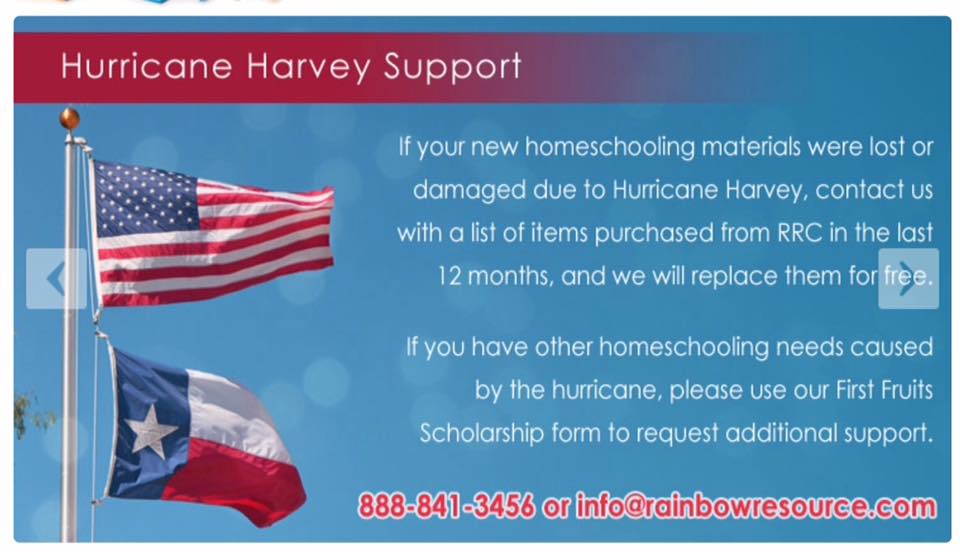 The following is a list of companies that I've heard through the grapevine are replacing curriculum, but I could not find info directly on the website or social media. Contact them directly to find out.
While many of these list above specify a certain hurricane, it can't hurt to ask for help if you were affected by a different hurricane. And if the place that your order your curriculum from is not listed, it can't hurt to send them an email and ask if they will help.
Please be respectful of your fellow homeschoolers and these companies and only request help if you truly need it.
Below you will find a list of other organizations and groups that are helping homeschoolers during this difficult time.
HSLDA
Home School Foundation, the charitable arm of HSLDA, has an Emergency Response Fund that helps homeschooling families facing a natural disaster or other extreme financial crisis that has impacted their access to homeschool curriculum. To apply for Hurricane Irma assistance, click here. To apply for Hurricane Harvey help, click here.
Texas Homeschool Disaster Relief Network
This group
has been set up to network families who need help aft
er natural disasters with fellow homeschooling families who are able to provide that help.
Home School Life TX: Relief After Harvey
A group
that is collecting and donating homeschool curriculum to hurricane victims.
Texas Home School Coalition
Taking donations and offering funds to homeschool families affected by Hurricane Harvey. Find more info
here
.
Helping Homeschool Families Affected by Harvey
This group
is a gathering place for homeschool families affected
…
by Hurricane Harvey and the homeschool families that are willing to help them. Through sharing the needs of curriculum and books families can check their shelves and send what they have to help out.
Tina's Dynamic Homeschool Plus
This site
has compiled a list of homeschool companies and websites that are offering their digital curriculum for free to those affected by the hurricanes.
Homeschool Curriculum Free for Shipping
Not only is this a site where you can find free curriculum, they have also started taking donations and funds for homeschoolers affected by Hurricane Harvey. Find out more info
here
.
THE Homeschoolers Helping Homeschoolers
Even more groups that are helping collect and distribute curriculum donations and fund –
If you know of any other homeschool companies or groups that are helping during this time, please comment below so that I can add them to the list! And please help spread the word to any homeschoolers you know that could use the help above! Thanks!!
You might also like: