Our family loves movies. One way we enjoy spending time together is by having a Family Movie Night. I'll be honest though, sometimes movie night doesn't end up being the enjoyable evening I had envisioned.
Trying to decide on a movie that everyone agrees on will sometimes end the evening even before it starts. Kids fighting over blankets, pillows, and seats can also put a damper on the evening.
We have 7 children, so I've learned over the years how to prepare and what to do to make family movie night go off without a hitch; well, at least most of the time.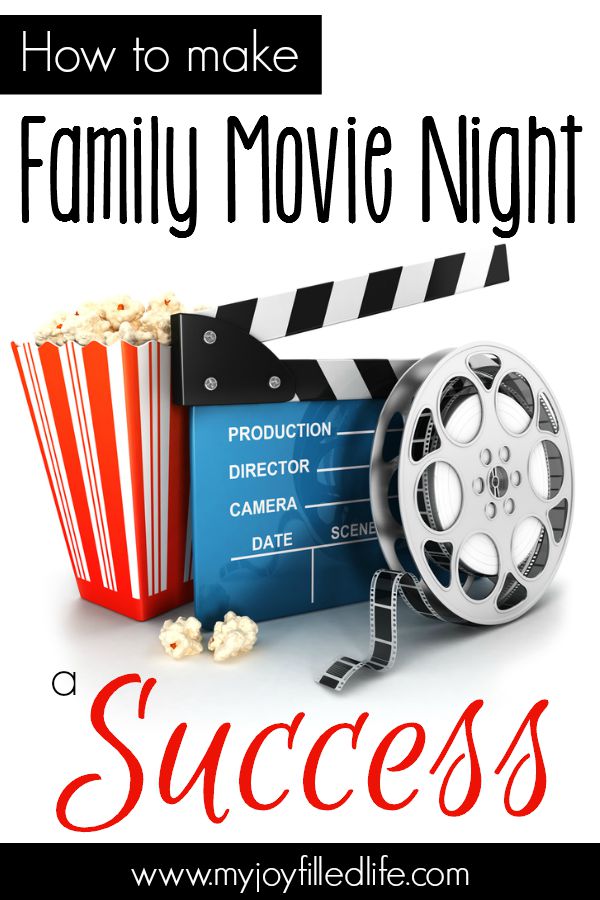 Make picking a movie easy
Pick the movie in advance so everyone knows what to expect. Have family members take turns deciding on a movie (but be sure you keep track of whose turn it is), or just make it a rule that mom and dad decide. Or you could write down all of your family favorite movies on separate pieces of paper, put them in a jar, and draw one the day of movie night.
We have a Family Movie Night Bucket List that is a list of all of our family's favorite movies to watch together. We simply start at the top of the list and work our way down. This saves a lot of time when it comes to picking the movie – no fighting and no thought required! You can print your own at the end of this post.
Start early
Allow enough time before bedtime to watch the movie. I don't suggest allowing the movie to run past bedtime, or else you might end up with cranky kids, especially if you have some really little ones.
Plan to start the movie right after dinner, or better yet, incorporate dinner into the movie. Have a fun meal like homemade pizza, or have a picnic dinner in your family room, or make a dinner that relates to the movie in some way.
Take care of business before showtime
Make sure everyone uses the bathroom before the movie! This is one we are still working on. With a family of 9, it never fails – as soon as everyone is settled and the movie starts, someone has to use the bathroom.
Also, make sure everyone has everything they will need during the movie – favorite blanket, pillow, or stuffed animal; a drink; and a snack!
Snacks
Snacks and movies go hand-in-hand. You can't watch a movie without munching on your favorite movie snack, and our favorite is the classic, popcorn! Our family loves popcorn even when we're not watching a movie; we buy it in bulk because we eat it so often!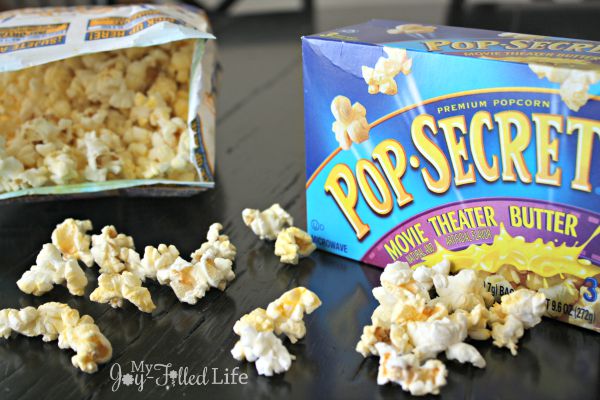 I always have to go for the Movie Theater Butter flavor of Pop Secret – it just makes me feel like I'm at the movies, or at least that's what I tell myself. When I picked up or latest popcorn supply at Walmart, I was happy to see that when you buy any 3 Pop-Secret items between 7/31 – 8/31, you get a FREE ticket to the Fantastic Four movie (up to $5) while supplies last. This is perfect because my two oldest boys really want to see that movie on their next Father/Son date night.
Dim the lights
Movies are always better when the lights are low. Enough said.
Get creative
Get everyone excited about the upcoming movie by doing a related craft earlier in the day, or have fun by pretending you are at the movies and print out admission tickets and set up a concession stand, or play a game before or during the movie.
My kids recently made their own personalized popcorn bowls. They all had fun decorating them in a way that reflects their personalities. Plus that means not having to share bowls or reaching into one big popcorn bowl. And it was just fun!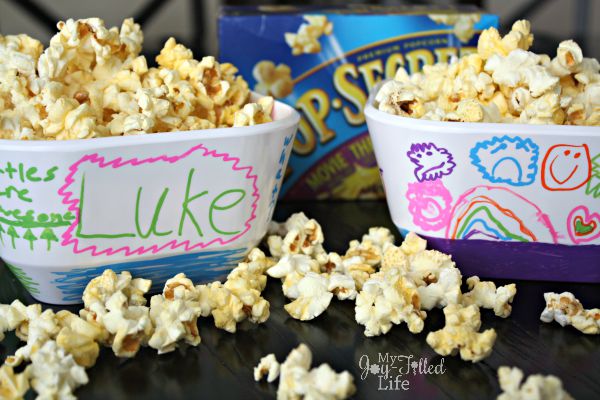 Would you like to print out the Family Movie Night Bucket List or make your own? Just click the links below – there is one that has our family's favorite movies and a blank one so you can fill in your own.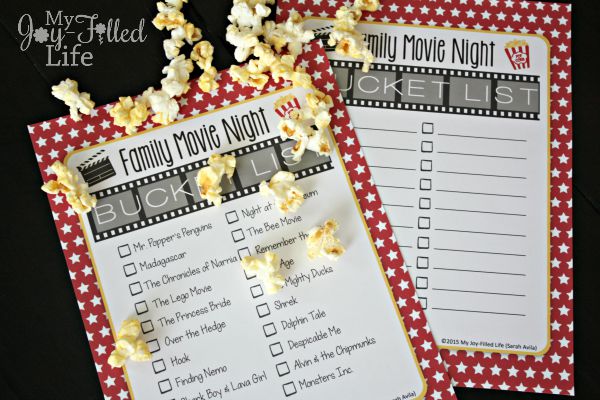 Family Movie Night Bucket List
Family Movie Night Bucket List – Blank
This little guy couldn't wait for the movie; he wanted popcorn in the afternoon! Can you tell he loves popcorn?!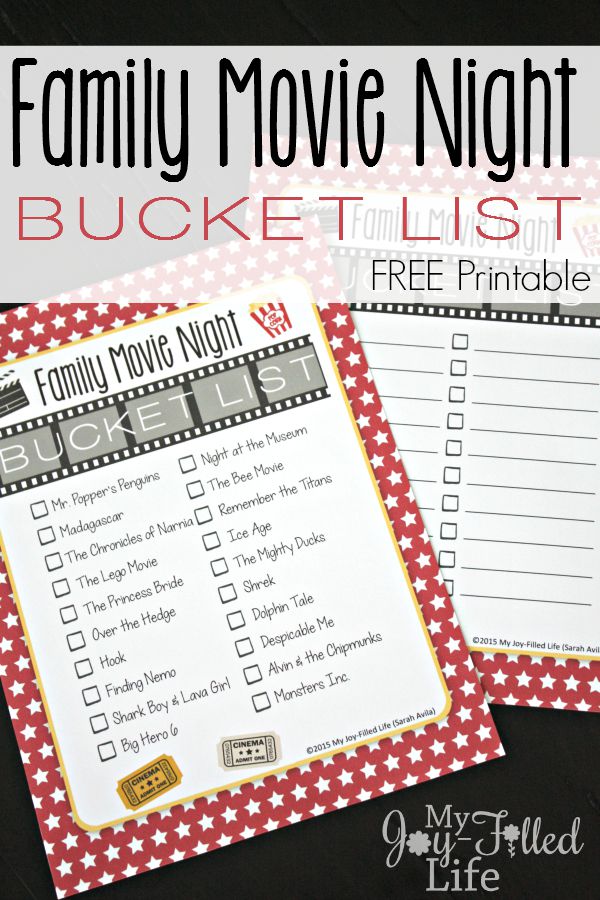 This post is part of a social shopper marketing insight campaign with Pollinate Media Group® and Pop Secret, but all my opinions are my own. #pmedia #pop4Fantastic4 http://my-disclosur.es/OBsstV