For all posts in this series, click here.
Busy Bags are a must in any home with little ones! Even if you don't homeschool, busy bags come in handy when you need to occupy little hands and minds while you are preparing meals, making a phone call, or just need a few minutes alone in the bathroom.
If you are a homeschooler, especially with multiple children, busy bags are a perfect thing to keep your toddler or preschooler busy while you are working with another child.
I discovered busy bags about 5 years ago when I had a 1st grader, preschooler, toddler, and another on the way. I was a little nervous about how I was going to manage school now that my oldest was "official," according to the state. Thankfully someone mentioned Activity Bags in a Yahoo group that I was a part of, and I didn't waste any time in ordering my copy. I then found some more ideas for activity bags at one of the first blogs I ever started following, Walking By the Way. Since then, I have found many brilliant busy bag ideas on the internet, and I'm forever grateful to all the creative moms out there that have helped keep my little ones busy.
I even use busy bags with my kindergarteners, first graders, and even my second graders. I use these books for them from Scholastic, and put the activities in bags:
Here are several tips for using busy bags successfully in your homeschool:
1. Allow your child(ren) to only use the busy bags during school time. Don't let them use them during free playtime.
2. Schedule busy bag time into your day, and when you do, use that time to work with another child.
3. Keep them fresh; make sure you have a good variety and rotate them often.
4. Use the busy bags with your child before you allow him to use them on his own. Make sure he understands how to use each one.
5. If making numerous busy bags seems overwhelming to you consider joining or organizing a busy bag swap.
6. Have some sort of storage system for all of your bags. I store them by hanging them with curtain clips from a cheap towel bar.
Here are some other storage ideas from:
When Do I Sit Down?
Busy Hands Blessed Hearts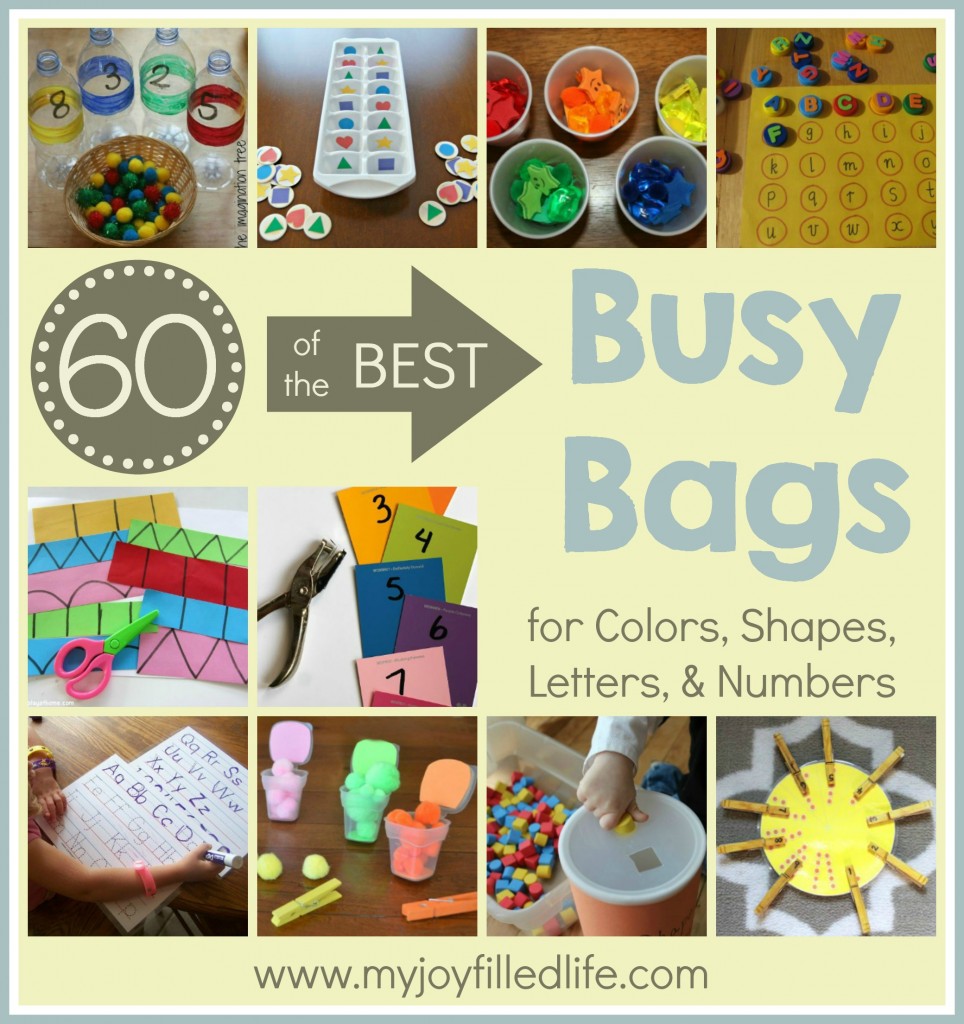 Here are some links to lots of different busy bag ideas, as well as busy bins, boxes, sensory bins, and other ideas to keep little ones busy:
31 Days of Busy Bags & Quiet Time Activities from All Our Days
16 Busy Bag Ideas for a Busy Bag Swap from Motherhood on a Dime
Sorting Busy Bag from My Joy-Filled Life
Busy Bags! from Teach Beside Me
How to Occupy Your 2 Year Old While You Homeschool from Imperfect Homemaker
Our Best Sensory Bins from Chaos and the Clutter
Quiet Time Bags from Homemaking With Heart
Weekly Workboxes from Chestnut Grove Academy
Busy Bag Ideas with Links and Printables from Sprouting Tadpoles
Preschool Activity Trays from Things to Share and Remember
All the days in the series: