Every year, more and more parents are making the decision to homeschool their children. Some are starting right from the get-go with preschool or kindergarten, while others are deciding to pull their kids from public school, even in the middle school and high school years. Regardless of homeschooling's increasing popularity, there are still many, many false beliefs and information surrounding this form of education.
Things like…
… you can't homeschool and work full-time
… you can't homeschool if you have a chronic illness
… you have to be a saint or have a boat-load of patience to homeschool
… you have to be a certified teacher to homeschool
… homeschooling is illegal (yes, some people still believe that)
… you can't homeschool a child with special needs
… and the list goes on.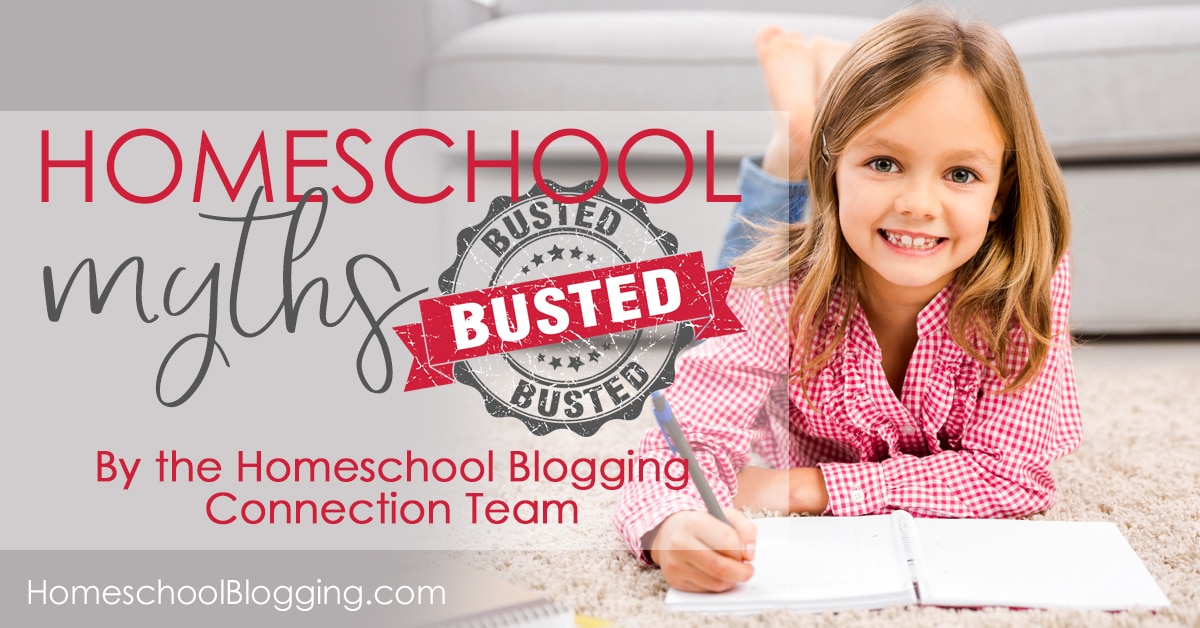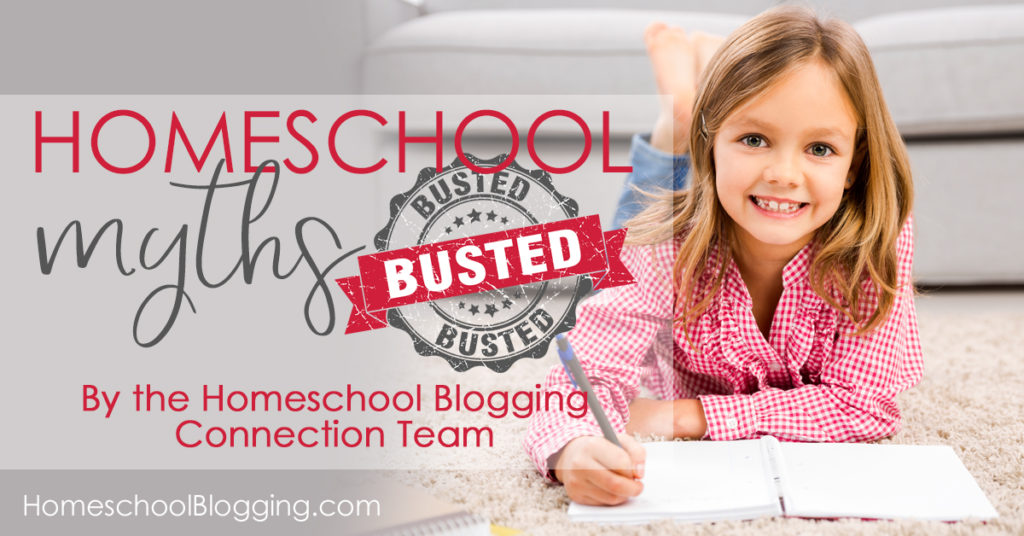 Many of the people that believe any of the above are just simply uninformed or misinformed. And sadly, some of the people that think these things are true, are people that would like to homeschool or have considered it but don't think they can because of the many myths about homeschooling.
In this post I'm going to discuss the notion that homeschool kids miss out on experiences and opportunities that public/private school kids do not – experiences and opportunities that many people believe ALL kids should have or have available to them.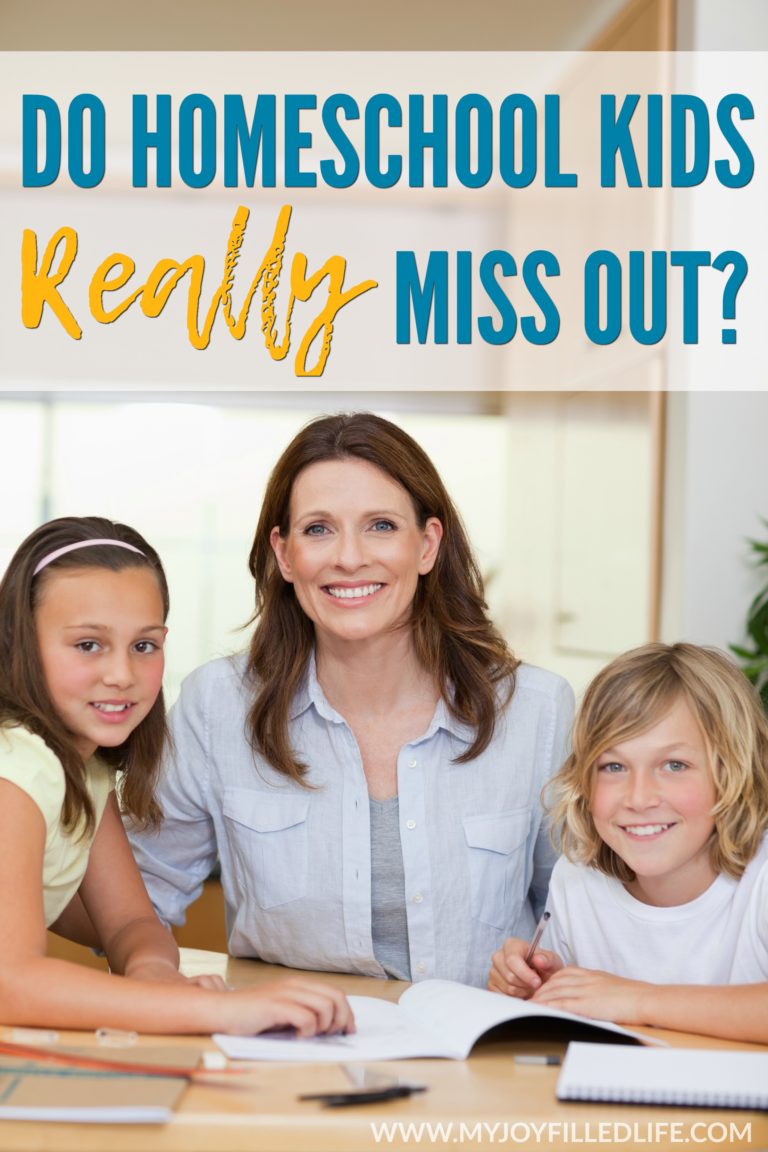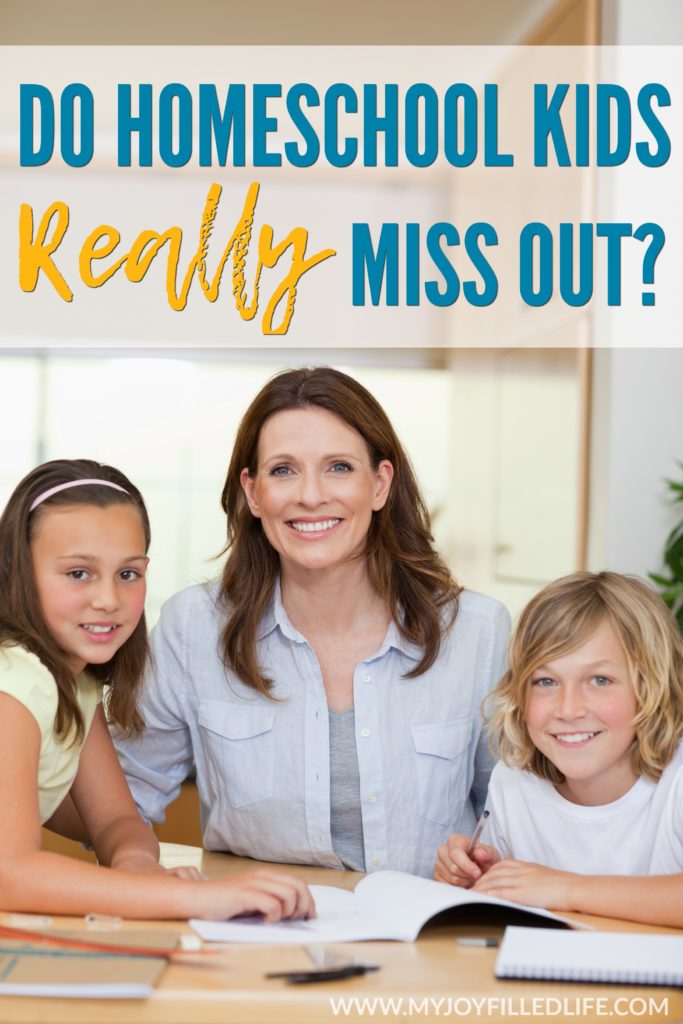 After 11 years of homeschooling, I have heard far too many people say that homeschool kids miss out. I've even heard this from people that homeschool!! And you know what I have to say about that?!
"You aren't trying hard enough or you don't want it bad enough! Where there's a will, there's a way!"
We started homeschooling when my oldest child was in kindergarten. Even though I knew God had laid it on my heart to teach my kids at home and that it was the best thing for our family for many reasons, it still saddened me that my kids would not be part of a sports team (sports was a big part of my school years), that they would not go the prom or experience other school events like pep rallies or class trips, that they would not have the opportunity to be in a school play or choir or marching band if that is something that interested them, that they would miss out on field trips and clubs and having a yearbook to remember those formative years – all the things I had experienced growing up, going to public school.
While I realized that my kids didn't need any of the above things that I had growing up in public school in order to have a good and meaningful education, they were still things I wanted available for my kids.
So, I found these things for my kids.
Or I found alternatives. I always thought I'd be a soccer mom (I played soccer in high school and college), but there were only youth/recreation teams in our area, and I wanted my kids to be in competitive sports. I wanted them to be a part of a team that they could grow with, all the way into and through high school. That ended up being hockey for us. I never envisioned I'd be a hockey mom, but I absolutely love it. My oldest son is now going into his third year of travel hockey (he started playing when he was 6) and has hopes to play in college. My second oldest son also played for quite a few years and my two oldest daughters also gave it a go (but have since switched to theater).
This is just one example of how I had to change my thought process and explore other options in order to provide extracurricular opportunities for my kids.
So let's look at some of the most common opportunities that people think homeschoolers miss out on –
Sports
This is probably the biggest thing that people think homeschoolers miss out on. While some school districts do allow homeschoolers to participate on their sports team, it's not that easy because there are many hoops to jump through. Plus, I'm a huge advocate of homeschoolers NOT using the public schools for anything even if it is allowed, but that's a whole separate post.
There are many, many sporting opportunities that homeschoolers can take part in. When children are younger, many cities and towns offer recreation sports leagues for sports such as soccer, baseball, and football. Many of these programs allow for kids to play through middle school. Another thing to consider is individual sports instead of team sports; sports like swimming, tennis, gymnastics, golf, or karate. You can find most of these non-team sports available through private lessons, a local gym, a Phoenix golf course, or your local YMCA.
As children get older and/or want to participate in competitive sports, it can be a little more difficult to find these opportunities. Chances are, if your child started out in a specific sport and has excelled in it, you will naturally learn about other opportunities that arise. For example, my son started playing in a house hockey league, which lead to us finding a more competitive travel hockey program.
Your area may also have an organized homeschool sports league. Depending on the size of the organization, they may offer one sport or many and will often play against other homeschool teams and/or private schools.
Fine Arts
What if you have a child that is interested in art, or music, or theater? I am not an artsy person what-so-ever, so I pawn off the art classes to our local co-op. My kids love being creative, but I don't have a creative bone in my body, plus I don't like the messes that typically come with it. Most co-ops will offer fine art elective classes because it is often a subject that gets ignored in many homeschools. If you don't have a co-op in your area or don't want to join one, look around and see if there is an art studio in your town or perhaps an individual that offers art classes to kids, specifically homeschoolers. There is a homeschool mom in my area that has an art studio above her garage and she offers all kinds of art classes to homeschool kids.
Or maybe you are artsy. Consider being the mom that offers a weekly art class in your home for other homeschoolers; fill that need in your area.
If your child is interested in singing or playing an instrument, there are many individuals that offer private lessons. Some areas also have music schools that offer lessons for most instruments and voice, and some of the music schools with enough students also have group opportunities like orchestra or choir.
What about theater? How can a homeschooled kid ever be in a theatrical production? Do an internet search for local theater groups; see if there are any specifically for kids; a lot of areas typically have a community playhouse or you might find a summer musical camp in your area. The city I live in has a community playhouse that puts on several productions a year and they also offer workshops and productions just for kids. A homeschool co-op is another place to find this opportunity. My girls recently participated in a production of Peter Pan that was organized and directed by a bunch of homeschool moms; we met weekly at the community center for rehearsal and in the spring the 50+ kid cast put on an amazing show at a local theater.
Field Trips
Homeschoolers definitely don't miss out on field trips. I'd say that homeschoolers are notorious for field trips, but outsiders think differently. Yes, they do miss out on having to get permission slips signed, riding the school bus to the destination, and being herded through the facility or venue in a few hours with a couple hundred other kids.
Homeschoolers get to pick and choose their own field trips based on their studies and interests. They get to pick when they go and for how long they stay. They get to actually experience and enjoy the trip because they can go during less crowded times.
Graduation
Yes, some homeschool kids might miss out on graduation, but they don't have to. Many local and state homeschool organizations put on a yearly graduation ceremony for graduating homeschoolers. When I lived in NY, they did this one of the evenings of the yearly homeschool convention.
Some co-ops will have a graduation ceremony for the seniors in the group. If there are several homeschoolers in your church, your church may even do a graduation ceremony.
What about a diploma? Make your own! Yes, you can do that!!
College/Scholarships
Many, many people believe that if you homeschool, your child will not get into college. But that is far from the truth. While some homeschoolers are opting to take the entrepreneurial route right out of school, or perhaps an apprenticeship, some are still opting for the traditional route of heading off to college after graduation. Colleges and universities today realize that homeschooling is becoming more and more popular and are therefore making it easier for homeschoolers to apply to their schools with specialized forms for homeschoolers, and in some cases even a homeschool liason to help them navigate the application process. There are even college prep courses and services available that are specifically for helping homeschoolers on the road to college.
There are lots of scholarships out there for homeschoolers. Simply do an internet search for 'scholarships for homeschoolers' and you will have many at your fingertips. I did a quick search and there were far too many for me to even list here.
Prom
Let's be completely honest here; was your prom memorable? In a good way? I'm sorry, but prom is overrated. And if you are going to base your decision not to homeschool on one night/event that your child will miss out on, then perhaps you need to re-evaluate the reasons you want to homeschool in the first place. Would you rather your child miss out on one night – the prom, or an entire childhood of leaning opportunities and experiences that are tailored specifically to that child? Enough said.
But… there are homeschool groups, organizations, and/or co-ops that put on dances and even proms that are just for homeschoolers. Ask around or search online to see if there are any in your area.
Certified Teachers/In Depth Activities & Labs
Yes, most homeschooled kids won't be taught by a certified teacher. But you don't have to be one in order to homeschool your kids. Who better to teach your child than the one that loves them the most, knows them well, and wants the absolute best for them – YOU!
Yes, there may be circumstances when, and subjects that, you may need help teaching, and that's okay. It's okay to hire someone to tutor your child or to take an outside class in a subject that you aren't comfortable teaching.
When it comes to in depth learning through projects and labs, this is when a homeschool co-op is really nice. It's not easy to recreate a lab environment in your home or have all the supplies needed to perform certain experiments needed for a course. Take dissecting specimens for example – I don't know about you, but I don't want a dead animal in my freezer or fridge while we work through that part of the course, my kids will do that at co-op.
School Paper/Yearbook/Honor Society/Student Council/Clubs
The fact of the matter is, most homeschoolers will miss out on these activities and opportunities. However, if these are things that are really important to you and your kids, it's not impossible to make them happen. Check your local homeschool co-ops and see if they offer any of these opportunities; there is a good chance they do.
Help With Special Needs
If you have a child with special needs or needs additional help with certain subjects or needs speech therapy, it's not as easy to find the help you need if your child isn't in public school. Public schools have these services readily available, but that's not to say homeschoolers can't find or get the help they need in these areas. It will just take a little more legwork on your part.
There are tutoring centers, private tutors and specialists; you'll just need to search them out. Search online, ask other homeschoolers, even ask your family doctor for recommendations if there is an area you have a need. Some insurance policies may even pay for certain services like speech or occupational therapy. Mathnasium is a well-known, national center for kids needing additional help with math; care.com has a section where you can find private tutors, experienced individuals to help with special needs, or people that give private lessons in specialized areas.
Making Friends/Socialization/Sense of Community
Every homeschooler has heard this… if you homeschool, your kids will not be socialized; they won't have or make any friends. This is another one that is so far from the truth. There are so many ways and opportunities for homeschool kids to socialize, make friends, and form last relationships.
They can make friends in their neighborhood, at a playgroup or play date, in a homeschool group or co-op, at church, on sports teams, in groups like 4H or American Girls; the possibilities are endless. As a parent, you might have to be somewhat proactive in creating these opportunities for your kids – planning a play date, encouraging them to try out a sport or activity, being active in your church, joining a homeschool co-op – but these are all excellent ways for homeschool kids to be around other kids and make friends. I actually prefer this way, as I'm able to be more involved and also form my own friendships and relationships with the parents of my kids' friends.
Bottom Line…
Homeschool kids don't really miss out; their schooling and life just looks a little different than others. And what fun would life be if everyone and their experiences were all the same?
Now I know that some of you might be reading this and saying to yourself, but we don't have a homeschool co-op in our area, it's too far to drive to the closest gymnastics facility or theater group, we can't afford to pay for private piano or voice lessons, there aren't a lot of other homeschoolers near me, but as I said at the beginning of this post, where there's a will, there's a way. With homeschooling comes sacrifice – that may mean living on a budget, spending more time in the car and on the road in order to get to activities, or stepping outside your comfort zone and starting a group or co-op in your area.
At the end of the day you need to remind yourself why you are homeschooling in the first place and what your priorities are when it comes to your child's education. We can't give our kids everything; they are bound to miss out on something. Just as homeschool kids might miss out on things, their public school counterparts will miss out on things that homeschool kids don't (like second breakfasts, going to school in their PJs, and an individualized education).
While all of the above things may take a little more effort (and sometimes cost, or otherwise more effort to find free or low cost) to find and make work, it's a sacrifice we make to homeschool our kids. A great way to find connections with other homeschoolers and homeschool groups is looking up your state's homeschool organization. You can also do an internet search for groups or co-ops in your area and/or find a local group on Facebook.
What are your thoughts? Do homeschool kids miss out?
Be sure to check out many other homeschool myths debunked by the Homeschool Blogging Connection Team!