Most families, particularly those who have more than the average number of children, are in a constant search for ways to save money in their home. When I first began my frugal living journey, one of the first things that I began to do to cut costs was to make my own homemade cleaning solutions for the whole house.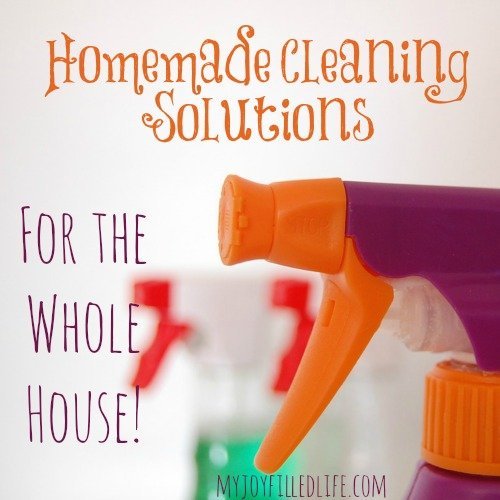 At first, I found the idea intimidating, but after spending a bit of time researching, I found so much helpful information on natural and/or homemade household cleansers, that I jumped right into it myself and now do all of my cleaning with these kinds of products.
Here are some of my favorite concoctions:
Deodorize Any Room:
Throw some cloves, cinnamon, or allspice into a pot with some water and simmer it on low heat for a couple of hours
Pour some pure vanilla into a small jar or shallow dish and stick it in a corner of the room, on a shelf, on the counter, etc.
Dissolve baking soda in two cups of hot water, add a splash of lemon juice, and place the mixture in an empty spray bottle. Instant air freshener!
All Purpose Cleaner:
You have a few options here. Basically, just choose your favorite and even customize the scents if you are feeling adventurous!
Recipe #1:
3 tbsp. vinegar
1/2 tsp. washing soda
1/2 tsp. vegetable oil based liquid soap
2 cups hot water
Mix all ingredients together in a spray bottle and clean away!
Recipe #2:
Mix these two together with a 3-1 part ration and use them on surfaces such as counters and tabletops.
Disinfectant:
2 tbsp borax
1/4 cup lemon juice
2 cups hot water
Mix all ingredients in a spray bottle and use on any surface that you would use a standard store bought cleaner!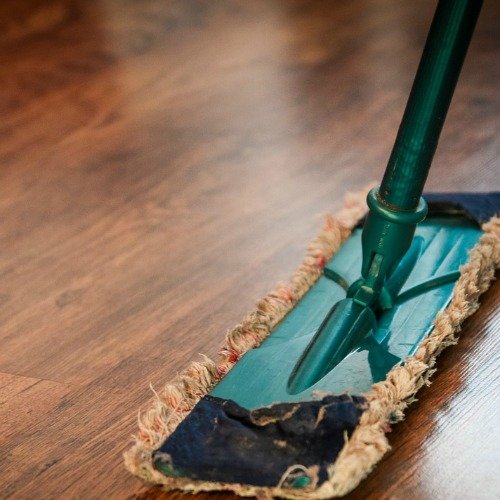 Glass Cleaner:
Recipe #1:
Use undiluted white vinegar to get streak free and shiny mirrors and windows!
Recipe #2:
Mix equal parts white vinegar and water to clean glass tabletops or the fronts of picture frames.
Recipe #3:
Mix 1/2 cup of lemon juice with 2 cups of water, pour into a spray bottle, and wipe away the fingerprints!
For Bathrooms:
Use baking soda and vinegar to clean toilet bowls and unclog drains.
Sprinkle in some baking soda, then pour vinegar over and scrub for the toilet or allow to foam for few minutes then rinse with hot water to unclog a drain or remove odors.
Baking soda alone works as a good scrubbing agent like Comet or Ajax.
Those are some of my favorite homemade cleaning solutions. Do you make your own household cleansers?
This post contributed by Dusty of To the Moon and Back