When I found out I was pregnant at 16 years old, I didn't know what to do or where to turn. I was shocked, scared, and confused. I kept my secret to myself. I was so alone, and hurting.
After a few days I did tell my boyfriend and my parents, but I had already turned to Planned Parenthood and my abortion was already scheduled. My mind was made up after having the right insights on abortion information.
Oh how I wish someone had come along side me to help me see the Truth, to help me find other options, to help me save my baby and myself, to help me see that I could be brave and strong, and that both my baby and I could have an amazing future.
But that didn't happen. Instead, I live everyday regretting the decision that took my baby's life. Thankfully I have found peace, love, and forgiveness by surrendering my life to the Lord and accepting Jesus as my savior. That is truly the only way I can go on living.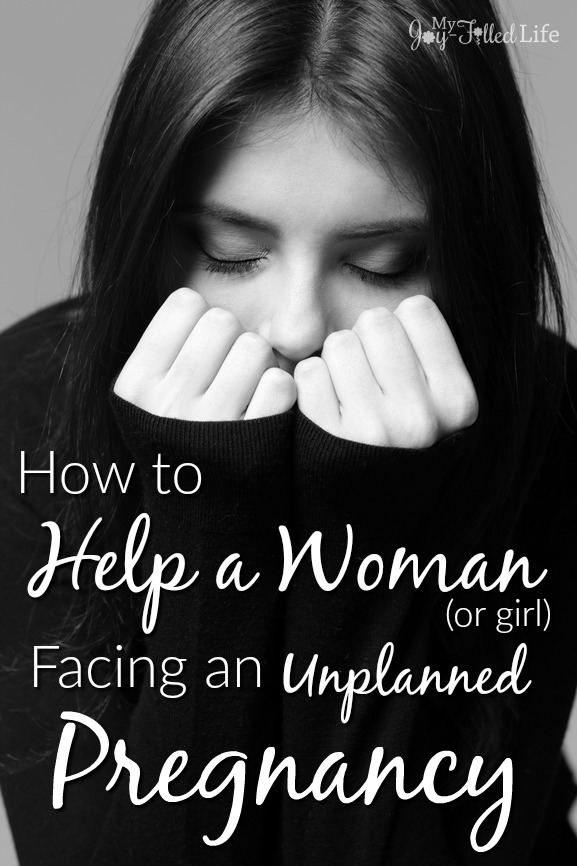 If you know someone that is facing an unplanned pregnancy, no matter their age or life situation, there are ways you can help them. While you can't change or make up their minds for them, you can show them support and love in the following ways:
1. Start an Embrace Grace group
You can help start an Embrace Grace group at your local church so women with unplanned pregnancies have a place to go for spiritual, emotional, and physical support. The primary goal of Embrace Grace is to empower churches across the nation to be a safe and non-judging place for women and girls to run to when they find out they are pregnant, instead of the last place they are welcomed because of shame and guilt.
Embrace Grace, Inc. is a non-profit organization that provides curriculum and resources to help the church become a Pro-Love church. If the church, the Body of Christ, will join together to support these women and girls who choose life, young moms will be more open to not aborting their babies. Whether they keep their baby or choose adoption, Embrace Grace is a support system for them as they begin their journey of being a young mother or blessing another family with their baby.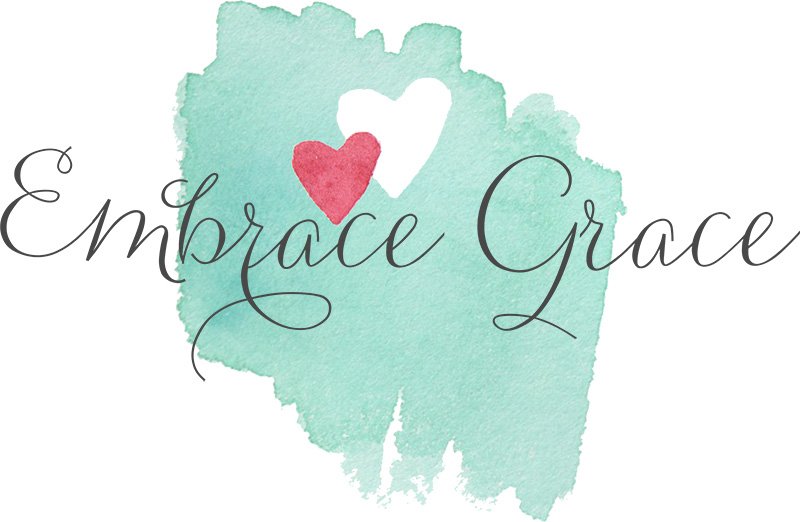 2. Write a letter to be placed in a Love in a Box
Love in a Box is a Pro-love initiative launched to help save babies and help moms connect to their local churches for support through an Embrace Grace group.
These boxes are distributed to pregnancy centers nation-wide and given to women facing an unplanned pregnancy. The box is full of gifts that will inspire hope and impart love to a mom that may be scared for her future. Each branded box includes:
a Brave Journal and pen
a Bump in Life book
a baby onesie that says "Best Gift Ever"
testimonial letters of girls that chose adoption and chose to parent
an invitation to join an Embrace Grace group
a Brave Girl letter that can be written by YOU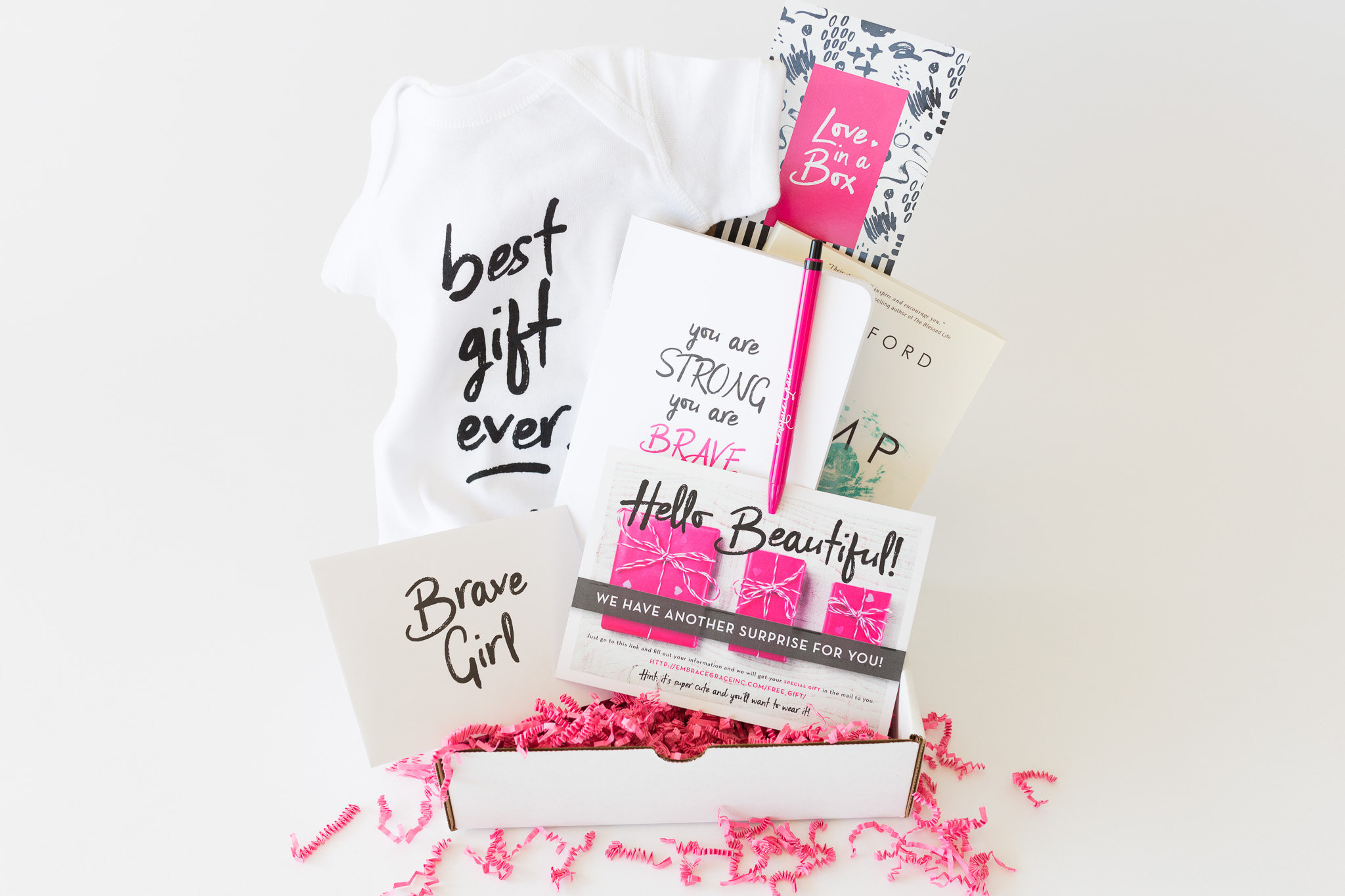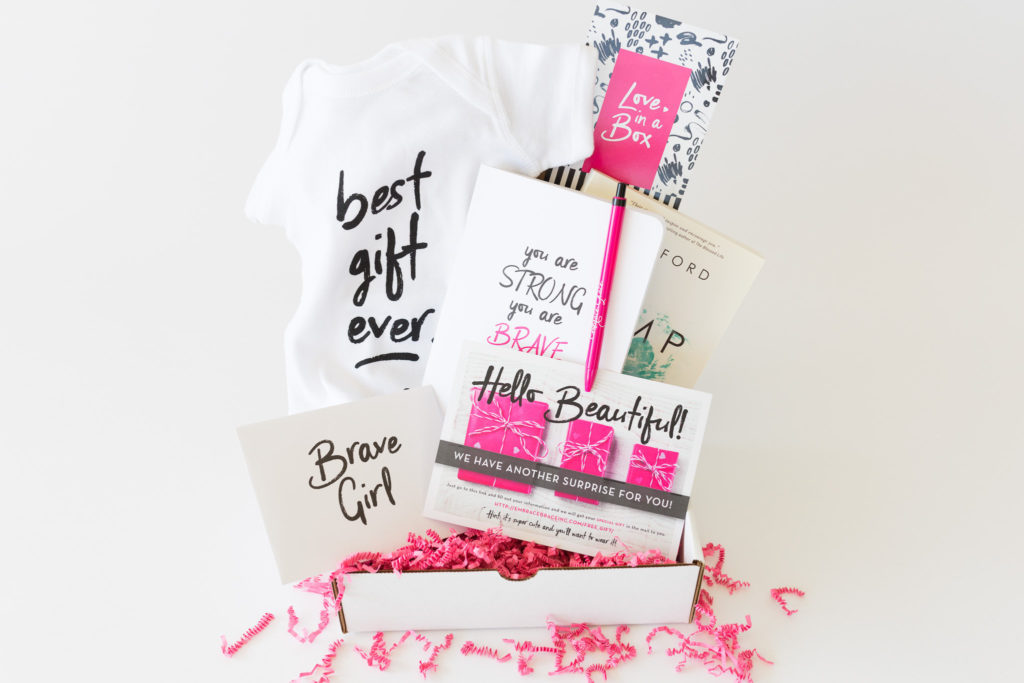 Yes, you can speak directly into the heart a women in need – a woman that could possibly be contemplating a life and death decision. You can encourage, uplift, and inspire her to choose life and to find an Embrace Grace support group near her. YOU can be a part of Love in a Box. In every box, a Brave Girl hand-written letter is included. YOU can join in and write as many letters as you want that will be placed in boxes by the Embrace Grace team.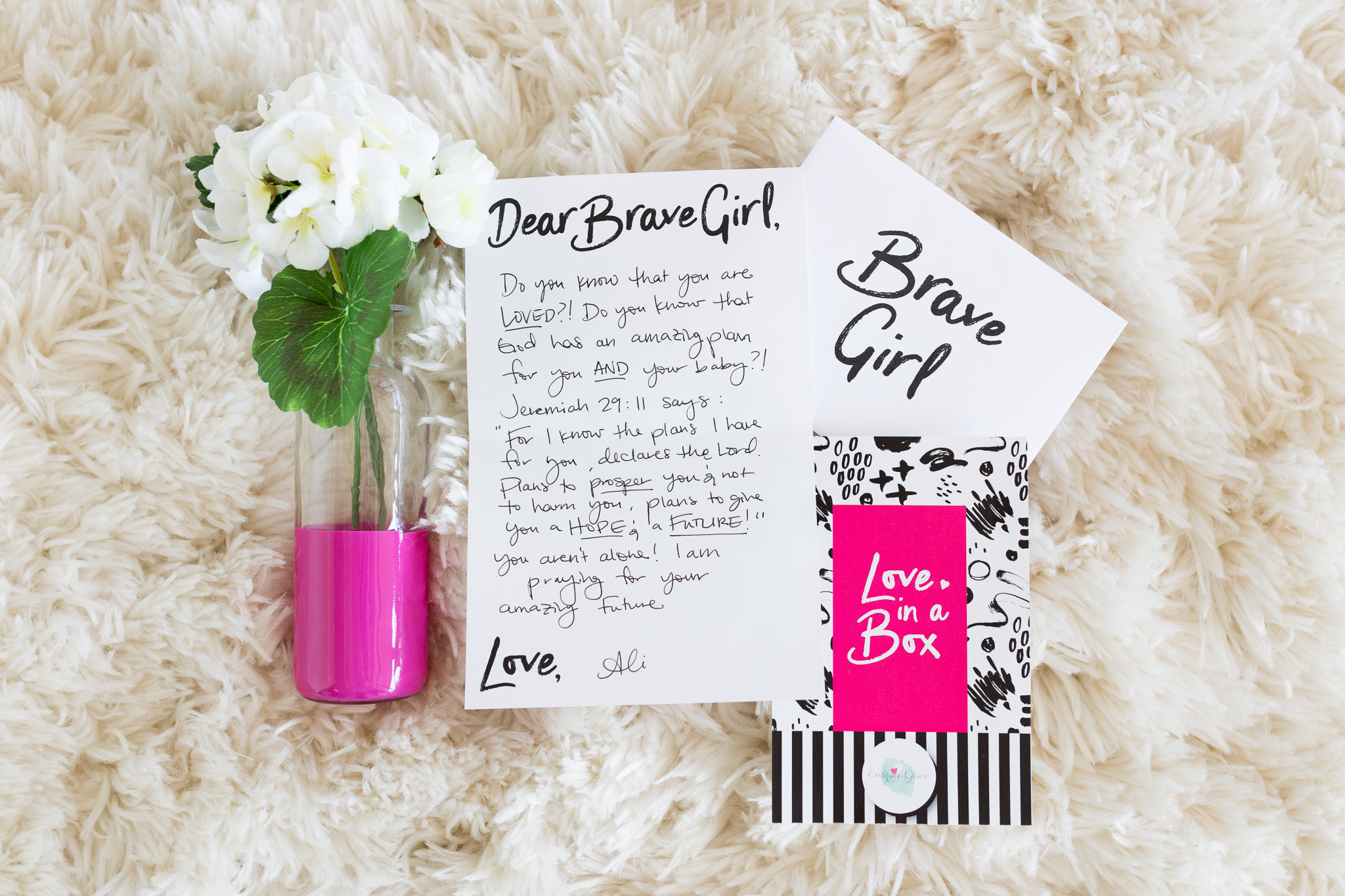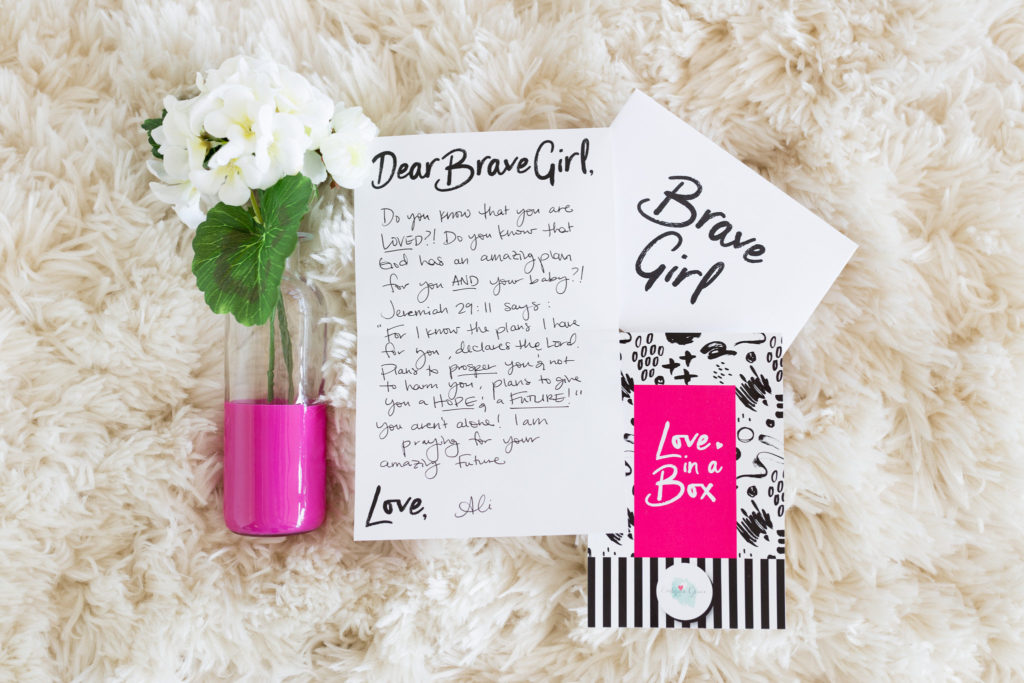 Download and print a Brave Girl letter here and mail it to the address below for it to be placed in a Love in a Box:
Embrace Grace, Inc.
Attn: Love in a Box
700 W. Bedford Euless Rd. Ste. G
Hurst, TX 76053
We want to help brave moms choose life and get plugged into a spiritual family so they can be saved, discipled, mentored, and be a part of a community that loves them the way Jesus loves.
3. Help financially
You can also help by making a financial donation that will be used to help supply boxes to pregnancy centers or you can buy a box for someone you personally know that needs one. You can also shop the Embrace Grace store for items that show your support of the Pro-Love initiative. With every purchase made, you are helping save mommies and babies by expanding the impact of the Pro-Love movement through the Embrace Grace program and the local church.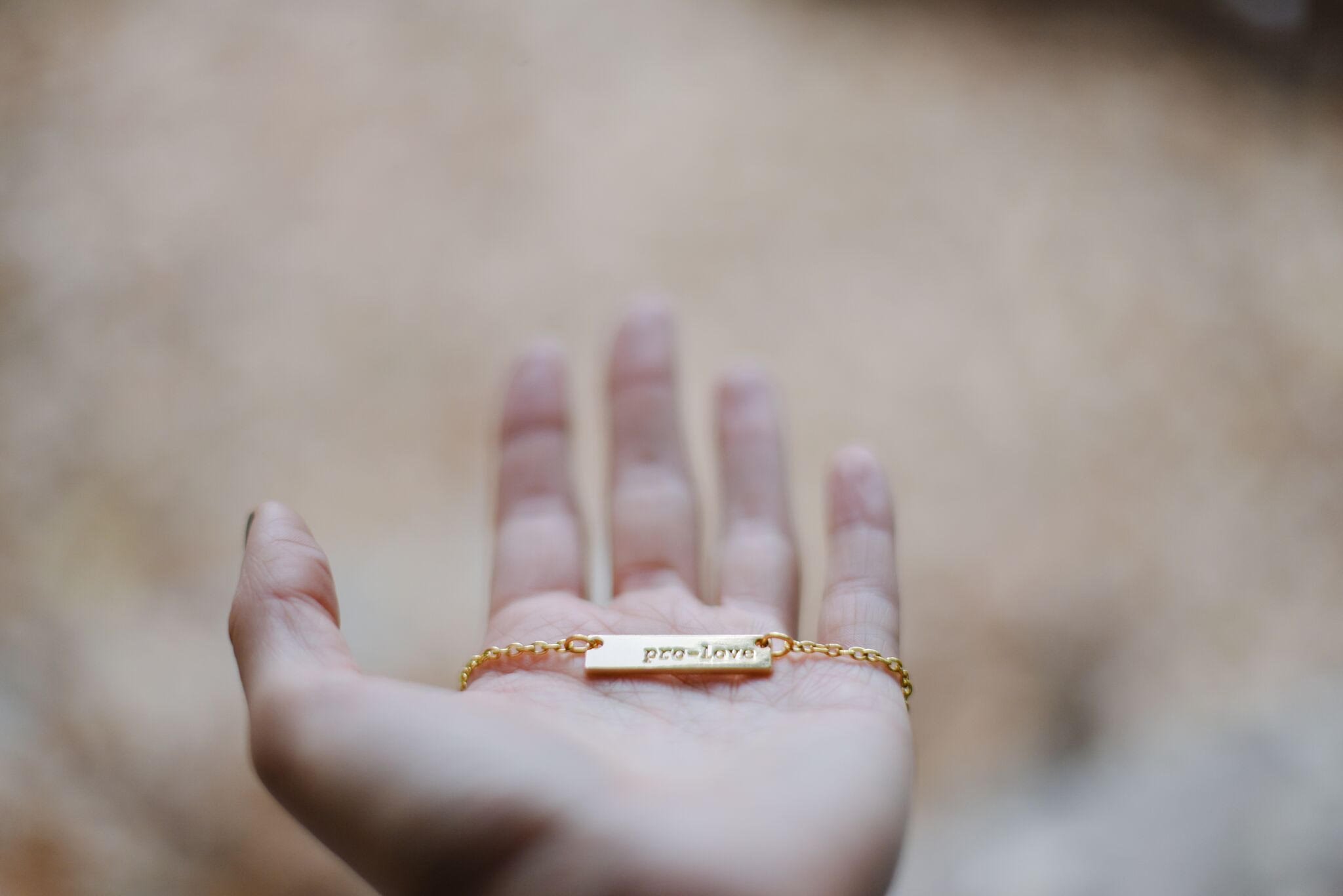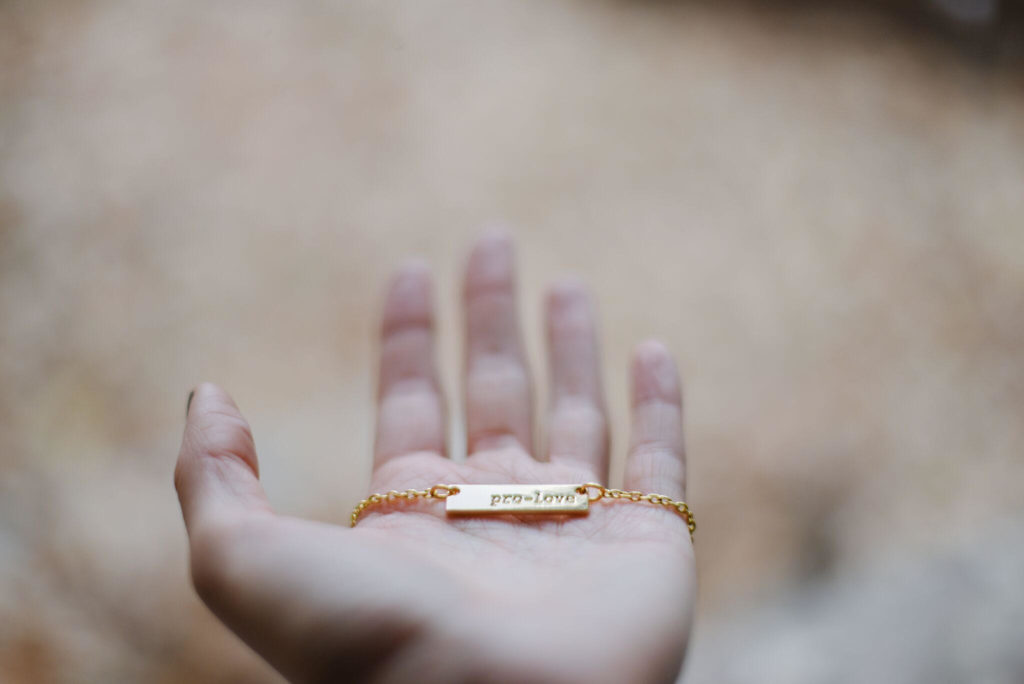 Embrace Grace was kind enough to send me my own Pro-Love necklace and Brave Journal. The necklace is gold in color and engraved with the words pro-love on it. It's simple and beautiful and a great way to wear love wherever you go. I can't wait to wear my out for the world to see. I love the words printed on the card that the necklace comes on –
When you are unsure of what to do, try love. Love is more than a word. Love is action; a decision you can make. There is no pit so deep that God's love isn't deeper still.
The Pro-Love necklace is available in the Embrace Grace online store for just $19.99. There is also a silver necklace with the word pure engraved in it if you prefer the silver look over gold.
The Brave Journal that is included in each Love in a Box begins with a letter from God that lets the reader know that they are loved by Him, that He will never give up on them, and that He made them strong and brave. The 20-page journal is the perfect size to slip in your purse or bag, in your Bible, or under your pillow. The journal is full of writing prompts and scriptures or inspirational quotes on every page. This journal is a great resource for women facing an unplanned pregnancy to sort out her thoughts and feelings.
You can enter to win your own Pro-Love necklace and Brave Journal here. There will be 5 winners; giveaway ends Feb. 25, 2017.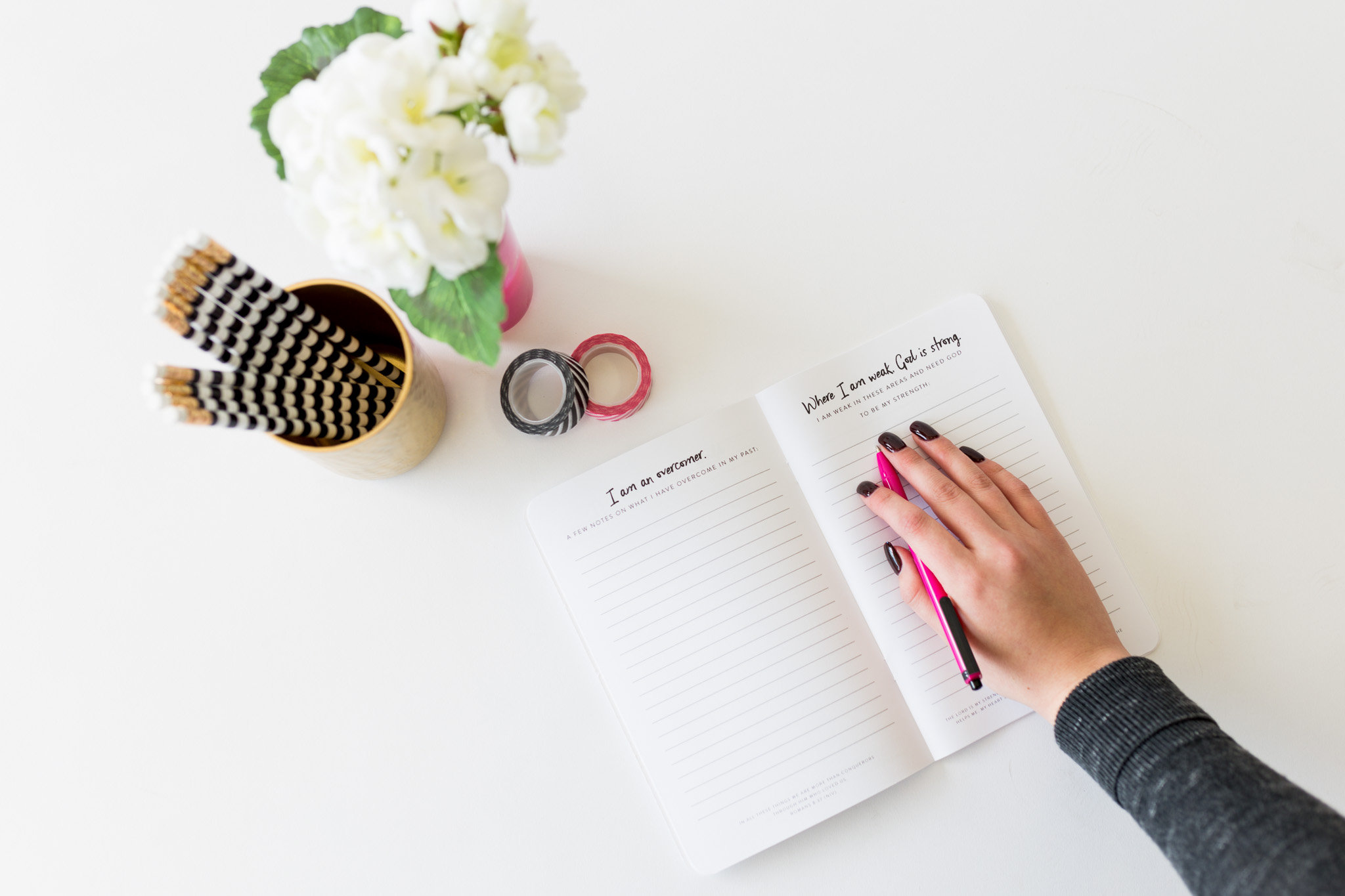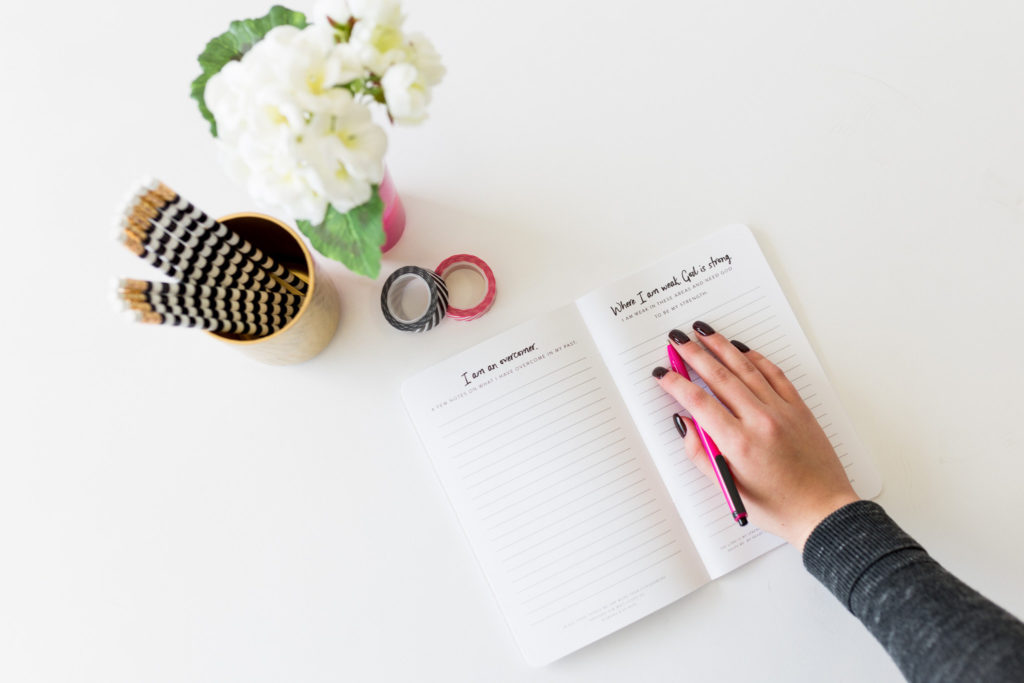 4. Be a partner in prayer
Partner with Embrace Grace through prayer. There is so much power in prayer and these women, girls, and babies need our prayers more than ever. If you aren't able to help in any other way, this is one way you can and you can even start doing it right now!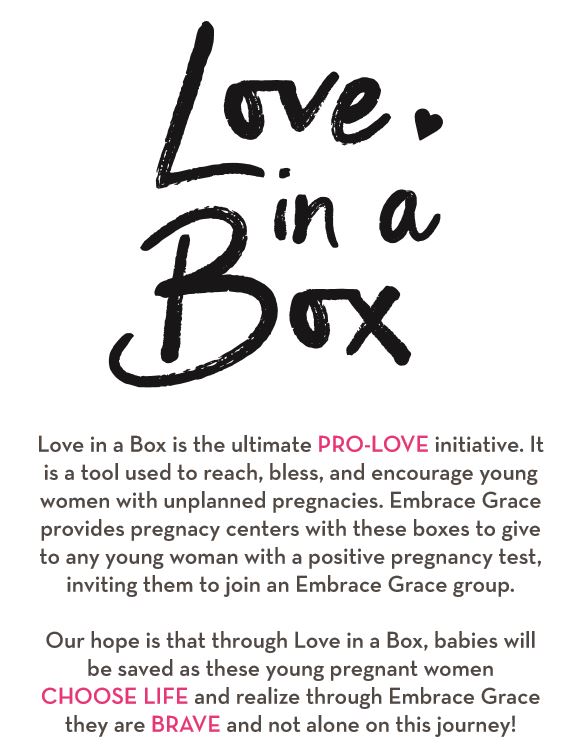 **I received a necklace and journal from Embrace Grace in exchange for reviewing the items and sharing about their ministry, but I would have done it for free as this is something that is near and dear to my heart. This post is part of the FrontGate Blogger Network.