The following post is written by Shannen of Middle Way Mom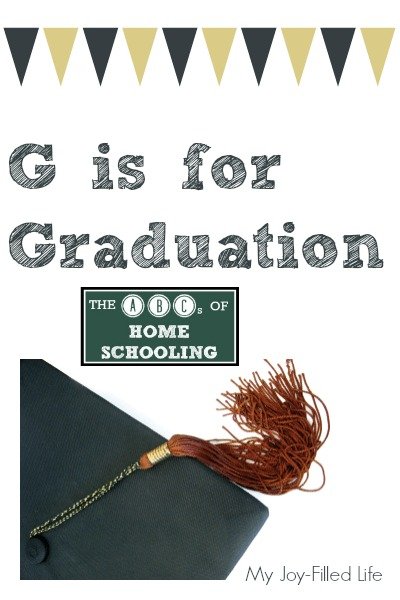 Maybe you're still knee deep in play doh and paint. Maybe you're starting middle school and wondering what life will look like a few short years from now. Or maybe, you're in the same position I'm in and you're in the high school journey, trying to make sure your efforts count for something. At this stage, that something is graduation. After all, I want my daughter to move to the next stage in life, and for us, that means high school graduation.
Requirements
Each state is different in their high school graduation requirements. HSLDA has some fantastic resources for finding out the laws in your state, for the small exchange of signing up on their email list. It's well worth it! If your state doesn't have much for high school graduation requirement guidelines, you can use college entrance requirements, and I would even say that using the college guides is a better option. Of course, they will vary for each college or university, so aim high and go from there! We looked up Harvard's entrance guidelines, not because we intend on my daughter going to Harvard, but because I'd rather have more done than not enough.
Transcripts
I think transcripts sound harder than they are in practice. We imagine that we need piles of documentation for the B+ in Algebra that's listed on the transcript. Again, refer to your state requirements for the finer details, but the main points that are needed (and relatively easy to pull together) are: Course name, grade, materials used. What we've been using this year for grades also pulls together all the needed information for a transcript. It's the FREE (yep!) Gradebook+ by Five J's. It's basically a super-powered Excel spreadsheet, so when we put it on our family Dropbox folder, my daughter and I can both update it. There are a lot of online gradebooks/planners available out there, and plenty of reviews to help you along the way, too. Give yourself an afternoon with a cup of coffee and peruse the Internet to find something that fits what you need.
Life skills
All the boxes are checked. US History, done. Biology, done. Algebra, done. Foreign language, done. You get the point. Does the fact that you have checked all these boxes mean your child (ehm, young adult) is ready for adult life? So often college-age youth go out into the working world with little to no experience in how things really work. What are realistic expectations from a boss? How do you keep on top of your bills, work, social life, and meals? While I'm still new in this stage of parenting, my novice words of wisdom would be that our kids should have plenty of life experience before they are solely responsible for themselves. I even compiled 50+ tasks teens should, ideally, have done before adulthood.
Finances
Whether your child is getting ready for college, or plans to go forward into independent adult life without college, there needs to be a serious talk about finances. There are a few programs available for teens to get some good hypothetical practice with finances before it's their real, hard-earned money at stake. If college is on their horizon, it's so important to talk about what it means to have tens of thousands of dollars in debt. $60,000 is a very abstract number to someone who rarely sees $1,000 in one transaction.
If you and your child are okay with taking on debt, have a real conversation about what that means. One piece of advice I heard on the radio a while back is that a student should not take out more debt than they expect to make as an annual wage when they get out of college. Do the math, and if you're comfortable, it can be a good idea to have them be responsible for the bills for a few months. A check from a $40,000/yr job doesn't go as far as your child would think when they're used to less than half that salary, and less bills. Other than their faith and compassion to humankind, instilling realistic expectations for their financial future may be one of the most important things you leave with them.
You aren't only graduating a student. You're graduating someone from youth to adulthood. As a homeschool mom, the marathon is almost over. Let's make sure they know how to get through the next stage in life with the most tools available to them.
Have you graduated a homeschool student? Do you have other words of wisdom?

Shannen homeschools her teen daughter, focusing on earning college credit while in high school, and is getting ready to start the homeschool cycle again with two little ones. You can find her blogging about how they homeschool high school and everything that goes along with it, plus meet up with her on Google +,Pinterest, Twitter, and Facebook.