I think adoption is amazing. It's a perfect example of how God brings beauty from the ashes, and how He sets the lonely into families.
"A father of the fatherless, a defender of widows, Is God in His holy habitation. God sets the solitary in families; He brings out those who are bound into prosperity." Psalm 68:5-6 (NKJV)
And since November is Adoption Awareness month, I want to share some practical ways we can help the families who are working to bring orphaned children into their homes.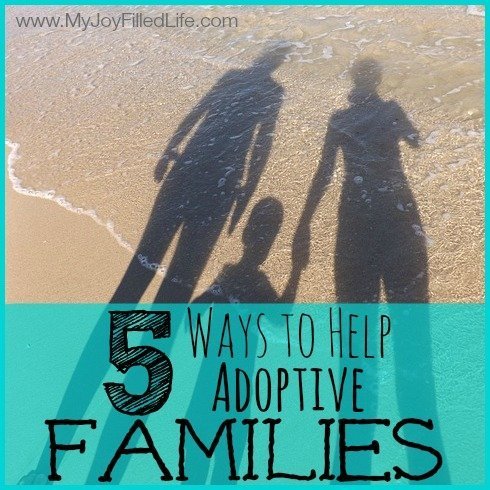 1) Emotional support.
We may not fully understand how God is moving in someone else's life, but we can listen to their story and offer encouragement. Mandy from Worshipful Living offers valuable insight into the hearts of adoptive families.
2) Prayer.
We can pray for the child's safety as well as pray for the family who's adopting. We should also pray for orphans in general and ask God to show us specifically how our own family can help.
3) Physical support.
We can clean out our houses and donate our items to someone for their yard-sale fundraiser. We can also help the adoptive-parents-to-be prepare a bedroom for their new child, or we can cook freezer meals for the family to have after their child comes home.
4) Financial support.
Whether we donate $10 or $1,000, every amount helps to bring an orphaned child home, plus it provides a great deal of emotional encouragement to the adopting family.
5) Remember the family after the adoption.
Let's not forget to help a family after their child arrives home! We can purchase take-out, help with housekeeping, or drive the other kids to the park so Mom can bond with her new child.
Basically, anything we would do for a mother who's just given birth is something we can do for a family who's recently adopted a child, regardless of the age of the child they brought home.
Bonus Idea:
There are also organizations and orphanages that accept things like food, blankets, clothing, toiletry items, and books. If you don't personally know anyone who is adopting, ask around and do a little online research to find a place where your family can serve.
"Pure and undefiled religion before God and the Father is this: to visit orphans and widows in their trouble, and to keep oneself unspotted from the world." James 1:27 (NKJV)