This year, we are trying something new in our homeschool. I've seen so many people do cool things on their first day back to school, and I though it would be fun to start our own traditions.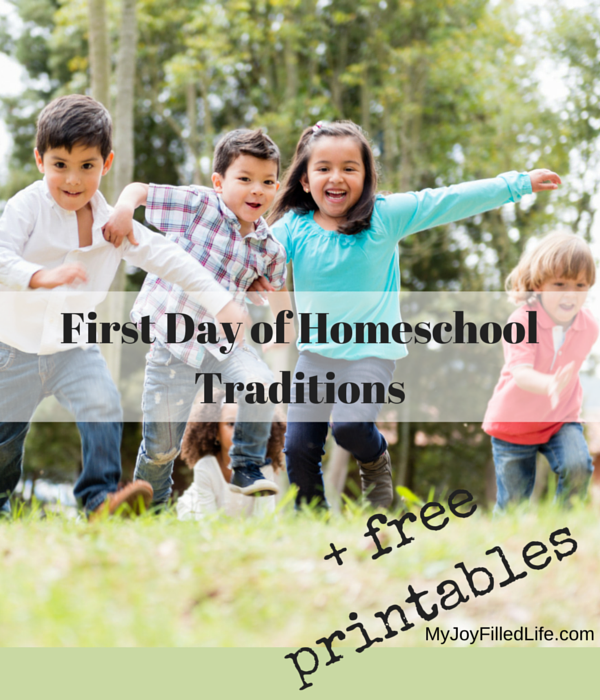 Our homeschool year resets (we actually school year-round) on the first week of September. So I am gathering ideas of things I want to do to make this a really fun start to the new school year.
I'd like to share some of the things I have lined up for us so far.
Skating Party
I didn't come up with this idea myself, but our local homeschool group is putting on a back-to-school skating party for all of the member families.
This is an idea you could use, too. If you are a part of a homeschool group, then find out if there is interest and plan a skating party for everyone! You could make it an annual event so the kids will have a fun event to look forward to every year with their friends.
If you don't want to plan a group activity, just make it a family event. I'm sure the kids would love it either way.
Breakfast Requests
I am not a kitchen person. I don't like cooking that much, but this is one day a year that I am going to try to please everyone in the kitchen.
If you plan in advance, you can ask each child what they want for breakfast on the first day of school. When the day arrives, make it extra special by setting up the table like a restaurant complete with a menu, table setting, and if you really want to get fancy, bring out the fancy dishes.
I think the kids will get a kick out of a restaurant-style breakfast. It will be a great way to make them feel special and get them excited about starting a new school year.
Time Capsule
This is really going to be fun! I want to have each kid write several things on a piece of paper and I'll put them into a small container:
Favorite game to play
Favorite color
Favorite book
Favorite meal
Favorite toy
Favorite holiday
Favorite subject in school
Another state (or country) they would like to visit
Their signature
You could add anything you want to this list.
The point will be to record all of their favorite things at the beginning of the school year and bury the small box in the backyard. It's like a min time capsule. At the start of the next school year, we'll record our favorites again and then dig up the old box and compare to see how they've changed and matured.
It should be really fun to see how their likes and interests change from year to year.
Note: You don't have to bury the box. You could put it in a closet or under the bed. Just put it somewhere out of sight so they forget about it and it will be fun to pull it out again the next year.
First Day Of School Sign
I have seen several of these first day of school signs floating around online and this year I decided to create some for our homeschool. I like the idea of seeing how my kids grow each year and how they look different.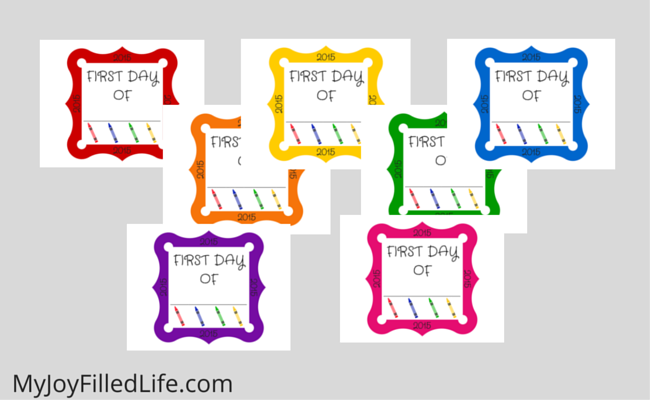 I made these fun little first day of school printables that they will hold. I'll write their grade at the start of each year and keep them in a school binder as a keepsake. They grow so fast!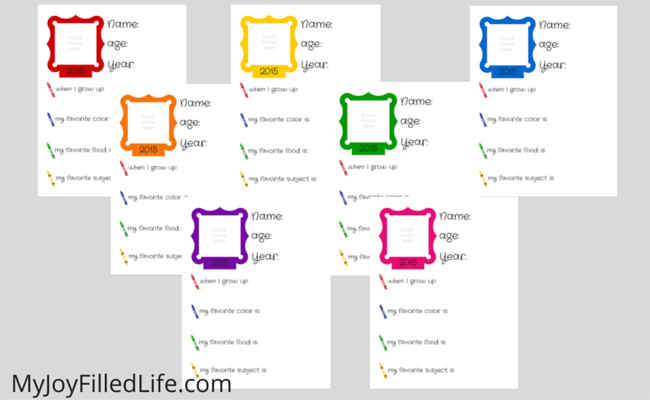 And this printable can be put in your time capsule or be put in the binder with the first day of school sign. It will be a great way to document the year.
You can download and print a copy of both printables. There are several colors to choose from.
We are offering these first day of school printables FREE to subscribers . By claiming this freebie you agree to the terms of use and agree to be added to the My Joy-Filled Life and Organized Home Organized School email list. Use the form below to subscribe. After you subscribe, a download link will be sent to your email. *PLEASE NOTE – Your download link will expire after 5 attempts and 10 days (whichever comes first).
[wp_eStore_ssf id=19 template="2″]
After you input your email address, a download link will be sent to your email.
Enjoy!
What fun first day of homeschool traditions do you do with your family?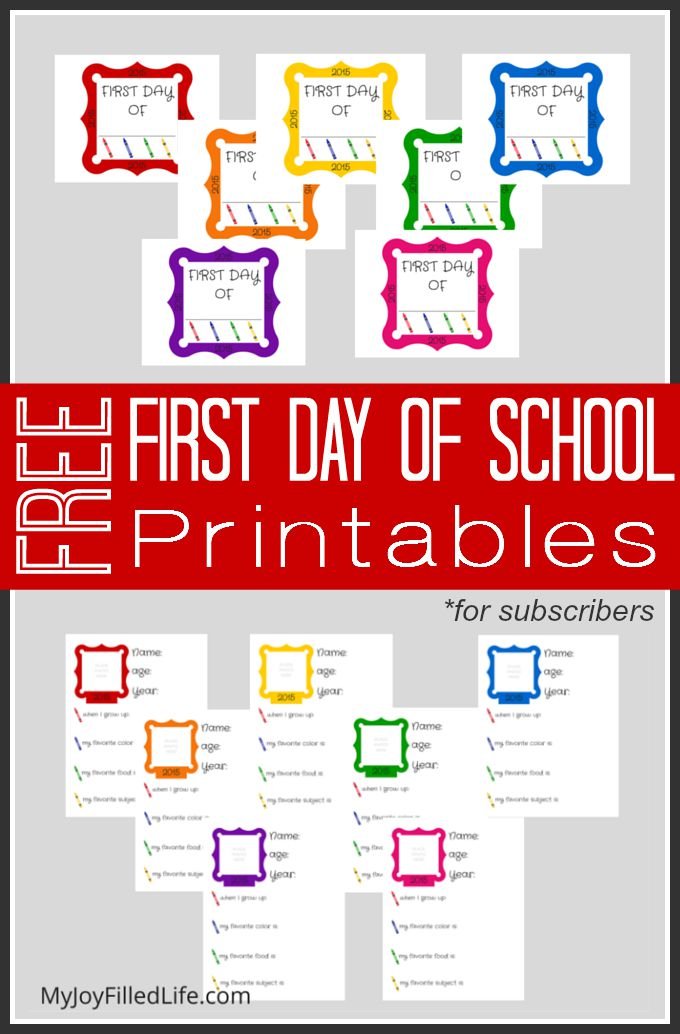 This post contributed by Jennifer from Organized Home Organized School