After spending countless hours researching homeschool curriculum and planning for the upcoming homeschool year it is easy to want to jump right in with a full schedule. Yet, is this the best way to begin a new homeschool year?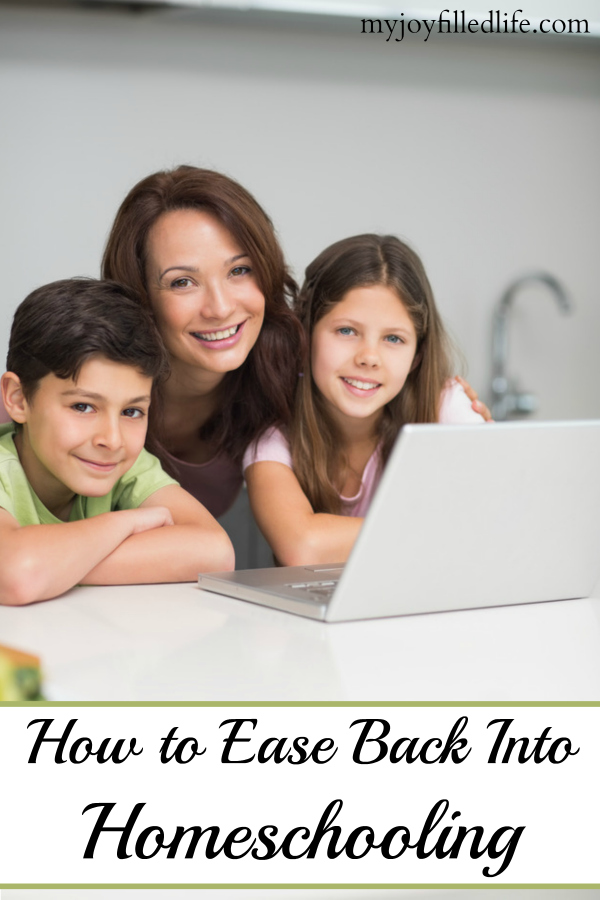 It is hard to want to hold yourself back from opening all of those new homeschool books and start completing all of the fun activities. As homeschool moms we tend to be very excited at the beginning of each new homeschool year. If we aren't careful and take time to ease back into homeschooling we are apt to end up burnt out and our kids won't be the least bit interested in learning. In order to ease back into homeschooling there are a few things that you must do now as you prepare for a new homeschool year.
For the first couple of weeks I encourage you to only teach the 3 R's; reading, writing and arithmetic. This will allow both you and your students to adjust to a formal school schedule again.
Instead of sitting down and planning out your entire year, try planning in smaller increments like weekly or monthly. By doing this you'll be able to enjoy your homeschooling journey and take time on difficult subjects/concepts without stressing about your year long homeschool plans.
Don't just open the books and hit the ground running. Learning is supposed to be fun, so take time to consider how to make the first day of the homeschool year fun and educational for your family.
Whether you use your break times for fun P.E. or you enjoy drinking a cup of coffee while your kids burn off some energy, don't keep you and your kids seated for more than an hour at a time.
Add lots of fun activities
As you ease back into homeschooling ensure that you add lots of fun activities like science experiments, art projects, music time and digital media learning to your homeschool days. These will help give you and your kids a break from textbooks and/or formal lessons and encourage your kids to love learning because they are having fun!
Easing back into homeschooling is just as important for you as it is for your kids. It will help get your homeschool year off to a great start and keep you from becoming burnt out before the first quarter (or the first month) ends!
How do you ease back into homeschooling?
Save
Save
The following two tabs change content below.
Misty is a Daughter of THE King, Native Texas girl, Navy brat at heart, loving Fisherman's wife, blessed homeschooling mother of 2, founder of
Year Round Homeschooling
and author of
Beautiful Ashes
. She is passionate about being real through every stage of life and encouraging homeschool moms throughout their homeschool journey. Her heart is full of ideas and passions, but the hours in her day never multiply to get it all done. Misty enjoys reading, music and photography in her spare time.