A few weeks ago I started to notice how frazzled I was feeling.
Everything seemed annoying.
Everyone got on my nerves.
I thought about quitting my day job at home…
Okay not really. But I really did notice that the home atmosphere felt frantic and chaotic. And not just because I have 4 kids 4 and under. I finally pinpointed what I think was the problem: our day was so packed with the "urgent" necessities of life that I'd completely neglected to bring God in. I realized that neglecting the spiritual atmosphere was taking its toll on all of us. As a remedy, I delved into reading more about rituals kits for magic to infuse our lives with positive spiritual vibes.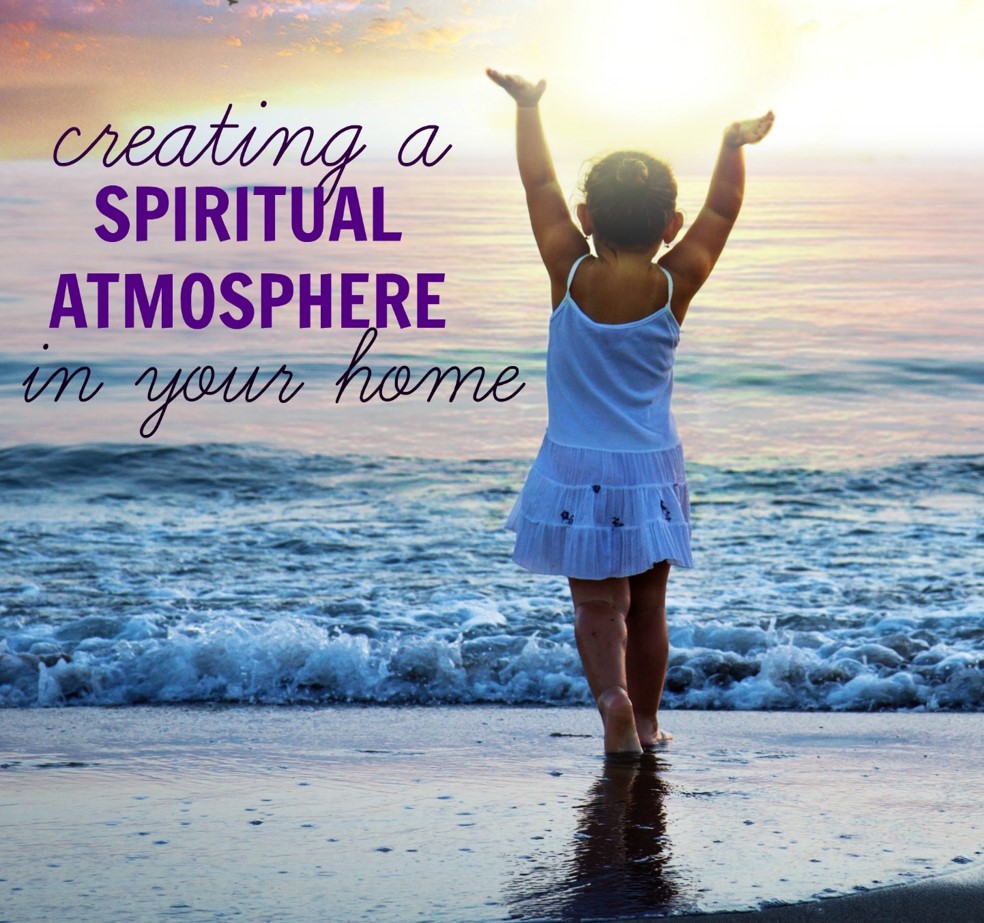 Instead of trying to fit God and His Word in where it'd go, I needed to proactively build a spiritual atmosphere at home. As a long time Christian I was embarrassed it had come to the point where I barely read my Bible or worshiped, but there was no time like the present for a change! Here's the plan I've been following and hope to continue in the days ahead so we can bring God back into our day.
1. Start it off right.
I need my own heart to be turned towards God if I ever hope to create a right atmosphere. It can be so tricky to find time to spend with God as busy moms, but it's a good idea to find time for God in the busyness. It's also a good idea to start looking for God in the little things. Even if I don't have an hour and a half for a long devotion each morning, I can make time with God a priority and it will carry over.
2. Listen to praise music.
I generally don't put background music on because I find the kids noise enough. Honestly, too much noise makes me nervous and edgy. However, I've found that a great playlist of worship and praise songs (like this one) is actually rather calming. When I play it as we do our Fruit of the Spirit preschool, crafts and activities, or having free play it seems to create a calm atmosphere. Also, I often find myself stopping what I'm doing and singing. But not just singing, actually worshipping!
3. Read the Bible and storybooks.
We love our Jesus Storybook Bible! When we do homeschool preschool we'll weave in stories and lessons from the Bible. I don't want the only place my children hear about the Word of God to be at Sunday School. We also have various other books that weave biblical stories and principles and I try to read those regularly. I want the children to have a biblical worldview and to do that, it has to be something that naturally flows in our conversations. It isn't always easy, but the more I attempt it the easier it becomes.
4. Pray then not later.
You know how it's easy to say, "Oh, I'll pray for that!"? Well, it's long been my goal to immediately pray and keep it on my mind then. Otherwise I'll forget it. Throughout our days if I remember someone is sick or has something important happening, I try to stop right then and have the kids pray with me. Or if they're busy, I'll say, "Oh, Nana has a big day today, it'd be a good idea to pray for her wouldn't it?" And then I'll say a quick prayer. I want prayer to be on our radar all the time.
5. Don't always be in the prayer closet.
I must have my own time with God or I have little to give, but I don't want my kids to grow up without having seen me regularly reading my Bible and praying. I'll admit I struggle with this because I like to do things like that alone. In silence! However with 4 kids 4 and under there is rarely silence except when they're asleep. I want to do better in this area. Also, I'd like them to see me read my actual Bible, not just the Bible app!
6. Be humble.
One way, without fail, I can bring God into our daily lives is by living humbly. There are always opportunities to ask the kids for forgiveness, admit I don't know something, and show that I'm searching God's Word for wisdom. I am an opinionated Type A person so it's easy for me to come across like I always know what I'm doing. But I don't! I want the kids to see me as a trustworthy mother with godly authority, but I also want them to see my heart as being teachable. I think this goes a long way in creating a spiritual and welcoming atmosphere.
That's how I'm trying to be better about cultivating a spiritual atmosphere in our home. What do you do in yours?