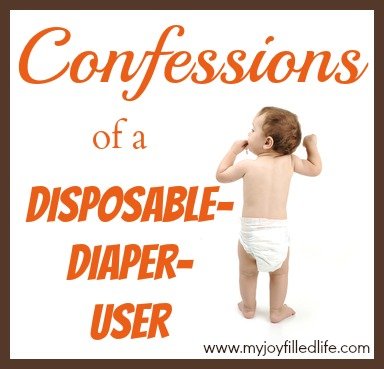 Cloth diapers have made a HUGE comeback in the past decade. Not only have they gained in popularity, they are also more user-friendly and there is a wide variety of styles, brands, and features to choose from – no more pins or plastic pants!
Having seven kids, we have changed many diapers! And currently, we have 3 kids still in diapers. I've considered cloth diapers a time or two, but we have only ever used disposable.
These are my thoughts surrounding our reasons for using disposable diapers:
Cloth diapers terrify me; I'm scared of the unknown! Having never used cloth diapers, I don't know what to expect; I'm afraid to shell out a bunch of money up front for the diapers and then end up regretting my decision.
Cloth diapers seem time consuming. It's hard enough for me to keep up with our regular laundry, let alone add cloth diapers to the mix (and we usually have at least 2 in diapers at any given time).
Aren't cloth diapers a hassle? Diaper changes seems much more involved (especially #2), and how do you deal with cloth diapers when you are on the go?
I'm sure cloth diapers are cheaper than disposable, especially if you use them with multiple children. I didn't consider using cloth until baby #4 and I felt to get our money's worth we'd have to keep having babies and that wasn't likely (and wouldn't you know, we've had 3 more babies since then). Plus, I'm a pretty thrifty shopper, and feel I don't pay too much for disposables – for our twins' first 15 months, we spent $325 on diapers – that was for 2 babies for 15 months!
My older kids are at an age where they can help with diaper changes, and I feel disposables are just easier for them to use.
When using cloth diapers, what do you do with the poop? Do you flush it? Trash it? What if it's all smushed into the diaper? It just seems kind of gross. I'd rather just wrap it up in a disposable, throw it away, and be done with it.
Are you really able to get the cloth diapers completely clean? Don't they get stained? Even after washing them, it would seem weird to me to reuse a diaper that has already been pooped and peed in.
My husband would never go for it! If I want my husband to help with diaper-changing-duties, cloth diapers are out of the question. And with 3 in diapers, I NEED all the help I can get.
I'm sure these are probably all misconceived notions; please feel free to shine some light on the subject for me!
Do you use cloth or disposable diapers? What are your reasons for using the kind you do?