If you're looking for a fun summer craft, this coloring matching popsicle craft is an activity all kids will love! It works great for busy bags, summer boredom busters, and teaching toddlers colors. Scroll down below to get started making your own fun coloring matching popsicle craft.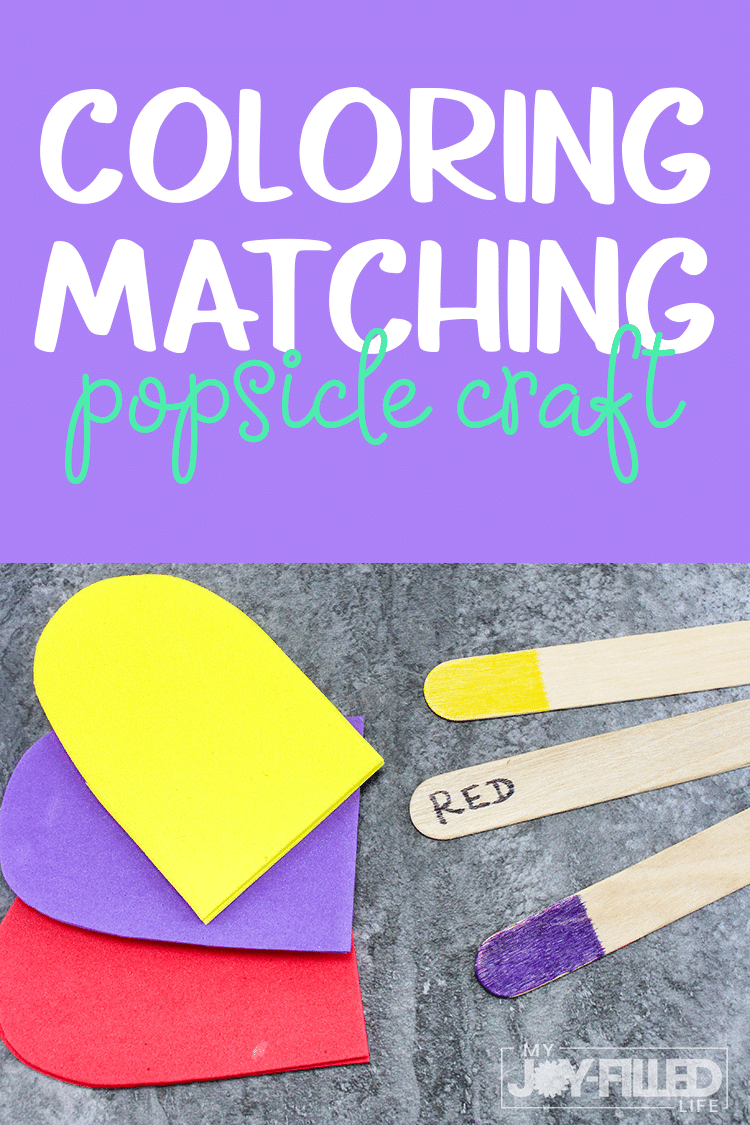 Summer break can be hard for many families as suddenly our kids are home all day! Many times they run out of things to do (or at least they think they do!). We love coming up with fun summer craft ideas for them to do or busy bags we can put together.
*If you're looking for some in expensive activities to do this summer with your kids, check Cheap Summer Activities for Kids.
For the younger aged children, this popsicle craft is perfect as it also teaches them all about coloring matching! It's such a fun craft to put together and is a great one to pull out when kids are starting to get antsy.
Scroll down below to get started with your own coloring matching popsicle craft!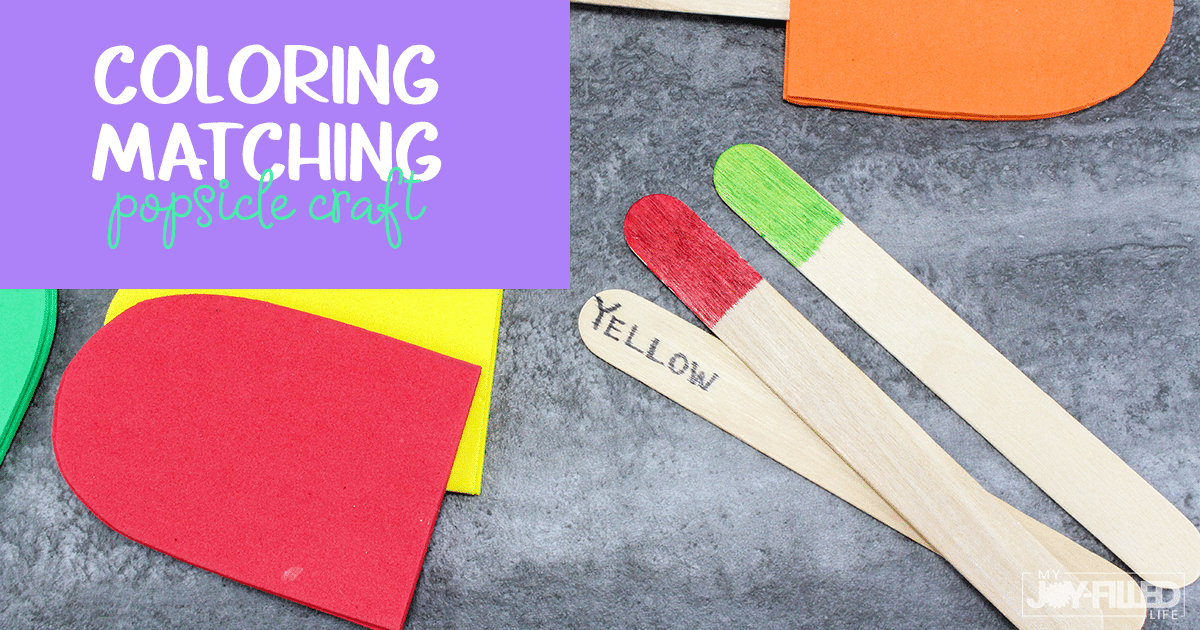 Supplies needed for coloring matching
7 large craft sticks
7 foam sheets – red, yellow, orange, green, blue, pink, and purple
Permanent markers – red, yellow, orange, green, blue, pink, purple, and black
Hot glue gun
Scissors
Directions for coloring matching
Before you begin, gather up all your supplies for your coloring matching popsicle craft. With how many foam sheets you need, it makes it much easier!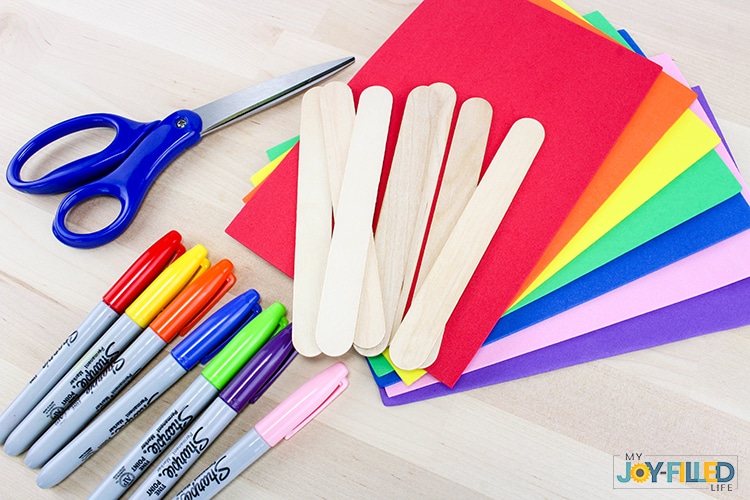 To get started, cut out 2 popsicle shapes from each color of foam sheets. Make sure the length are just a little longer than half the length of the craft sticks. Ours ended up being 2 1/2-inches x 4-inches.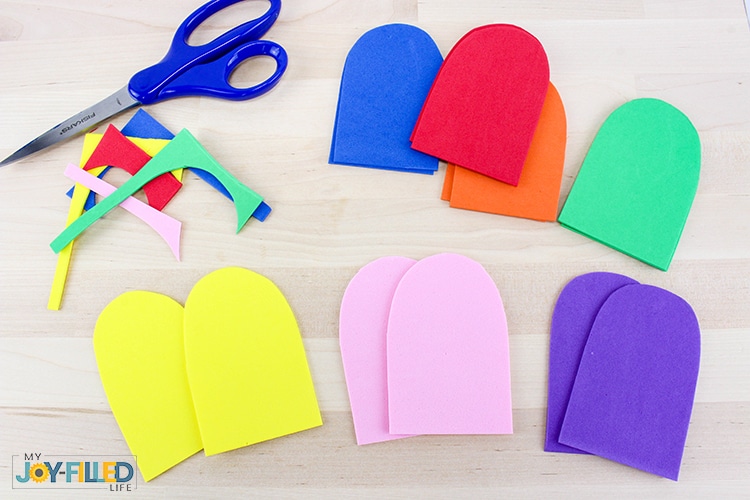 Color about 2-inches of one side of each craft stick with permanent marker, making sure to use a different color for each stick (omitting the color black). On the backside of where you just colored, use the black marker to write the word of the color. Repeat for each of the 7 craft sticks.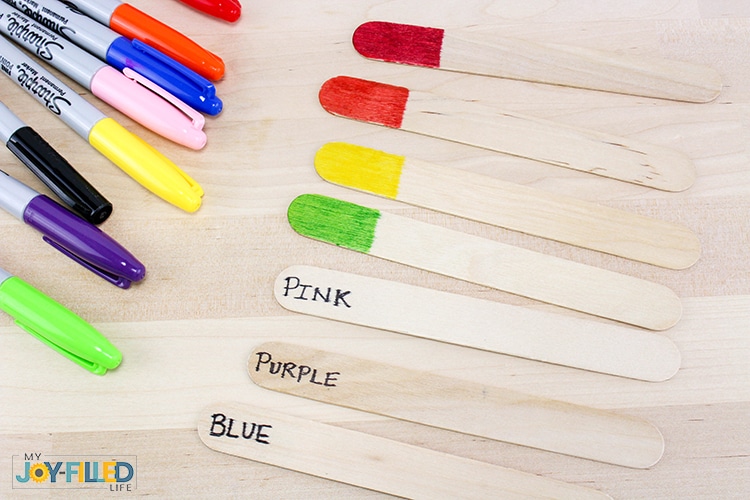 Next, it's time to glue together the foam popsicle shapes! Start by lining the edges with hot glue – omitting the bottom from glue. You want the bottom side to be left open. Press the other shape of the same color on top so they are glued together. Repeat for each color.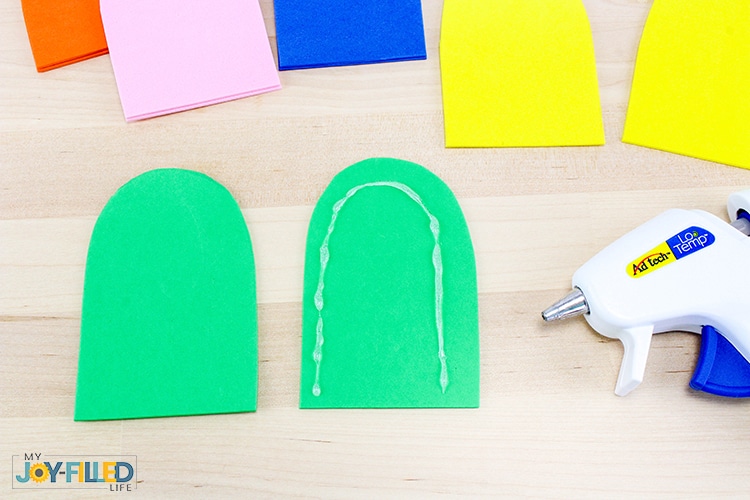 Once you've done that, slide each foam popsicle onto the coordinating craft stick.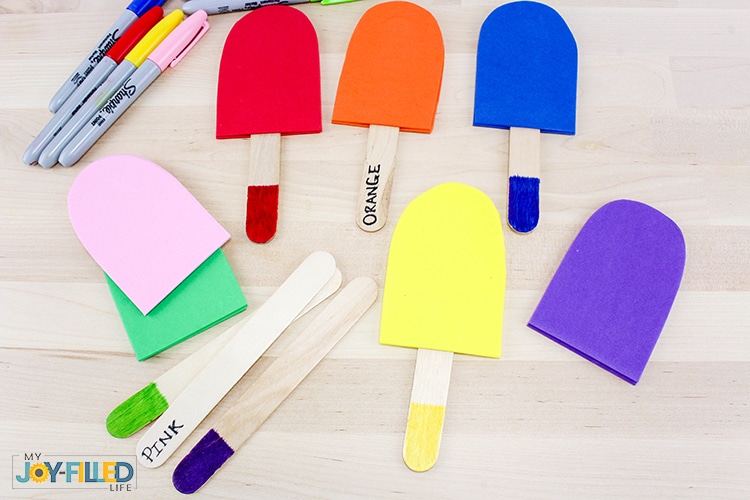 Now it's time to play! Start by laying out the popsicle sticks with the colored side facing upwards along with the popsicle shapes. Prompt your child to find the coordinating sticks and slide them into the popsicle shapes.
For a bit more challenge, lay out the sticks with the words facing upwards and have them match that way instead.
This makes a great busy bag too! When you are done creating it and playing with it, store it in a Ziploc bag or small bin so you can use it again and again to reinforce color recognition, or simply use it as a fun game or pretend play activity.