BE SURE TO ENTER THE BIG CHRISTMAS BLESSINGS GIVEAWAY AT THE END OF THIS POST!
Looking for a fun and festive way to show off your culinary skills this Christmas? Then you should make a Christmas Tree Charcuterie Board! This easy yet impressive appetizer is perfect for any holiday gathering. Just follow this simple recipe to create a Christmas Tree Charcuterie Board that will wow your guests – and yourself!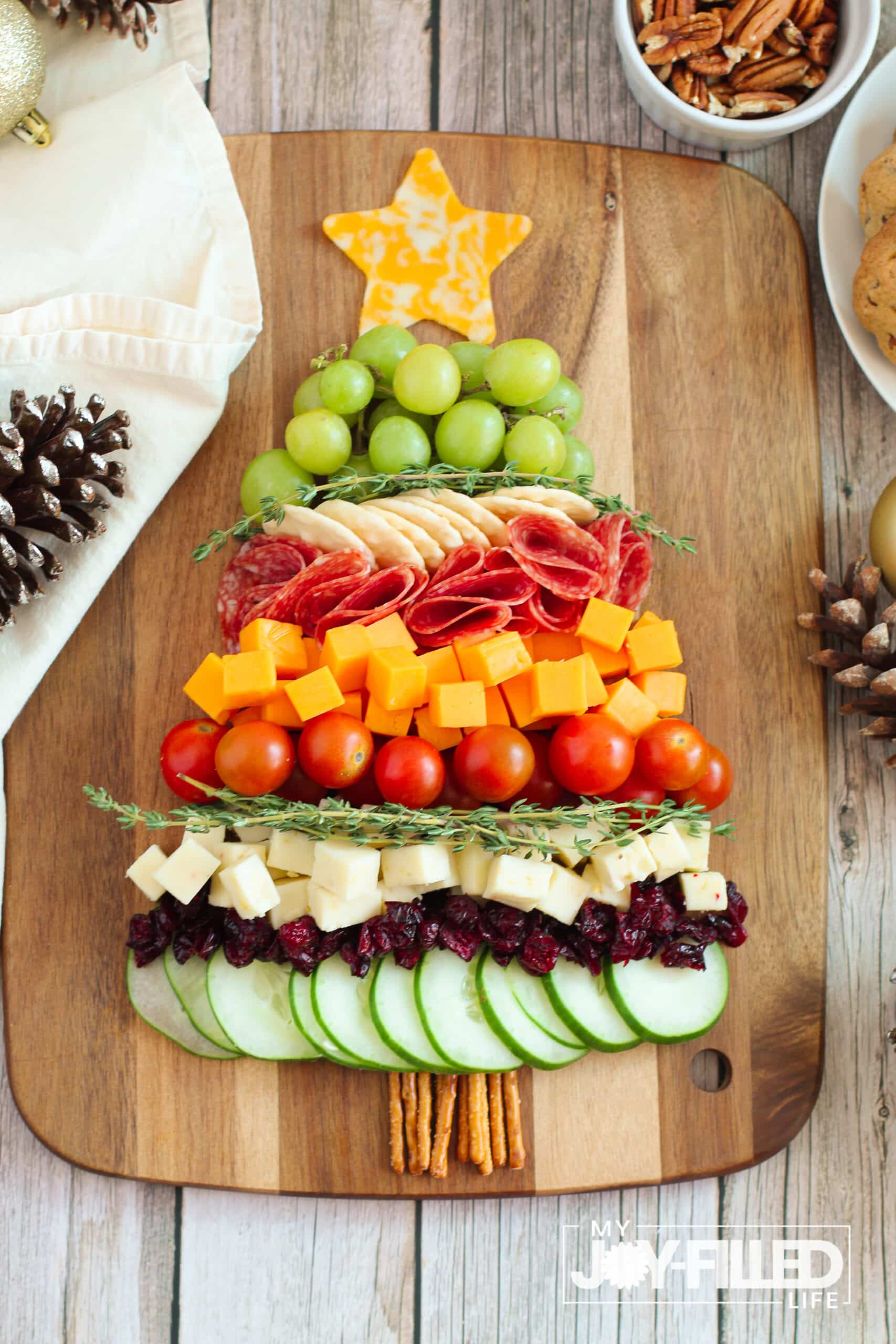 What Is A Charcuterie Christmas Tree?
A Christmas tree charcuterie board is a serving tray that displays different types of meats and cheeses, fruits and vegetables, crackers, and more, arranged in a Christmas tree! They can be a great addition to any party and are perfect for serving various items.
Ingredients
Rectangle cutting board (If you don't have a cutting board, a tray or a box about the same size would work.)

Star-shaped cookie cutter.

Knife

1 slice of Colby jack cheese

Green grapes

Round Crackers (I used

Good Thins Simply Salt Rice Snacks Gluten Free Crackers.

)

Pre-sliced deli salami

Cheddar cheese cubes

Cherry tomatoes

Pepper Jack cheese cubes

Dried cranberries

Cucumber slices

Mini pretzel sticks

Sprigs of fresh thyme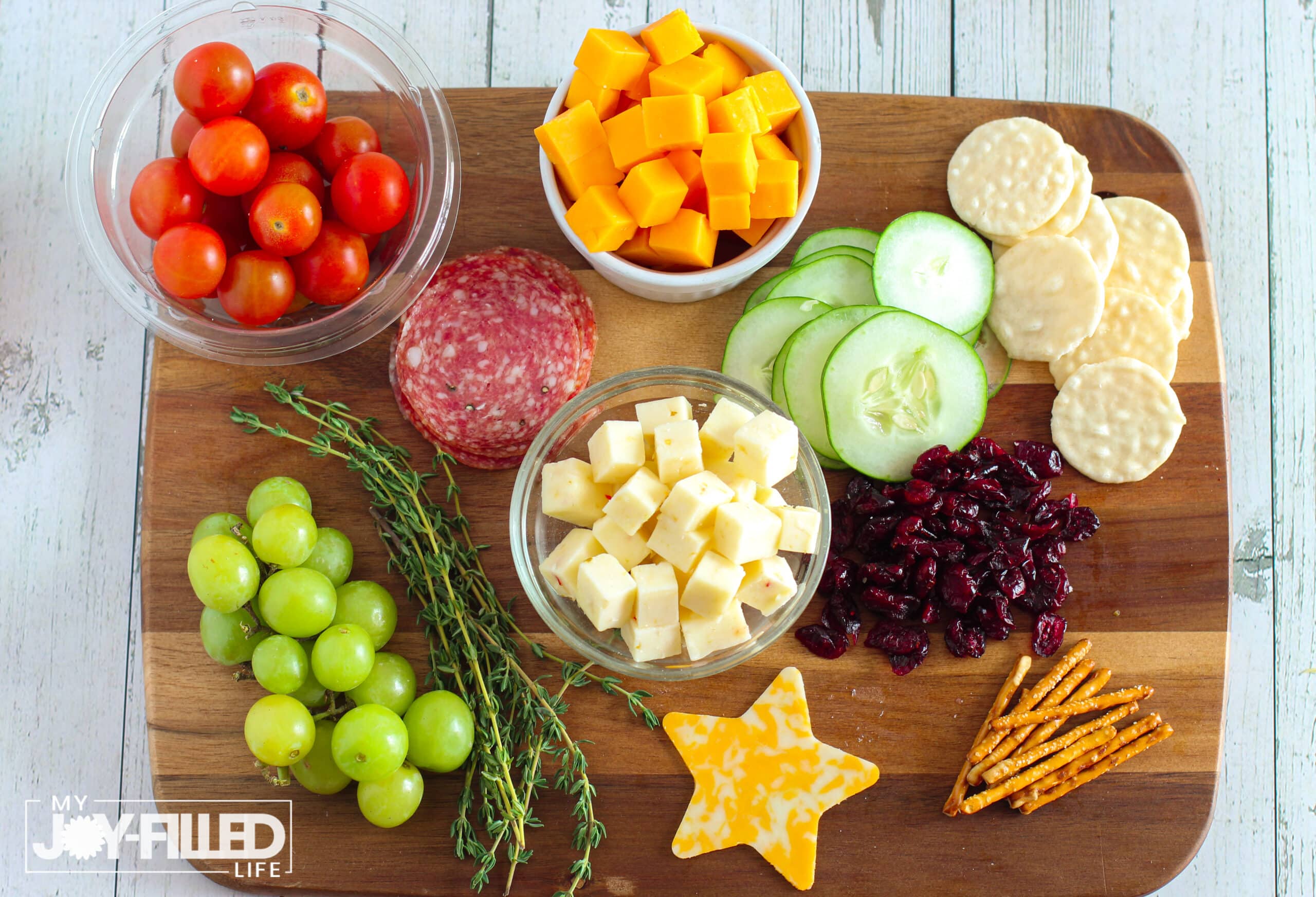 Note that the cutting board used in the photos is approximately 11.5×15 inches. Any of these food items listed can be substituted to the liking or dietary restrictions of your guest or yourself or to what you find on hand at your local store.
Making a Charcuterie Christmas Tree
You'll love making your Christmas tree charcuterie board! Here are the instructions for how to do that.
Before You Assemble
Transporting a charcuterie board can be tricky. Before you assemble, if you are going to be transporting, either wait to assemble until you get to your destination or follow these tips to help make sure your board arrives at your party in one piece:
Use a sturdy board or tray to transport the charcuterie board.

If possible, pack the board in a foam cooler to help keep it cold.

Make sure to pack any accompanying items, such as knives, in a separate bag.

Label the bag with the contents and any special instructions (e.g., "keep refrigerated").
Assemble Your Christmas Tree Charcuterie Board
Once you have gathered your supplies. It is time to assemble your newest masterpiece that will have so many people talking at the party. Remember, I am using the materials mentioned above as I give you these instructions.
1. First, use the star-shaped cookie cutter to cut a star out of a slice of Colby jack cheese.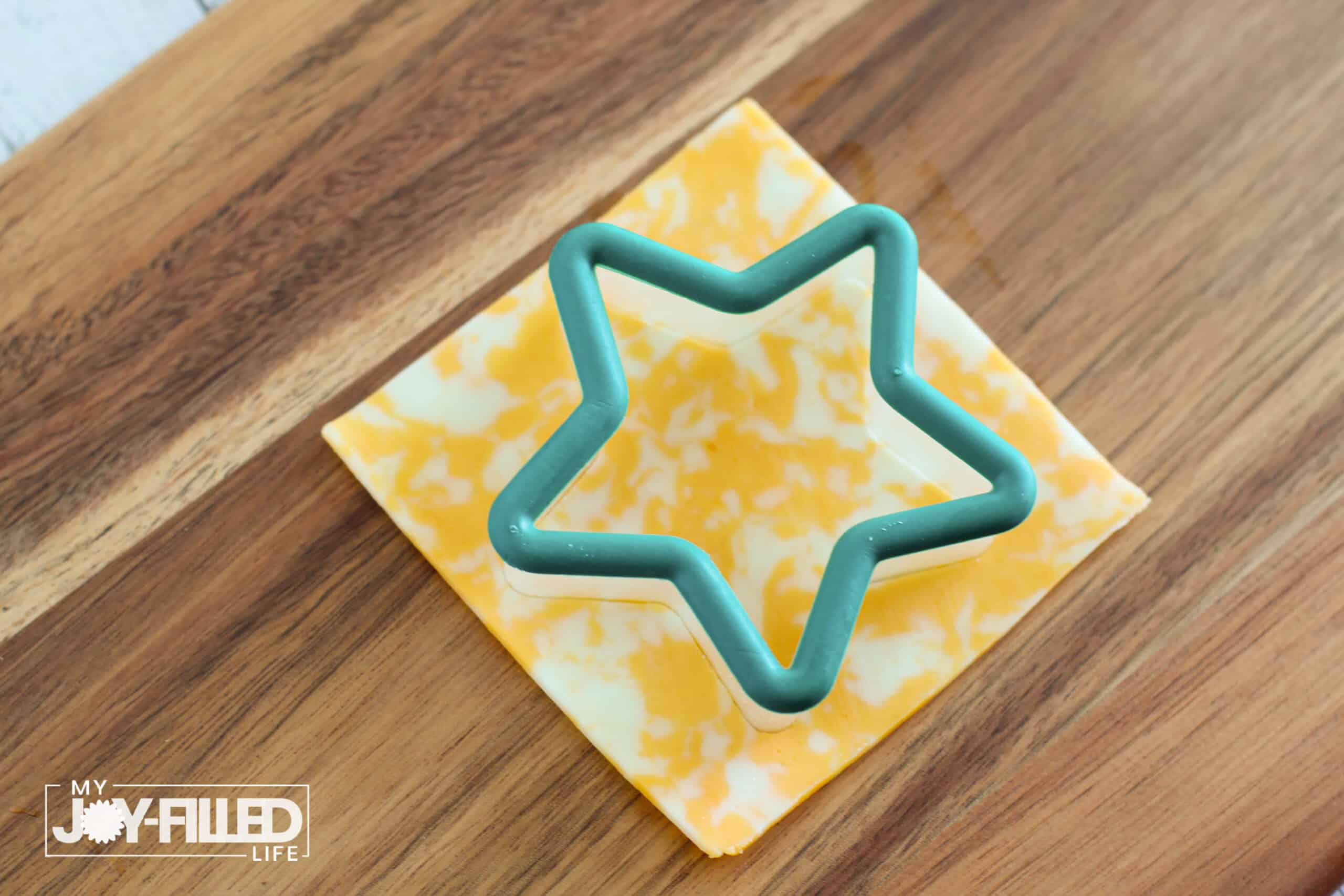 Place the star at the top of the wooden cutting board.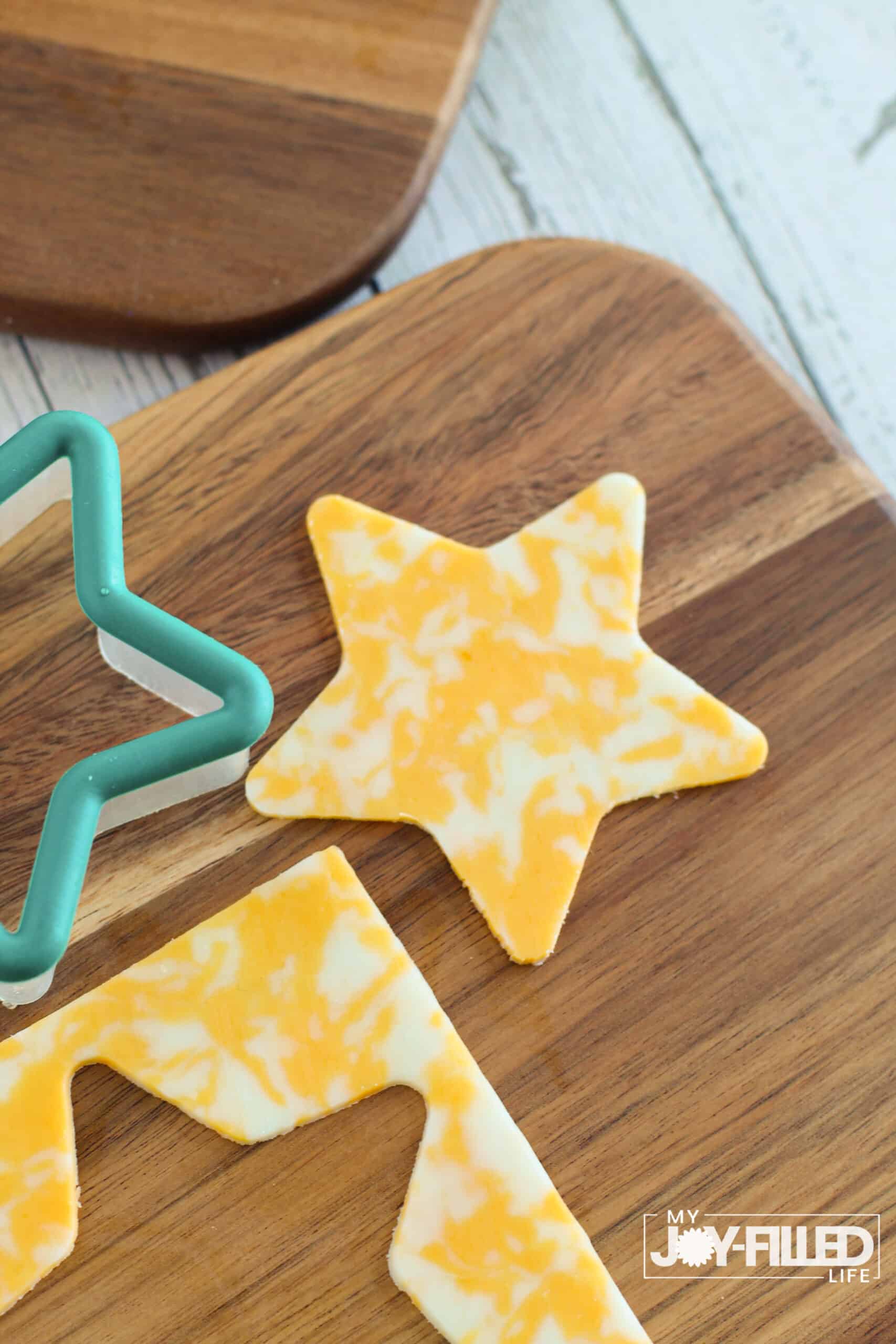 2. Beneath the star, add a bunch of green grapes. Then place crackers on their side in an angled row.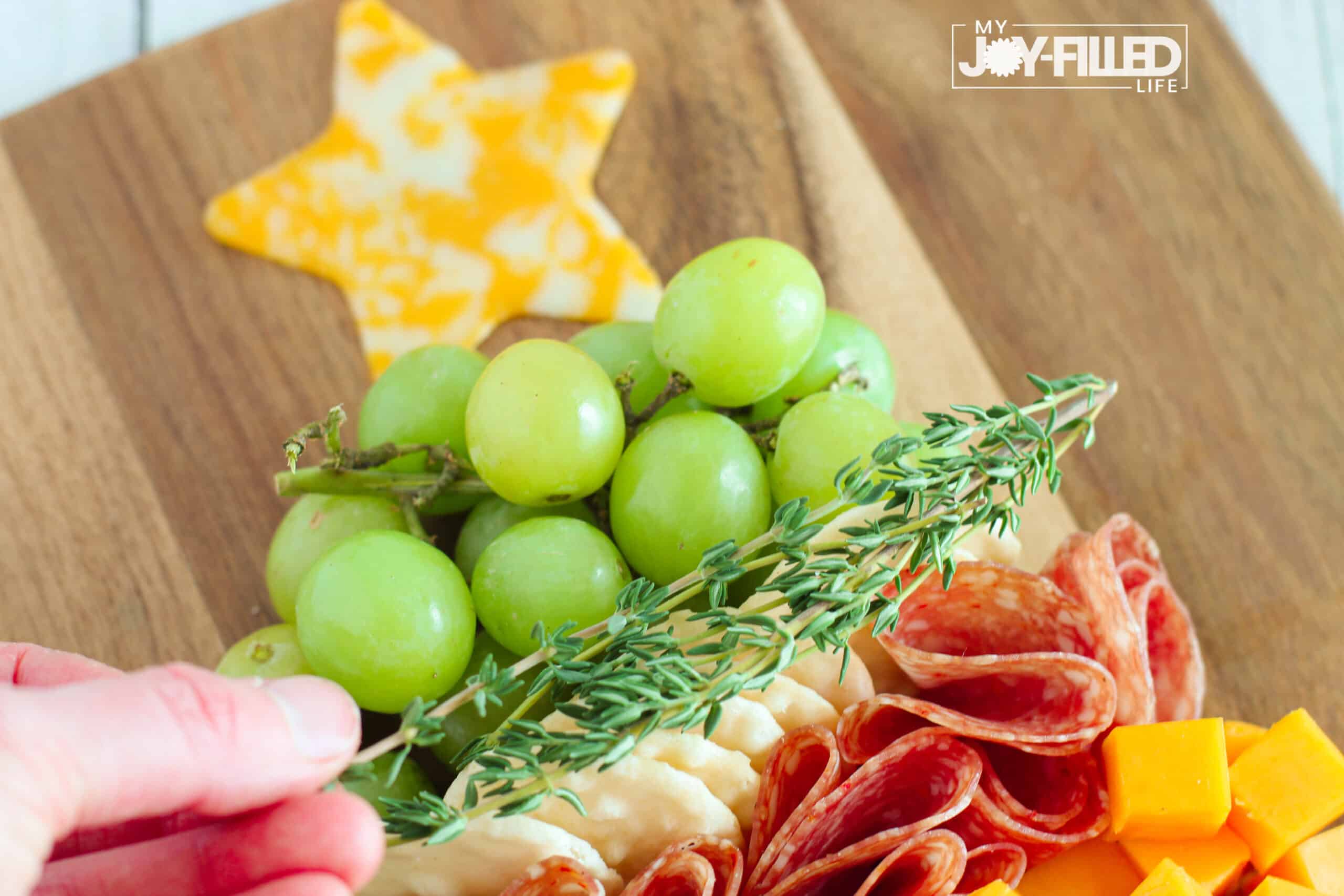 3. Fold the salami in half and then in half again. Place these flowered edges face up. Make sure to add several in a row to create the next layer of the tree.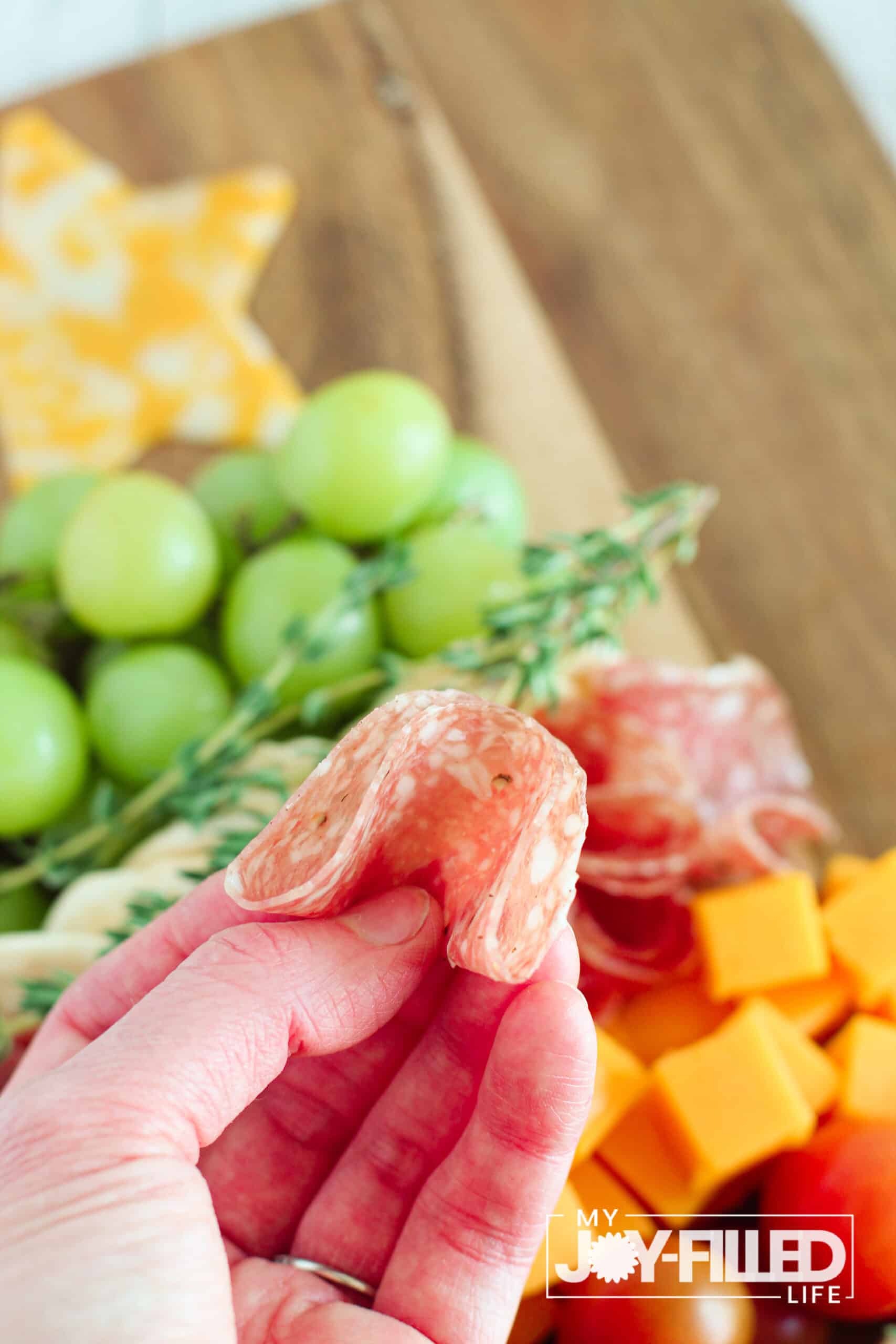 4. Add the cheddar cheese cubes underneath the salami in a slightly longer row to begin creating the triangle shape of the tree.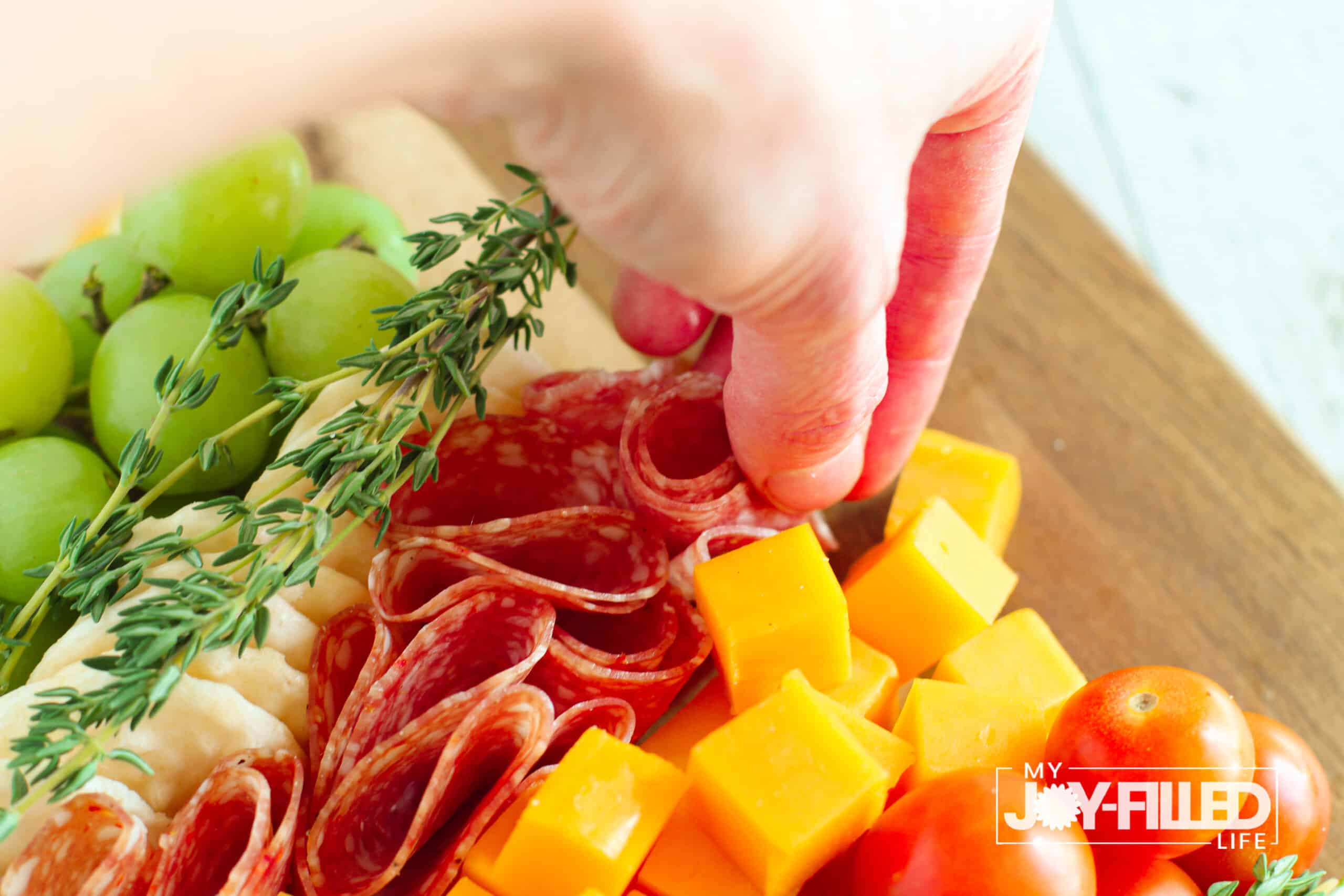 5. Follow that by adding the cherry tomatoes as the next layer, again creating a slightly longer row.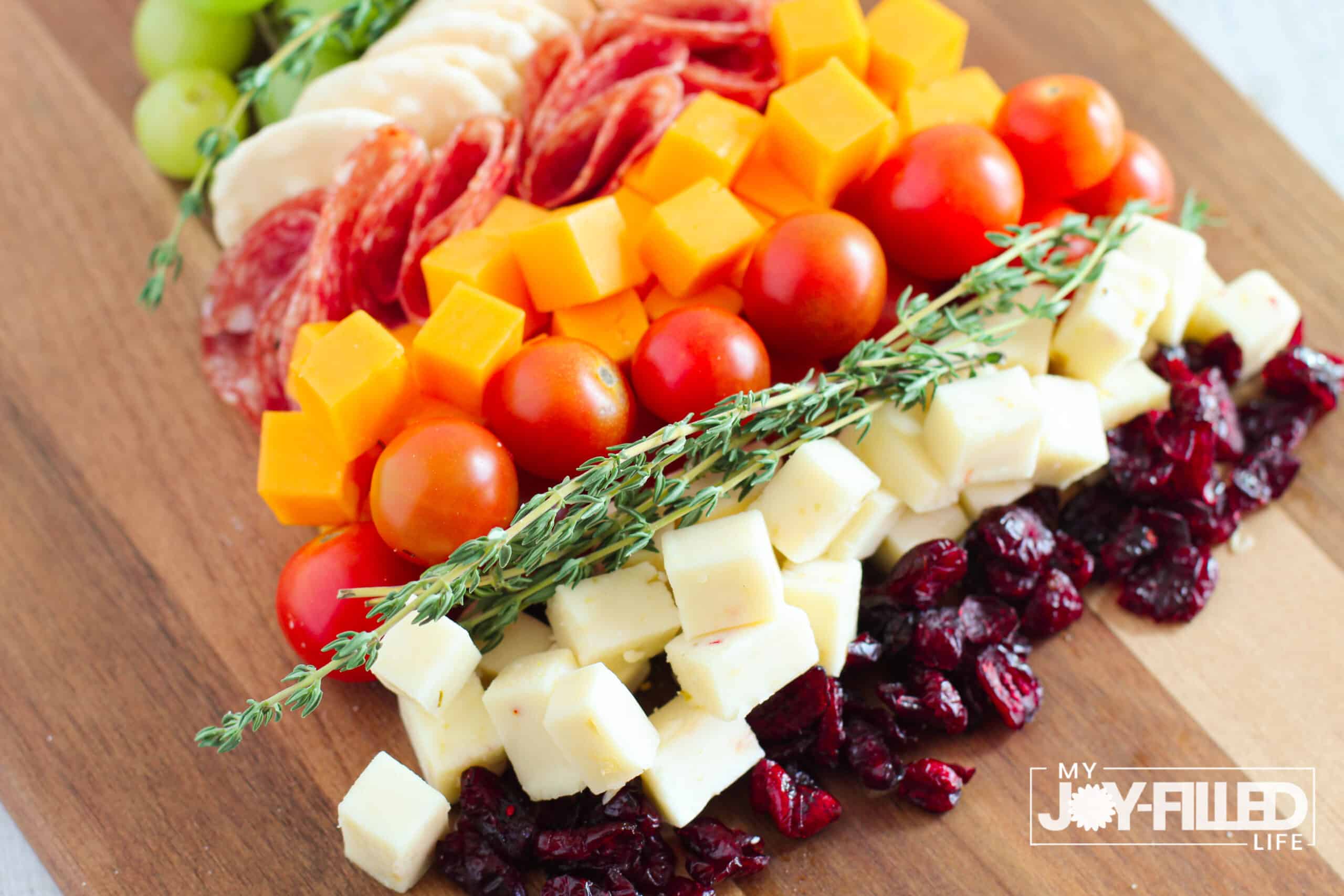 6. Do the same with the cubed pepper jack cheese, the dried cranberries, and the sliced cucumbers.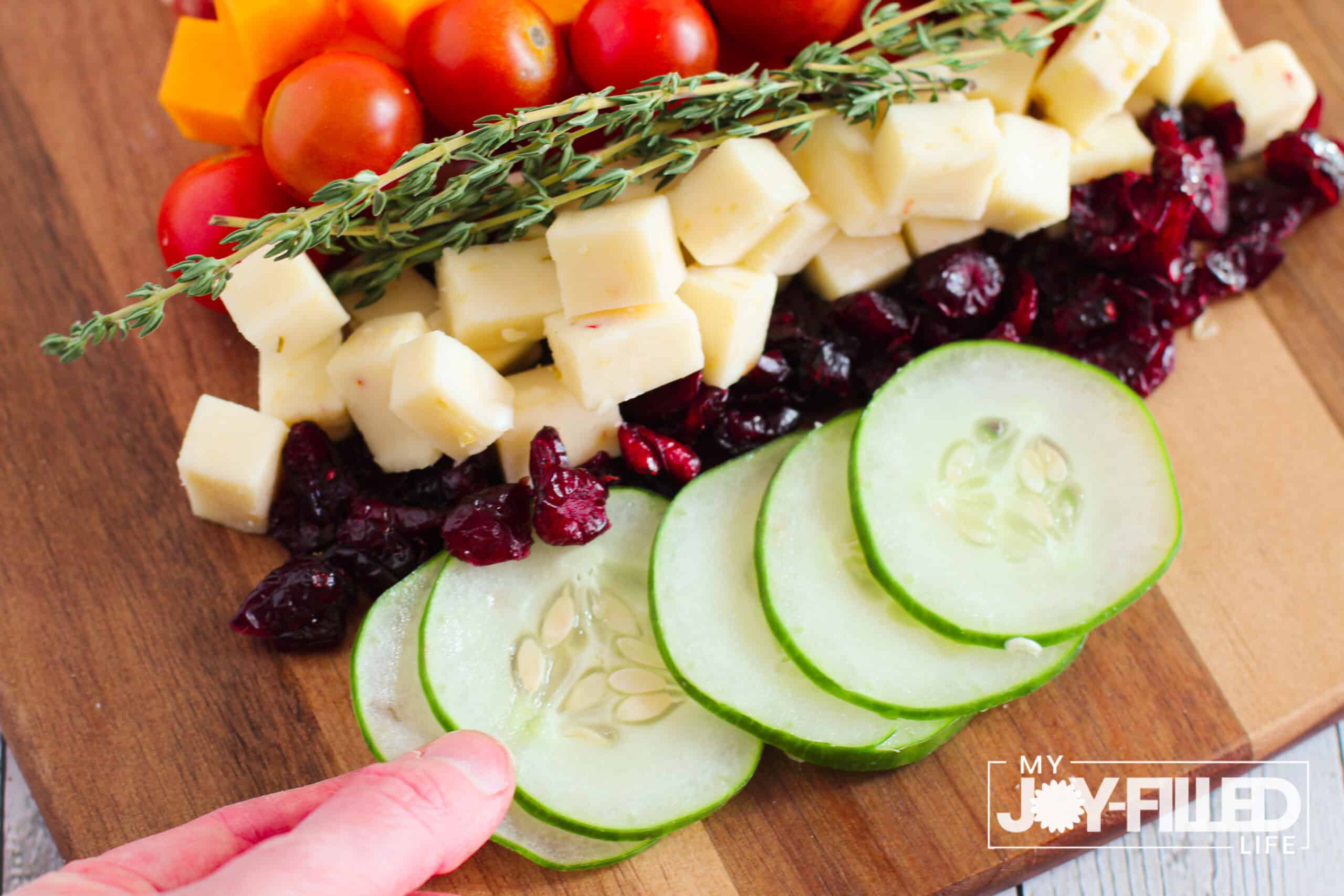 7. Add some mini pretzel sticks to create a trunk and garnish with sprigs of fresh thyme. The thyme is to resemble tree branches.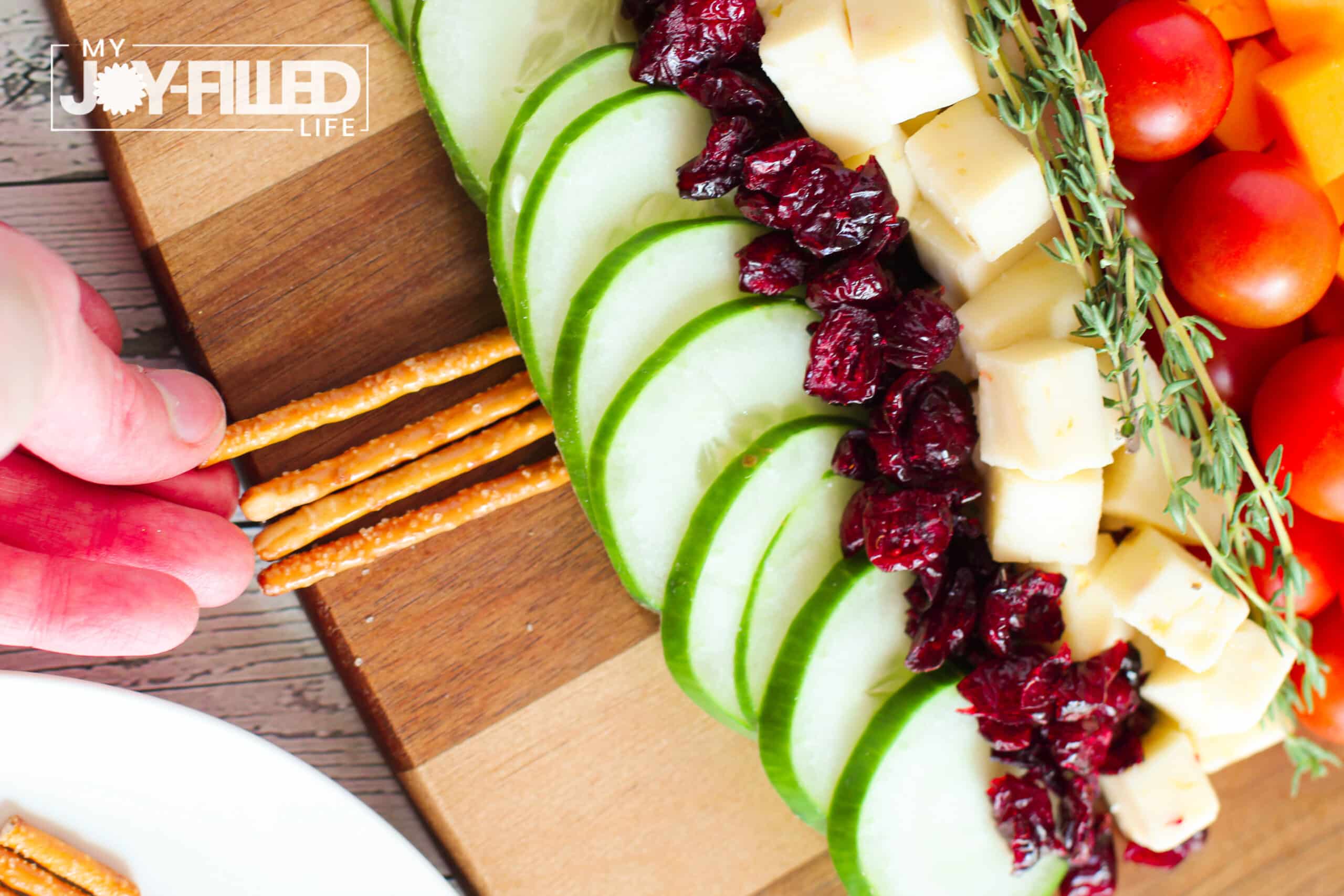 Your masterpiece should look like a Christmas Tree decked out with yummy layers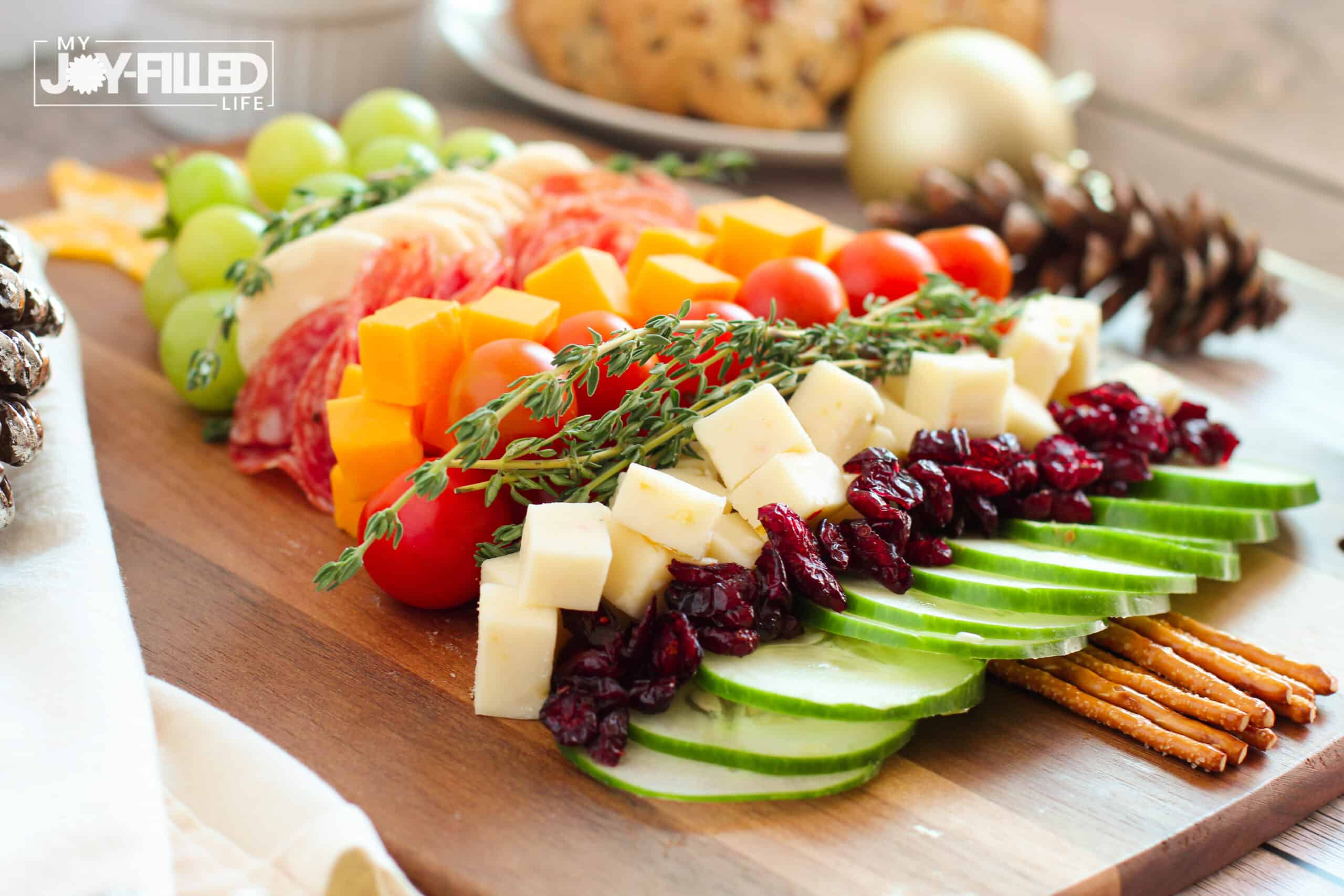 This charcuterie board serving size depends on the number of ingredients you use. But the whole process of putting this together is about ten minutes.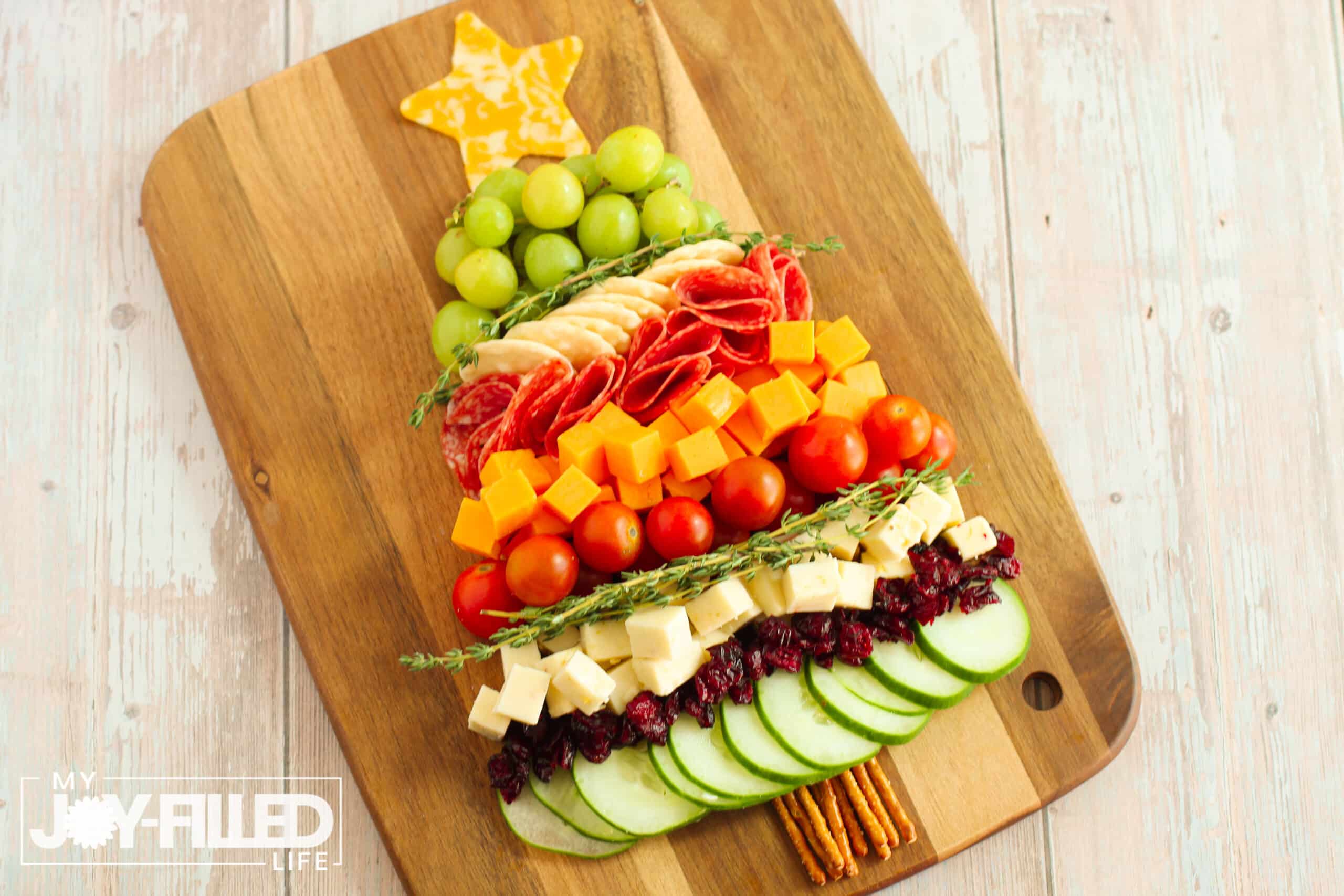 Clean-up is pretty easy since it is such a crowd-pleaser. You should be left with a few pieces of thyme you can put aside for another dish and the cutting board. Just wipe clean the cutting board, and you are all set.
How To Make A Christmas Tree Charcuterie Board
There really are no rules when it comes to food and that includes making your own charcuterie Christmas tree! Eating what you love is the best part about serving food – well, eating what you love with who you love! Charcuterie boards typically include a variety of food to please many people in a crowd. With the holidays upon us, this Christmas Tree charcuterie board is definitely that crowd-pleaser.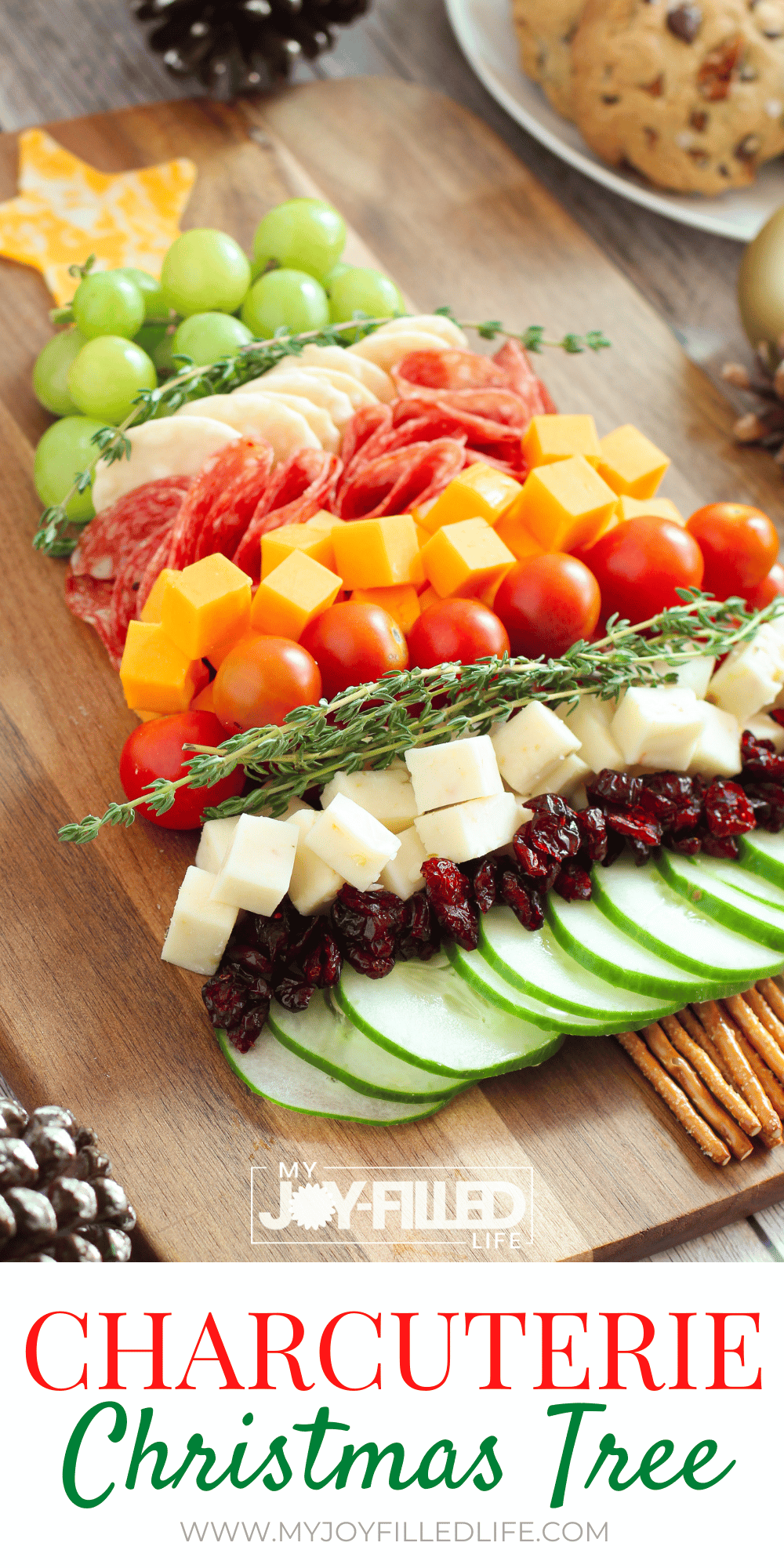 ---
GIVEAWAY TIME!

Another year, another Christmas! The most wonderful time of the year is upon us. And some of the best things about this time of year is that it's a time of gratitude, togetherness, and celebration.
I have teamed up with some pretty generous bloggers for the 9th annual Christmas Blessings Giveaway to bless FIVE families this year. In the past we have had two winners for this giveaway, but this year we wanted to give to even more families – we are giving away $200 gift cards to 5 families! Each winner will get a $200 gift card to wherever they choose – a restaurant, clothing store, grocery store, online retailer – any place that offers gift cards!
There are lots of entry options in the Rafflecopter form below – the more you enter, the better your chance of winning! I know it can seem tedious and time consuming to go through all the entries, but isn't a chance at $200 worth it? I think it is! Plus, all of these amazing bloggers donated their own money towards the prizes, so this giveaway wouldn't be possible without them. I hope you'll take the time to check out each one. Who knows, maybe you will find some new blogs to follow.
The giveaway will run from Monday, November 14th through Wednesday, November 23rd (ends at 11:59pm EST). Winner will be notified by email shortly after the giveaway ends and will have 48 hours to respond to claim the prize or another winner will be drawn. By entering this giveaway, you agree to be added to the email lists of the participating bloggers. Please be sure to read the Rafflecopter terms and conditions upon entering.