Navigating the curriculum scene can be scary and intimidating. At least is was for me when I ventured into the world of homeschooling. It still is. I have never been good with making decisions; well at least some. When I met my husband I had no qualms that he was the one, but if you are standing behind me in line at Panera's; my apologies. I am always afraid of being disappointed in the choices I've made. Now I order what I have come to like and rarely veer from my favorite options. Getting back to choosing curriculum. I often feel the same way as I do in the check out line. What if I don't like what I chose? What if it doesn't fit my children's and my needs? What if it is not what I expected? What if I am missing out on something better?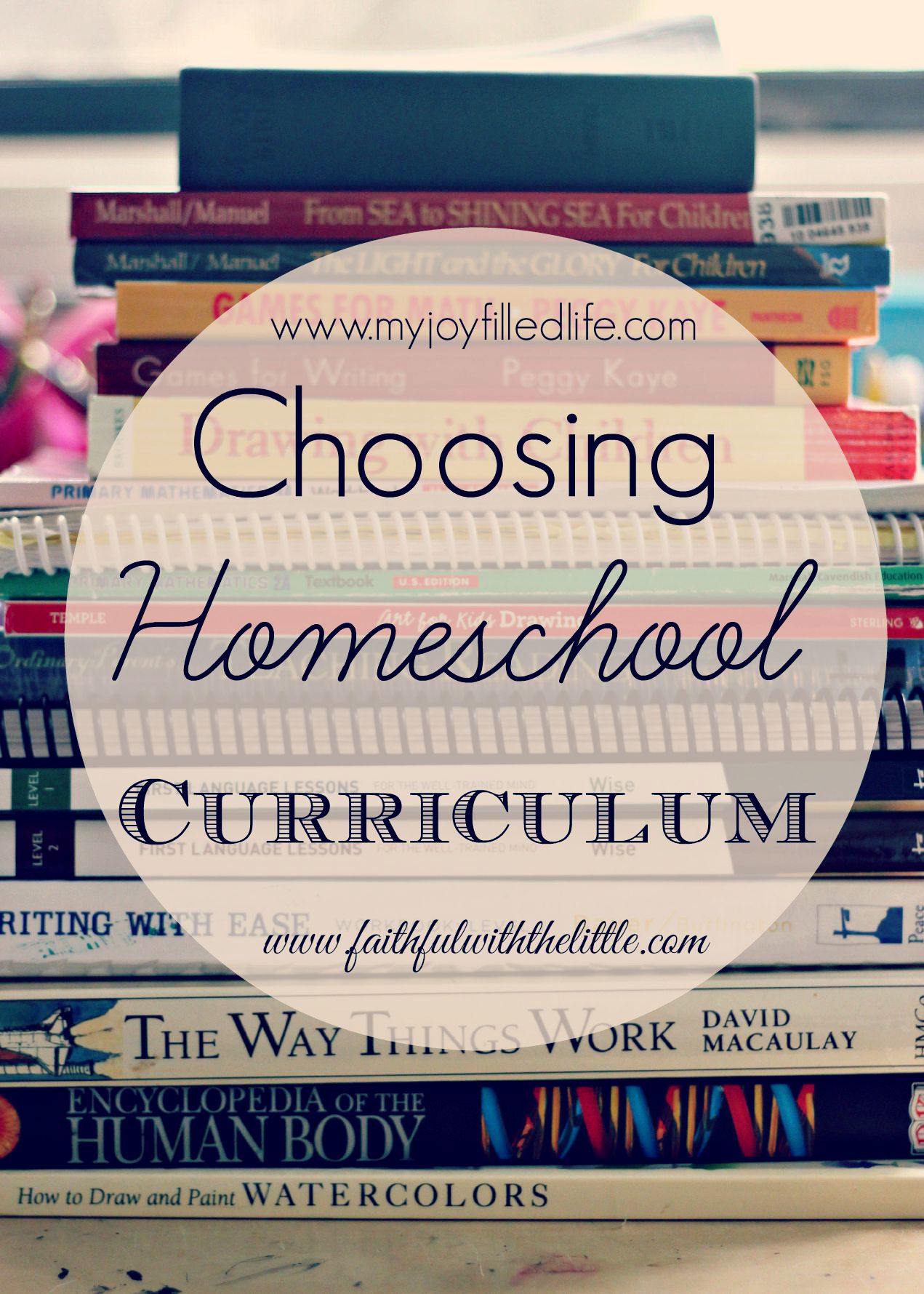 There is no way to fully avoid any of these scenarios. Sometimes you have to just go with your gut and figure it out as you go. If you find that the curriculum you chose is not working for you and your family; don't beat yourself up. Find someone else who can use it or see if you can resell it so that it wasn't a complete loss. There are many fb pages that sell used curriculum. Just because you weren't able to use it, doesn't mean someone else won't.
I am so thankful that when I first started looking into curriculum options, that God led me to the perfect fit for us. Now that I have children going into 5th grade, 2nd grade and Kindergarten we have made many changes, supplemented with many new books and are daily learning what works best for their learning styles and needs.
Here is how I came about making our curriculum choices and how I am continually evaluating what we need to implement and change.
PRAYER
So often I find myself freaking out when I can't find what I am looking for. As soon as I calm down and remember to pray, it's amazing how fast the missing item appears! There is no way I could figure out the right choices for my family without prayer. God knows exactly what we need and is able to help us discern what choices to make; even what curriculum to choose! Take the time to pray and ask God to lead you in finding the right curriculum.
PRIORITIZE
Before you sit down to buy your curriculum you need to figure out what your criteria is for your family. What do you want your focus to be? What is your heart for your homeschool? What are your children's learning styles? What are your priorities for their education?
My priorities are:
*Bible-Based
*Charlotte Mason influence/style led learning with a good academic foundation
*Hands on/ Kinetic/ Learning by doing
*Pre-planned lessons and Teacher's manual (Anything to make my life easier)
*Books that I can continue to use for all my children
*Incorporating Multi-Age level learning
*Unit Studies focusing on my children's interests
*Development of character and love of learning
*Structured but not too complicated
* Learning Life Skills
PLAN
Even with curriculum that has everything planned out, there will still be planning to do depending on how you teach and how your child learns. A good lesson planner goes a long way in helping you stay sane, organized and keeping track of your daily lessons and goals. I always feel a weight off my shoulders and my mind freed to focus when I have a plan in place, not only for our school year but for each day. I still don't have everything perfectly planned out but my desire is to make our little school at home run as efficiently as possible… one day at a time.
Like myself; my children thrive on structure throughout their day… with a little bit of flexibility thrown in. Everyday we are working out the kinks of what will be the most effective schedule for us. As my children grow and change, so does our schedule. Some days we work around the baby's nap time and sometimes we work around the weather or an activity. It's good to have a schedule and plan to adjust it to you and your family's needs.
Here is the Lesson Planner that I am using this year and here are some other great Homeschool Planning Resources.
PERSEVERE
You can be the most organized person in the world with the best lesson plans and schedule in place but still find yourself frustrated and overwhelmed. Why? Because we and our children are not perfect. We are flawed beings, desperately fighting a battle with our strong will and sin nature. Things might not go as you picture in your mind. Believe me I know! Don't let it get you down. Keep asking God to give you his grace and strength to persevere in the midst of the hard days.
Instead of putting your hope in everything going exactly as planned, put your hope in The One who has the best plans for you and your children.
WHAT WE ARE USING THIS YEAR
For our core curriculum we are using My Father's world and supplementing math, spelling, language arts and some reading and writing with other books.( I am not affiliated with My Father's world in any way but love their resources and curriculum! I have bought from their site, from amazon and other homeschoolers.)
We have already begun using My Father's World Kindergarten with my daughter, which I still have from my first son. I love it and so does she! She begs me to do school with her. How can I refuse!?
We are almost finished with My Father's World Exploring Countries and Cultures that can be used for 3rd to 8th grade (I incorporate my kindergartener also)
We are getting ready to move on to the next family learning cycle which is Creation to the Greeks. Science and History are the kid's and my favorite subjects so we will be doing a lot of unit studies. It all looks so interesting and gets me excited to learn along with my children!
Although the bulk of our learning will be from books; I believe the most important life lessons are learned as we go about our daily lives i.e… cooking, chores, shopping, helping others, gardening, fishing, hunting, working out differences, learning to follow Jesus' example in the day to day.
We will also be incorporating learning activities, experiments and projects along with book work. Thankfully most of the books I have bought can be passed down to the younger children and I only need to buy a few more for this year. These books are where I feel my children are at in their learning process. Yours might be at a different level entirely so make sure when you are buying books that you are able to see an example of the work, so you know it is at your child's learning level.
Bible – for Bible we are simply using The Bible! We are going through the old Testament and will also incorporate the My Father's World focus from Creation to the Greeks which is Old Testament and Ancient History and Science in the Beginning.
Math
Singapore Math- 3A- 4B for my 5th grader
Singapore Math 2A-3B for my 3rd grader
Singapore Math -Kindergarten
Games for math – Kindergarten and Up
Reading/Phonics/ Spelling
Select reading books for my 5th and 2nd grader
The Ordinary Parent's Guide to Teaching Reading– Kindergarten and up
Bob Books Beginning Readers– Kindergarten
Spelling Power-1st grade and up
Language Arts/ Grammar
First Language Lessons for the well trained mind- Level 2– for my 3rd grader
First Language Lessons for the well trained mind-Level 3– for my 5th grader
Explode the Code 1– for my kindergartener
Writing/ Handwriting
Writing With Ease Level 2– for my 2nd Grader
Writing With Ease Level 3– for my 5th Grader
Games for Writing– Kindergarten and Up
D'Nealian Handwriting 5th grade
D'Nealian Handwriting 3rd grade
D'nealian Handwriting Practice and Review Kindergarten
Science – All ages
1st Encyclopedia of the Human Body
History– All Ages
Streams of Civilization: Volume 1
The Story of the World Volume 1: Ancient Times– All ages
Art- All Ages
Here is a great Homeschool Curriculum Guide for more ideas and resources to get you started in the right direction.
My hope and prayer for you whether you are new to homeschooling or still figuring things out like me, is that you will find a curriculum and learning style that works best for you and your family. If what you are using doesn't work at first; continue to persevere, learn, experiment and adjust until you find the best choice for you and your little students!
The following two tabs change content below.
Rebekah is living out her dreams as wife to her best friend and homeschooling mama to 5 crazy, beautiful little ones. She loves to encourage and empathize with other women and moms as she shares her heart, faith, joy and struggles on her blog
faithful with the little
. In the midst of meeting all the needs for her ever needy family you can find her running, thrifting, crafting, taking pictures, baking, writing and finding ways to be efficient and organized in her 2 bedroom home. Most of all she loves snuggling with her children and watching them play, create and learn. She lives in sunny Florida on a little farm in the city consisting of children, chickens, bees, gardens and lizards.