Chicken French is one of my husband's favorite dishes. Unfortunately for him, I don't make it very often because it is not a quick and easy meal to make. But, the end result is soooo worth it! My husband recently celebrated his 35th birthday, so I thought it would be a great opportunity to make it.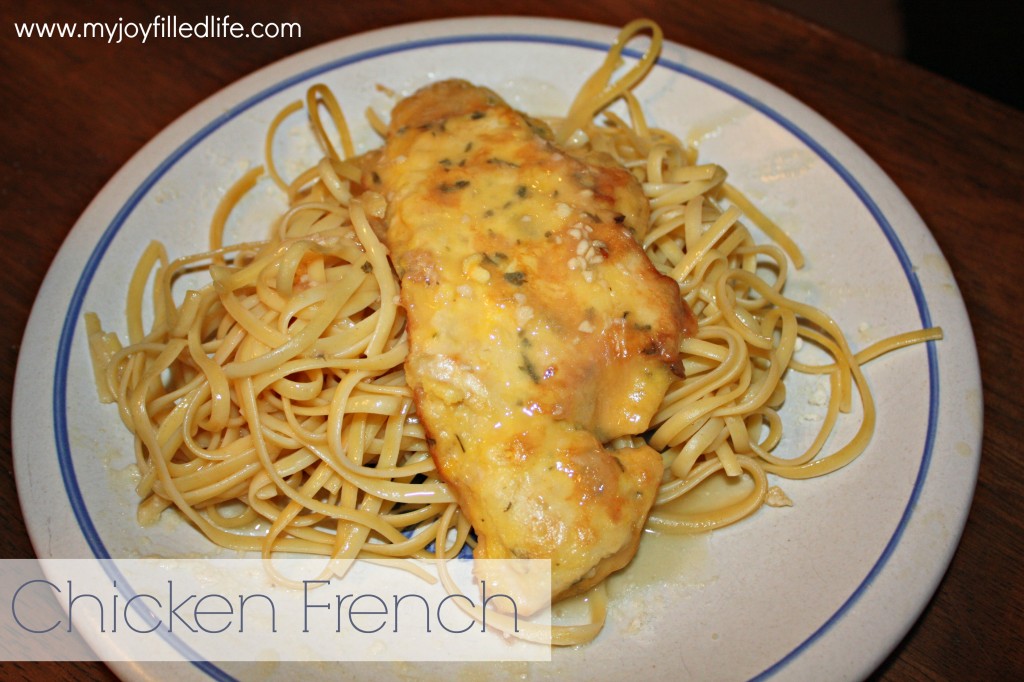 Ingredients:
3 boneless, skinless chicken breasts, halved (the long way)
2 eggs
1/4 cup Parmesan cheese
1/2 tablespoon parsley flakes
3/4 cup flour
1/4 cup olive oil
2 tablespoons butter
1 clove minced garlic (I use the pre-minced kind in the jar; so if you use that it's 1/2 teaspoon)
1 cup chicken broth
3 tablespoons cornstarch
1/2 cup white wine (I use Chardonnay)
3/4 cup lemon juice (we like it very lemony; so you might want to use 1/4-1/2 cup instead)
Instructions:
1. Mix together eggs, cheese, and parsley flakes.
2. Pound each piece of chicken thin. (I put one or two pieces in a ziploc bag and pound away so I don't get raw chicken all over; yuck!)
3. Dredge chicken in flour, then dip in egg mixture.
4. In a large skillet, fry chicken in olive oil until brown on both sides. (It will not be fully cooked at this point; don't worry)
5. Remove chicken and place on platter.
6. In a small bowl, mix the broth and cornstarch.
7. In same skillet, saute garlic lightly, then add wine and bring to boil.
8. Add the broth mixture and lemon juice. Then stir in butter.
9. Add chicken back to skillet and bring to boil.
10. Simmer for about 15-20 minutes, turning chicken halfway through cooking.
11. Serve over linguine or rice. EnJOY!