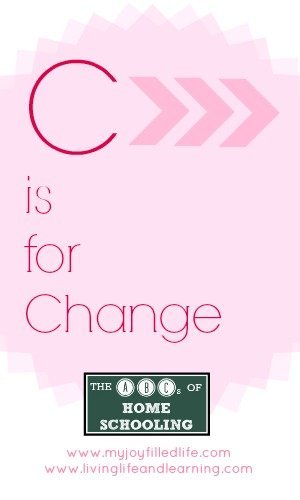 As I look over the years that we've homeschooled, you are often plagued with curriculum concerns, learning issues, possibly behavior problems that I don't think that we truly realized how much we've changed as a homeschooling mother.
From when the first moment we decided that we were going to homeschool our children, you have this image of how homeschooling is suppose to be. However, once you get started that quickly goes down the toilet and there may be a few tears, yours and/or your children. You quickly realize that homeschooling takes a lot more work than choosing the right curriculum.
You can have the best curriculum on the market, but if it doesn't suit your child, it's not going to work.
We must change for our child or children. That's right, one of the reason we start homeschooling is because it allows us the flexibility to cator our child's learning to suit them. So that they can learn, whichever method that caters to their learning style. You will not succeed if you child can't retain the information you are trying to teach.
How do they learn best? It's something you definitely have to figure out. You may even have to tweak the pricey curriculum you just purchased so that your little one will really start to learn and possibly enjoy what you are teaching.
Make those changes so that your family doesn't suffer from burnout, take a look at why you decided to homeschool in the first place and don't deviate from your purpose or goals.
We must change for our family. If you are suffering from homeschool burnout, maybe your family needs to limit outside activities. Cut down on that time you are spending outside of the home running from one extra-curricular activity to the next. Perhaps, you household chores are suffering or mealtimes are becoming too stressful. Get the family involved or start using a crockpot.
We must change for ourselves. A happy home won't exist without a happy mama. You will get tired, you will get frustrated, you will get burnout if you don't take the time for yourself. You can't do it all, sometimes you can, but sometimes it's ok for you to ask for help. Ask for a babysitter to come in twice a week, see if there's another homeschooling mother who'd like to trade babysitting
If you want your homeschool to succeed, you need to be open to change. Change is good and it will make you become a better mother, teacher, and wife. Embrace it. You've decided that homeschooling your family is your calling so enjoy it, they will never forget these years and neither will you.

Monique is a homeschooling mother of 3 and blog designer. She can be found blogging at Living Life and Learning about homeschooling, family, life and everything in between. You can also find her on Pinterest, Facebook or Twitter.