This is a post from Nicole Crone of Children are a Blessing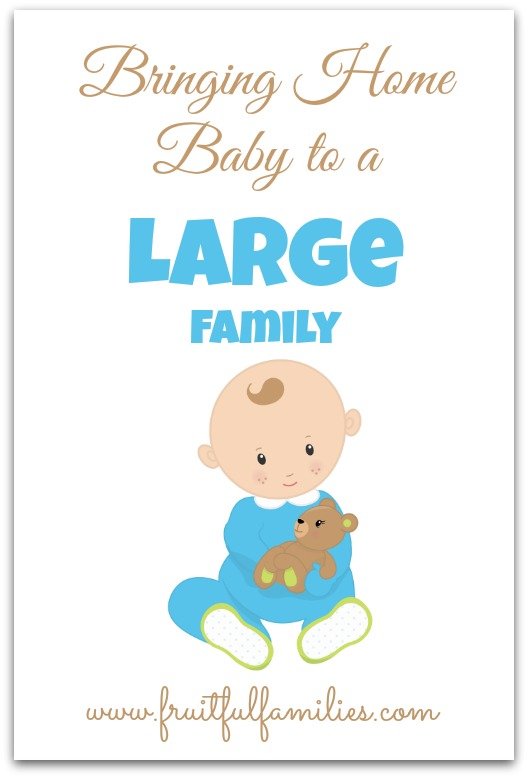 Currently, I am expecting baby #7! Lord willing, when we bring this new little girl home in September, she will be welcomed into a large (and loud) family. I have discovered that there are certain challenges that are specific to bringing a new baby into a home with a large number of children!
First off, noise level must be considered. Honestly, I was so worried about this when bringing home my last two little ones, but at the beginning I had little to worry about. My newborns have been sound sleepers! However, as they begin to grow, other siblings should be told to be considerate and mindful when the baby is sleeping. Of course, grace must be shown in this area! I also like to use a wrap to keep baby close while they are napping, which seems to help the baby to disregard noises because generally they are more content.
Another issue that might occur is a bit of jealousy (especially from the from the former youngest) when the new baby arrives. When my fifth child was born, my #4 was in a stage where she pretended to be a different animal each day. One day she walked up to my husband and I and said, "Let's pretend to be saber-tooth tigers who eat babies!" While this made us chuckle, at the same time we realized that there was a certain little girl who was craving extra attention! Be sure to carve out a bit of extra time each day to cuddle, read, and just talk to your younger children. Your older children can be a great help during this time, and make sure that you let them know how valuable they are to your family.
Finally, sometimes having a newborn can be just plain overwhelming. Pregnancy hormones have dropped dramatically and this can leave you feeling tired or worried. Newborn babies require a lot of attention, and I can clearly remember crying during a many painful nursing sessions while my other little ones needed mommy at the same time. Mommas, when this happens we must keep our eyes on Jesus! He alone is able to give us the grace to handle each and every situation that we may encounter in this life.
And He has said to me, "My grace is sufficient for you, for power is perfected in weakness." Most gladly, therefore, I will rather boast about my weaknesses, so that the power of Christ may dwell in me.
2 Corinthians 12:9 (NASB)
When we are weak, He is strong. Praise God! The Lord who ordained for this new little life to be here will also give our families the grace to make any necessary adjustments. Bringing home baby to a large family truly is a joy!