I'm always on the lookout for good, wholesome books for my kids to read. So when Vicki Watson, the author of the Sonrise Stable series, contacted me about reviewing her books, I was definitely interested.
The Sonrise Stable series is comprised of eight books. The stories within the pages of these books are about an extended homeschooling family and their love of horses, as well as their love for God.
Stories of family, friendship, horses, and a great God who works all things in our lives for good!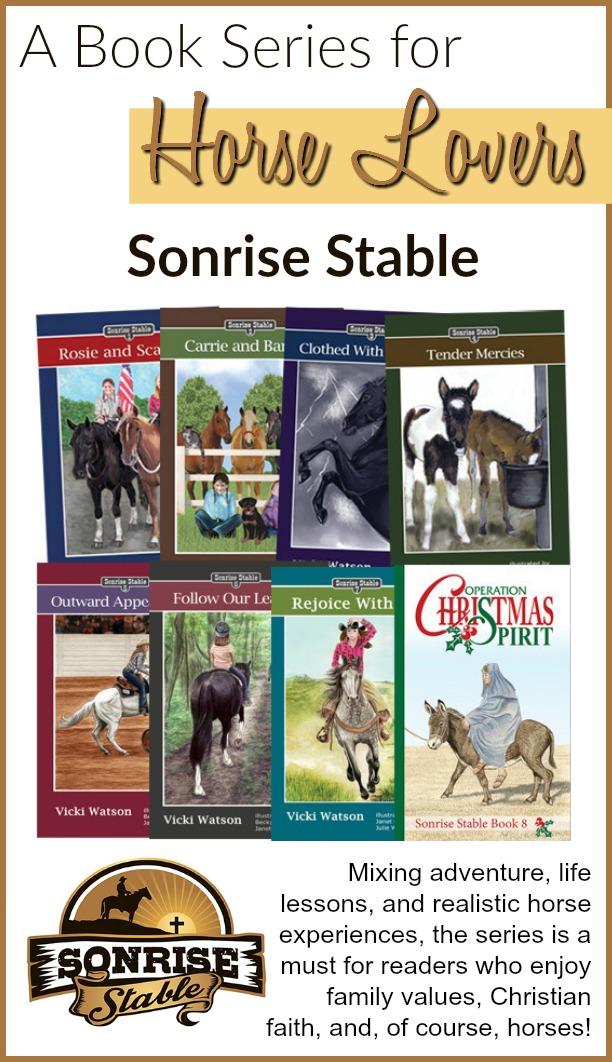 While the books in this series are fictional, many of the stories and characters in the books are based on the author's real-life experiences and people (and horses) in her life. You will find the following books in this series (along with their scriptural themes):
You can visit each books' link above to read more about each book, as well as to view a related video.
Each book begins with an introduction to the characters you will encounter in the book, which I found helpful. The books vary a little in length, ranging from 10 to 19 chapters and 111 to 165 pages, and they all have beautiful illustrations scattered throughout. The books also have a little something extra at the end of each one; it varies by book, but some of the things I've found at the end are – information about horse safety, an interview with a horse trainer and riding instructor, how horse hair jewelry is made, training tips, learning about the parts of a horse, information about Christian horse camps, and discussions questions.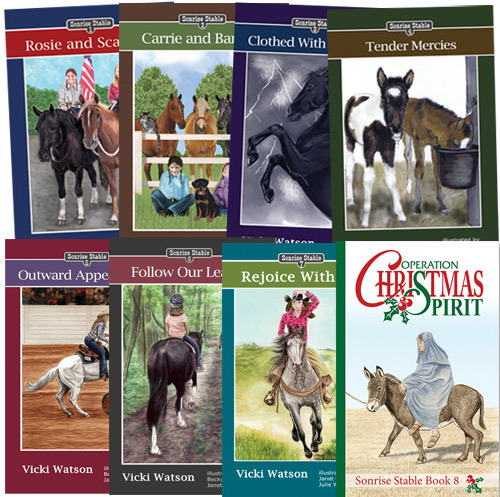 I decided to use these books for read aloud time before bed with my two oldest daughters who are 9 and 7. They both really love horses and my oldest daughters has even gone to a horse camp a couple of times and really enjoyed it. The books inspired them to get out the stable and horses they have for their dolls and played with the horses while I read aloud to them. My oldest daughter was reminded of her days at horse camp and would stop me from time to time while I read and tell me about her horse camp experiences that related to what I was reading. It was really neat to see her connecting the two and reminiscing about her time at camp.
I would read one chapter each night to them and they would always ask me to read more. I even found myself reading ahead sometimes after I had tucked the girls into bed. The stories are delightful and engaging, with relatable and lovable characters, that you just can't help wanting to read more. We just finished one book and can't wait to jump into the next one.
There is so much to love about these books!
I love that the main characters are homeschooled; it makes the characters much more relatable to my children because we homeschool too. It's not easy to find books that have homeschooled characters, so I get pretty excited whenever I find books that do.
I love that the books include a Christian message. There are scripture references throughout the books that help teach the characters, and the reader, faith-filled life lessons in a gentle and understandable way.
I love that I don't have to worry about my kids encountering topics or life situations that our family doesn't like to normalize – there is no swearing, no divorce, no alcohol or drug use, and no boyfriend/girlfriend relationships. The children are polite and respectful to their elders. These books are wholesome, fun, and warm.
I love that my kids, and I, are actually learning about horses. The books includes all aspects of horses from the terminology and different breeds, to training and caring for horses.
I love that my kids love and enjoy these books!
The Sonrise Stable series is recommended for ages 8 to 13, however it can be enjoyed by older children too, and even younger ones if used as a read aloud.
Each book is $8.95 and can be purchased through the Sonrise Stable online store or on Amazon. To see if this book series is a good fit for your family, try the first book in the series for FREE by downloading the ebook version of Book 1: Rosie and Scamper.
My goal in writing the books was to help children learn about horses and draw closer to God! ~Vicki Watson
Giveaway:
Use the Rafflecopter form below to enter for your chance to win the entire Sonrise Stable series for your family!
a Rafflecopter giveaway

Selected winner will have 48 hours to respond to my email to claim their prize or another winner will be drawn. Giveaway ends 12/7/2016 at 11:59pm EST.