Blog Planner 2016 is now available! Click here to get it!


If you used and liked the Blog Planner 2014, you'll love the Blog Planner 2015! It has all the same pages and forms you loved form 2014, plus some pretty awesome new ones.
New for 2015 –
2-page monthly calendar
Lined monthly calendar for 2 posts per day
2-page week-at-a-glance
Ideas for future posts by catergory
Project/Post planning pages
Social Media Trackers
Link-Up Tracker
Binder Spine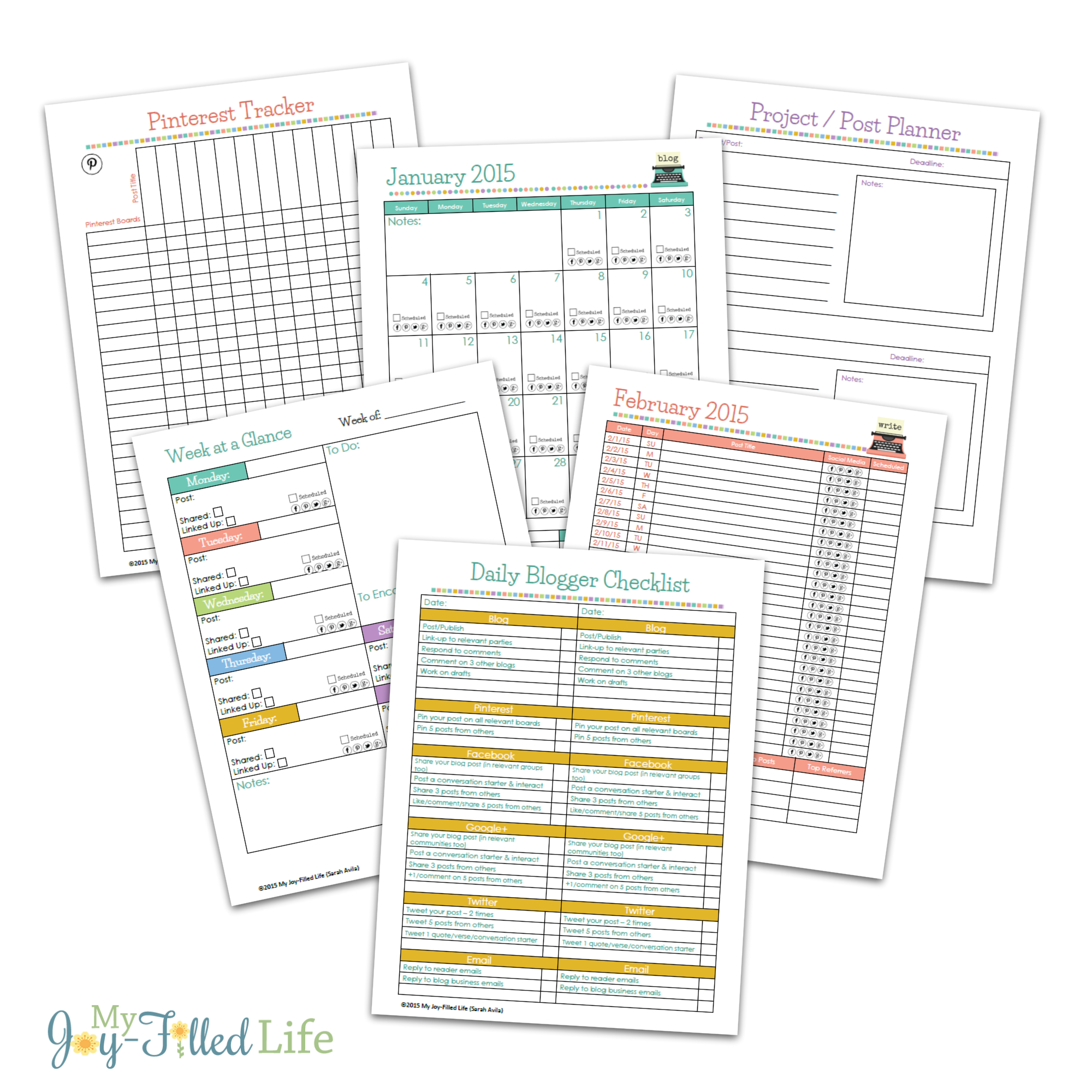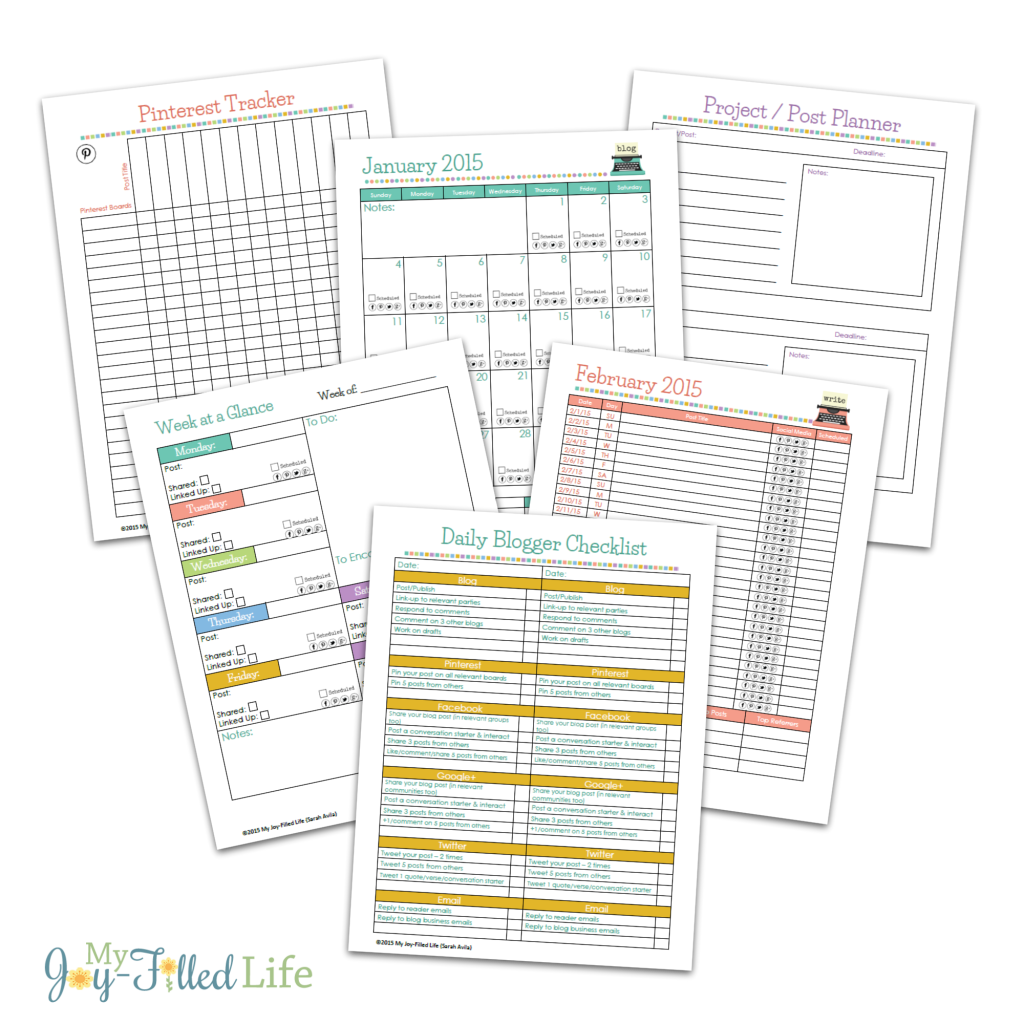 The Blog Planner 2015 contains 100 pages for you to download, pick & choose which ones will work for you, print, and then either have bound or place in a binder. This planner is sure to get you organized for a new year of blogging in 2015!
Once you complete your purchase you will get an email with the subject line, 'Thank you for your purchase from My Joy-Filled Life,' This email will contain a link to your planner. Please be aware that this link will expire after 3 days and 3 uses, so download it immediately to your computer.

Here are some pictures showing how I put my planner together. I prefer putting the planner into a 3-ring binder instead of having it bound together because I feel that the 3-ring binder offers more flexibility. By using a binder, I'm able to add pages as needed, take pages out, and rearrange them if I want.
I decided to use the 2-page monthly calendar for 2015 to keep track of all my blog posts and blog-related commitments. Last year, in the Blog Planner 2014, I only had the 1-page monthly calendar available (grid view), so I'm excited to be able to add the 2-page monthly option this year.
I also like to use the lined monthly calendar so I can actually see all of my commitments in order (from top to bottom). So when you flip the page above, you see the lined monthly calendar (2-post option), and opposite that is the to-do list & monthly goals page. Then when you turn that page, you go on to the next month.
All of the monthly calendar pages has a space to keep track of your monthly blog stats, social media stats, your most popular posts for the month, and your top referring sites for the month. There is also a separate page you can keep track of all of your monthly stats all on one page (I actually do it in both places).
Another new feature to the blog planner for 2015 is the social media tracking pages. There is a page where you can track of your social media shares all on one page, or you can choose to use a separate page for each social media outlet (Pinterest, Facebook, & Google+). There is also a form for tracking what link-up parties you've shared your posts with and is set up just like the social media trackers (if you are looking for places to link up, click here).
To use the social media trackers, you'll need to write down all of your Pinterest boards (or Facebook pages/groups or Google+ pages/communities) in the left hand column. You may need to abbreviate some of the board names to fit in the space (sorry, there is only so much room to work with). Then you write your post titles at the top of the chart. There are 13 spaces, so I figure that the average blogger would need one page per month. When you share the post, simply write in the date that you shared it.
If you share a post to the same board, group, or community more than once (some group board owners let you share multiple times as long as there is a certain amount of time between sharing the same post), just erase the last date shared and fill in the new date. That way you will always know the most recent share date (this is only a suggestion on how to use this form). I only use these forms for keeping track of what and when I share to group Pinterest boards, Facebook groups/pages, and Google+ communities because I'm more concerned about making sure I don't double-share to other people's groups/boards, than I am about sharing twice to my own.
I've included two different forms for keeping track of and brainstorming future post ideas. One is a two column page for you to simply list your ideas. The other page is similar, but it has 3 columns and a space at the top of each column to write in a category. This way you can keep track of your post ideas by category.
The Daily Blogger Checklist isn't a new form, but I'm going to try using it a little differently next year. Instead of making lots of copies of that page, I'm going to laminate it so I can use it over and over again. I suggest using a Wet-Erase marker instead of a Dry-Erase marker because they Wet-Erase ones won't smudge (you just need a little water when you wipe it clean).
I'm also planning to use this page as kind of a bookmark for my blog planner. I will insert it in front of whichever month we are in and that way it will be easy to flip to where I need to be (although I rarely close my planner; it is usually laying open on my desk).
Here is a list of all of the forms/pages that you will find in the Blog Planner 2015:
Year-at-a-glance
1-page monthly calendar
2-page monthly calendar
Monthly calendar – lined
Monthly calendar – lined (2 posts per day)
Monthly to-do/monthly goals list
1-page week-at-a-glance
2-page week-at-a-glance
Ideas for future posts
Ideas for future posts by category
Project/post planner
Yearly stats
Social media tracker (all on one page)
Pinterest tracker
Facebook tracker
Google+ tracker
Link-Up tracker
Affiliate info tracker
Reviews & Giveaways tracker
Guest/contributor posts (incoming & outgoing)
Blog post checklist
Daily blogger checklist
Review checklist
Giveaway checklist
Advertisers/Sponsors tracker
Expenses/Earnings page
Long term goals
Notes page
Binder spine
*The ones in bold are new additions to the blog planner.
So there you have it – all of the pages that are included in the Blog Planner 2015. There are plenty for you to pick and choose from to make a blog planner that meets your needs.
What others are saying –
I have been using the blog planner from My Joy-Filled Life for over a year now. I just got her new 2015 blog planner and I LOVE it! Since Sarah is such a successful blogger herself, she knows what other bloggers need to stay organized and on top of their blogs. She has thought of everything! From tracking our social media information monthly, to article planning and brainstorming, to the Week at a Glance with daily reminders for linkups and sharing via social media. But the checklists are my favorite aspect of her planner. She has thought of everything! I also love that I can customize my planner to fit how I work. This planner is perfect for beginner bloggers as well as offering nice reminders for more seasoned bloggers! I highly recommend you try this planner and see if you don't agree!
Trish @ Live and Learn Farm & Co-owner of Hip Homeschool Moms
So far, the best blog planner I've found was created by Sarah Avila at My Joy Filled Life.If you are a blogger and don't already have a planner in place, you will greatly benefit from Sarah's planner. It includes all the things you need to do to promote your blog via social media, as well as charts to help track and plan for reviews and giveaways. It is what I am using in the new year to stay focused on my goals and keep my blog humming. I recommend Sarah's Blog Planner. It's $4.99 but worth every penny.
Monica @ Happy & Blessed Home
I love all kinds of planners, but when I need to focus and manage my blog, social media, affiliate programs, ideas for products and giveaways, etc., I use Sarah Avila's Blog Planner. If you are a serious blogger in need of help brainstorming and organizing your blog for 2015, then you are in for a treat!
Jasmine @ Learning with Mom
Read the reviews at –
Just a reminder – This is NOT a physical item! You will NOT receive anything in the mail. This is an item that you download and print out yourself.
Once you complete your purchase you will get an email with the subject line, 'Thank you for your purchase from My Joy-Filled Life,' This email will contain a link to your planner. Please be aware that this link will expire after 30 days and 6 uses. If you get an error when clicking the download link, keep trying as the site as been acting up today.

If you are interested in becoming an affiliate, click here.