The definition of a large family is different for everyone. For some that might be 3 children and for others 12. With number 6 on the way, I feel like we are going into the big league of family sizes. Though raising a large family is not without it's challenges the benefits of having a large family are innumerable!
I love shocking people when I am out alone and they ask me if my growing abdomen is going to be my first child. The look on their faces is priceless when I tell them it's my 6th! They always ask me how I do it. I sure don't do it perfectly. Just because you have a large family doesn't mean you are super mom it just means you have different priorities and have learned to adjust with each new baby.
It's so funny to me how when you have a big family people(strangers) think they need to know what your family's intimate plans are.
"So are you done now?"
"Are you just trusting the Lord?" As if we are not if we only had 2 kids!?
"How many more are you going to have?"
"How do you feed them all?"
"How do you afford it?"
"You only have 2 bedrooms?"
"And you homeschool too?"
The truth is that though my husband and I hoped for a big family we had no idea what the Lord had in store for us. We have taken it one child at a time and have been so blessed with each one, even if it might have not been our exact plans. God is ultimately in control and we have been so glad each time he has changed our plans and blessed us beyond what we deserve or could have hoped for.
Though there are many challenges to raising a large family, the benefits far outweigh the difficulties. Unfortunately in our day and age when people see a large family, they just see $ signs. Yes, having a large family does cost a lot but God has always provided for all of our needs. Though we might not have many of the things the world thinks we should; we are so rich in the things that truly matter!
It's so sad that our culture often views children only as a burden instead of a blessing. But if you believe God's word you will see that children truly are such a blessing and you get far more than you give when you choose to embrace them as Jesus did.
"Let the little children come to me and do not hinder them, for to such belongs the kingdom of heaven." Matthew 19:14 ESV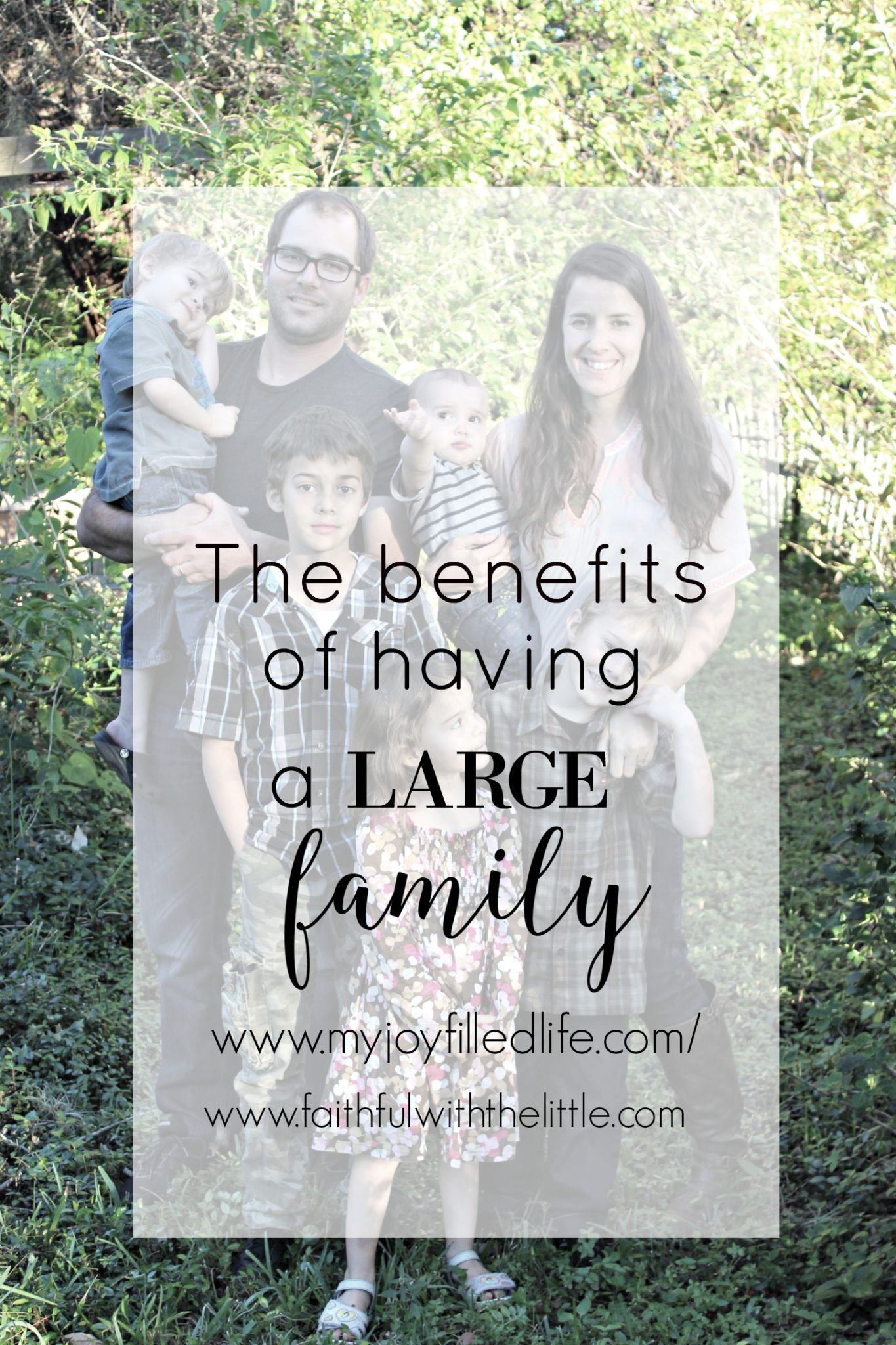 1. Your heart grows every time you have a child
When you have your first child it's hard to imagine loving your next child as much but it's so amazing how God enlarges your heart. You don't love your next child any less, God just makes more room in your heart to give and recieve love. I have been especially amazed at how much my children adore their new siblings. Though each child is different and they do get jealous at times our children have always obsessed over each new baby. They have always been so excited each time we have announced the news to them that we were expecting another baby. In fact they often give the new sibling more attention than they want sometimes and I have to guard the baby from them.
2. Things that once seemed so hard become easier
I remember asking a friend when I had my second child on the way if it was really hard having 2 children. I don't remember exactly what she said but I just remember wondering, how I was going to handle two when one was already really hard?? Now when I am home with only 2 or 3 of them it's seems like a piece of cake!
I can honestly say my first child was the hardest. It's culture shock all of a sudden having a little person depend on you for everything. Not to mention not being used to being sleep deprived and having to be at their beck and call when you were used to doing everything when and how you wanted.
Everything about having my second son was so much easier. My pregnancy, labor, recovery, and taking care of two children now. Each pregnancy, birth and the addition of a new baby has had it's different challenges, but has also gotten easier as I have known more what to expect and become more comfortable in trusting my God given motherly instincts.
With each new child I have also learned so much. As you get accustomed to having babies you learn how to read their signals and don't feel so helpless anymore as you did when you had no idea what they were crying about. Your children are the best teachers for being good parents!
3. There is always someone to play/fight with
Yes, my children fight a lot with each other but they also play a lot too. I love when I find them all huddled together in their room over a book or playing some made up game. They get on each other's and my nerves a lot but they also are each other's best friends. Not only do they have to learn how to share and work through situations with each other but they have so many opportunities to learn what it really means to love their neighbor/brother as themselves. Though they love having mommy and daddy play with them or their friends, they never lack someone to play hide and seek, freeze tag, go fish, checkers or pretend play with. And yes, in answer to so many questions; we do have our own baseball team;)
4. The more children you have the more independent they will become
When you have so many people depending on you there are certain things that you just can't do individually for them. Your children have to adapt and you have to delegate to survive. Multiple children have to start learning to dress, feed, and clean up after themselves at a much earlier age than most. It's not that you are neglecting their needs it's just that you have to prioritize how you care for them. And in turn you will find you stress out a lot less about minor things like stains on clothes, whether their clothes match and even if they are wearing clothes. Ha!
5. The older ones help the younger ones
Since we homeschool and are therefore home a lot, my children have a lot of responsibilities helping with chores and the younger ones with school work. My heart has swelled with pride as I have watched my firstborn make pancakes for everyone, wash the dishes and read to his younger siblings etc…etc…
It's also so nice when we are out and about to have extra pair of eyes and hands. I actually like taking my older boys( 11 and 9) with me grocery shopping as they are a big help. They also help keep an eye on the little kids.
6. You become a little more relaxed as a parent
Every person is wired differently of course but I have found that things that once used to freak me out really don't any more. Yes, I do often freak out about stupid things, like spilled milk, dirt tramped through the house and never ending messes and bottomless tummies but for the most part I feel like I have gotten better at not letting those little things get to me as they used to.
7. You have to become more organized and prioritize your time
As you can imagine my days go by really fast. If I am not careful with my time the day can get away from me with nothing to show for it. I am not naturally a very organized person but I have been forced to become one. I am still a work in progress but having more to do has actually made me more efficient with my time and energies. I have learned to say no a lot more and focus on those things that really matter to my family and I. I realized especially after my 3rd child that I couldn't do things as I used to. Things had to change if I wanted to thrive as a mother and homemaker. By God's grace I started getting up earlier and making time for myself and my husband and I became more intentional about date nights.
8. You cherish each new baby as you realize how fast times go even more
Everyone says it but it's not cliche. Time really does go by so fast especially the busier you are. With my first son I couldn't wait for him to get older, start communicating and playing with me. Now I cherish the baby stage so much. I absolutely love everything about it; maybe not so much the sleepless nights but I savor every precious second soaking up their newborn smell and soft skin. I know not everyone loves the baby stage but I just can't get enough of it. I have learned with each one to slow down, hold that baby as much as I can and delight in it!
9. There are more people to take care of you when you get old
I know this might sound selfish to some but it's really the opposite. As my mother(who is a widow) is getting older it's been up to me and my siblings to care for her needs. We are all she has. Since both my brother and sister live away from her, I and my husband are the ones who mainly help her if she needs anything. Even though I am the closest to her it's so helpful to have my brother and sister help her out from time to time and to confer with them about difficult situations. I can't imagine if all the burden was on me. The more children you have. the more the responsibility will be dispersed among them for caring for you as you age. Caring for our aging parents can be a huge burden but it can be made lighter by having more siblings to share the burden with. No one likes to think about it, but we are all aging. I am hoping that when the time comes my husband and I will be taken care of by our children. I believe that God intended for the family to care for and be a blessing to each other. Granted this is not our purpose in having a large family but one of the future benefits. However, we understand that aging may come with diseases that could make it more difficult for our kids to deal with so we are also preparing ourselves for the possibility of moving to a healthy senior living community like Chelsea at Brookhaven residences or The Chelsea at Warren independent living community. Those who are taking care of elderly relatives with diseases may choose to find respite care for seniors or senior living plans if they feel overwhelmed by the responsibility. If you feel like they can get better care at a senior living community, you may visit sites like www.vistasimivalley.com/memory-care/ and www.welbrookmemorycare.com/memory-care/ or check out this independent living community before you make a decision. And with the help of digital health care solutions, doctors and medical professionals in senior care homes and other medical facilities can monitor their patients consistently.
10. Large families are a blessing to others
I remember when I was young and having friends that had a big family.(12 kids) I always loved going over there because there was always something going on and someone to play with. It was so much fun! Though I am blessed with a brother and sister I longed to have a large family like that when I grew up. When my Dad died when I was 14 we were so blessed to have them include us in their celebrations and gatherings. I got my wish of having a big family when I married my husband. He comes from a family of 8 children! Now not only am I included in all the family celebrations but they also include my mother. They have truly been such a huge blessing to my little side of the family.
Family get togethers are so much more fun with a large family. When all my husband's family gets together it's a blast. My kids have over 20 cousins that are their best friends. It's one of the biggest blessings of my life to see them playing and having such a great childhood with their cousins. Christmas, holidays and birthdays are so special with all the family gathered together!
As you can see I could go on and on about the benefits of having a large family. I don't know why some that long for one are not given one and that sometimes those that didn't want a large family have one, but I do know that children truly are a blessing from the Lord and should be desired not despised. Whether you have 1 or 10 does not diminish their uniqueness and the gifts that they are. Each one is so valued and is put here on earth for a specific purpose and plan by God.
God has called us to raise up a generation that seeks his face and is a testimony to him. It's selfish to think that they will keep us from living the life we want. I admit I have been very selfish with my life at times, thinking that I know better than God and that I couldn't handle what he has given me. The truth is though that children make us more like Jesus and less like ourselves. Though at times it seems like they are sucking the life out of us, they more than add to it.
The benefits of having a large family far outweigh any cons and are truly multiplied with each new child that God has added to our family!
"Behold children are a heritage from the Lord, the fruit of the womb a reward. Like arrows in the hand of the warrior are the children of one's youth. Blessed is the man who fills his quiver with them!He shall not be put to shame when he speaks with his enemies in the gates." Psalm 127:3-5 ESV
Save
The following two tabs change content below.
Rebekah is living out her dreams as wife to her best friend and homeschooling mama to 5 crazy, beautiful little ones. She loves to encourage and empathize with other women and moms as she shares her heart, faith, joy and struggles on her blog
faithful with the little
. In the midst of meeting all the needs for her ever needy family you can find her running, thrifting, crafting, taking pictures, baking, writing and finding ways to be efficient and organized in her 2 bedroom home. Most of all she loves snuggling with her children and watching them play, create and learn. She lives in sunny Florida on a little farm in the city consisting of children, chickens, bees, gardens and lizards.