You and your children will find learning to read easy and fun with the "Daddy, I Want to Read" books. They are beginning reading books recommended for new readers ages five to seven. These delightfully illustrated books begin with a child who does not know any letters, and take the child to "beyond fourth grade" reading level by public school standards, in about one year.
The five books have colorful covers, with black and white illustrations of the same style inside. The titles of the books are:
I Am Happy
We Went to Church
Let's Read About Colors
I Like My Family
Ready to Read and Laugh
An instruction book explains in detail how to use the reading books and how to teach a child to read.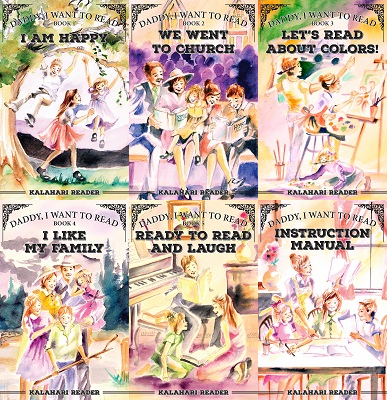 The books are written by a Christian missionary and father, when the family was living in a tent in the Kalahari Desert of Africa. The family's eldest daughter came to her father and announced, "Daddy, I want to read, too." Having no other beginning reading materials available, her father wrote the books himself, which were in turn used to teach all five of the children in the family to read. These books have been used by both American and British families.
The stories are fun and entertaining, leaving children giggling and eager to read more! For example:
I Hurt My Toe

Andrew and Kenneth were near the river.

Kenneth said, "Here is a pretty, blue sea shell."

"Yes," said Andrew. "And there is – Aaah!" yelled Andrew.

"What is an 'Aaah'?" said Kenneth to Andrew.

"I hit my toe with my stick," said Andrew, "and it hurts!"

"You need boots so you do not hurt your toes with your stick," said Kenneth.

"No," said Andrew, "I just need a softer stick!"
Another story in the books tells about going to church in Africa, from a child's perspective. Children learn by reading Christian vocabulary, the names of colors, numbers, family relationships, and many, many more common topics.
The books are very Christian. They are also very family focused, and tend to be more rural in the things that are talked about. Animals and outdoor settings are frequently read about. The covers are child tested and extremely difficult to damage.
The content of the "Daddy, I Want to Read" books has an international flavor. Words and phrases from different English speaking countries are used. This is a bit different for those who are accustomed to Christian school and home school books being primarily American in their use of the English language.
The "Daddy, I Want to Read" series comes in three versions – one for Americans, one for Canadians, and one for UK and Commonwealth nations. The wording for the three versions is almost identical. The differences are in the spellings, the way pronunciations are introduced, and sometimes in words themselves to accommodate the different ways words are pronounced around the English speaking world. Another difference is "Mom" and "Mum," depending on the version, as the name of the mother of the family.
The books teach using the two color Kalahari reading system. These Kalahari readers are phonics based, with sight words to help children start reading sentences from the very beginning. The reading lessons introduce sounds and words in a logical, stepwise approach which makes it easy for children to learn. Lessons incorporate continual review, so that the child does not forget what has already been learned.
The "Daddy, I Want to Read" Kalahari readers are for home school and for Christian school. An independent review of the books is available from Cathy Duffy Reviews. Read more about the books on the Vanguard Education website, or order the five books and instruction manual by clicking here. Enter JOY for a 10% discount.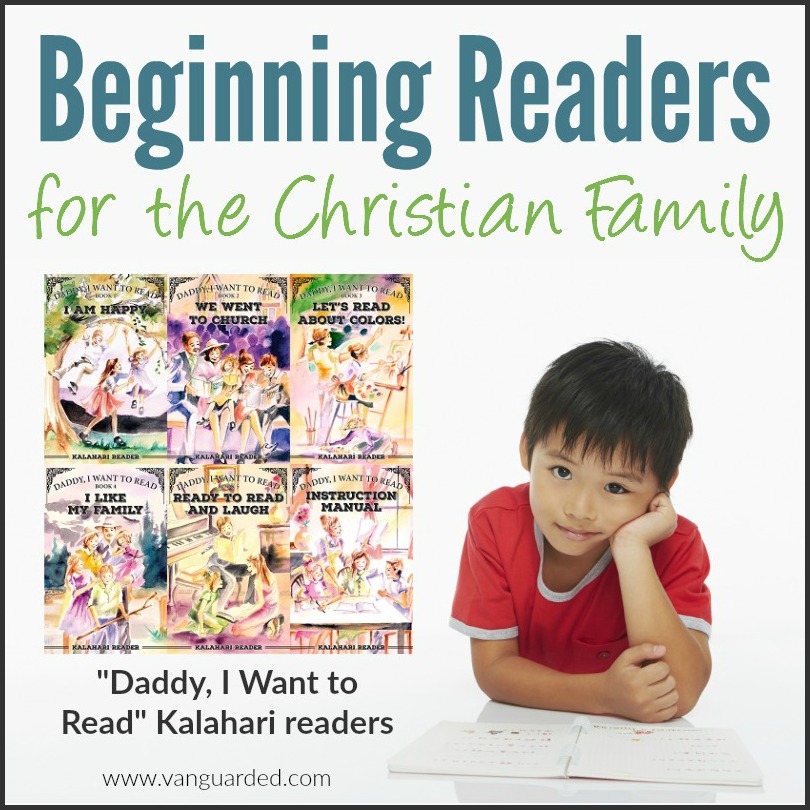 *Thank you to Vanguard Education for sponsoring this post.