When it's time to wind down summer vacation and kick off the new school year, it can be fun to mark the occasion with a fun back-to-school tradition. Celebrating the start of school as something to look forward to will help build a sense of excitement around it, instead of bringing the sense of dread and disappointment many kids experience when summer comes to an end. If you are looking for a new back-to-school tradition to start in your home, here are several back-to-school traditions for homeschool families to consider: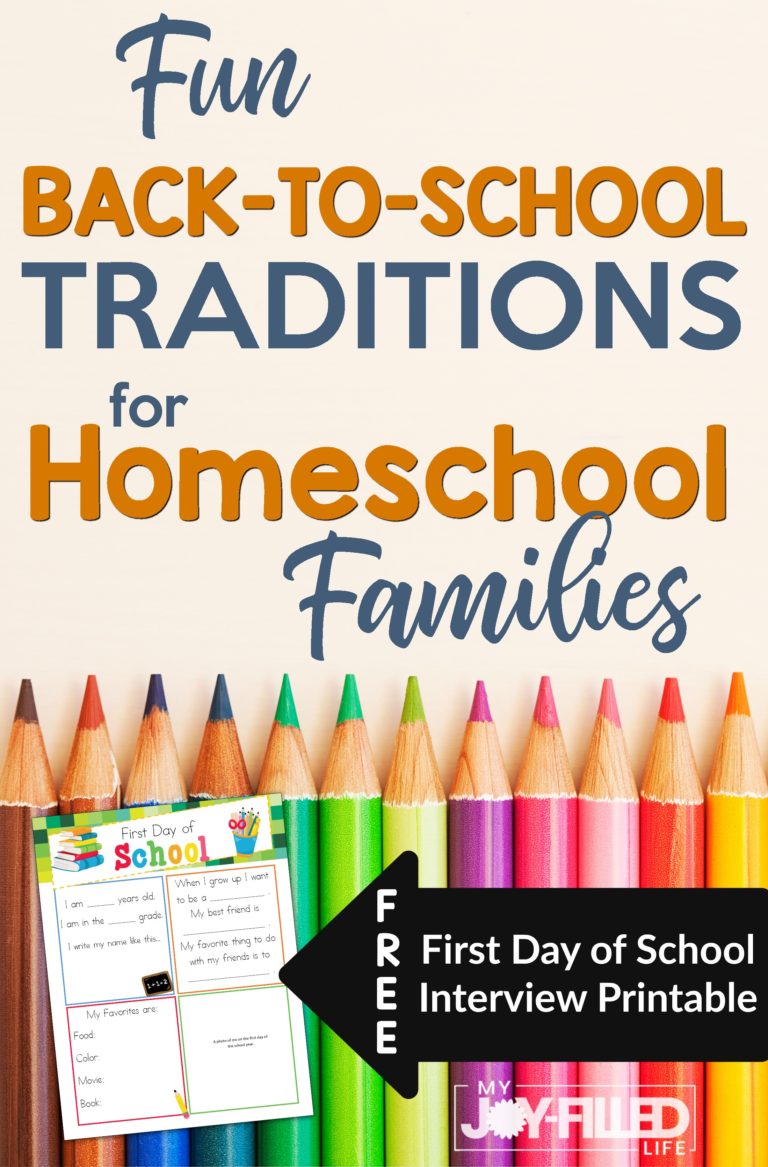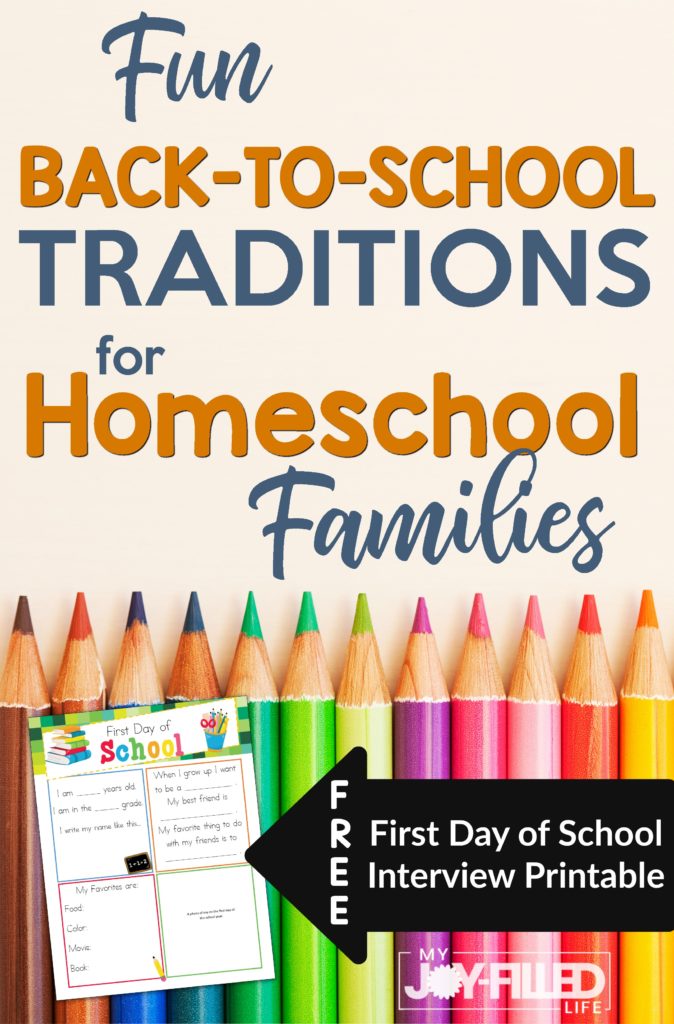 Whip up an extra special breakfast or treat

There's no better way to start the day than with a delicious, home-cooked breakfast. Kick it up a notch by scrapping your usual breakfast menu and cooking something extra-delightful on the first day of school. Cinnamon rolls, homemade donuts, chocolate chip pancakes or another sweet treat can make a day that kids sometimes dread start off a little brighter. Or make a special treat for later in the day; give them something to look forward to (or better yet, make them together), like back-to-school cupcakes.
Snap a photo
Since your little one isn't heading off to hop on the school bus, the traditional backpack-over-the-shoulder shot might not make so much sense, but it's still a good idea to commemorate the start of the new year with a portrait. Let your child get dressed in their favorite back-to-school outfit and have them strike a pose wherever they'd like!
Conduct a back-to-school interview
Come up with a set of questions to ask at the start of each school year and watch as your child's answers change as they grow and mature. You can take an old-school approach and write everything down, or go high-tech and capture the interview on camera with your smartphone or another device. Need something in a jiffy? Click the link below for a FREE printable first day of school interview.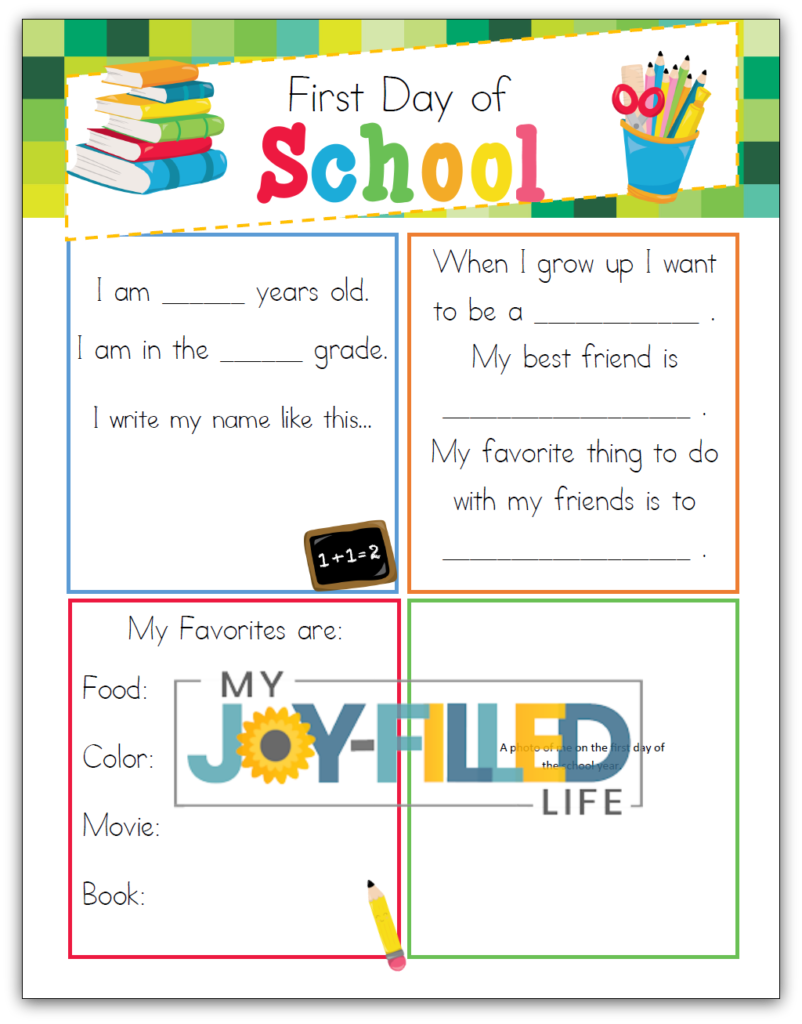 Kick things off with a field trip
One of the best things about homeschooling is the freedom to learn wherever you'd like! You can keep things close to home with a field trip to a nearby museum, farm or other local attraction, or plan a family vacation that doubles as a learning opportunity. As traditional schools resume, crowds die down in big cities, national parks, and other popular tourist destinations, making it the perfect time to visit.
Throw a back-to-homeschool BBQ
If you're friends with a few other homeschooling families, plan a get-together to kick off the new year with a back-to-school BBQ! Although you may not all start classes on the same date, celebrate the spirit of the season and pick a weekend that works for everyone to fire up the grill and let the kids play.
Create a homeschool vision board
Setting goals at the start of the year is always a smart idea. Designing a vision board can be a fun way to let your homeschooler creatively capture their goals and ambitions on paper. Collect magazines over the course of the summer so your little ones have plenty of images to choose from for inspiration!
There are dozens of different ways you can commemorate the start of the new school year – these are only a few suggestions. Does your family have any back-to-homeschool traditions to look forward to? Leave a comment and let me know!
---
GIVEAWAY TIME!
Another (home) school year is upon us!
Some of you may have already started your year, or some of you might school all year long, or some of you might be making those final curriculum decisions before your new year starts. Whatever boat you are in, I'm sure you could use a little extra money for homeschool curriculum or resources. Am I right?
I've gotten together with some fellow homeschool bloggers and we are pooling our money together to bless two homeschool families with a gift card to spend on their homeschools. How does $250 sound in helping you buy curriculum, books, games, puzzles, or whatever educational supplies you might need? Two people will win a $250 gift card to Timberdoodle!!

We know homeschooling can put financial strain on families – whether it's from living on one-income or buying curriculum for multiple children – the financial aspect of it can be stressful. Our hope is that we can bless a couple of homeschool families (although we wish we could bless many more) so they can buy the curriculum and supplies they need.
To enter for your chance to win, simply use the Rafflecopter form below to enter. Now I know that is quite a few entries for you, but each of these bloggers generously chipped in their own money to bring you this giveaway, so I hope you will take the time to do all of the entries. And hey, the more entries you do, the better your odds are of winning!
Giveaway ends Aug. 15, 2018 at 11:59pm ET. Must be at least 18 years of age. Must be a resident of U.S. or Canada to enter. Selected winners will have 48 hours to respond to email notification to claim their prizes or another winner will be drawn. By entering this giveaway, you agree to be added to the email lists of the participating bloggers. Please be sure to read the Terms & Conditions upon entering the giveaway.
a Rafflecopter giveaway