Art is one of those subjects that I have trouble teaching, and for multiple reasons…..
I'm not good at it
Art is messy and I don't like messes
Our other subjects take precedent
Regardless of my reasons for not teaching art, I know it's an important and fun subject for the kids to learn, even if it's not on a regular basis. When we do manage to fit it in and I set my own issues of inadequacy aside, it ends up being quite enjoyable and fun for all. And I'm always so glad we made the time to do it.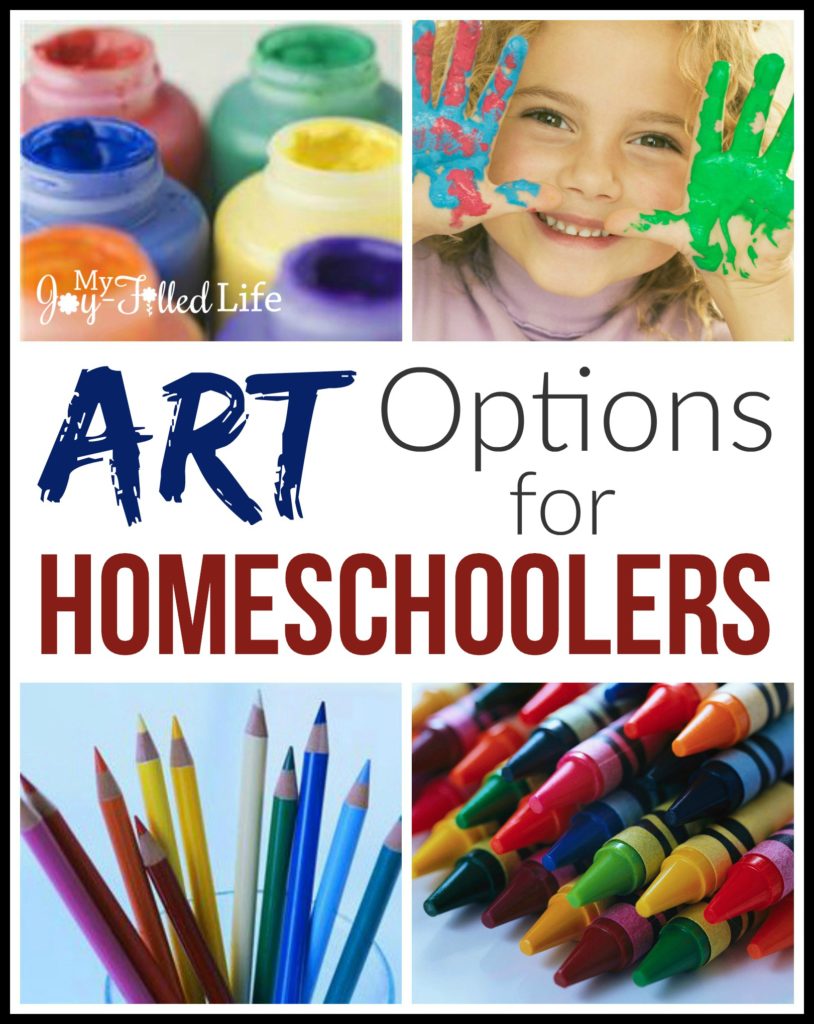 Here is a list of some art options for homeschoolers –

Our favorite art curriculum to date is See the Light. See the Light is an art curriculum company that brings their love of the Lord, their love of children, and their love of art all together to teach a wide variety of artistic techniques. See the Light is a Bible-based DVD series, that is offered in 3 different sets (you can also buy each DVD individually) – Art Class, Art Projects, and Bible Stories. I recently wrote a review on Paper Jungle DVD from the Art Projects set.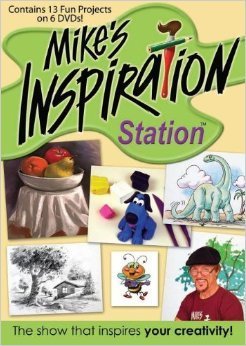 From Amazon –
Let your child's inner artist shine with this exciting new series of instructional DVDs created just for kids! Featuring 13 projects spread across six volumes, Mike's Inspiration Station: Six DVD Boxed Set will draw out the budding artist in every child with fun and nicely-paced lessons in traditional mediums like drawing, painting, and sculpting, plus unique activities like making clothespin puppets and fridge art. Geared toward ages 8-12, the series encourage kids to craft right along with host Michael Cariglio and his biblical buddy, Brooker T Bible, a talking, animated Bible who offers creative inspiration with Scripture references. Volumes 7-12 also available.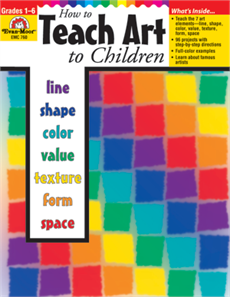 This resource is geared toward grades 1-6 and has a total of 96 art projects with step-by-step directions. Your student will learn the elements of art and use the elements in the styles of famous artists. It includes a list of literature references, fine art examples, a complete list of materials, and reproducible patterns.
Art Adventures at Home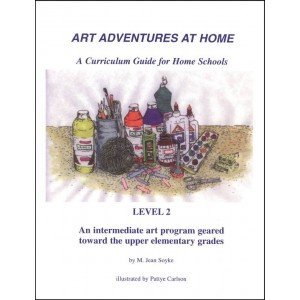 It was kind of hard for me to find this curriculum online for this post. I'm pretty sure when I bought it, I had to buy a used copy. Well, I was able to find all 3 levels online, except they are all on 3 different websites.
This is a complete art curriculum for students in grades K-12. Level 1 is the foundational level for grades K-2 or beginners. Level 2 is the intermediate level for grades 3-5, and Level 3 is the advanced level and can be used from grades 6 and up. Each level contains over 100 step-by-step lessons. The lessons present the basic elements of art in five different units. Art history is also integrated into the curriculum.
Here are the links to the 3 levels – Level 1, Level 2, Level 3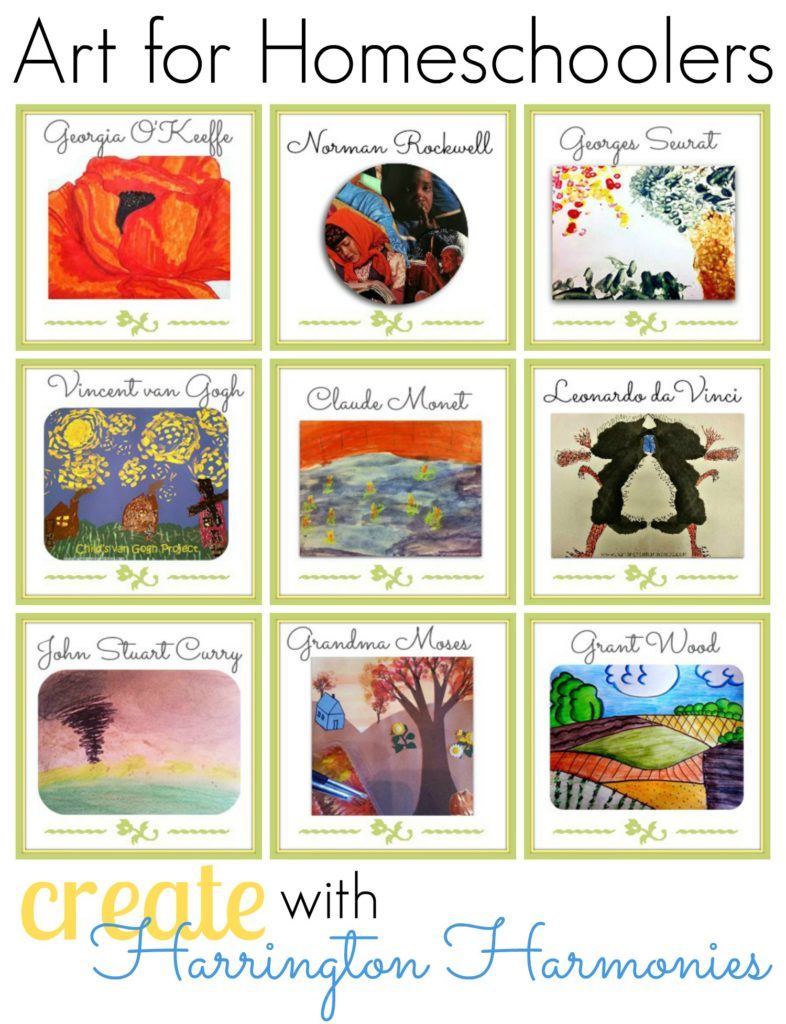 My friend Stephanie at Harrington Harmonies has made FREE art lesson plans by artist. You can find a post that contains an art lesson revoloving around each of the artists above on Stephanie's site.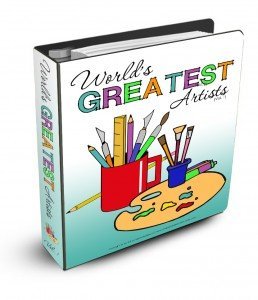 By using this FREE curriculum you and your students will learn about 8 of the world's greatest artist. You will learn about each of the artist's style, method, and works of art. Each artist study includes lesson plans, lapbook printables, notebooking page, art puzzles, and artist flashcards. There is also a second volume available for a reasonable price.

From the ARTistic Pursuits website –
ARTistic Pursuits is a unique homeschool art program designed to involve children in the creative process while developing skills of observation. The text seamlessly integrates all components of a fine art education by engaging students in building a visual vocabulary and using critical thinking skills as they explore creativity, art history, art appreciation, and art techniques using real art materials and tools. Students love the inviting, full-color art lessons that teach both expressive and technical aspects of art while allowing them to make choices about what and how they will draw, paint, and sculpt.
Art instruction for preschool through high school.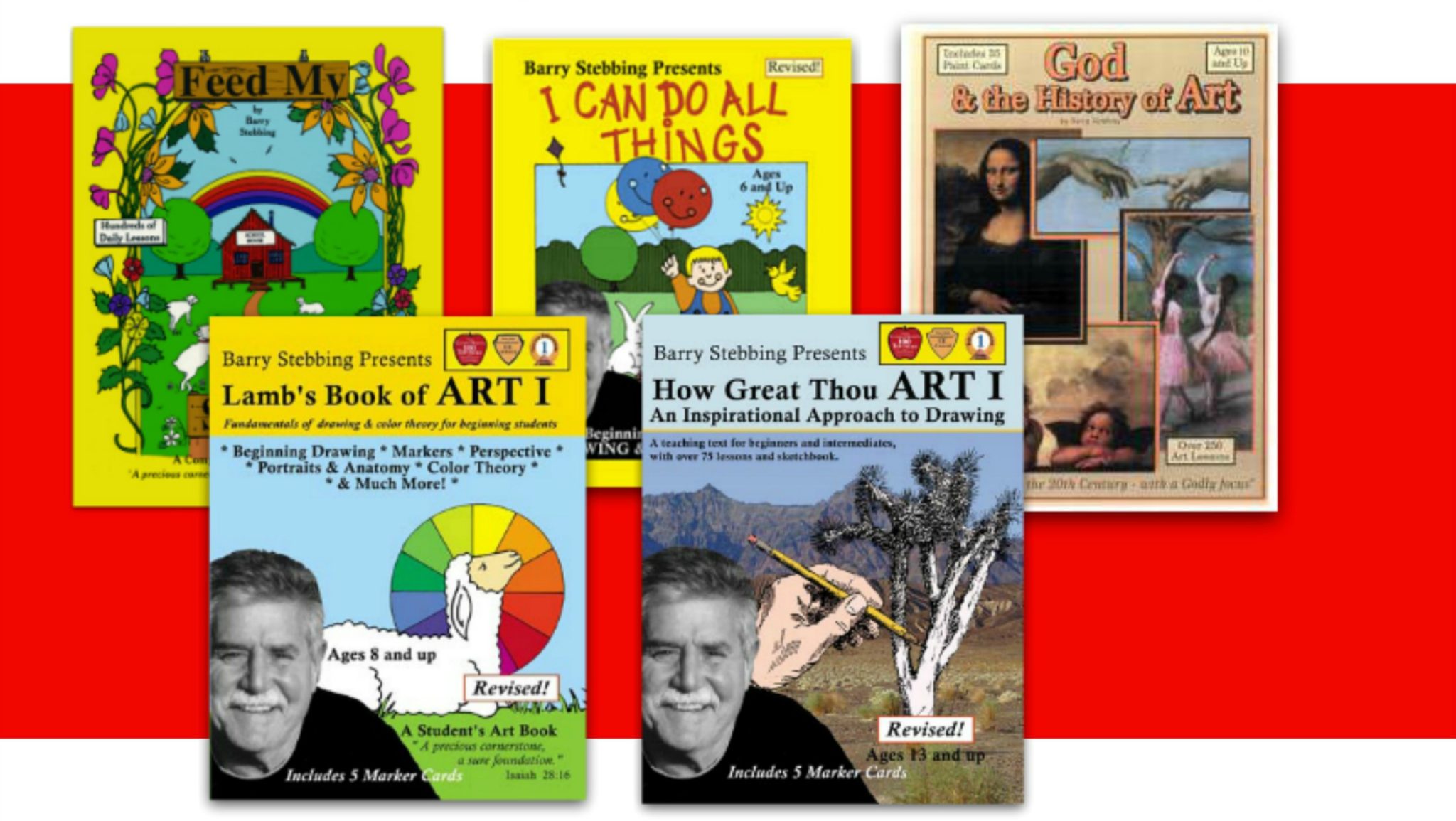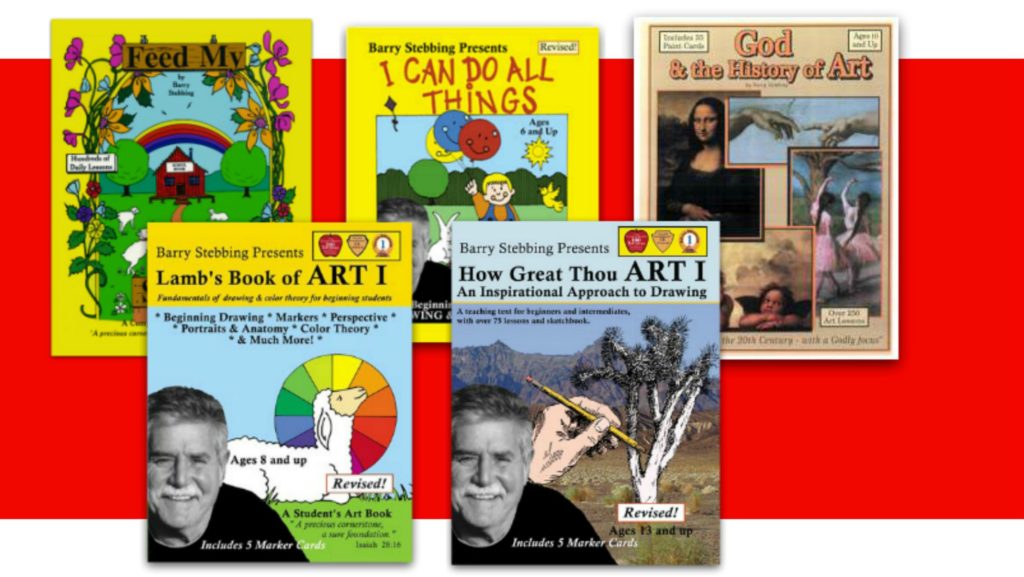 From the How Great Thou Art website –
Barry Stebbing's award-winning homeschool art curriculum makes learning to draw and paint fun and easy.
With well known titles such as I Can Do All Things, God & the History of Art and Feed My Sheep, you and your students will enjoy learning a vast array of topics including the fundamentals of drawing & painting, art history, journaling and much more. Our curriculum is time and family tested and your satisfaction is guaranteed.
How Great Thou Art is a classical approach to art with resources for ages 3 – 12+.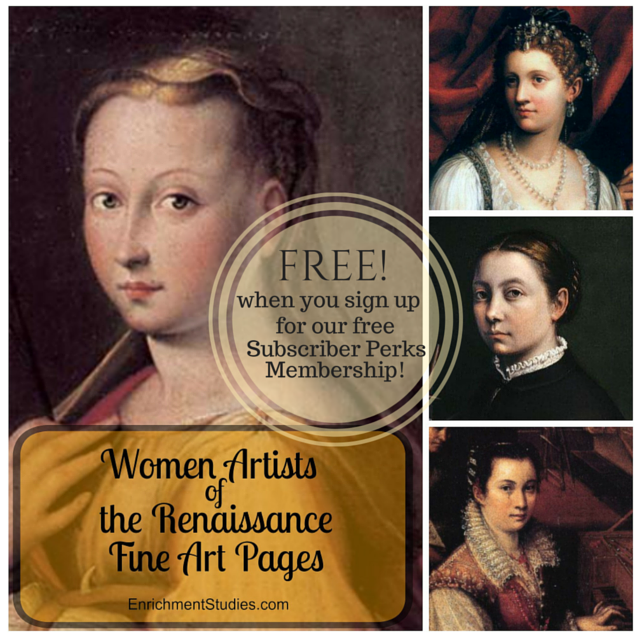 From the Enrichment Studies website –
Our Composer Study, Artist Study, Presidents, Poets, Inventors, and Scientist collections feature carefully curated content that is organized for ease of use and high-quality educational content for homeschool families. Pre-screened video content makes learning easy for your pre-readers, dyslexic students, or those who thrive on visual learning. Each resource collection includes a wide variety of educational materials for students in K-12, including biographical information, worksheets, coloring pages, quizzes, videos, and much more!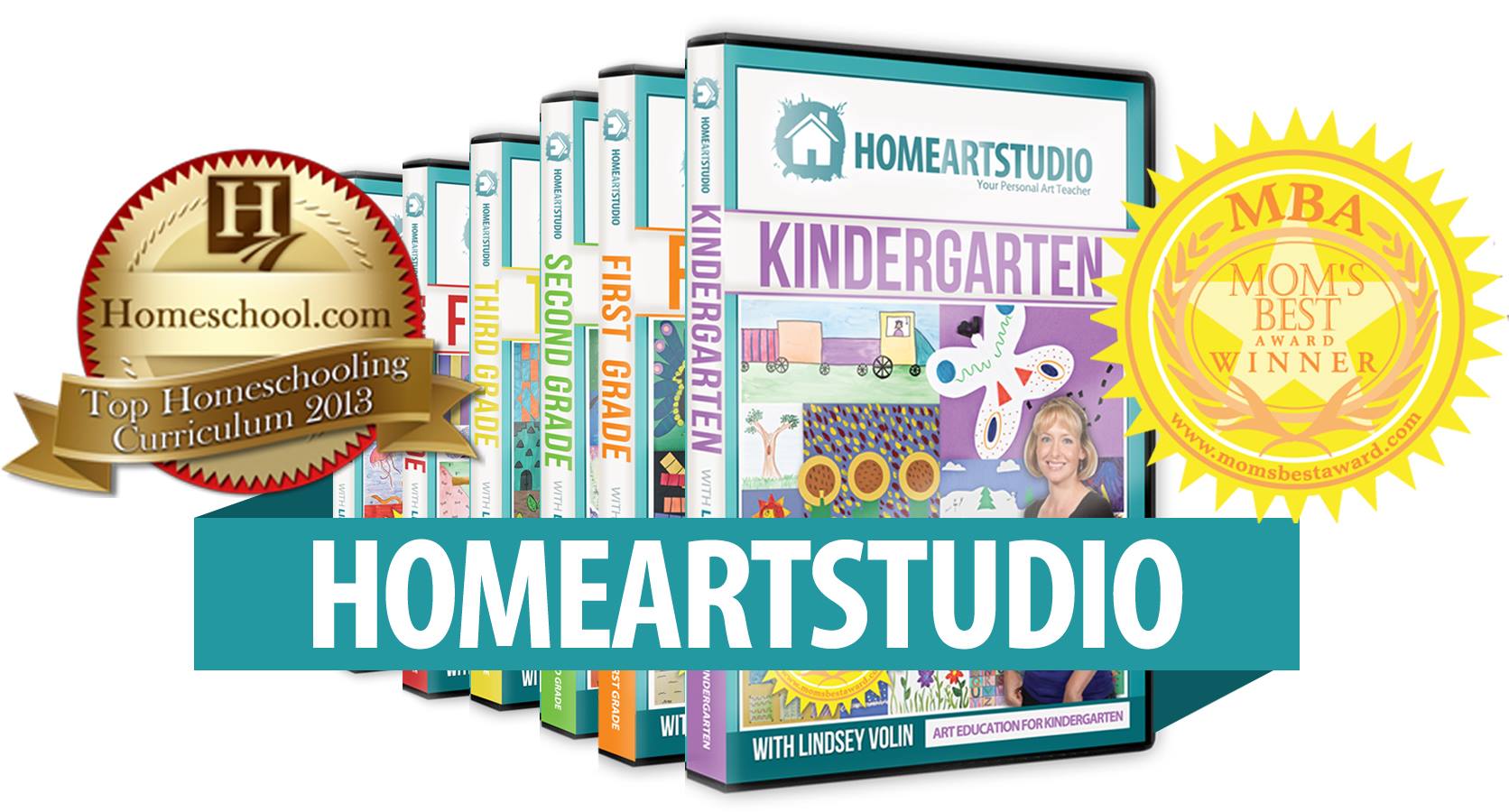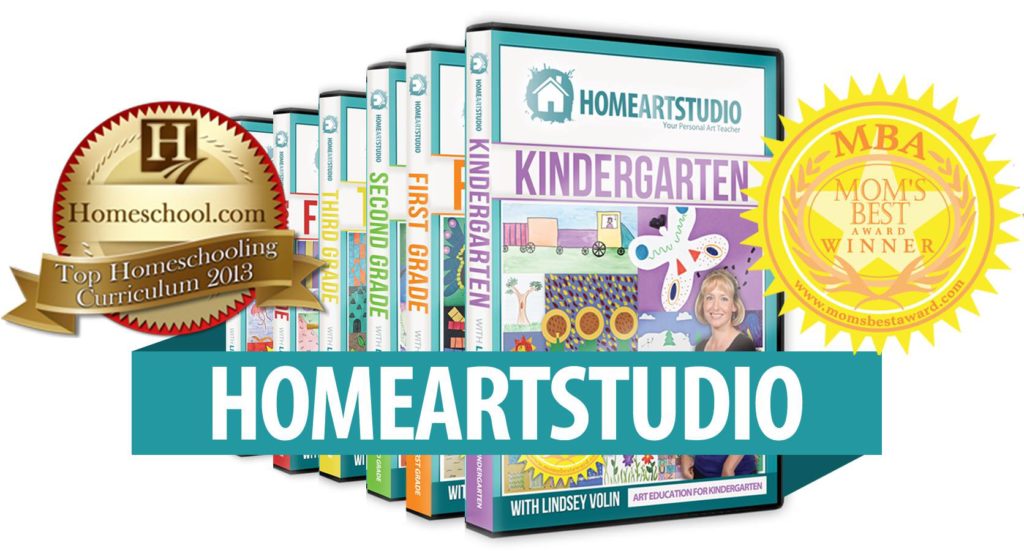 The Home Art Studio program will enhance a child's ability to problem-solve, think creatively, and truly see the world around them. The art projects students will complete are designed to illustrate the elements and principles of art in an age-appropriate way.
Students will work at different paces. Please let them go at their own speed to express themselves, while also taking the time to make sure they absorb the concepts being taught in the lesson. Most importantly, keep "art time" pressure-free and encourage your student to think outside the canvas; students are most creative when they're having fun!
The Home Art Studio program contains 6 levels – Kindergarten – 5th grade. Be sure to check out the free lesson section of their website; there is a free lesson for each level!
Are you a homeschooler?
What is your favorite art curriculum?